10 Best WordPress E-Commerce Plugins
With over 50,000 WordPress plugins currently available, it is no more laborious to customize your site with various features and functionalities. Today, there are several plugins for almost all categories (security, social media integration, caching, etc.).
For the ones who want to build an online store, there are e-commerce plugins too.
These plugins or extensions let you add more advanced eCommerce features without any use of coding. So, building a website today is really a matter of ensuring you have the right plug-ins, more than finding the right developer. 
These e-commerce plugins offer several functionalities needed for all sorts of sales – physical products, subscriptions, digital content, or services.
Why Do You Need an E-Commerce Plugin?
With limited features on an e-commerce site builder, the accessibility of the site build on apps like WIX reduces and hence the sales. So, to enhance the interface for the customers, you would probably need an e-commerce plugin.
With the help of e-commerce plugins, you can set up your online store easily.

The plugin ensures better interaction with customers and provides payment security.

It lets you keep track of sales and information of the customers.

The plugin adds advanced features on the site that would otherwise be absent.

You get the full customization capabilities of WordPress.
Overall, it helps build a user-friendly environment for your customers. And it's easy to manage just like any other WordPress website.
Things to Look for in an E-Commerce Plugin
If you browse for e-commerce plugins over WordPress, you will get hundreds of results. This might be a gateway for various options and features but can also be confusing for many. Moreover, not all the available plugins suit all business needs. For example, some e-commerce plugins are built to sell physical products, while others are meant to create landing pages.
So, you need to know what features to look for in an e-commerce plugin. Some of them are:
The e-commerce plugin must support preferred payment gateways by default and should have the ability to add more as extensions.

The plugin must be intact with several customization options and templates to design the store well.

To manage the online store, the plugin must integrate with apps like email marketing services, accounting software, etc., depending on your need.

The plugin should ensure security.

It must also provide good customer support.
Now that you know the features that your e-commerce plugin must have let's explore some of the best e-commerce plugins available for various tasks. 
1. WooCommerce
WooCommerce is a feature-enriched, open-source e-commerce plugin built by the parent company behind WordPress – the Automattic.
It supports pretty much all types of product listing, including digital goods, physical products, and subscriptions.
There are numerous customization options available with hundreds of themes and extensions. These extensions support marketing integrations, point of sale, and store enhancement. 
WooCommerce supports multilingual content and multiple currencies (for prices). It provides translation into 24 languages. This might help your online store interact with customers globally.
This plugin provides several payment options like credit cards, bank transfers, checks, and cash on delivery. Besides these options, numerous payment gateways can be added. Those region-specific gateways include PayPal, Square, Stripe, and Amazon Pay.
The WooCommerce dashboard allows you to manage and update products. WooCommerce lets you display products in a modular way by adding options like Best Selling Products, Hand-picked Products, New Products, On Sale Products, etc. 
To prevent spam and secure the site, you can add Jetpack. This will block malicious attacks and also increase the speed of your site. 
Key Features
Flexible and secure payment options

Dashboards to manage the store

Several customization options to choose from

Promote sales over Facebook or mail using Mailchimp

Multilingual content and multilingual currencies

Add Jetpack to get backups and downtime alerts
Pricing
Hosting – $ 120 per year

Domain registration – $ 15

Payment gateway costs – 2.9%+0.30 cents per sale and a monthly fee of up to $30 
2. BigCommerce
BigCommerce is an e-commerce platform that integrates with WordPress.
While, BigCommerce also has its own 'hosting' servers and can be used to host your entire website (as a WordPress alternative) – here we are looking at the integration only.
The BigCommerce WordPress integration offers all the flexibility and benefits of BigCommerce onto your WordPress site! However, you need to have a BigCommerce account to use this. 
It provides security, high performance, and easy tracking. In fact, their security measures are fully PCI compliant. You can even sell your products over multiple channels like Instagram or Facebook. BigCommerce lets you manage stock levels and understand order trends using native tools.
BigCommerce's customer groups feature allows you to interact with different types of customers with unique messages and offers. It supports 65 payment gateway integrations like PayPal, Stripe, Authorize.net. Along with that, it has options for digital and mobile wallets as well. And moreover, it doesn't charge transaction fees or payment penalties.
The integration is AMP-enabled which means you won't lose customers because of a slow-loading page. BigCommerce facilitates shipping management with several shipping providers like ShipStation, Shipping Easy, and Shipper HQ. 
Key Features
Manage inventory by understanding order trends

Leverage customer groups 

Several payment options

Connect with leading shipping providers

Supports digital and mobile wallets
Pricing
Standard – $29.95 per month

Plus – $79.95 per month
3. MemberPress
MemberPress is a WordPress membership plugin that allows you to sell subscription-based services or digital products.
Based on the membership purchased, you can even control the content accessible to the users.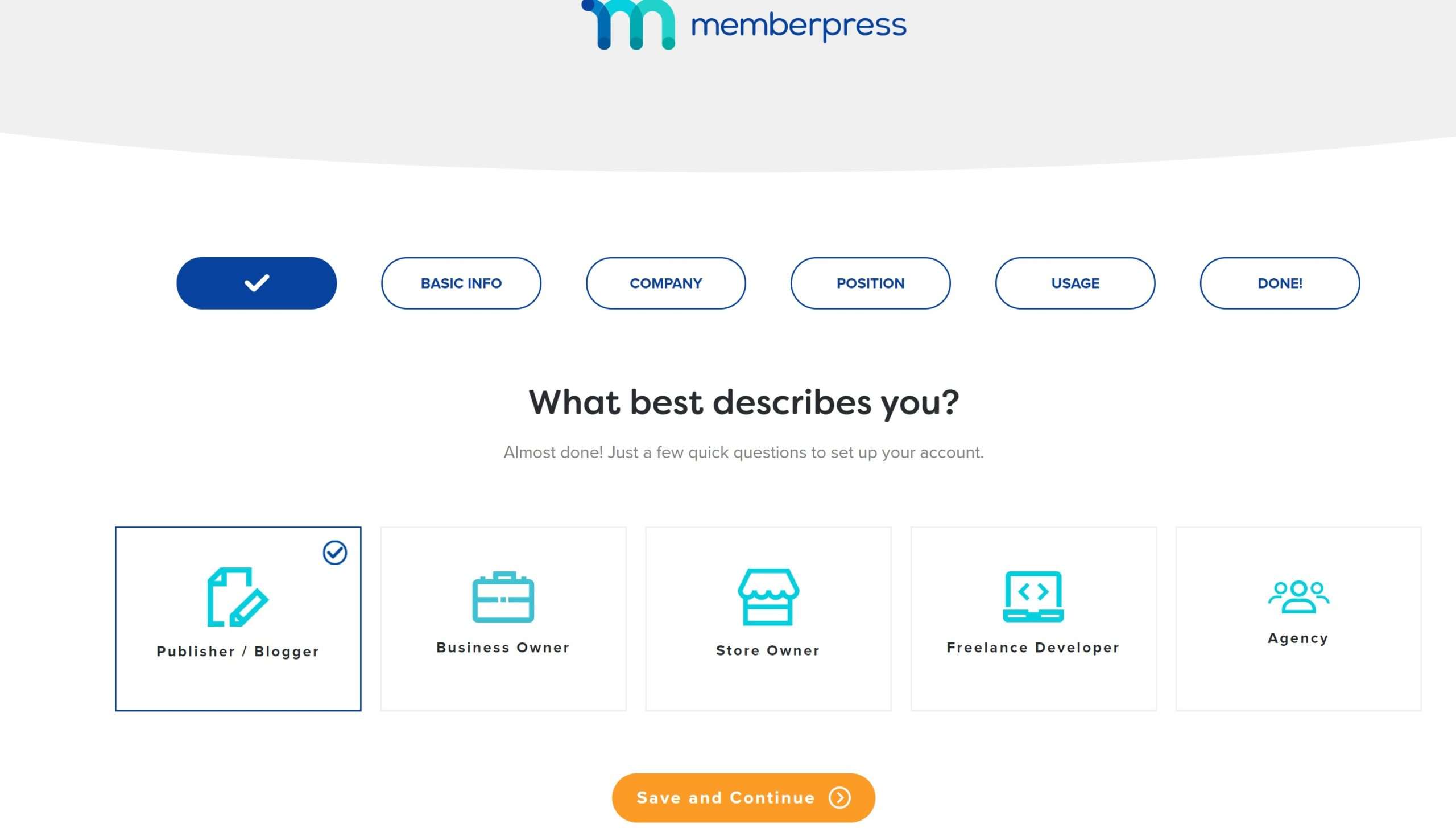 With MemberPress, you can generate coupons to conduct promotions and giveaways. It allows you to build numerous coupons; set their expiry, number of uses, and coupon codes. MemberPress integrates with BBPress that allows you to build your own password-protected community.
MemberPress has content dripping (that allows the release of content on time) and content access expiration (that automatically cancels the access to the service after the expiry time) features. Also, it keeps track of all the information of the customers and their purchases. 
It integrates seamlessly with Zapier to connect to thousands of software services, link web apps for sharing data, and develop workflows between apps.
Key Features
Easy to set up

Control the content visible to users

Generate coupons and customize them

Several payment gateways

Integrates with Zapier
Pricing
Pro – $ 349 per year

Plus – $ 249 per year

Basic – $ 149 per year
4. Easy Digital Downloads
Easy Digital Downloads is designed to sell digital products like eBooks or PDF files.
With more than a hundred extensions and themes, you can set up your store easily. EDD is extremely lightweight and easy-to-install a plugin that can brighten up your online store.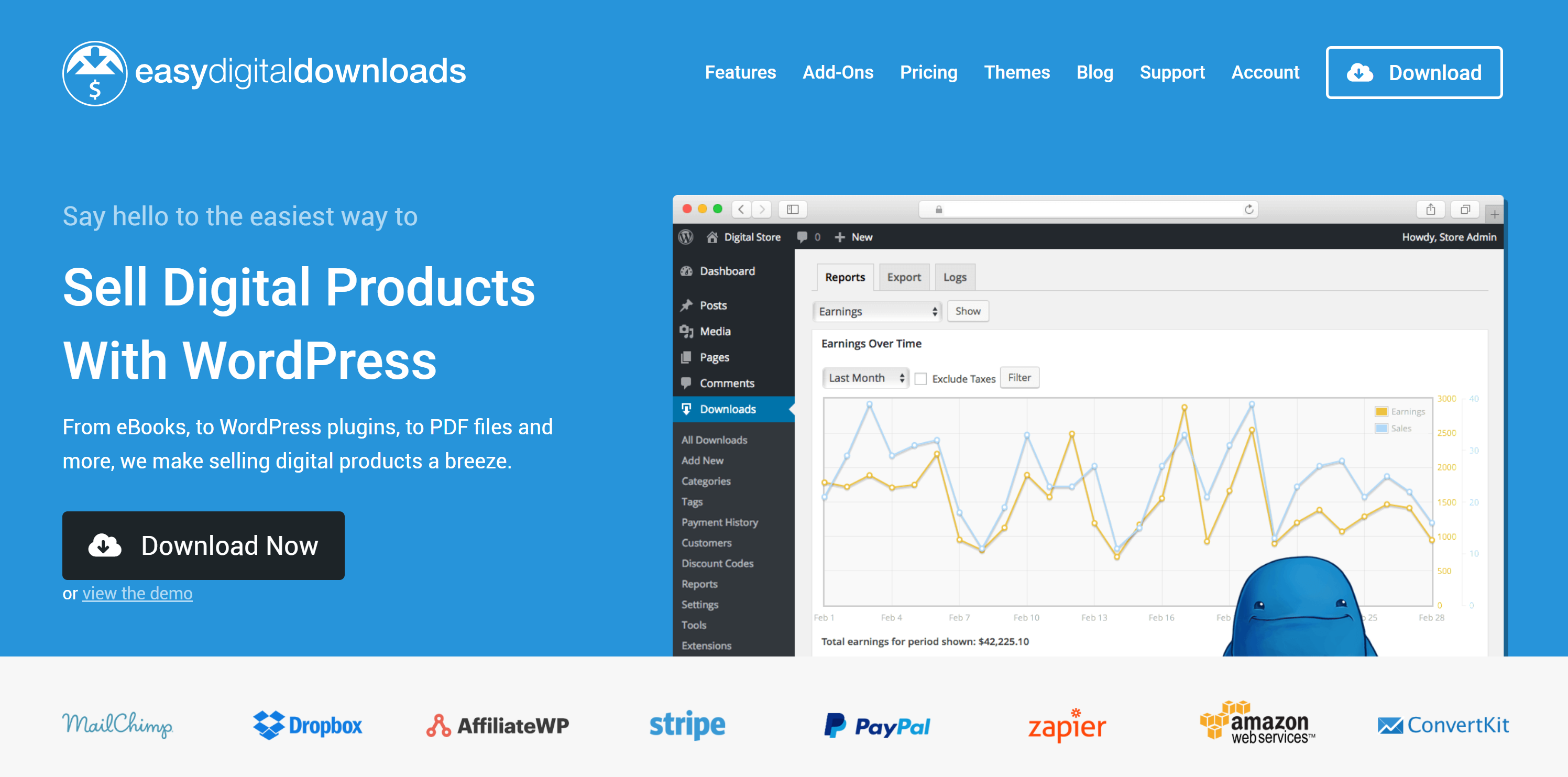 It allows customers to create their own profile, add items to a cart, and finally check out multiple items at once. The interface is smooth and flowy. You won't have to worry about customers leaving because of an awkward payment gateway interaction. 
The payment options are numerous. The customers can flexibly pay using a credit card, Apple Pay, Google Pay, or PayPal. Easy Digital Downloads has a built-in reporting platform. You can track all the information like date, time, and IP address of the purchased and downloaded files.
It gives you a comprehensive overview of the stats and lets you make custom reports. You can easily post them on the site for special deals and discounts and add them into the payment system to automatically calculate during checkout.
You can also release discount codes that customers can enter into a box to avail themselves. However, EDD's best feature is its customer management inventory. For all signed-in customers, you can access their entire payment history. 
Key Features
Track customer records

Set discount codes

View sales by category

More than 100 extensions available

Customer management inventory
Integrated with Mailchimp, Slack, Affiliate WP, and many others. 
Pricing
Personal Pass – $ 99 per year

Extended Pass – $ 199 per year

Professional Pass – $ 299 per year

All-Access Pass – $ 499 per year
5. Shopify
Shopify is one of the best e-commerce plugins available that lets you build and manage your online store smoothly. It comes with more than 70 themes created by skilled and renowned designers like HappyCog, Clearleft, and Pixel Union.
You can automatically revive the shipping rates from several shipping services like UPS, USPS, and FedEx. Shopify also allows you to interact with those customers who did not complete the purchase. This might help recover the lost sales as you can send an email to those customers with a link to their abandoned shopping carts. 
There are over 100 payment gateways. From Bitcoin to iDEAL to PayPal, Shopify integrates with all of them to make payments easier. With Shopify dashboards, you can manage your orders, sales, and traffic. 
With the help of Google Analytics, you can track sales, referrals, and visits. And you can export these reports in the spreadsheet tool.
Key Features
More than 70 themes designed by professionals

Publish and categorize articles on blogging platforms

Supports 50 plus languages

Track all the information

Sell digital goods, physical products, or subscriptions

Organize products by category

Dashboards for sales and orders

Get product reports and traffic reports
Pricing
Basic – $29 per month

Advanced – $299 per month
6. Cart66
Cart66 comes intact with all the features that will let you set up your line store with ease. You can customize the design and layout of the store.
Over Cart66, you can sell almost everything, including digital goods, physical products, services, subscriptions, memberships, and more. You can create a Buy Now link directly at the checkout or use a shopping cart. Also, you can generate unlimited coupons and manage them.
Cart66 provides hundred plus payment gateways. Also, it ensures the security of online payments. Other information like customer order history and shipping information are saved in the customer portal.
Cart66 integrates with Mad Mimi that allows you to get the right information about the customers.
It has several email marketing features that will help you reach your customers directly. You can link email lists to purchases. If someone purchases a particular product, that customer is added to the email list of that product, and then you can send them emails with a 'thank you or instructions for using the product. You can also mail customers based on their purchase behavior.
Key Features
Secure file storage

Payment security

Email list segmentation

100 plus payment gateways

Track inventory

Create coupons and Buy Now links

Customer portal security
7. Ecwid
With Ecwid, you can add your store to multiple sites, social networks, and blogs. And, you can even manage it all from one place instantly. Ecwid features let you build an interface that works well on all devices – laptop, tablet, or mobile phone.
Ecwid makes it easy for the customers to drag and drop products to their cart and get a glance at their product list. Also, for your customers across the globe, Ecwid provides translation into 45 different languages. 
Ecwid has a shipping calculator to calculate costs based on the customers' location (using their IP address). It lets you track inventory. With this plugin, you can accept payments from more than 40 different payment options. There are customizable design themes available to match your site well. 
Since Ecwid is a cloud-based service, you can make any updates, and the changes will be mirrored instantly across all the sites.
Key Features
Set up your store over multiple sites

The interface works on all the devices

Easy checkout experience for the customers

Supports 45 different languages

Track orders and sales

40 different payment options available

Customizable design schemes
Pricing
Free plan available 

Venture –  Rs 700 per month

Business – Rs 1500 per month

Unlimited – Rs 5000 per month
8. WP EasyCart
Transaction gateways are often a matter of contention. After all, we have been told so often to be careful of where we share our financial details. WP EasyCart allows you to make all kinds of sales-retail goods, memberships, subscriptions, gift cards, downloads, services, and many more. The interface is mobile-friendly.
It provides customers with a responsive shopping and checkout experience. WP EasyCart integrates with Stripe to support payments through Apple Pay, Google Pay, and Microsoft Pay. For backend usage, it integrates with TaxCloud and ShipStation, which can make payment tracking easier for you. Along with this, you can send out invoices to customers and even set up links for donations. 
The product editor extension lets you control every detail of your product, be it a title, images, or reviews. You can manage products, orders, and marketing over the administrative area. Also, the administrative console allows you to access abandoned cart details, coupons, and promotions.
WP EasyCart's tax management extension manages all taxes, including GST, VAT, HST, country duty, and more. It is interesting to note that WP EasyCart's free version still has many features that are used the most and can be a great option for new and smaller businesses. 
Key Features
Sell all kinds of products, subscriptions, and services

30 plus payment gateways

Manage taxes on the goods

Integrates with Quickbooks, ShipStation, Stamps, Mailchimp, and more

Supports multiple languages and multi-currencies

Easy check out

Security of payment and information
Pricing
Free Version

Professional – $ 69 per year

Premium – $ 99 per year
9. TrustPulse
TrustPulse helps you leverage the power of social proof to increase your conversions by 15%.
It provides real-time tracking of any action on your website, including demo registration, purchases, signups, and more. You get notifications whenever any visitor interacts with the site. This is also great for flash sales or deals which are time-bound. 
TrustPulse gives you the stats you need to increase conversions. You can analyze conversion goals and track which pages deliver the highest conversions. Along with this, you can use it to create real-time notifications to display to customers.
So you can set up trigger messages as pop-ups based on a user reaction – like making a purchase or clicking on the link. The interface works seamlessly with all major website platforms.
Their Notification Editor is straightforward and flexible. Essentially, TrustPulse acts as a verification and loyalty builder. Their social proof badge helps customers believe in your brand. However, TrustPulse lacks some features like Google Reviews integration which could help this cause even more. It does, however, allow integration with Zapier.
Key Features
Real-time event tracking

Get the stats to increase conversions

Flexible design options

Works with several website platforms
Pricing
Basic – $5 per month

Plus – $10 per month

Pro – $19 per month

Growth – $39 per month
10. OptinMonster
OptinMonster is one of the most powerful plugins for e-commerce stores. It optimizes conversion and helps in lead generation. With its Drag & Drop Builder, you can create opt-in forms for boosting conversion rates.
With OptinMonster, you can conduct personalized campaigns based on the visitor's location. You can create several campaigns like popups, floating bars, countdown timer, sidebar forms, and many more. Also, you can analyze your user's behavior using smart triggers and display the relevant campaigns to them. OptinMonster allows you to perform A/B testing to find the preferred template. 
There are various features for targeting users and increasing sales through campaigns. The features include geo-location targeting, device-based targeting, onsite targeting (by creating special offers for returning visitors), page-level targeting (by customizing the campaign based on the website section), and more.
With the higher versions, you can track when a user is using Adblock. Since this could potentially lower your revenue, you can display trigger pop-ups asking them to disable it. As for list management, you can group the users based on their interests. Their stats can be collected and shared between your co-marketers. 
Key Features
Personalize campaigns based on customer's location

More than 26 animation and sound effects available

Conduct various campaigns like lightbox popup, floating bar

Group the subscribers and track their data

Seamless integration with Shopify, Drip, salesforce
Pricing 
Basic – $9 per month
Plus – $19 per month
Pro – $29 per month
Growth – $49 per month
So, by now, you know all about the different e-commerce plugins, and you can choose based on the purpose of your store and the features you want. For example, if you aim at selling only digital goods, you can go for Easy Digital Downloads.
Or, if you are selling all sorts of digital and physical products, then WooCommerce or WP EasyCart could be the best options for you. I'd recommend trying out WooCommerce first and if you don't think it's what you are looking for, proceed with other options.
With BigCommerce, you can benefit from tackling the checkout process via the BigCommerce servers, thus keeping your WordPress hosting account free of server issues.
Uneasy payment gateways and slow-loading sites have driven away many customers. Follow these steps in our detailed guide on how to speed up a WordPress website to ensure your e-commerce store loads quickly.
You can also integrate SamCart with any of the above plugins to create a custom checkout experience, offer an affiliate program for your products and leverage upsell/cross-sell.