Not everything on the internet plays nice, but thanks to technology, you can change that now.
Tools like IFTTT (If This Then That) help you integrate all your favorite apps with powerful automation.
To be clear, for those who aren't familiar with it, IFTTT is a workflow automation tool.
Once one of the best options on the market, now numerous alternatives that give users a better experience have replaced IFTTT.
In this post, we'll take a look at the best IFTTT alternatives for you, their pros and cons, and their pricing.
Let's start:
Integromat has been recently recognized by Gartner as an Enterprise Integration Platform as a Service. They let you connect from hundreds of apps or any API. That's right: they have more than 1,000 apps and add even more every day.
You can also integrate with several banks.
Pros
Hundreds of templates: they have over 1,500 ready-to-use scenarios for you, to help you with the initial setup.
One of the things that make Integromat stand out is its beautiful graphical interface. Integromat's interface makes it an intuitive and powerful IFTTT alternative since it's much easier to work with.
Its free plan is also very flexible, so you can test the service without worrying about running into limits.
Moreover, if you do choose a premium plan, they're also very affordable.
Cons
Integromat is so advanced, it takes a while to master. Some things like formatting dates require you to have coding skills.
And to top that, there isn't a lot of documentation or resources available to quickly find your way through. So if you aren't too keen on reaching out to support, it can certainly be a problem.
Pricing
Free. It has a 15-minute minimum interval and includes 1,000 operations.
Basic: $9 per month. A minimum interval of 5 minutes.
Standard: $29 per month. 1 minute of minimum interval.
Business: $99 per month. Get 150,000 integrations,
Platinum: $299 per month. Transfer up to 220 GB and get priority customer support.
Custom: more than 800,000 integrations. More than 800,000 integrations.

Appy Pie has a wide variety of products, from app makers to chatbots and website builders.
And Appy Pie Connect is their solution to integrate your favorite apps without any coding. On G2, you'll find it as one of the highest-rated integration platforms.
Let's see why.
Pros
Appy Pie Connect helps you integrate more than 300 apps super easily. They have enterprise-grade security: they save all your data with a strong encryption mechanism and run over secure HTTPS. They also have two-factor authentication.
Unlike Integromat, Appy Pie Connect doesn't offer templates but rather gives you unlimited customization power. You can create unique integrations for your business's unique needs.
Finally, besides having affordable plans, they offer a free trial.
Cons
Like Automate.io, the auto-retry feature is not available in all plans.
However, Appy Pie Connect does include it in their Professional plan, which is more affordable than Automate's Startup.
Another con is that some of the features listed on the Business plan aren't available yet, like inviting unlimited team members to your account.
Pricing
Standard: $9.99 per month if billed annually. It includes 40 connects with 5 minute run time intervals and 2,000 tasks per month.
Professional: $29.99 per month. Get unlimited connect and a 2 minutes run time interval.
Business: $79 per month. Includes 30,000 tasks per month and a one-minute interval.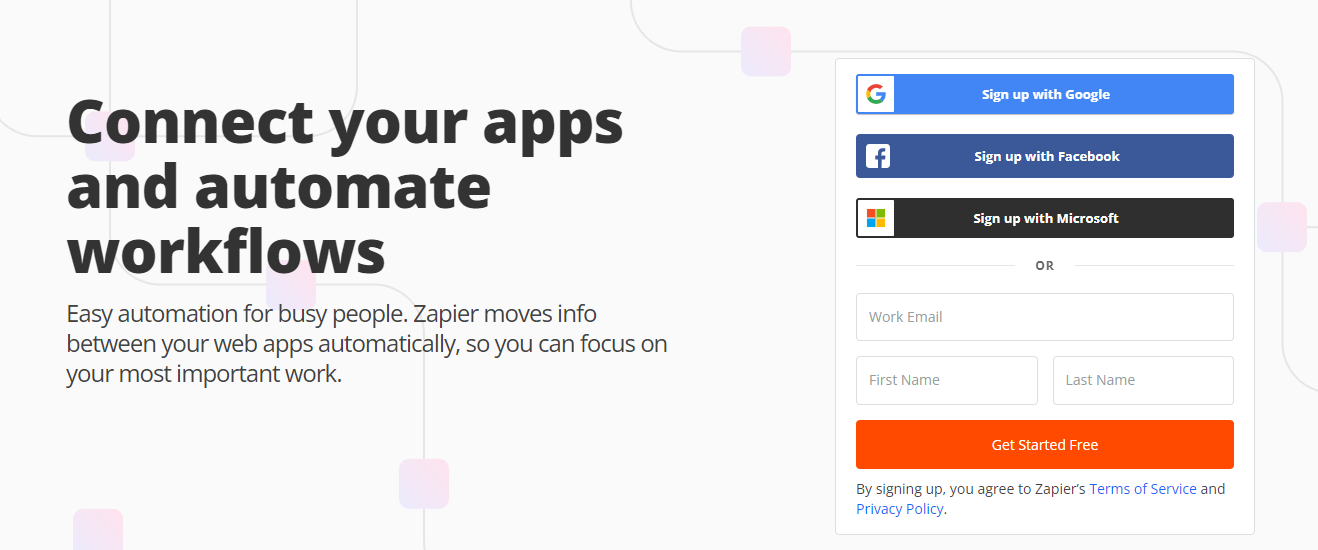 Probably one of the most popular integration platforms. Nowadays, services put their "Zapier integration" on their list of key features.
Why?
Zapier connects you with more than 3,000 apps and adds new options every week!
They work with "zaps" which are pretty similar to IFTTT's "applets".
Pros
Among some of the advantages of choosing Zapier, it's its Gmail automation. Back in 2019, IFTTT lost most of its Gmail integrations, which naturally made users quite unhappy and moved towards Zapier.
Another thing that might make Zapier more suitable for you is that it's more focused on business app integrations and has some really powerful features.
For example, the Multi-step Zaps: a single trigger (e.g. a new email lead), adds a new lead to your CRM, sends you a Slack message, and as many other actions as you want.
They also have filters so you can tell your Zap to run only in certain conditions.
Cons
Its free service is quite restrictive, so you might not be able to test certain functionalities. To get access to the features that make Zapier stand out from the crowd, you'll need to pay.
Pricing
Zapier has flexible plans that allow you to pay according to the number of tasks per month you need. You can try any for free or request a demo for the upper tiers.
Free forever. Includes 5 Zaps and the basics to get started. Both free and Starter have a 15 minute update time.
Starter: $19.99 per month if billed annually. Includes filters, multi-steps, Zaps and connections via Webhooks.
Professional: $49 per month. Get unlimited Zaps and premium apps. The update time is 2 minutes.
Team: $299 per month. This plan lets you share a workplace with your team. It also checks your data every minute.
Company: $599 per month. Zapier will give you dedicated live training sessions.
Last September, Automate.io announced it was acquired by Notion. They hope this enables users to "build custom applications that can be in sync with other business applications".
With 200 business integrations, Automate.io doesn't have as many integrations like Zapier, sure. But it does have all the popular apps, so someone might ask "who needs more?".
Pros
Automate is one of the most user-friendly and easiest to configure alternatives for IFTTT. You can quickly set it up and start automating tasks and integrating platforms.
They also offer multi-action bots. This feature allows you to have multiple actions in a bot and is typically used to create workflows.
They have unbeatable customer service. Their support team replies super fast and helps you clearly understand what you're doing wrong.
Cons
The auto-retry feature is only available in the Startup and upper tiers. This means that, if you have a lower plan and your bot fails for whatever reason, Automate won't try to re-run the failed action.
Pricing
The lower tiers check your data every 5 minutes. Startup and Growth do it every 2 minutes, and the Business plan every minute!
Free. It includes 5 bots and 300 monthly actions.
Personal: $9.99 per month. It comes with multiple action bots.
Professional: $19.99 per month. Includes 20 automation.
Startup: $39 per month. Access the auto-retry feature.
Growth: $79 per month. In this plan, if you reach your monthly action quota, you can keep using actions and will be billed extra at the end of your billing cycle.
Business: $159 per month. Set custom data retention policies for your activity data to meet your company's legal and regulatory requirements.
While most of the tools on this list mention businesses as their potential customers, Unito is our reminder that anyone can need a workflow automation tool.
Just between one of their main case studies, they list the University of Washington.
That's because, besides the regular features, they also offer report tool integrations and other cool solutions.
Pros
All of Unito.io's plans include unlimited changes and they offer a 14-day free trial.
Plus, they offer two-way syncing to enable genuine collaboration between teams. This feature allows you to break down silos and eliminate time-wasting copy-paste busywork.
Finally, Unito.io is the only automation tool that lets you customize flows with rules, mapping, and custom field-syncing, among others.
Cons
They don't have chat or email support on all plans, which can be a real problem if you're having trouble. Don't underestimate the power of good support!
Pricing
The Team and Company plans let you choose how many active users you want, and its prices might vary accordingly.
Personal: $10 per month. Your flows will be updated every 15 minutes and you'll be able to have 3 active users.
Team: $46 per month for 10 active users. Get updates every 5 minutes, plus chat and email support.
Company: $249 per month for 40 active users and live updates.
Custom: big databases, advanced security, and reporting.
Conclusion
So there you have it. IFTTT isn't the only integration platform available out there.
More importantly, there are some IFTTT alternatives that are even better for your needs.
Zapier is the first one to pop into mind, and no wonder, if you want to customize features, it's perfect.
But for those who're looking for more affordable options and maybe work in education, Unito and Apple Pie Connections are interesting options.
If you're looking for a beautiful interface and have no problem with spending some time learning how to use a powerful tool, consider Integromat.
Finally, if you tend to rely on customer support, Automate is definitely the one for you.