6 Best Tools to Create ebooks Online
Writing a book is very hard work. It's super fun  —but everything is hard work: coming up with ideas, writing compelling prose, giving it a proper conclusion, etc.
And, after all, that, if you're independent, comes the non-writing issues such as how to sell it or how to format it. These are all things that are part of the process but add more stress and deplete creativity.
Luckily, there are ways to make the non-creative part easier. Today, in this post, we're going to cover some of the best tools to create ebooks –and even printed books– and stop suffering.
But first, let's talk about some top ebook formats:
What are the best formats for ebooks?
Among some of the ways to generate leads, there's creating an ebook.
However, ebooks can exist in different formats: PDF and EPUB are the most famous, but there are others. Before we start talking about what are the tools out there for you, let's see which format would suit you best:
PDF: An ebook in PDF ("Portable Document Format") is one of the most common options. PDFs are a super user-friendly format because any device can read them. And it's not only great for readers but also for writers! Creating a PDF is easy, we've all done it with Word.
However, the PDF format might not be the best for all ebooks. If your writing is less informative and more fictional or literary, a more flexible format might be better.
EPUB: EPUB stands for "Electronic Publication" and it mimics the experience of reading a physical book. EPUB often has a 3D effect to turn pages and other special features. Besides, the text adapts to fit the size of your device screen, so you don't have to be uncomfortably zooming in and out.
AZW: This ebook format is specific to Amazon. The company designed it for its e-reader device, Kindle, and it automatically converts your manuscript to this format when you self-publish with Kindle Direct Publishing. You can, however, already create your ebook in AZW format with some of the tools in this list.
Tools to create ebooks
Beacon.by is the first one of this post, and it's so much more than an ebook creator. This software helps you through the whole process of creating a lead magnet and encouraging people to enter their email addresses on it.
Beacon reminds us that opt-in forms aren't the best way to capture leads, but ebooks are. That's why this tool is excellent for anyone that wants to increase conversion rates through ebooks or other formats!
Features
Drag and drop editor and template builder.
Pre-made professional templates.
Blog post recycles: enter the URL of a chosen blog post and automatically convert them into a lead magnet format.
Link lock: share your lead magnet even if you don't have a website. People will have to give you their emails before they can read it.
Lead magnets formats: ebooks, workbooks, resource guides, and others.
Integrates with WordPress, HubSpot, MailChimp and more.
Pricing
Beginner: free forever. You'll get unlimited lead magnets and smarts PDFs. However, you can't access the template creator.
Professionals: $49 per month. Access its full template library, customize your domain name and integrate with email marketing tools.
Agency: $99 per month. Get team accounts and unlimited custom domains.
You can purchase an annual plan and get 2 months for free.
In case you're interested in creating an interactive ebook, you should check out Kitaboo.  Kitaboo is a cloud-based digital publishing platform to create, publish and distribute interactive eBooks.
What do we mean by "interactive"?
Ebooks with video, audio, images, assignment widgets, read-aloud and more cool features that ordinary ebooks don't have.
As they point out on their landing page, the platform is excellent for learning outcomes! However, Kitaboo's services can be useful for any industry.
Features
Drag and drop widgets to add videos, audio, quizzes and more.
Secure cloud-based distribution: your content is DRM protected and encrypted. Plus, it can be accessed with unique access codes only.
Get your own branded apps.
Analytics of ebooks consumption.
Integrate with existing Learning Management Systems (LMS) for seamless data exchange.
Pricing
Kitaboo offers two plans:
Professional: monthly pricing. Recommended for 50 to 3000 users per month.
Enterprise: custom pricing. Recommended for a large user base. It includes branding and customization features.
To know accurate pricing info, you'll need to get in touch with them, since their pricing model depends on a few factors specific to your requirements.
Adobe is a classic. And InDesign is an industry-leading layout app to create, designing, and publishing digital media.
Adobe is the best option for those who want to create professional, visually stunning interiors. However, it's not easy software and requires time and patience to master it.
Features
Publish books, digital magazines, ebooks, posters, interactive PDFs, and more.
Browse thousands of fonts with Adobe Fonts and create page layouts with InDesign.
Adobe Stock templates thousands of designs, including landing pages, brochures, infographics, and many more.
100 GB of cloud storage.
Analytics: see how your content is performing.
Integrate with other Adobe tools like Adobe Creative Cloud, Experience Manager and Adobe Photoshop.
Pricing
Adobe offers different payment options:
Monthly plan: $31.49 per month.
Annual plan paid monthly: $20.99 per month.
Annual plan, prepaid: $31.49 per year.
Your first 7 days are free. If you purchase InDesign with Adobe Stock, you get 30 days free and up to 10 images.
And, if you're a teacher or a student, you can save over 60% on Adobe InDesign!
Atticus is a book writing software created by authors for authors.
While the other options in this list offer formatting features, Atticus has also a built-in book editor, so you can write directly from there.
Moreover, if you find your ebook might sell well as a printed book, Atticus will help you with the printing format. And you can even create a large print edition book for visually impaired people.
Features
Create ebooks and print books.
Drag and drop chapters and book-level goal tracking.
17 templates and a custom chapter theme builder.
Export in EPUB, PDF, DOCX. Mobi coming soon.
Cloud storage and backups.
Works on desktops, tablets and smartphones, online and offline.
Pricing
Atticus offers only one plan, and it's a one-time purchase. The plan costs $147 and it comes with a 30-day money-back guarantee. However, there's no free trial.
Maybe you're not just looking for a tool to create an ebook. Perhaps what you need is a one-in-all platform to gather what you write and research, piece it together and then, yes, share it with the world.
Well, that's what Scrivener offers to its users. They have plenty of features to help you with your writing project and a flexible interface that lets you choose which tools to have at hand, depending on your project demand.
Features
Edit your text in a familiar word processor.
Use a cork-board to plan your writing.
Outliner: see an overview of a chapter, a part, or even your whole manuscript.
Create templates for new sections of your project.
Tools for academic non-fiction: import and refer to a library of research.
Export to popular formats such as Word, PDF, Final Draft or plain text.
Pricing
You can purchase a "perpetual" license for a single version and operating system.
Scrivener 3 for Mac: $49.
Scrivener 1 for Windows: $49.
Scrivener for iOS: $19.99.
Or purchase the Mac + Windows bundle for $80.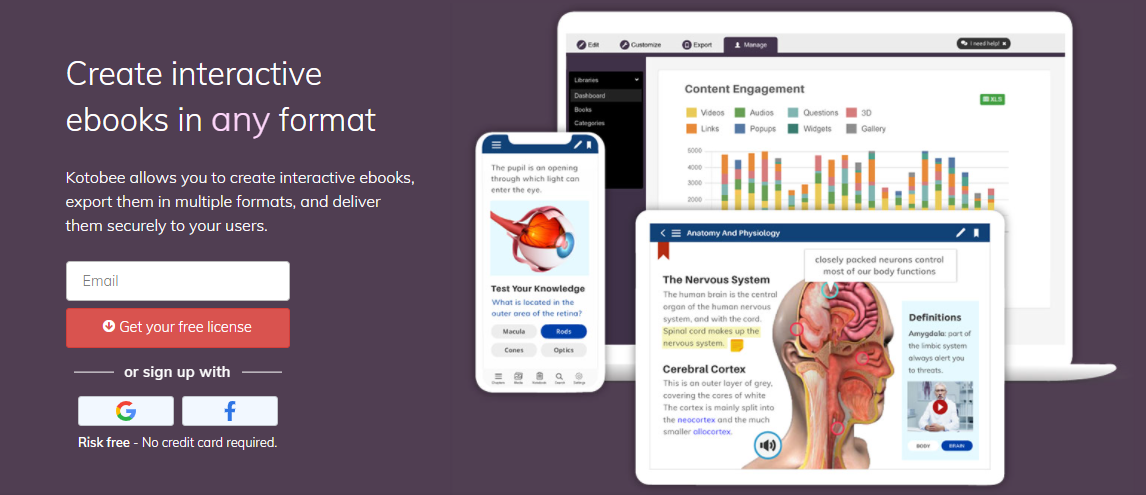 Kotobee offers different solutions to help you create and share your ebooks. For example, Kotobee Reader, free software for your users so they can read your interactive books offline on desktop and mobile.
And, of course, Kotobee author, its award-winning interactive ebook creator and editor which works great with your LMS.
Features
Create interactive ebooks: video, audio, image click-animations, self-assessment questions, book widgets, and more.
Library of more than 3 million free photos and videos.
Export to PDF, EPUB, MOBI, Amazon Kindle and others.
Insert audio and sync it to text for highlighting.
Integrate with your organization's LMS.
Pricing
Kotobee offers lifetime licenses with different prices according to plan:
Basic: $150 for one user. Access to all the basic features.
Premium: $300 for one user. Report and assess progress with LMS SCORM integration and export encrypted EPUB books.
Institutional: $800 for 10 users. Get special training and premium support.
Conclusion
Forget about the editing and formatting issues when writing ebooks. Today, we've learned of great, powerful tools that help you create ebooks with no tech skills or any professional training.
Now you can focus on what truly matters: writing!
So go ahead and start working on awesome ebooks, whether they are leading magnets or works of fiction. And when you're done, tell us what tool you used along the way!