We're all a bit worried about our privacy by now. The Facebook Scandal of 2018, Snowden, iOS 14.5 updates: all these events have reminded us how much of our information websites and apps get access to. And it can be scary.
But everyone handles it differently. Some fall into complete apathy and decide well, what can you do about it? If I have to give Google my location, bank account passwords, and diary entries to have an easier life, so be it.
Others go all the way down to make sure the Internet knows nothing of them. And then, there're people who try to take small actions to secure at least some of their privacy without having to stay away from the world. Among these actions, there's using a privacy-friendly browser.
That it is, forgetting about Chrome and moving to safer alternatives. Chrome's debt to privacy is ancient because Google's online ad business benefits from harvesting your personal data. And the worst part is that according to Oberlo, Chrome is the leading internet browser in the world. Out of 10 people, six choose Chrome as their default browser over others.
Luckily, times are changing and iOS updates have made many technology companies reevaluate their policies. To have more insight on what happened earlier this year, you can read this article but basically, it annoyed all the ad businesses.
Now, Chrome is working on privacy changes and we sure hope they come quickly. In the meantime, let's take a look at the current best browsers for security and privacy.
But first, there's a question you might be asking yourself:
How are you being tracked?
Great question. What's the point in worrying about changing your browser if you don't even know how it's hurting your privacy?
Well, for a start, you're being tracked with cookies. At this point, we all know what cookies are but for the sake of clarity, let's remember: cookies are small bits of data that sites deposit in your browser's storage to track logins and remember your site activity.
Then you have fingerprinting, which is a more recent threat. Websites that fingerprint take advantage of normal browser functions, finding out things like the browser you use, your location, IP address, and even active accounts. According to Avast, there are more than 1,000 trackers hidden in top sites.
They even offer you a free scan of your unique digital fingerprint ID so you can find out what websites know about you. I leave you the link here so you can get as scared and concerned as me and run to switch your browser. You go, I'll wait.
Now, as we mentioned before, changing your browser is one of the many measures you can take to protect your security and privacy. The most popular privacy measure, which everyone has used at least once, it's the privacy browsing mode. When you don't want your parents or partner to know your activity, you use this mode. However, the websites you visit still get this information so it doesn't protect you from tracking at all.
Best Browsers for Security and Privacy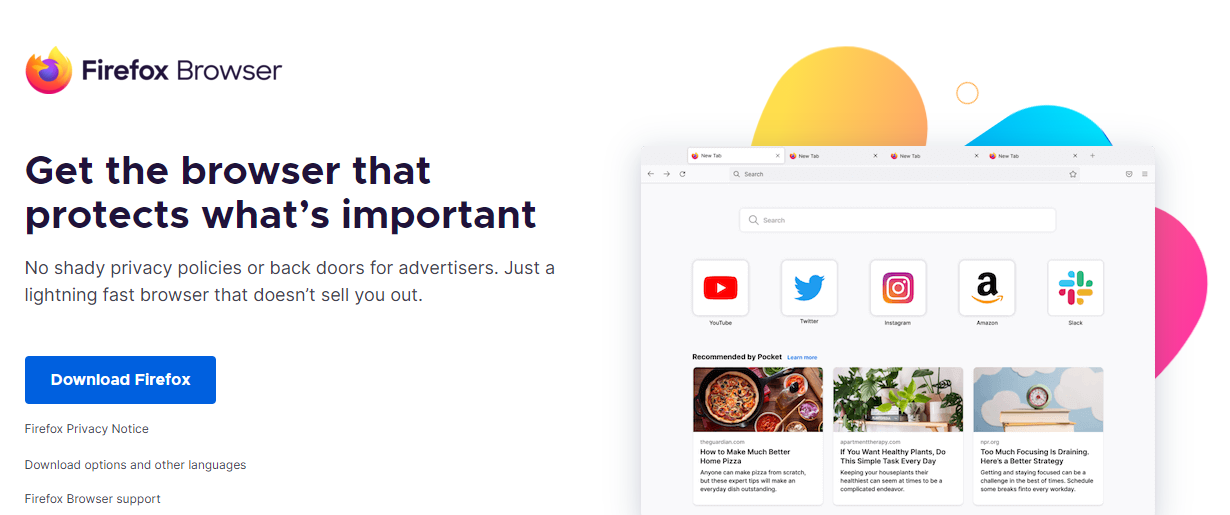 Mozilla Firefox is among the most popular alternatives for Chrome for those who seek a more private browser. Available for Windows, Linux, and macOS (and, of course, mobile), Firefox is free and open-source.
Mozilla is a pioneer in private browsing mode: their browser was the first to hide browsing not only from people with access to your device but also from other sites.
Some of its privacy measures include:
Do Not Track option.
Three privacy options:

Enhanced Tracking Protection's Standard. Block social media trackers, cross-site tracking cookies, cryptominers, and more.
Strict. It blocks fingerprints and trackers in all windows. However, it may break a few websites.
Custom. Adjust how you block trackers.
Mozilla is also working on an update that will make your browser get away from fingerprinting more successfully.
If you ever heard about Tor in the media, the first thing that pops into your mind now it's the "dark web" and probably criminals. But Tor (short for The Onion Router) was actually developed by the US Navy and it's meant to protect internet users' privacy, helping journalists, activists, law enforcement professionals, whistleblowers, and businesses.
In fact, you can legally use Tor anywhere. Only a couple of countries are censoring it and it's purely based on political agendas.
Some reasons to use Tor are:
A reliable system of data encryption.
Tor makes it almost impossible to identify its users: your online activity will be "anonymized".
Access geo-restricted content.
Bypass censorship.
The main downside of the Tor Browser, though, is that is slower than other browsers, and some major web services block Tor users. Because traffic is heavily coded and sent through different nodes, your Internet connection will have to go the long way around.
You can download Tor from the Tor Project website for Linux, Mac, and Windows. As for the mobile version, users will find Orbot in the Play Store and Onion Browser in the App Store.
From the creator of Opera, meet Vivaldi. This browser is based on the open-source Chromium and is chosen by users for its clear privacy policy and great reputation.
Here's why you might want to consider Vivaldi:
Are you an ad-block user? Vivaldi has its own built-in adblocking!
Deep privacy settings: toggle off the predictive search and search queries tracking.
The Private Browsing mode doesn't save cache or cookies, apart from history, obviously.
The "Ask websites not to track me" option asks sites not to set tracking cookies. However, they can ignore your polite request.
Vivaldi also has the Safe Browsing API by Google, enabled by default, to protect you against malware and phishing. Like all the other browsers in this list, you can get Vivaldi for your desktop or your mobile. However, unlike Opera, Vivaldi doesn't come with a VPN.
Amongst the best browsers for security and privacy, it's Avast Secure Browser. Avast is a relatively new browser with a user interface similar to the most popular browsers. As the name indicates, it's especially focused on security and privacy.
Avast Secure Browser includes a built-in VPN functionality that costs $5 per month. They offer a 7-day free trial, no credit card required.
And what else makes Avast a good option for privacy?
Built-in adblocking.
Anti-phishing features.
Free award-winning antivirus that gamers will love: the Do Not Disturb Mode blocks distracting pop-ups when you're gaming.
Anti-track that disguises your digital fingerprint for $36 per year.
You can get Avast for Android, Windows, iOS, and macOS.
Brave relies on a customized version of Chromium and is headed up by Brendan Eich, the co-founder of Mozilla Firefox.
If you are into cryptocurrencies, you'd probably like Brave. This browser doesn't only have an emphasis on privacy: it lets you earn cryptocurrencies while you browse. How? The software regularly drops up an unobstructed ad in a box outside the browser window. Amazing.
And hear this: last year, Douglas J. Leith, a professor at Trinity College at the University of Dublin, made research and determined Brave is by far the most private browser.
So let's take a look at some of its key features, shall we?
Blocks third-party tracking cookies, scripts, and ads by default. You can choose between Standard and Aggressive adblocking.
Advanced fingerprinting protections.
Upgrade unsecured connections to HTTPS.
Remember Internet Explorer? It's back! As Microsoft Edge. And yes, I know you still have nightmares with that browser, me too. But Microsoft Edge is different, unlike your ex.
First off, this browser continues to innovate as Windows 11 approaches. And the Microsoft team had privacy as a top goal when developing the modern Edge.
Some actions that Microsoft Edge takes to secure your privacy are:
It lets you turn off your personalized advertising in Bing.
Three-level tracking protection: Basic, Balanced, and Strict. All levels block trackers detected as crypto mining or fingerprinting.
It supports Secure DNS.
While Edge might not be the first option that pops to mind when thinking about privacy, experts do point out that it's better than Chrome. And, due to its convenience for Windows users, that might be more than enough for some people.
Last but not least: Bromite. Like many of the browsers mentioned in this post, Bromite is based on the code that underlies Google Chrome: Chromium. But, since it's "ungoogled", it disabled many of the features found in the original code that can easily compromise user privacy. In fact, although this browser is for Android, you won't be able to find it in the Google Play Store. You'll need to allow installation of its APK in your mobile's settings.
But why consider Bromite in the first place? Well:
It has a built-in ad-blocking engine that's highly customizable.
Bromite disables AMP and click-tracking: this prevents websites from creating a shadow profile of you based on your click history.
Fingerprint randomization.
Bromite offers updates as soon as there's a new release of Chromium so it's always updated.
Another option: using a VPN
Besides changing your browser, you can also get a VPN to make sure websites don't find your location. A VPN encrypts your data traffic so you can browse and download anonymously. Most people use it to bypass geographical restrictions such as the restrictions enforced by Amazon or Netflix.
A VPN can be a great option if you don't wish to change your browser or if you want to complement your browser security. For example, if you decide to go with Tor, a VPN will help keep you safe from malware while visiting the dark web.
We recommend using NordVPN or CyberGhost VPN.
Conclusion
So there you have it. The best browsers to ensure your security and privacy while navigating the Internet. Some go the extra mile to ensure your information is safe and others have a few functions that might be just what you're looking for.
Anyway, the conversation around privacy has progressed a lot. We're now more aware of the need to protect our privacy and companies are acting accordingly. Soon, let's hope, all browsers will put your security and privacy as a priority.