7 Best Instagram Direct Publishing Tools (Most are Free)
For a long time, Instagram was not the best place for digital marketers.
They do not allow linking on captions or stories for private accounts. For quite some time, they did not even allow third-party app integration. Marketers could not use other post-management platforms like Later to plan and post their content.
But all that has changed with the introduction of the Instagram Business account.
In 2019, Instagram released information that 90% of the personal accounts on their platform followed some kind of brand or business account.
While Instagram still does not have any post scheduling feature – at least now they allow businesses to do so with an API. According to Hootsuite CEO Ryan Holmes – scheduling content is the number 1 use of their platform.
And why not? With 95 million photos being shared on Instagram per day, businesses need to stay on their feet to stand out! And that's where Instagram Direct Publishing and Scheduling Tools come into play!
Why Get an Instagram Direct Publishing and Scheduling Tool?
Businesses might post as many as 200 images per account per month. Many of these posts advertise seasonal offers that were actually planned months in advance.
And what happens if you forget to press "Post" on something at exactly 9 AM on a Monday? A missed opportunity, that's what. And one that can be easily avoided.
A Scheduling tool allows you to effectively manage large volumes of media. While Instagram does have a new feature where you can store edited photos, you cannot segregate them by any filter.
Some scheduling tools even have editing features and template builders. They can offer useful insights on the best performing times and current trending keywords.
Essentially, a direct publishing and scheduling tool does not only allow you to schedule a time to publish a photo on. I
It can provide a collaborative workspace, access to a media library, post-performance statistics, and data analysis tools. So here are some of the top Direct Publishing and Scheduling Tools that could make your life a lot easier.
Before you choose any of the following tools, there is one requirement for using Instagram Direct Publishing.
You must have a Facebook page linked to your business Instagram account. Professional Instagram users or accounts without a Facebook page connection won't work. If you don't have a Facebook page, create one.
1. Sked Social
At its core, Sked Social allows you to pre-fix posting times for Instagram posts. They have a visual calendar where you can drag and drop the posts and set timings. You can customize this calendar based on the country.
You can use Sked Social for Facebook and Twitter scheduling as well. One of the problems with Instagram is that you cannot rearrange your feed by dragging and dropping images. Hence, business accounts work extra hard to maintain feeds that are cohesive and aesthetic.
With Sked Social, you can access a dummy Instagram feed with your posts. You can now drag and drop them as you wish and then schedule them accordingly. Generally, Instagram allows only one link to be added to the bio page. However, with Sked Social, you can add a link that directs users to a page from where they can go to multiple other links.
A lot of people work behind the scenes to make every post a success. And thankfully, Sked Social allows unlimited collaborators to use a single account. They have a powerful analytics tool. Their reports include the post-performance, average reach and rate, and even your competitor's performance.
The Best Time To Post shows the average reach density at different times of the day. So how is this different from the regular Instagram insights, you might ask. Instagram stories that disappear after 24 hours, along with their insights. With Sked Social, you can access those stories (they get archived) and check out their prior reach and performance at any time.
Overall, Sked Social provides a complete Fundamentals package at 25 USD per month. However, to get features like product tagging in your posts, you would need to upgrade to the Essentials plan that comes in at 75 USD per month.
Key Features
Automated posting on 3 platforms
Visual calendar
Analytics regarding user reach and engagement
Product tagging
Multi-links for bio
Unlimited collaborations
Bulk story posting
Story metrics even after 24 hours
7 days free trial
2. IconoSquare
For those who are in love with numbers, IconoSquare is your go-to IG scheduling tool. IconoSquare relies heavily on user data which means you will receive top-of-the-class detailed insights on every activity.
Their advanced analytics will let you know the post reach, average activity and automatically suggest the best posting times based on location. They offer separate stats for stories and posts. You can also access data regarding what others are tagging you in, the media type they are tagging you in, and the average comment activity.
IconoSquare generates separate automated reports for Facebook, Twitter, and Instagram. You can track the performance of various hashtags used. And even gather data regarding your competitor's hashtag performance.  One key feature of IconoSquare is that you can arrange the files you want to post in different folders. This makes it easier to manage the posts related to a single campaign. You can upload your images onto Dropbox or OneDrive which is integrated with the service.
With their community analytics, you can break down your followers based on age, sex, and location. Like Sked Social, IconoSquare also offers a dummy feed for you to check your posts on.
You can try out the 14 days free trial offered or sign up for the Small Business plan at 49 USD per month. You can create your own custom dashboard containing the metrics you want to see at a glance. however, for this, you will need the Advanced Plan at 79 USD per month.
Key Features
Automated posting on 3 platforms
Community Analytics
Advanced Metrics and automated suggestions
Hashtag performance and competitor tracking
Track brand mentions
Custom dashboard
Post-separation by folders
14 days free trial
PDF Reports
3. Social Pilot
For managing larger enterprises, Social Pilot is the best option. Their bulk scheduling feature allows you to assign up to 500 posts in advance. In fact, this not only works for images but for text updates, blog posts, and tweets as well. You can see all pre-fixed posts at a glance with their calendar. However, it is not a visual calendar like the one Sked Social offers.
Unlike other tools that offer trending keywords, Social Pilot offers an entire Content Curation Platform. With their search assistance, you can find unique ideas and phrases along with trending content for each. This is an extremely well-done and in-depth feature. However, it might be more useful for those managing Facebook profiles and blogs, rather than Instagram.
One extremely useful feature is that you can assign hashtags in bulk. For example, you can assign hashtags for all the content to be posted on a particular day, if it is a day-long event.
As far as analytics go, Social Pilot offers content performance and audience insights. However, it can also provide insights for any post that was not uploaded via Social Pilot. A unique feature is that they can narrow down on influencers who have the maximum influence amongst your followers. You can thus identify potential collaborations.
You can manage up to 25 different profiles. At just 25.50 USD per month, you can access the Professionals plan. Social Pilot has a robust support team, and with the Enterprise plan, you will be assigned a full-time account manager to solve your queries.
Key Features
Automated posting on 5 platforms
Content curation platform
Hashtag Assigning
Bulk Scheduling
Analytics regarding user reach and engagement
Influencer Engagement
Community Analytics
PDF Reports
14 days free trial
4. Buffer
Buffer offers two types of tools – one related to publishing and one related to analytics. So you can choose to get both or just one depending on your need.
The scheduling tool offers you to see scheduled posts in both linear format and a visual calendar format. You can manage multiple accounts on Instagram, Facebook, Twitter, LinkedIn, and Pinterest. If you are unsure about a post, you can set up a notification for it. Buffer will send you a notification right before posting so you can take control. You can also schedule the first comment to be included in the post.
The analytics tool offers post insights and user demographic breakdowns. Before sponsoring a post, you can see the projected reach for it. Thus, you can compare the paid vs organic reach and decide accordingly.
Buffer's strong point lies in its audience engagement tool. Their engagement tool allows you to see the comments and likes on each post at a glance from the grid view itself. You can set up alerts for notifications from important posts and set up hotkeys for quick replies. Similar to
The Buffer free plan for publishing allows only one user and management of up to 3 social channels. You can only schedule up to 10 posts in advance. While it is not much different from what the Instagram Business account offers, you can still get a taste of the other features before investing further. The Pro Account starts at 15 USD per month. The Analytics Plans are paid and start at 35 USD per month.
Key Features
Automated posting on 5 platforms
Separate publishing and analytics tool
Community Analytics
First comment post
Analytics regarding user reach and engagement
Audience engagement tools
Prioritize posts
14 days free trial
5. TailWind
TailWind is a scheduling tool for Instagram and Pinterest users. Their SmartSchedule feature allows automated posting during the best times. You can set up Time-Saving Shortcuts and Hotkeys for quick formatting.
TailWind has its own editor that you can use to create amazing designs! Simple and easy to use, you can access a media library and get templates based on your industry. You can try these out on the TailWind dummy Instagram grid. Like Sked Social, TailWind offers a truly visual calendar to visualize your posting schedule.
With every new strategy, you can test the viability with their reports. With Instagram, TailWind allows you to create posts and assign them under campaigns. You can customize the reports to include the fields you want. The system will auto-update the reports based on this. TailWind assigns a virality score to each post.
Apart from this, you can track top-performing images and keywords. The listening feature allows you to check all mentions of your brand. With a single click, you can access all suggested hashtags for your content.
You can narrow down on influencers who have the maximum effect on your followers. The SmartBIO feature can be used to add multiple links to a single bio. You can use the TailWind free version forever to manage 1 Instagram and 1 Pinterest account. After this, the Pro package starts at 119.88 USD per month.
Key Features
Automated posting on 2 platforms
Analytics regarding user reach and engagement
Visual social calender
Time-Saving Shortcuts
Hashtag finder and performance analysis
Schedule first comment
Photo Editor and media library access
Multi-links for bio
Forever free trial version
6. Later
Later is a highly visual scheduling tool. While you can manage up to 4 different social channels on different platforms, Later places special emphasis on Instagram users.
With Later, you can save posts, bulk save stories, save captions, and schedule first comments. Later has a truly visual calendar for planning the content posting schedule. You can use this for both posts and stories. Based on the date and post content, Later will suggest the best hashtags. Like all scheduling tools, Later finds the best times to post. However, it can do so based on a location that you zero down in. It will provide the top 7 timings for posting for that area.
You can view insights for expired stories for up to 3 months. The system automatically adds creator attribution on the posts. Later has an inbuilt editor however this only allows basic features like resizing and/ or adding text, etc. You can access the Unsplash photo library through the editor.
Later has a fully free version that allows one to manage up to 30 posts per month. With this, you can have one account across their entire set. A single set includes Instagram, Pinterest, Facebook, and Twitter. The Starter package is set at 12.50 USD per month.
Key Features
Automated posting on 4 platforms
Analytics regarding user reach and engagement
Visual social calender
Hashtag Analytics
Community Analytics
Story metrics for up to 3 months
Multi-links for bio
First comment post
Forever free trial version
7. Planoly
If you are looking to sell products via Instagram, then Planoly would be a great choice to start with. Planoly allows users to convert their Instagram page into a veritable store! They allow product tagging, multi-bio links, and single-click selling link embedding. Brands like L'Oreal use Planoly for managing their Instagram account.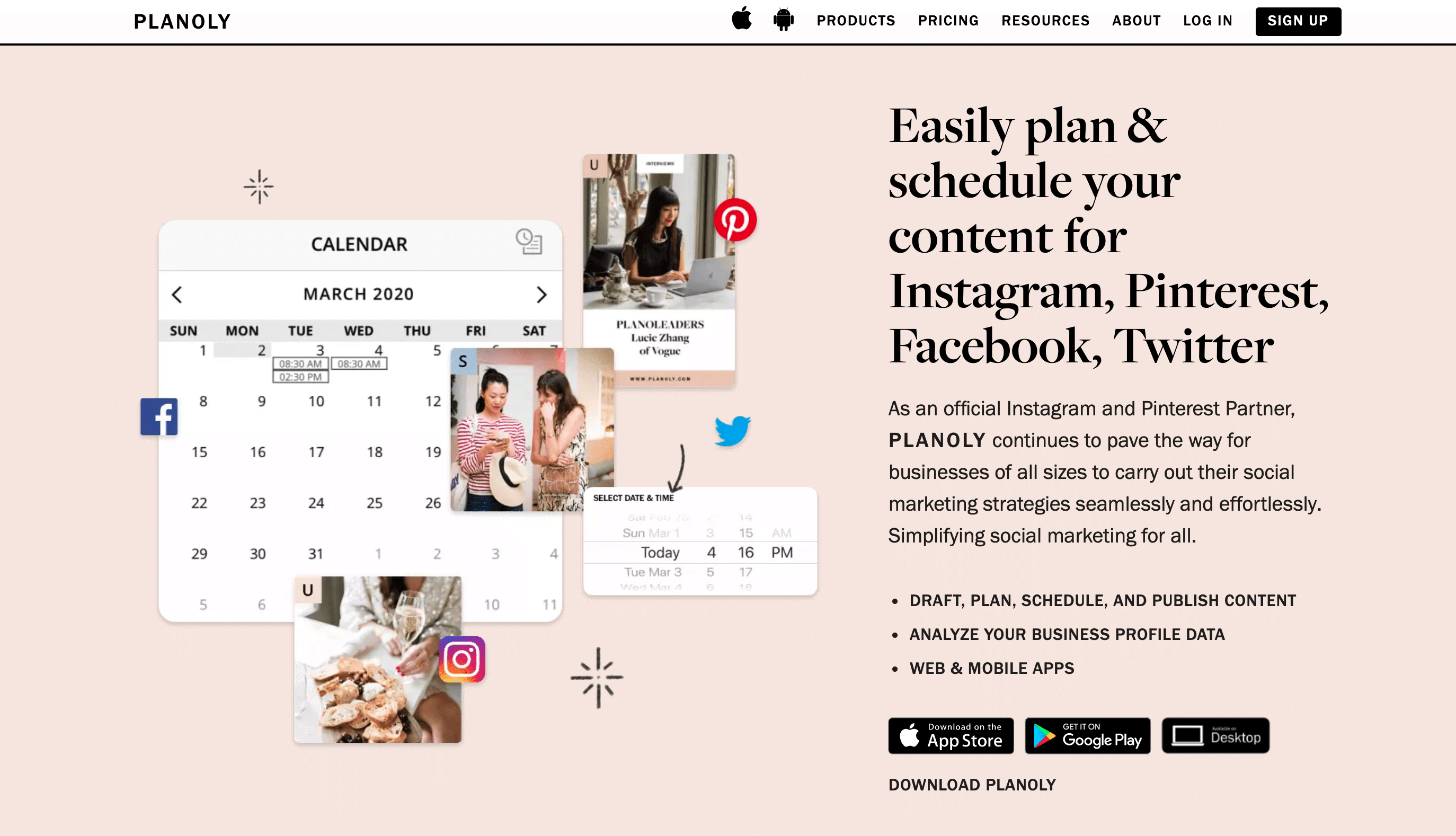 Planoly has its own editor that has various templates for you to select from. There are separate templates for stories that are available in family form. So you can use a certain template family for a range of stories. With the Planoly sticker maker, you can make and release your own range of animated stickers.
The platform offers a dummy Instagram feed, analytics for each post and story, first comment scheduling, and auto-posting. You can separate the planned posts under various campaign headers. Planoly is available both on desktop and mobile. Their app is available on the App store.
Planoly offers a calendar for scheduling posts which you can change depending on the location to see upcoming local events. A unique feature is the splitter tool that allows you to split images within a grid of 3, 6, 9, or more. The free version of Planoly can be used for 2 social profiles. Next up is the Solo profile at 7 USD per month, followed by the Duo at 15 USD per month.
Key Features
Automated posting on 2 platforms
Analytics regarding user reach and engagement
Hashtag Analytics
Community Analytics
Splitter tool
In-built editor and template gallery
Sticker maker
Forever free trial version
Conclusion
Each tool has its own unique features and vibe. If you are looking for a visual platform, then Sked Social and Later are great options. Data-driven communities can check out IconoSquare.
Overall Planoly offers a lot of features made for maintaining an aesthetic feed. They have a state-of-the-art editor along with hundreds of templates, stickers, and a splitting tool. Most of their customers belong to fashion and designer businesses. Larger enterprises may prefer Social Pilot as it is the most cost-effective one for managing a higher number of accounts.
But, for those looking for a free-trail version, TailWind would be the best option. Even with its free version, it offers various features and metrics not available in the other free versions.
Basic features like dummy feed and hashtag finders are available on each platform. However, for someone looking to keep up with every trend, Social Pilot's content curation platform might come in handy. Let us know which one you think will be best for your business!