Like any other process, affiliate marketing can be automated using artificial intelligence.
However, the particular nature of affiliate marketing makes it necessary to cover different tasks. You need to write, post on social media and monitor results, among other things.
So in this post, we will cover AI tools for affiliate marketing that go from software specialized in one task to one-in-all platforms.
Let's start.
15 Best AI Tools for Affiliate Marketing
Social media
Flick is an all-in-one social marketing platform that helps you plan, create and publish affiliate marketing content stress-free.
Its most recent feature, AI Social Assistant, generates original content ideas that you can choose from. It even auto-generates hashtags based on your captions and content.
Pricing
Solo: 14 euros per month. You can link up to 4 social profiles.
Pro: 30 euros per month. Link up to 8 social profiles and invite a team member.
Agency: 68 euros per month. Link to 20 social profiles.
Content Studio is a powerful social media management software that allows you to plan, organize and schedule your social media posts.
Like many others, it has developed an AI assistant. This assistant will generate social media captions as well as images!
Content Studio is available on the app stores and as a browser extension.
Pricing
Starter: $25 per month. Includes the AI bot and a workspace.
Pro: $49 per month. Publish to social media and blog sites, plus automate campaigns for evergreen publishing.
Agency: $99 per month. Link to up to 25 social accounts.
Brandwatch specializes in industry analysis. It provides historical and real-time consumer data to help you understand consumers. Brandwatch even has an AI that spots insights and answers your questions.
Affiliate marketers can use this to spot ongoing trends on social media and better engage users. You can also manage your community in one easy-to-use and customizable inbox.
Pricing
Branwatch has three different plans according to your needs. However, you'll need to book a meeting to learn all the details.
Content writing
Rytr is an AI copywriting tool that will help you write anything quicker. With Rytr, you can write anything from short-form content like ads and product descriptions to long-form content.
They're also a great option if your content is multilingual: they support more than 25 languages and dialects. You can even input your product data in one language and get the output in another one!
Pricing
Free: Write 20,000 words per month.
Saver Plan: $9 per month. Write 100,000 words.
Unlimited Plan: The best plan – write unlimited content for just $29 a month.
Both plans include a 7-day money-back guarantee.
CopyAI is a web application that offers high-powered artificial intelligence writing tools. It started in 2020 and now is used by big companies like Microsoft, Nestle and Ebay.
CopyAI helps you move past the blank page with more than 90 copywriting formulas.
It also has a bunch of free tools such as a bio generator, a TikTok content idea generator and a sentence rewriter.
Pricing
Free forever. Generate up to 2,000 words.
Pro: $49 per month. Generate unlimited words and unlock multilingual support.
Enterprise: custom. Includes unlimited seats and a dedicated account manager.
When it comes to Unbounce, they have a whole set of tools that are useful for affiliate marketing. However, the price can be a bit high so if you have to choose one, that should be Unbounce's Smart Copy.
This AI helps you write a wide range of copy, from landing pages to Google ads. It also remixes your content, making it ideal for repurposing old content.
Pricing
Free: includes up to 40 credits per month.
Essential: $19 per month. Use the long-form writing canvas.
Unlimited: $49 per month. Get unlimited credits and projects.
Video editing
Pictory will handle the video aspect of your affiliate marketing.
It's ideal if you write blog posts and are open to embedding videos on your website. Pictory will automatically select the best summary sentences of the post and pick images and video clips for the video.
Similarly, if you have a Zoom recording, Pictory can summarize into an Instagram reel!
Pricing
Standard: $19 per month. Includes text-to-speech AI voices.
Premium: $39 per month. Edit existing video recordings up to 3 hours long.
Teams: $99 per month. Access to 15,000 music tracks and collaboration features.

If you want to be extra-fast with your video content strategy, try Synthesia, an AI video spokesperson generator. This tool saves you the trouble of having to face the camera and instead gives you 60 diverse avatars to pick from.
You can even customize the avatars and access 50 pre-design templates and AI voices to create the perfect video effortlessly.
Pricing
Personal: $30 per month. Includes 10 minutes of video per month and up to 10 slides per video.
Corporate: customize. Includes up to 50 slides per video, branded video share page and premium Shutterstock assets.
Similar to Synthesia but minus the avatars, there's Lumen5, a video maker that creates videos in minutes. Enter any text, for example, a blog post and Lumen will automatically find the perfect audio and visuals based on that.
It also makes talking head videos 100% better with visual overlays and other cool features.
Pricing
Free forever: contains the watermark.
Basic: $19 per month. Advanced AI Script Composer features.
Starter: $59 per month. Access to more than 50M stock photos and videos.
Professional: $149 per month. Multiple brand kits.
SEO
If you use WordPress for affiliate marketing, you probably already have Link Whisper, but if you don't, what are you waiting for?
Link Whisper is a smart internal linking tool that suggests relevant internal links when you start writing your article right within the WordPress editor. You can also quickly find pages that don't have internal links pointing to them.
Building internal links is very important to show the search engines your content is trustworthy.
Pricing
Link Whisper has only one plan with different prices according to the number of sites you need the license for. For one site the cost is $77.

Surfer is a tool created to skyrocket your organic traffic. Although it has multiple features, its main focus is on keyword research.
Its keyword research tool has a different approach to traditional tools. Instead of focusing on singular keywords, it researches and groups keywords. That way, it gives you more suggestions and makes it easier to establish topical authority.
Pricing
Essential: $89 per month. Includes two organization seats.
Advanced: $179 per month. Access the content editor and 5 seats.
Max: $299 per month. Includes all add-ons.
Enterprise: custom. Get a dedicated customer success manager.
All-in-one solutions
Following the WordPress solutions, Gizzmo AI is a WordPress plugin that automatically generating high-quality articles based on Amazon products. So it's precisely aimed at affiliate marketers working with Amazon.
In fact, Gizzmo even automatically integrates the site owner's Amazon tag and a convenient "Buy Now" button to your posts.
Pricing
Free trial: works for 5 articles.
Builder: $19.99 per month. Works with up to 25 articles per month.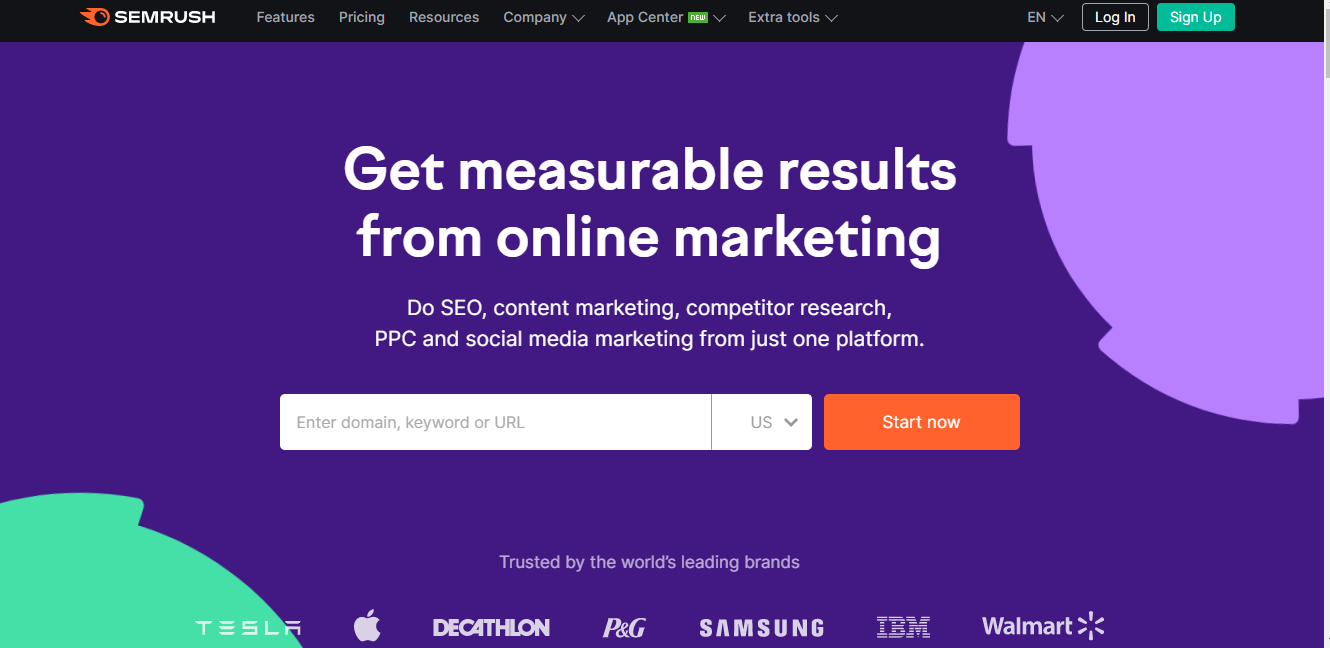 Semrush is the biggest platform for marketing professionals. With it, you can tackle content marketing, ads, social media, whatever you want!
Although it has become popular for its keyword research tool and SERP volatility trends metrics, it also helps you with content. Semrush has several content creation and distribution tools that will quicken the process of writing affiliate marketing blog posts.
Pricing
SEMrush has a free trial and three paid plans:
Pro: $119.95 per month. Includes 5 projects and 500 keywords to track.
Guru: $229.95 per month. Ideal for mid-sized businesses, comes with GDS integration and device tracking.
Business: $449.95 per month. It lets you track up to 5,000 keywords and access the API.
You probably know Get Response from its email marketing features. However, it has so much more to offer than that.
Recently, it has added AI to its tools and has a whole AI campaign generator. With it, you can create AI-generated emails and landing pages in multiple languages, making it so much easier and faster to reach your audience.
Pricing
You can get the AI Campaign Generator with the Email Marketing plan for $19 per month or with Marketing Automation for $59 per month.
Similar to Get Response's Campaign Generator, SuperBuzz uses AI to handle your marketing campaigns. Among the multiple things their AI does is create optimized ad campaigns and copy, as well as A/B test your website.
Interestingly, a last-year study showed that people cannot tell the difference between content created by SuperBuzz's AI and a human. So you can't be in better hands.
Pricing
Early Buzzer: $49 per month. It uses GPT-3 technology.
Super Buzzer: $99 per month. It uses GPT-4 technology.
Enterprizzer: custom.
Final words
So there you have it. Our list of the 15 best AI tools for affiliate marketing.
We tried covering a wide range of platforms for different steps in your affiliate marketing journey.
Did you find a new name?
Have you tried any of these tools?
Tell us in the comments!