We are currently facing a video-first internet era. It's wonderful but it is also a bit hard for creators. It requires time, effort and not being camera-shy.
Whatever the problem is in your case, it has a solution: AI spokesperson video generators. This new technology can help you save time and money while giving a professional look to your videos.
We've already mentioned some in our video generators post, but today we wanted to focus purely on AI spokesperson video generators and dive into the world of human avatars.
Best AI Spokesperson video generator software
First on our list is DeepBrain, a company with multiple artificial intelligence solutions. AI Studios, its AI video generator, offers more than 100 AI avatars and the ability to create custom avatars.
However, its new product, AI Human, is even more advanced. With it, you can create a conversational avatar that works as a powerful chatbot. So you'll go through a similar process of its Studio feature but resulting in a live video.
Features
More than 80 multi-languages.
Multiple regular avatars, including 3D characters.
Connects with third-party chatbots.
Pricing
DeepBrain AI Studios starts at $30 per month. However, if you want to go with its AI Human service, you'll need to contact sales.

Synthesia is THE AI video spokesperson generator. It's used by more than 30,000 teams to create videos at scale. Synthesia was founded in 2017 by a team of AI researchers and entrepreneurs from UCL, Stanford, TUM and Cambridge.
It has more than 120 languages and accents.
Features
More than 60 diverse avatars.
Custom avatars.
More than 50 pre-design templates and AI voices.
Free media library.
Pricing
Synthesia lets you create a free simple AI video as long as you have a business email to receive the result. They have 2 premium plans:
Personal: $30 per month. Includes 10 minutes of video per month and up to 10 slides per video.
Corporate: customize. Includes up to 50 slides per video, branded video share page and premium Shutterstock assets.
If you want to create custom avatars, you'll have to purchase an add-on subscription that costs $1,000 per year.
Movio is another popular, award-winning spokesperson video generator software. It supports more than 20 languages.
Like Synthesia, they have a feature that costs extra money to create custom avatars. You can, however, easily swap your face onto the AI avatar with any plan.
Features
More than 100 real and CG human avatars.
Over 200 templates.
TalkingPhoto: bring photos to life.
Discord community.
Pricing
Movio has four flexible plans that vary according to how many video minutes you need:
Free: includes 1-minute video credits per month and up to 5 minutes per video.
Essential: $24 per month. Comes with 10-minute video credits per month, auto-captions and unlimited hosting.
Pro: $180 per month. Up to 90 video credits and API access.
Enterprise: customize.
If you wish to create a custom avatar, you'll need to purchase a separate plan for $199 or 1,000 per year depending on your needs.
Colossyan Creator has been featured in Forbes and other big magazines. You can try it out for free without even signing up.
Their avatar customization really impressed me. You can adjust the age, emotions and expressions of the AI actors. This can look like your avatar frowning or being elderly, showing sadness, etc. And it's all just with a click of a button.
Features
More than 70 languages and variants.
In-app screen recording.
Create your own avatar.
Video subtitles.
Pricing
Colossyan has flexible plans, with prices that vary according to how many video minutes you are looking for:
Free: try Colossyan with 5 free video minutes and two avatars.
Basic: $30 per month. It includes 10 video minutes per month and 12 avatars.
Pro: $100 per month. Access 40 video minutes per month and all premium avatars.
Enterprise: custom. Get collaboration features, analytic tools and auto-translate videos to 25 languages.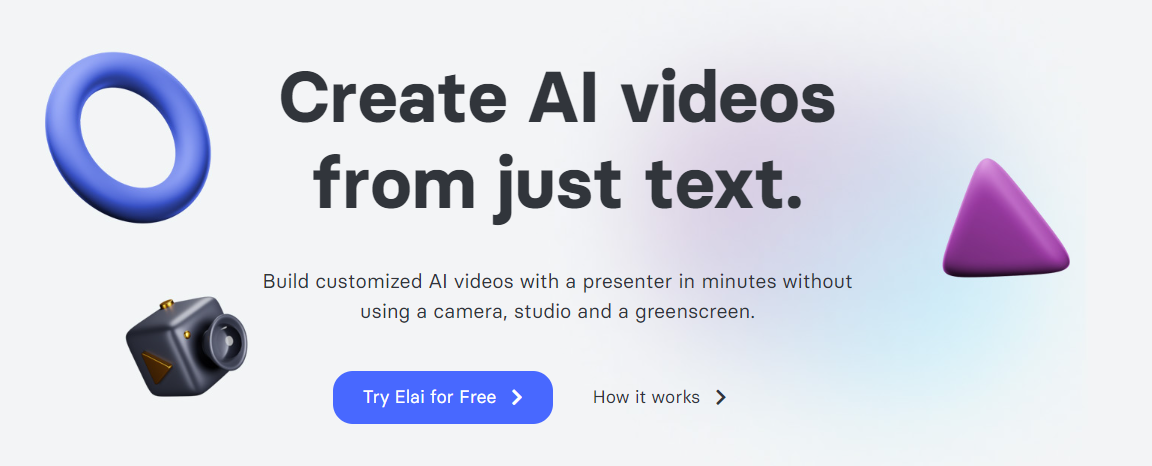 Elai was founded in 2021 and has Ukrainian roots. By supporting them, you're also supporting the digitalization of education for Ukrainian refugee children.
Elai has multiple additional services outside their plans, such as custom avatars, selfie avatars, voice cloning and cartoon avatar. Each one costs at least $260 per year.
Features
35 Avatars.
Customize avatars.
More than 65 languages.
More than 450 voices.
Pricing
Elai.io has four plans:
Free: 1 minute of video per month and all avatars.
Basic: $29 per month. Includes 15 video minutes per month and access to the public API.
Advanced: $99 per month. Includes 50 video minutes, 4K ultra HD videos and custom music upload.
Corporate plan: custom. Get a dedicated account manager and unlimited users.
Synthesys is, alongside Synthesia, the most popular A.I. spokesperson video generator out there. Their software is used by thousands of marketers around the globe.
You can take a look at their multiple avatars on their website to understand the appeal.
Synthesys also has 15 synthetic human voices available only in the English language.
Features
More than 66 languages with 254 different voices.
74 real human avatars.
Voice cloning.
HD and 1080 output.
Pricing
Human studio synthesys: $39 per month. Includes unlimited videos and full video customization.
Audio synthesys: $29 per month. Unlimited voice-over downloads and access to 38 real human voices.
Audio and human studio synthesys: $59 per month.
If you wish to create your custom avatar, you'll need to pay $497 per year.
As to voice cloning, the yearly plan costs $297.
Hour One specializes in the development of virtual humans for use in professional video communications. They have big customers such as NBC Universal and DreamWorks.
Something that catches your eye about Hour One is its Ethics section. AI requires responsibility and they make it clear all characters are compensated for their appearances.
Features
More than 100 characters.
Multiple languages.
Brand kit.
Pricing
Free trial: access to up to 3 minutes of published videos and stock characters.
Lite: $25 per month. Access to 10 minutes of published videos per month and generate your own media by using AI.
Business: $199 per month. Create your own custom character and customize your videos with your logo.
Enterprise: custom. Access to unlimited custom characters and templates as well as the API.
Rephrase.ai is trusted by more than 50 leading companies like Microsoft, Mondelez and Nivea.
Its generative AI technology makes synthetic video creation as easy as writing a script. Rephrase.ai can generate numerous video variants from simple text input.
Moreover, it's one of the few tools in this list that has CRM integration.
Features
Multiple stock avatars.
More than 15 languages and accents.
Audio cloning.
Unlimited videos.
Pricing
Rephrase.ai has three plans. You need to contact them and tell them a bit about your needs to know how much it will cost you.
Basic: includes 3 templates and one avatar.
Growth: access the API integration and CRM integration.
Pro: includes 8 templates and recurring avatar validity.
It also has an enterprise plan with a need-based structure.
D-ID is another amazing option for those seeking to create spokesperson videos.
It has three ways to create faces. You can either upload an image of your own, choose from an existing selection of photorealistic or illustrated faces, or use Stable Diffusion to generate any face you can imagine.
D-ID also has a Speaking Portrait feature that uses AI-based reenactment technology to bring to life family history and legacy history.
Features
119 languages and language variants are available.
Custom premium presenters.
PowerPoint plugin.
Voice cloning.
Pricing
Trial: it's free and lasts 14 days. You get 5 minutes of video and 15 A.I. presenter prompts.
Lite: $5.99 per month. It includes 10 video minutes per month and API access.
Pro: $49.99 per month.
Synths.video is an AI spokesperson video generator specially designed to create YouTube videos. They have a built-in YouTube integration and multiple avatars available you can check out on their website. Some are the same as Synthesia's.
They will also soon add YouTube analytics as well as YouTube link clicks tracking.
Features
Supports more than 30 languages.
More than 40 human avatars with voiceover.
RSS feed support.
YouTube video upload and optimization.
Pricing
YouTube start: $799 per month. Include a 10-video pack and YouTube auto-upload.
Custom: choose how many videos you want. For 60 videos, the price is $2,000. It includes custom avatars, YouTube thumbnails, video branding and multi-language video.
Conclusion
AI spokesperson video generators are flourishing right now and the options they offer to create videos are plenty. After seeing the best 10 software it's hard to pick one since they are all very promising.
It's true most of these generators technically support multiple languages and the truth is they only sound natural in English. But natural language processing is still so new and it will keep evolving until every language sounds human.
Have you got the chance to try any of these tools?
If so, we'll love to read about your experience in the comments!