If you have a WordPress site, you need to use artificial intelligence plugins. You might think AI is reserved for certain specific things like text-to-speech, writing or generating videos.
But today, in this post, we'll prove you otherwise. Keep reading to see all the ways in which AI can help you and 15 of the best AI plugins for WordPress.
How AI can help your WordPress site
Artificial intelligence allows computer programs to simulate human intelligence and mimic human behavior.
AI often analyses data to improve its performance, and that's what we call machine learning.
So all this in the context of WordPress means AI plugins that automate complex tasks and also make website content more personalized for your visitors.
That's why in this list, you'll find chatbots, SEO plugins, and other gems.
Chances are you already have a plugin that uses AI to make your life easier!
15 Best AI Plugins for WordPress
WebsiteVoice is a text-to-speech WordPress plugin. If you're looking for a way to improve engagement on your posts, WebsiteVoice offers a great solution: using artificial intelligence to read your articles.
With its high-quality speech audio, you can make your content accessible to visually impaired people or just folks that are busy multitasking or on the go.
Pricing
You can use this plugin for free for the first days. However, you will eventually have to upgrade to keep using it.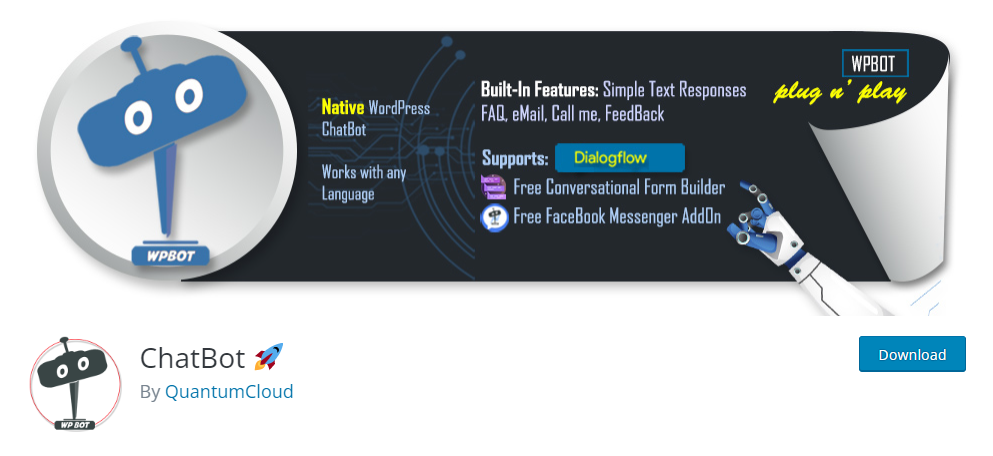 For those running an eCommerce and getting customer questions constantly, a chatbot is a very necessary plugin.
ChatBot can work in Natural Language Processing Mode and Button Menu-Driven Mode, or a combination of both. It works with any language, including RTL (right-to-left scripts).
Pricing
ChatBot is an open-source software. It has a free version and a premium one. Its lowest plan costs $52 per month.
ContentBot is an AI writing tool that generates short snippets of content and creates ideas for you and your marketing efforts. They were the first AI Writer that launched a WordPress plugin.
With ContentBot, you can also change the tone of your sentences and summarize long content into succinct copy.
You can't, however, create a full article with this plugin.
Pricing
It's free.
Link Whisper generates automatic link suggestions to connect related posts.
The task of building internal links is essential because it improves not only user experience, but also helps Google rank your site better due to a better link structure.
With Link Whisper you can do this automatically. You can also see internal links reporting and find out which pages have very few or no internal links pointing to them.
It supports multiple languages including Swedish, Slovak, and Arabic.
Pricing
This plugin is free but you can access a premium version for $77.
Image alternative text is another dull and time-consuming task that you can avoid with AI.
Use Image SEO Optimizer to auto-optimize images alternative texts (alt text or alt tag) and names with SEO-friendly content.
The plugin also generates social media preview cards for your posts using the Open Graph protocol.
Pricing
Image SEO is free for small websites that only need 10 image alternative texts per month. Premium plans start at €4.99 for WooCommerce, Photographer and SEO Agency.
AI Engine is one of those plugins that has it all. With it, you can automate tons of tasks, from generating engaging content to adding a ChatGPT-style chatbot to your website.
Remember OpenAI from previous posts?
This plugin utilizes the API from OpenAI to keep track of your usage with built-in statistics.
And some upcoming features of AI Engine include translation to any language and the ability to improve specific paragraphs.
It's available in English and Croatian.
Pricing
AI Engine is free!
Tidio is another great AI plugin if you're looking for a chatbot.
As a multifunctional customer service platform, it gives you plenty of ways to offer excellent support to your customers. You'll be able to manage all your live chat, e-mail and Messenger messages from one panel.
You can also switch between languages or set up multi-language chatbots. The plugin comes with several pre-translated languages.
Pricing
Most of Tidio's features are available for free. You can unlock additional premium features for $33 per month and premium plans also include a 7-day free trial.
Similar to ContentBot, GetGenie is an AI writing plugin for WordPress. However, with GetGenie you have the power to create blog articles with AI.
It comes with comes up with more than 28 templates including AIDA Framework templates.
It also has SEO optimization: it provides SEO titles, meta descriptions, outlines and intros for your SEO content so it ranks well on search engines.
Pricing
There's a free version available and a paid plan for $114 per year.
RankMath SEO is an all-in-one SEO plugin that handles every aspect of search engine optimization using artificial intelligence.
Besides optimizing for keywords and suggesting internal linking, their AI assistant helps you write SEO-friendly content.
It also comes with tons of integrations: Google Analytics, LSI Keyword Tool and Google Search Console.
Pricing
It has a free version and a paid version for $59 per year that can be used on unlimited personal sites.
Voicer is another text-to-speech plugin and it focuses on creating lifelike interactions with your users. It converts text into human-like speech in more than 310 voices across more than 45 languages and variants.
It also includes exclusive access to WaveNet technology.
Voicer is powered by the Google Cloud Platform and to use this plugin you need a Google account.
Pricing
A regular license costs $20 and an extended license costs $99.
Speaker is an AI plugin that converts website page content into human-like speech. It has 340 voices across more than 52 languages and variants.
It's the only WordPress Plugin that supports the Speech Synthesis Markup Language(SSML) standard. Now, why is that important?
This standard allows you to fine-tune the speech.  So you can pause, intonate and read numbers, among other things, in the usual format for humans.
Finally, with this plugin, you can even construct an RSS feed for publishing on the largest podcasting services, such as Apple Podcasts and Spotify.
Pricing
The regular license costs $29 and the extended license goes up to $199.
This plugin comes with an elaborate pricing and discount toolkit that helps to implement different types of discount-based prices and add coupons to any product or category.
You simply create the conditions and rules for applying different discounts from the settings and then enable or disable the rules.
Among its more advanced features, you'll find you can exclude certain users from getting a discount.
Pricing
A regular license costs $29 and an extended license costs $525.
Quttera is the only AI plugin for WordPress on this list that scans your website for malware, trojans, backdoors, worms, viruses, shells and more.
With one click scan, you can detect unknown malware and external links, as well as files infected by PHP malware.
Pricing
The plugin is free. However, if you need help removing the malware you detected, Quttera has annual plans which include malware cleanup and blacklist removal.
This AI plugin for WordPress adds a virtual smart assistant on your website to guide users on your website.
The assistant can intelligently sell products, advise and inform your customers and guide them on the website
It also comes with an avatar edition so you can easily replace the graphics of the avatars to fit your preferences.
VP Virtual Assistant includes English and French backend translations.
Pricing
A regular license costs $29 and an extended license costs $165.
WordLift is an SEO schema plugin. It connects to your existing website, reads your content, finds entities in it (like places and people) and creates a representation of your content that search engines will love.
How?
By creating code (called Structured Data or Schema markup) that reiterates your page's content in a manner that search engines best understand.
It currently supports 32 languages including Chinese, Danish, German, and English but the plugin itself has only been translated into 5 languages.
Pricing
WordLift has a 14-day free trial. It's open to open-source, so if you're a developer, you can contribute to it.
Final Words
So, there you have it, the 15 best AI plugins for WordPress. As you could see, most of them have a free version, so anyone can access the advantages of AI.
And the great news is no matter if you are a blogger, have e-commerce or even just a landing page, you can benefit from AI.
Do you already use an AI plugin for WordPress?
Do you have any to add to the list?
Tell us in the comments!