Using artificial intelligence will rise more in 2023.
Why?
Because AI tools can make anything easier, including writing!
In this post, we'll cover the 15 best AI copywriting software to help you put your ideas into words.
How can artificial intelligence help you?
In marketing, you set goals for your business and set strategies to achieve them. You might make it or not, but the point is you can always learn from your mistakes by monitoring your performance. Now imagine if you didn't have to go through the whole trial-and-error process.
That's where AI comes in. They already have large amounts of data that helped them learn automatically what are the best actions to take.
When it comes to writing, that means you never have to write anything from scratch again. Au revoir writer's block!
Here comes the list of the best AI writing tools and software:
This all-in-one writing platform provides you powerful features to manage everything from one place: SEO, grammar, and more! Thanks to its browser extension, you can take it anywhere you go.
Features
More than 30 use cases and templates to choose from.
Copywriting formulas.
Wide variety of tones of voice to write with the right emotion.
More than 30 languages.
Team accounts.
SEO analyzer.
Pricing
Free plan: generate 5,000 characters per month.
Premium: $29 per month. Unlimited characters.
Owned by Conversion.ai, the same company as Shortly, Jarvis is an AI writing software and content creation tool. As you can see below, it has a more variety of features than Shortly:
Features
More than 50 templates.
Boss mode: command Jarvis to write long content.
Add team members and write collaboratively.
Multiple languages: more than 25. You can even input your product data in one language and get the output in another one!
Pricing
Starter: $24 per month if paid annually. Write 20,000 words per month.
Boss mode: $99 per month if paid annually. Unlimited words and project folders.
Both plans include a 7-day money-back guarantee.

With headquarters in Delaware, USA, Writesonic is a great AI writing tool. It has tons of features and more to come: they are planning to add browser extensions, white labeling, and more!
They also have interactive demos on their website so you can check out how it works.
Features
Marketing copy generator: write SEO meta descriptions, Facebook ads, sales emails, and more!
Copywriting formulas.
AI article writer.
Grammar fixer and readability checker.
25 languages.
Pricing
The free trial includes 10 credits to generate landing pages, ads, and more.
Basic: $15 per month. 75 credits.
Professional: $45 per month for unlimited credits.
Startup: $95 per month. Includes priority support and a Shopify app coming soon, among other features.
Agency: $195 per month. Get 4 user seats and custom feature requests.
With big customers such as eBay and Nestle, Copy.ai is excellent for turbo-charge your creativity and write short marketing copy. They have very complete tutorials and blog posts to help you make the best out of AI.
Features
Digital ad and e-commerce copy.
Blog titles, ideas, and outlines.
More than 25 languages.
Pricing
Free trial: 7 days of free access, 100 runs a day.
Solo: $35 per month. Unlimited runs and access to all the tools.
Multiple seats: custom. Collaboration features.
Unbounce isn't just a landing page builder anymore. Now, under the name of "conversion intelligence", they have a whole set of tools that use AI to help you grow your business. Among them, you'll find Smart Copy, an AI ideal for copywriting.
Features
Copy generator.
Loads of templates.
Refine: fine-tune your copy generator.
Writer: a long-form writing canvas with no character limits.
Multiple languages.
Pricing
It has two plans:
Starter plan: free. No credit card required, nothing. You have 5 credits daily.
Growth plan: $25 per month if paid annually. Unlimited access to copy creation, unlimited profiles, and access to Writer.
ShortlyAI is software that helps you write articles or stories. It was launched last year and it has a very modern and minimal interface that's perfect for focusing on what's important: writing.
Features
"Write for me" button.
Slash commands: "rewrite", "shorten", and "expand".
"Instruct" command: tell Shortly exactly what you want it to do.
Minimal design.
Only supports the English language.
Pricing
Shortly gives you a free trial. After that, it offers only one plan that costs $65 per month if paid annually or $70 per month if paid monthly.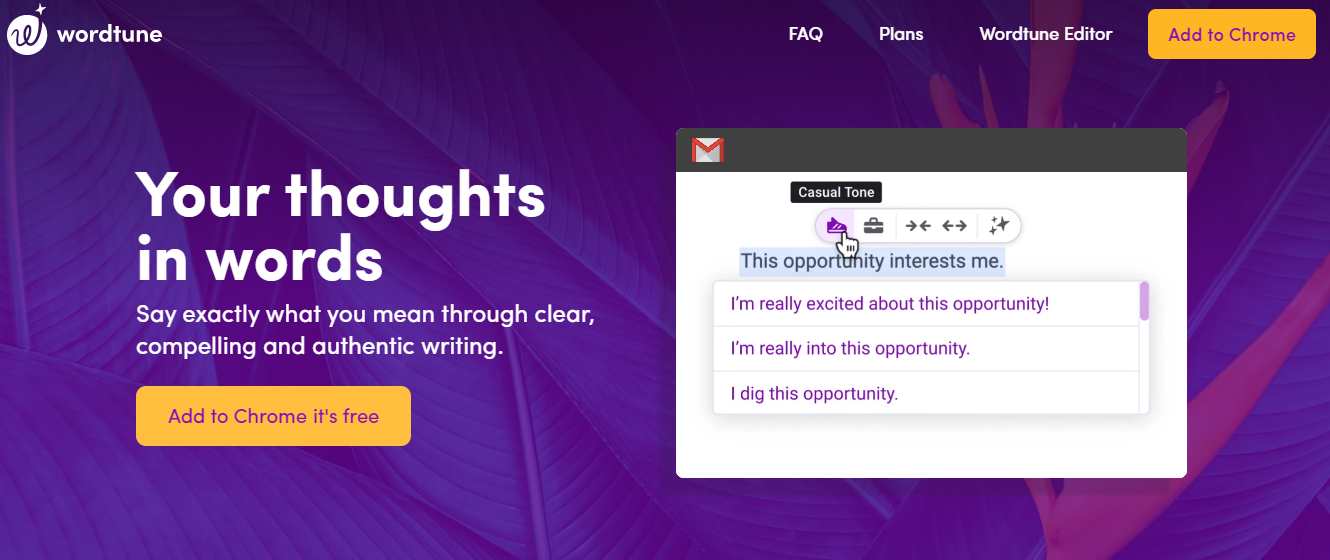 Wordtune has a very funny website that makes you like it instantly. You can check out how great the AI tool is right on their main page by tuning famous quotes.
Features
Rewrite, shorten, or expand your text.
Change the tone.
Integration with Google Docs, Gmail, Linkedin, and more!
Free Chrome Extension.
Pricing
Free: explore new ways to rephrase sentences. Limited.
Premium: $9.99 per month. Shorten and expand your text.
The premium for teams: custom price.
Sapling is an AI messaging assistant that's best for sales and support messages. It's specially designed to respond to customers, so it's quite different from the other tools we mentioned.
Features
Snippets: quickly insert pieces of text that you or your team frequently use.
Autocomplete everywhere: save time with predictive text.
Chat suggestions.
Grammar corrector.
Pricing
Free: get basic suggestions and up to 20 snippets.
Pro: $25 per month. Unlimited snippets and email and ticket support.
Enterprise: custom. Advanced premium suggestions and team analytics.
Besides the free forever plan, they offer a free 1-month trial of Sapling Pro.
Whether you want to write a product description or an article of more than 2,000 words, Content Bot will be there for you.
They are truly experts in what they do: they use OpenAI's GPT-3, a state-of-the-art natural language processing system that uses deep learning to produce human-like text. Because intelligence is artificial, but the text should always sound natural.
Features
Finish the sentence, rewrite, and summarize.
Pain-Agitate-Solution and Pain-Benefit-Solution formulas.
Pitch Yourself: let Content Bot write your cover letter.
Build Page: build the HTML and CSS version of your landing page with the AI.
Pricing
Free plan: for junior AI writer. Get 120 short-form pieces of original content per month.
Premium: $59 per month. Perfect for startups. Unlimited short-form pieces and 25 long-form credits.
Premium Pro: $99 per month. Includes 75 long-form credits and 6 seats.
For both the paid tiers, you can get a 7-day trial for only $7.
According to its website, Bertha is the world's first fully integrated AI writing assistant for WordPress. She can help you write anything without leaving the block editor. How cool is that?
Features
Choose from more than 20 content models.
Write blog posts, CTAs, product descriptions, and more.
Save all of Bertha's suggestions.
Pricing
Pro: $25 per month if paid annually. Get 20,000 words per month.
Multi-biz: $58 per month. Bertha will write 60,000 words per month for you.
Pro Unlimited: $83 per month. Get 500,00 words per month.
All plans include a 14-day money-back guarantee in case you don't love Bertha. Don't worry, she'll understand.
Part of what takes so much time writing an article is research. But not anymore with Outranking. This AI writing software makes the dream of building research on autopilot come true. How? Using Concepts, the most advanced AI tech out there.
Features
AI Write with Methods and GPT-3. Customize tone of voice, writing framework, and more.
AI Wizard: SEO optimizer.
Team collaboration.
13 languages.
Pricing
Starter: $39 per month.
Growth: $79 per month.
Professional: $159 per month.

Much like Outranking, AI Writer is great for generating relevant quality content super fast. It researches and writes for you, saving up to 50% of your time!
Features
AI Text generator: write full-length articles.
Research and Write.
Verifiable Citations: see the list of citations so you can manually verify the accuracy of the information.
Rewrite your content to re-publish it.
Pricing
AI Writer has a 1-week free trial and the following paid plans:
Basic plan: $29 per month. Up to 40 articles per month.
Standard plan: $59 per month. Up to 150 articles per month.
Custom plan: unlimited users and as many articles as you need.
ClosersCopy writes exactly what your audience wants to read. It can help you create blog articles, compelling stories, email campaigns, and so much more. And if you thought the other AI writing tools were multilingual, check out this: ClosersCopy understands 127 languages.
Features
StoryAI, BlogAI and SalesAI.
Includes Thesaurus: find synonyms without switching tabs.
More than 127 languages!
Get insights into your writing.
Pricing
Starter: $20,99 per month if paid annually.
Professional: $34,99 per month.
Unlimited: $59,99 per month. Get 3 additional seats for your teams.
Powered by GPT-3, Headlime is the last one on the list. This AI writing software is ideal for creating a professional copy. Do you want proof? Take a look at their landing page: everything was written by Headlime!
Features
AI-powered blog editor.
AI-powered landing page builder.
Professional templates.
Team collaboration.
11 languages.
Pricing
Individual: $59 per month. Includes 1500 credits per month.
Business: $399 per month. Unlimited usage.
You can try both for free!

Trusted by more than 200,000 marketers, INK is an AI co-writing and SEO assistant. Great for founders and copywriters.
Features
Distraction-free interface.
Write, rewrite and simplify with the AI's help.
SEO features.
Dyslexia and colorblind modes.
Spelling and grammar check.
Pricing
Ink Free: get 50 AI-generated content outputs.
Ink Pro: $29 per month if paid annually. Get AI Writing features.
Ink Pro Unlimited: $82 per month if paid annually. Includes team management and unlimited outputs per month.
The paid plans have a 7-day money-back guarantee.
Conclusion
The amount of AI writing tools and software available out there is absurd. You'll find platforms for all your needs and at all ranges of prices.
So what's your excuse for not starting using an AI writing tool?