On the internet, quality comes in numbers.
We're forever dealing with SERP rankings and traffic numbers and audit ratings. For a search engine to rate sites as trustable or not, they sift through various different factors, one of the most important of them being backlinks.
These can determine the authority of your website by lending credibility. Which in turn gets your domain and other links on your domain higher rankings in the Google SERPs.
What are backlinks?
A backlink is a link on a site that connects back to you. Hence, if more websites link back to you, you will be seen as a veritable source. However, simply having huge numbers of backlinks isn't enough. One also needs to check the quality of these backlinks.
If a poor ranking site, or one with suspicious content links back to you, it can actually harm your site then do any good! Backlinks are a way of building trust within the online community, thus who casts them is equally important.
Essentially, backlink checkers have their own large database of web pages, which they crawl to find references back to you.
The ideal strategy would be to get backlinks from the larger, reputed sites. While there are many effective link-building strategies, this article is not about those.
We're going to look at some of the best backlink checkers and how to benefit from them!
It's not rare to see SEMRush be on the top of many SEO product lists. After all, as far as digital marketing goes, SEMRush offers a comprehensive package.
They have a total of 43+ billion links in their database, which allows them to perform a pretty intensive check.
After performing the analysis, the data offered by SEMRush includes a list of all the domains linking back to you, their authority score, and the backlink type (image/ text/ etc). With deep link analysis, you can break down the data using filters like backlink type, authority score, IP or geo-location. You can also see it based on time, and lost or gained backlinks.
One can choose to be notified if a specific site deletes its backlinks. Moreover, you can choose to delete certain backlinks that are spammy. SEMRush also allows you to perform a competitor's analysis where you can see what are the top sites linking back to them. You can do a side-by-side analysis and identify the most authoritative pages that backlink them.
So, you now have a comprehensive list of sites to target at your next meeting! They also offer a Backlink Audit tool using which you can avoid Google penalties. SEMRush offers a 30 day free trial of their service, with a Pro Plan of 119.95 USD per month. This is the cheapest plan that offers access to the backlinks analytics feature.
Here's a coupon to get 14 days of free access to the SEMRush Pro Plan.
Ahrefs offers a limited free trial of their backlink checker that allows you to see the top few backlinks (but not delve into any details). With a database of 25.86 trillion, Ahrefs provides quite accurate metrics and allows competitor analysis as well.
Ahrefs allows you to see your domain rating, the total number of backlinks and referring domains, and the keywords they are ranking for. You can identify broken or deleted backlinks. For judging how good a backlink is, Ahrefs offer metrics known as Domain Rating (DR) and URL Rating (UR). You can also see their traffic.
Ahrefs allows you to generate a Referring domains report. This consists of a list of all the domains with their Ahrefs score, organic traffic and targetted links.
Alternatively, the Linked domains report shows the outbound links of your website. Of course, along with this, you can get a complete breakdown for any specific backlink if you chose to. They allow you to filter it by link type, platform, traffic, UR/ DR ratings, and language. Moreover, you can choose to see similar backlinking sites grouped together to study them easily.
What they offer extra is the anchor text analysis – this can detect spammy sites, which you can then delete or disavow. You can get it for 99 USD per month with a 7-day free trial before.
Unlike Ahrefs and SEMrush where the backlink checker is a part of the larger SEO package, LinkMiner offers an exclusive backlink checker tool.
They claim to have a total of 9.5 trillion links in their ever-growing database. As a tool developed by Mangools, you can create a Mangools account to get the free trial of LinkMiner that lasts for 10 days.
LinkMiner has most of the common features other backlink checkers/SEO tools have – it allows you to see the list of backlinks and filter the using link type, traffic and more.
You can also see the links that you have lost or newly gained ones. A new feature LinkMiner offers is the ability to favorite a specific link for coming back to it later, or tracking its link building.
LinkMiner uses Trust Flow and Citation Flow to display the credibility of the referring site. LinkMiner comes with a small price tag and hence, it's a good starting place for those looking to get acquainted with backlink checkers.
You can also get separates keyword finding and site profiling tools from Mangools. You can get it at 29.90 USD per month, which will also allow you up to 100 keywords and SERP lookups per day.
Offered by Neil Patel, Ubersuggest is both a keyword research and backlink checker tool. Similar to Ahrefs, there is a limited free version where you can see some of the basic details.
The free version allows one to perform up to 3 searches daily. This is a pretty cool feature since no other (premium) tool offers access without sign-up.
After entering the site, you will reach an overview page from where you can navigate to the backlinks data page. Ubersuggest allows a visual view of the backlinks over time, along with the anchor text distributions for each domain.
For each referring domain, you can see their domain authority score (as ranked by Moz), their Page authority score, anchor text, and last crawled date.
With their general filters, you can sort them by type of links. Ubersuggest also has advanced filters, where one can sort it based on a specific domain or add a combination of filter tags. Moreover, you can see the lost links over time, superimposed onto the new links gained. This a great visualisation that allows you to see your growth in a new way.
It's great that Ubersuggest allows one to see these comprehensive details for free, before committing to the tool. Individuals can get the package for 12 USD per month allows them to manage up to 3 websites.
Moz Pro comes with a complete SEO package that includes a Link Explorer. This is the feature that allows one to check their backlinks. Moz's Link Explorer has a database of 40 trillion links.
Link Explorer mainly offers an overview of your webpage. You can monitor these inbound links by checking their Spam Score, anchor texts, traffic and Domain Authority score.
With competitor analysis, you can compare the backlinks of yourself with up to 4 competitors simultaneously. Link Explorer is a great auditing tool and the fact that it comes with other SEO tools like rank checking, site audit and campaign tracking makes it all the more useful.
One special feature you will find here is Link Intersect. With Link Intersect, you can see a Venn diagram of links and their linkings. So you can see which sites link to both you and your competitor, and which links only to them or only to you. This is a great way to find new sites to target!
Other than that, Moz allows you to see the regular things like broken and lost lists. These can be sorted by date. At 99 USD per month, you can get access to the Moz Pro package.
Among the list, Linkody stands out as an automated backlink checker. Linkody offered backlink checking services only (without an entire slew of SEO tools).
It negates the need for manually scrolling and checking the links with its email notifs and daily report generation.
Linkody, you can set up an end-of-the-day email listing the overall performance of newly gained and lost links. On visiting their page, you can get a list of all your referring domains, with their anchor texts, link types, Spam Score, Google index status, geo-location and other data. All of these categories can be used to filter and sort the results.
With deeper analysis, you can figure out the top anchor terms, check the distribution of the metrics for location, page type and spam score. Based on the spam score, you can use disavow tool to remove backlinks from certain sites. Moreover, Linkody allows competitor analysis where you can see which pages link only to you or them (similar to Moz).
Linkody offers quite complete and easy-to-understand backlink reports, which can be further white-labeled and customised. You can get Linkody for 14.90 USD per month only that allows you to monitor up to 500 links.
Among its many SEO tools, BuzzSumo has a brand-monitoring suite of tools which includes the backlink analysis feature.
With this, you can not only track backlinks but also any type of brand mention and competitor mention and gauge their sentiment. As far as monitoring your brand's image goes, the BuzzSumo toolset has everything one would need.
Similar to Linkody, BuzzSumo also allows you to set up a daily or weekly email digest to track that week's backlinks. With the backlink analysis tool, you can see all the referring sites along with the performance of each page.
Since this is a part of their brand monitoring toolset, you will be able to see the Facebook, Twitter and other social media shares of the page.
With the Google disavow tool, you can disavow a specific referral if you find it to be untrustworthy. Similar to Ubersuggest, BuzzSumo allows seeing some of the website overview stats for free without even signing up.
However, while Ubersiggest still provides data that is actionable to some extent, the BuzzSumo free report is almost next to nothing and you will need the free trial to get good insights.
BuzzSumo has a free plan that allows one to perform up to 10 searches per month (after sign-up). This allows access to the backlinks checker as well. We definitely recommend checking this before committing to the tool.
cognitiveSEO offers a series of SEO tools, among them the Backlink Analysis tool which we'll be looking at. While their UI might need an update, cognitiveSEO has everything one needs from such a tool and more.
With cognitiveSEO, you can check referring sites, run an automatic Unnatural Link Detection test, and use the Link Navigator tool. With the Unnatural Link Detection test, you can create a list of spammy sites to be sent to Google Disavow. The Links Navigator allows for automatic classification so you don't have to manually check the spam score of each tool.
On the whole, cognitiveSEO is an extremely time-saving option. Their dash displays all the necessary info with easy-to-read and quick visuals. You can see the domain profile details of each referring link and see a graph of their linking trends over time. With their free trial of 7 days, you can look up how the tool works.
cognitiveSEO comes with the hefty tag of 129.99 USD per month which includes site audit, link analysis, rank tracking and social visibility. This might be more than you bargained for, but cognitiveSEO is great if the lesser-known tool does its job well.
If you're looking for a tool that works well and has a decent free version, then SEO SpyGlass is the one you've been looking for. SEO SpyGlass crawls through 7.1 billion web pages daily and can compare the stats of up to 2 sites simultaneously.
With their paid packages, you can compare as many as 11 side-by-side.
SEO SpyGlass allows you to see all the referring domains, but the free version caps it at 1,100 links per domain. However, there is no limit to the total number of sites you can search in a day or month. With Domain Comparison, you can compare the links and also see the interlinks of referral sites.
After all this, you can generate a report and download it in the form of a CSV file. As far as free versions go, SEO SpyGlass is the best you can find which offers detailed analytics and unlimited searches. You can look at live links, lost links, and the details of these pages like traffic and site score.
Each site comes with a Penalty risk score – where a higher score means higher chances of being penalised by Google. For sites like this, you can disavow them using the Disavow file generator which is also present in the free version. With paid versions at 99 USD per year, you can schedule checks in advance and save each of your reports.
OpenLinkProfiler is another free tool on this list. If you're looking for something quick, easy and precise, OpenLinkProfiler works just great.
It is a part of the tools developed by SEOProfiler, and while the other packages are paid, you can get the backlink analysis for absolutely free!
OpenLinkProfiler offers detailed data including the total referral links, unique sites, trusted sites and an overall link influence score. The latter indicates the total credibility of all the backlinks put together, hence a high score points towards a more credible site.
OpenLinkProfiler also offers many filters and tags for sorting results that make it easy to go through. Being a free tool that does not even require any sign-in, you cannot save the report.
For each linking page, OpenLinkProfiler displays the industry type of the page, its link influence score, anchor text and verification date. There is also a Link Disinfection feature that lists all the suspicious sites linking to you. While this is autogenerated, you can also set your own criteria to filter out links. From these, you can create a disavow file and export it.
OpenLinkProfiler allows analysis to a great depth, offering visuals for link contexts, LIS distribution, industry and country-wise link distributions and more. At any point, you can create an account and store your data, the tool remains free.
Among the many SEO tools offered by Majestic SEO, is a backlink checker with a free trial. It offers backlink analysis with an overall Site score and link profile graph. Majestic SEO uses Trust Flow and Citation Flow to show the quality and quantity of links to a website.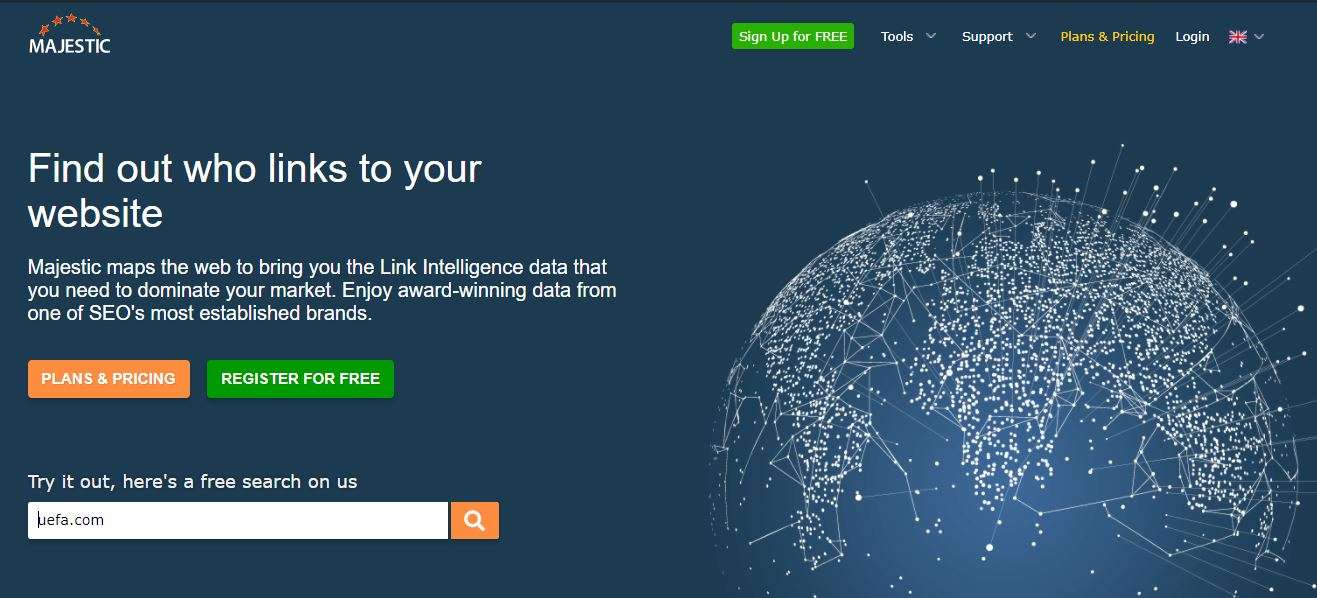 You can see the total number of referring domains and sub-domains, referring IPs, unique sites, and more. What they offer more is the Link Context.
This offers you information regarding how the link is placed on that page. So while you can see the link type as many others offer, you can also gauge its position on the page, what part of the text it is, and what other sites are linked nearby!
Majestic SEO goes further to provide detailed information about historical data and link-building efforts. Similar information is available about anchor text distribution. You can get the Lite plan at 39.99 pounds per month which limits your analysis to 1 million units.
With Seobility, you can get up to 3 free checks per day which are great for checking out the metrics offered by the tool. Seobility does not offer as visual graphics as the other tools listed here, but it still does the job it was meant for.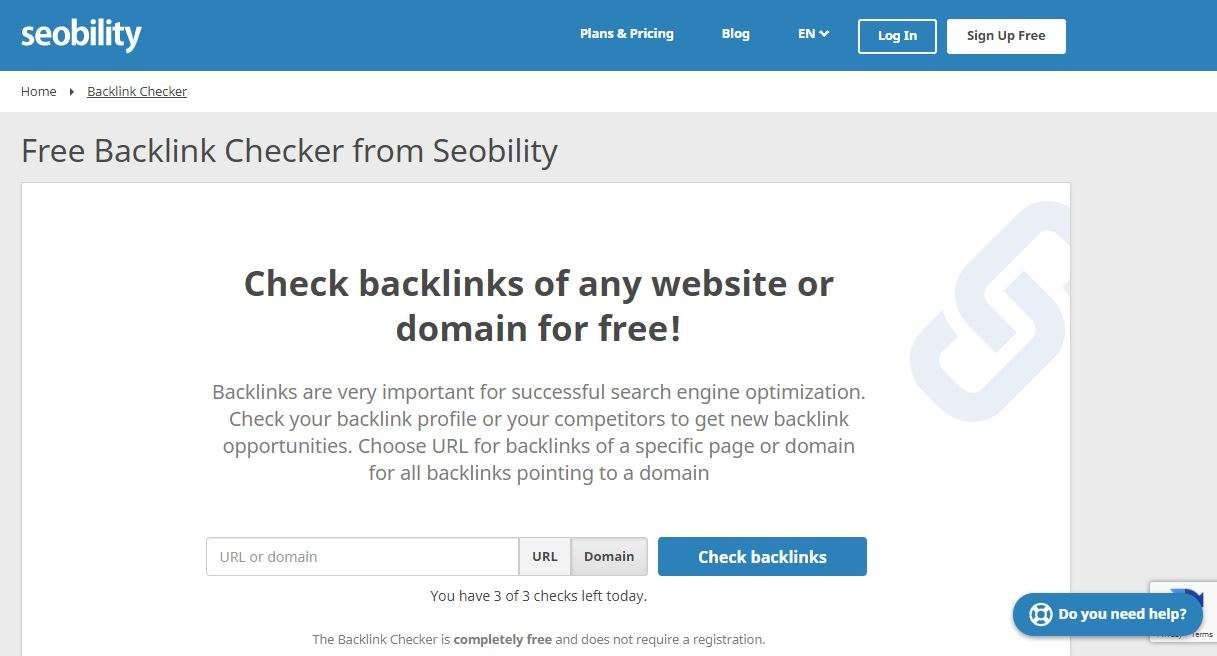 You can look at the total backlinks, domain ratings and follow vs no-follow link percentages. Seobility only lists one backlink from each domain, but thankfully shows all the domains. You can choose to see the sub-domains by clicking on see more. Along with that, it offers a rating for that link, the anchor text and link type.
The entire thing can be exported as a PDF or CSV file. With Seobility, you cannot see any graphical representations of your data or access details about lost and gained links, thus it is severely limited in its abilities. However, it is one of the better free versions available out there, without any sign-ups.
At 50 USD per month, you can opt for the Premium version that offers further details like new and lost links, access to link-building tools, weekly email updates and more.
We've come to the last tool on the list and pretty much seen them all. So, what's special about Kerboo? That's the Kerboo Monitor!
With this, Kerboo monitors the backlinks every day as per the schedule and generates a list of top-notch links that it considers to be beneficial for your site. This kind of automation takes away much of the manual work.
Also, when Kerboo finds a specific link is no longer valid for more than 3 days, they send a notification to you so that you can conduct your own investigation. This allows users to remain on top of their game without scrolling through long lists every day. Their LinkRisk score tells you how much more you need to work towards creating a credible site.
They also find spammy and suspicious files and keep them ready to be immediately imported into a Disavow file. The links can further get added onto a monitor list where you will be notified if they try to backlink to you again! That's certainly a cool feature. Kerboo has managed to look at the nitty-gritty and create a great backlink checking tool.
If you're looking for something as solid as SEMrush or Ahrefs but without the hefty price tag, Serpstat has come out with something spectacular.
The Serpstat Competitor Backlink Analysis Tool at just 52 USD per month.
Serpstat allows you to see the overview of your backlinks, backlinks distributed by countries, a visual representation of lost and gained links, top anchors, and more.
For each backlink, they delve further into IP addresses, subnets, complete with a domain authority score. As a competitor analysis tool, you can compare your results with a competitor to find overlapping or exclusive domains. You can get a report of what their top performing pages are, along with their backlinks and anchor texts.
The same can be viewed for your own domain. You can also compare multiple sites to find common backlinking sites for them.
Their lowest packages come with the analysis tool as well as a rank tracking tool, site audit, website analysis and keyword analysis tool. So, you can exert quality control on your keywords, and perform regular website checks.
Moreover, Serpstat is available in the form of a browser extension that makes it easy to access. With new updates being released every two weeks, Serpstat can help you stay on top of your game!
Conclusion
With so many options and many of them offering free searches, you're sure to find one that works best for you. SEO Spyglass is a great choice for those looking for a free version with detailed analytics. OpenLinkProfiler comes a close second with its account creation and reports saving abilities.
Many may not want to indulge in complete SEO packages like the ones from SEMrush or Ahrefs, which makes the earlier choices that much more important.
But even with these packages, the price tag comes with its own premium services and benefits. SEMrush provides detailed insights and actionable data that one cannot expect from free tools.
Perhaps it all boils down to managing one priority and needs. So, let us know which one you prefer!