As a webmaster, competitor analysis is almost next to impossible when done manually. 
That's why we have SEO tools that allow you to dig deep into your competition website and figure out multiple ways to outrank them.
In this article, we will talk about the 13 best SEO tools in the market for competitor analysis –
Competitor's App allows you to monitor all the moves that your competitors make in their marketing strategy.
It breaks down the process within 5 minutes to let you know all about your competitors and what they have been doing to stay in the game, with all the changes and innovations they follow.
Whenever your competitor takes action, they send you an email informing you about the same. This makes you act on their action with a reaction, to ensure that you maximize your audience. 
Here is what Competitor's App offers:
Blog and social media updates
The platform provides you with all the updates with your competitor's blog posts, Twitter handles, Facebook, and a lot more. Everything that goes on their social handle, you are the first one to be informed. They provide you with your competitor's timings to post and the strategy behind their most effective posts. 
Trial emails and newsletters
The platform gives you access to all emails that your competition sends to their trial consumers as trial emails and trial newsletters. This enables you to understand how they convert their leads by educating them through content.
Website changes and SEO
With a competitor's app, you can monitor all sorts of web changes of your competitors and their strategy behind these changes. You can also get access to their innovations and improvements and what worked for them and what is working for them. You can use this information on your platform to make the best out of materials that are going to take your business a notch higher.
Keywords and ads
Keyword rankings are truly important for one to understand where their business and website stand on the search engine. It is also a good measurement to see how you can compare yourself with your competitors. The platform provides you with tools that let you see where you stand in the competitor and how you can grow from there.
Pricing:
Their pricing starts from $9.90 per competitor per month and is flexible according to the plans you wish to undertake. They also offer a 30-day money-back guarantee if their services do not satisfy you.
SEMrush is one of the most popular and widely known apps that help you analyze competitors and move a step ahead of them. Its competitor analysis features help you pull out all the backlinks that your competitor uses to monitor their ranking changes. It highlights every single keyword that the competitor uses and how much to realize how those keywords help them maintain their ranking.
The tool is invaluable because it highlights the targeted audience and helps you make changes in your marketing and content strategy to learn from their mistakes and grab their good decisions.
Here is how it helps you to grow your organic traffic with their comprehensive SEO workflow and potent tools –
It lets you uncover billions of local and national keywords that help to build your competitor's ranking

Tracks SERP positions every day

Runs technical SEO auditing

Analyses all the backlinks for a domain

It comes with a comprehensive SEO toolkit
Here are some other things that make SEMrush one of the best competitor analysis tools for SEO in the market –
Over 14 international awards that claim SEMrush to be the best SEO software suite

Used by over 30% of the Fortune 500 companies as their marketing and competitor analysis tool

Used by over 7 million marketing professionals

It is like several keyword finders and SEO developing tools merged together 
Pricing:
Its pricing starts from $119.95 and goes up to $449.95, depending on the type of pack and features you need to begin with.
Similarweb is one of the must-have tools if you wish to win your online game of sales and marketing. It comes loaded with features that help you analyze your competition, know what they are doing and learn from their mistakes and innovations. It offers a feature called traffic meter, which is also a free extension to your browser.
Through this feature, you can easily access behind the scene insights and analyses for every site available online. You have access to objective traffic data and other interesting insights that help you make your business better.
Its DigitalRank™ is one of the greatest measures of the digital world that is relied on by companies like Amazon, Microsoft, and Google., it helps you stack up against their ranking, understand the reason behind those ranking and then level up your game to a better position.
Pricing:
They have a free plan that gives you access to all the basic features needed to analyze your competitors and their SEO. However, they also have a paid enterprise plan which can be customized according to your requirements, and the pricing of this can be understood by getting in touch with their sales department. 
Serpstat is an all-in-one SEO platform that provides features like the backlink tracker, historical data finder, keyword grouping, local search, and a lot more.
It also gives you insights into traffic distribution among several domains. The platform shows the market share fluctuations to analyze the market situation better. Serpstat gives you a robust backlink analysis, site audit, and keywords research. This ensures that your website stays ahead of the competition.
Its competitor research allows you to analyze all the competitors in your business online, identify the niche leaders and learn from them, follow the keyword trends and even monitor the progress of your competitors. It also gives you the keyword map of any competitor website, handy.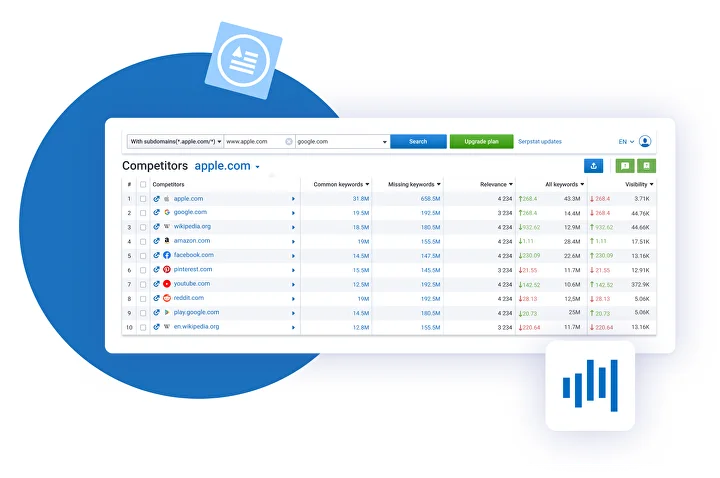 Pricing:
Serpstat's pricing plan starts from $55 per month and goes up to $399 per month.
SpyFu is a search marketing tool that lets you search any domain and look at every place they have shown up on the search engine till that time. You can also see what all keywords they have bought on Google Ads, their organic ranking, and ad variations in the last one and a half decades.
Here is how SpyFu helps in your competitor analysis –
It helps you increase your website traffic with their smart recommendations drive clicks. This maximizes your SEO and Google Ad click campaigns

It allows you to track keyword ranking and monitor all the paid and SEO ranking on Bing, Google, Yahoo, and more

SpyFu also assists you in making better connections by their reliable contact information. It builds your partnerships and maximizes lead and sales generation

PPC competitor research tools helping you spy on competitors keywords

Monitor PPC competitors and keep track of all the domains

Look at the ad spend changes and analyze how they helped the businesses

Spy on your SEO competition 
Pricing:
Their plans start from $33 a month and go up to $68 a month, billed annually. 
Ahrefs is an SEO and resource tool that acts like a pro helper to help your websites rank higher and generate more traffic. It is an all-in-one SEO tool kit that optimizes your website by site auditing, analyses your competitors through its site, explores and studies what the customers around have been searching for. The customer searches through its keyword's explorer, which gives you the most searched for, popular, and trending keywords that help you convert more leads. 
You also get the opportunity to learn from the industry's top-performing businesses and how their content helps them grow every single day through Ahrefs' content explorer. Last but not least, it has a tracker that ranks your progress and gives you a detailed description of the same with a rank tracker with the tracking report, you can analyze what you are doing wrong and where all your business needs improvements. 
Additionally, it also tells you how much traffic a particular keyword receives, which lets you decide on the exact keywords you must use for successful business growth.
Pricing:
Its pricing plan starts from $99 per month and goes up to $399 per month, depending on the features and advancements you require. They also have a trial pack that only costs $7 for seven days.
MozBar is a premium SEO competitor analysis tool that gives you instant SEO metrics whenever you view a page or a SERP. With MozBar, you can also create custom searches to find better keywords and things that your competitors are doing around the world.
It gives you access to metrics and lets you compare links across serval pages, and also highlights keywords on a page that matter. It differentiates links according to their type to make you understand better. With its page overlay, you can expose page elements, markups, link metrics, HTTP status, and even general attributes to see what your competitor has been up to.
Authority scores feature enables you to quickly see the ranking probabilities with page authority and domain authority. You can even export SERP analysis data into a CSV file for easy access later.
Pricing:
It comes with a free trial but also has paid plans that start from $99 per month and go up to $599 per month, billed monthly. 
Ubersuggest is a free keyword tool and analyzer that scrutinizes a website from top to bottom to identify the best performing keywords, keyword opportunities, SEO errors, and the competition altogether. It gives you a realistic picture of how your website is performing, its potential, and how to cover the potential. 
How Ubersuggest helps:
Boosts your website traffic with a personalized plan of action

Enables you to reverse engineer your competitor's content marketing, SEO, and social media strategies

Get insights into competitor strategies 

Improve and gain a competitor's edge through those strategies

Get a top SEO pages report with popular keyword phrases

Best keyword suggestions that make your ranking better

Content ideas to dive deeper into your content strategy and marketing with keywords and topics that people are really interested in

Backlink data to extract content that people link to
Pricing:
Its pricing plan starts from $12 per month and goes up to $40 per month according got the plan you choose. They also provide a zero-risk free trial with a cancel anytime subscription policy.
DataForSEO is a powerful API stack that helps data-driven managers. They provide a comprehensive set of SEO and digital marketing tools via API. On this platform, you get everything that your SEO software needs. Their APIs include –
SERP API

Google ads API

On-page API

Traffic analytics API

Google Trends API

DataForSEO labs

Amazon API

Google Shopping API
The platform provides you with clear statistics on how you spend your fund with DataForSEO APIs and exactly where do they go. They provide the highest API speeds, with accuracy and freshness coupled with a 99.99% system availability. 
Pricing:
Their pricing widely ranges from the type of services you want to choose and how many of them your business requires. Find out their pricing plans here. 
BuzzSumo allows you to find all the content on the internet with the best performance, that you can compare it with your own content to understand the mistakes you are making and how to improve. Their content insights can generate leads, monitor performance, create high-performing content, and even identify influencers valuable to the business. 
The platform helps you track and trace the content that works for customers and lets you discover high-performing content to get more links, shares, and deals. It also analyzes billions of data available to build your marketing strategy. The next thing BuzzSumo does is track trends and comments to help you respond as soon as possible and identify influencers to level up your campaign or brand altogether. 
Pricing:
It offers a free 30 days trial with a cancel anytime policy. They have a forever-free plan with the basic features too that you can enjoy for life without any obligations. Their paid plans start from $99 per month and go up to $299 per month.
Rank Signals allows you to check backlinks for free and also comes with a site link explorer tool. You can reverse engineer your opponent's backlink sources to steal their rinks and take their position in your search engine ranking. RankSignal also allows you to link quality metrics like the traffic rank, internal links, domain rank, and external links to ensure that your business levels up every time with every search. 
It has link-building tools that you can access for free, like social media metrics, no-follow, and do-follow links that identify discounted search engine links. It also gets you the link signals and metrics, deleted and broken links, and identifies toxic links for you to avoid.
Pricing:
Absolutely free!
Siteliner allows you to explore your competitor's site from top to bottom and find any duplicate content or broken. Links that would increase your lead generation opportunities. It helps you replace dead links on your site that harms your search ranking by discovering broken links anywhere, any place at any time. 
It scans the site pages for the problems and shows you the broken links to replace them with yours and maximize opportunities. The best part about this is that you can scan up to 250 pages monthly for free. They also have a premium plan that lets you can over 25,000 pages a month with advanced settings and features. This gives you control over what all is scanned for what duration. You can also save and review previous results later for better understanding. 
Pricing:
FREE!
The competitor analysis tool by Amazon, Alexa, lets you drive more website traffic by analyzing the mistakes of your competition. It gives you a free and automated analysis that quickly gives you all insights into a site's weaknesses, strengths, digital marketing opportunities, and whatnot. All you have to do is enter the site's URL, and you will gain access to their SEO keyword opportunities, competitor benchmarking, audience insights, and even their website traffic stats.
It also gives you higher marketing ideas and advanced insights on how to up your marketing strategy with tools for SEO, keyword search, backlinks, target audience, and web analysis. 
The unique part about Alexa's competitor analysis is that they have a competitive analysis template. It shows you the insights from the site overview and other tools. This helps you discover ways to grow the business in an organized format. 
Pricing:
They have a free 30-day trial, after which they charge you $299 per month if you are an agency. If you are an individual, the paid plans start from $149.
That's it – There you have our pick of best SEO tools to put your competitors down.
Performing regular competitor analysis is super necessary if you want to get and stay on the top. You get new content ideas, and motivation boosts as well, both of which push you to get more traffic.
Which one of these SEO tools are you using?
Let us know in the comments.