5 Best Contact Form WordPress Plugins
If your blog is missing out on a contact page, you miss out on gainful opportunities every day.
Although many marketers are using chrome extensions like the hunter to extract the Emails of any website owner they wish to talk to, It is highly recommended that you add a contact us page.
This will help you get your Adsense account approved and make it easier for your readers to connect with you.
I have also included a step by step process on creating a contact form with each of the below-listed plugins.
Below listed are 5 best contact form plugins for WordPress:-
Ninja Forms
Ninja Forms is another beginner-friendly and feature-packed plugin on the list, which is quite outstanding in terms of quality.
With Ninja Forms, you can easily add the contact forms through shortcodes, sidebar widgets, or the best of all, choose where to put them automatically.
There are many add-ons available for ninja from such as Paypal, stripe, zapier, etc.
Above all, you can contact their support team straight away if you happen to found a bug.
WordPress Form Maker by 10Web
Know that 10web develops many outstanding WordPress plugins, and WordPress form builder WD is just another beast creation.
This contact form plugins comes with a very beginner-friendly drag and drop form builder, which allows you to make any kind of form with ease.
The form maker by 10Web plugin comes with PayPal integration and can access fully customizable themes to give a professional look to your forms. This is one of the most powerful plugins I've used.
WPForms
WPForms uses a simple Drag n Drop form builder to build contact forms that are neat and clean. If you prefer fast things, WPForms is the one plugin you should check out.
This is a powerful plugin that lets you:-
Add PayPal integration to your forms.
Add Email Marketing Service integration.
Add custom fields for various purposes.
And a lot more Add-ons are available, including WooCommerce integration too.
Using WPForms, any beginner can create a form in less than 30 seconds.
Gravity Forms
The Gravity Form WordPress plugin makes it extremely quick to create and publish any kind of form.
Simply open the drag and drop form builder or choose from pre-existing templates, and you are good to go.
A very innovative feature from Gravity form is Conditional Logic. This allows you to configure your form to show or hide fields, sections, pages or submit button based on user selections.
This allows you to easily control what information your user is asked to provide on your WordPress blog and curate the form specifically to their needs. We use Gravity Forms here at BforBloggers.
Contact Form 7
The best contact form plugin for any beginner, Contact form 7 is a completely free plugin.
The contact form 7 plugin is a powerful plugin with the highest number of active installs.
You can receive files such as images, PDFs, etc., and there is no limit on how many form fields you can add.
Contact Form 7 is a little bit confusing since it uses shortcodes and HTML.
Users are manually required to change the field by replacing and editing the HTML code of the form.
How To Create A Form Using WPForms Plugin
Step 1: Head on to the WPForms section from the WordPress admin sidebar
If you chose WPForms Plugin for your website, follow this quick guide.
You can see there are several different types of pre-made form templates available, including the blank option.
Simply select the simple contact form option here.
Step  2: Adding required and extra fields to your WordPress contact form
Here, the form is pre-made, and we don't have to do anything.
If you would like to add extra fields such as subject, click on the single-line text field option from the standard fields section.
Preview your form and click on the Save button at the top.
Step 3: Embed the form.
Since we have our form ready, we can embed it on our WordPress site using the shortcode.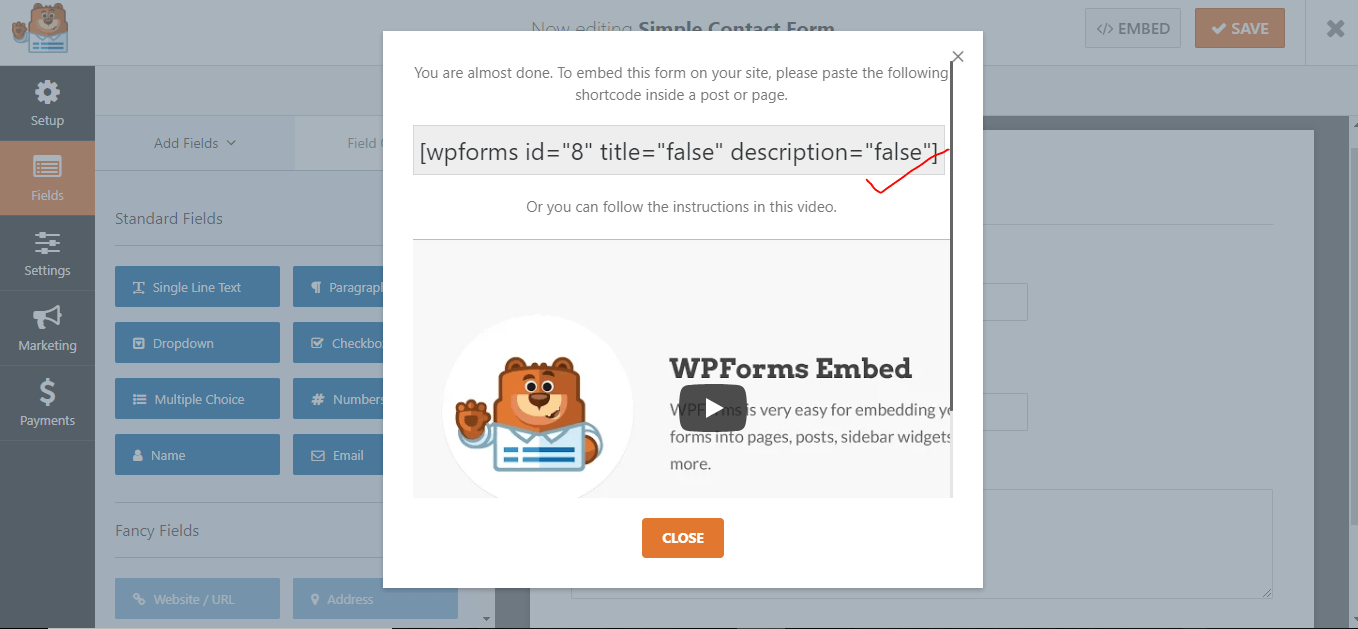 Simply click on the embed button and copy the shortcode. Place it on your contact us page. You are good to go. Watch the video given below for better comprehension.
How To Create A  Contact Form With Ninja Forms Plugin
If you chose the Ninja Forms Plugin for your website, follow this quick guide.
Step 1: Choose the Form Type
Upon installing and activating the Ninja Forms Plugin, head on to the Ninja Forms section and click on Add new form.
There are multiple templates available to choose from, that's because Ninja Forms is quite powerful.
Select the contact form from the available option. You can alternatively select any type of form, the whole process remains the very same.
Step 2: Verify The fields for your form
Next, Checkout and verify the fields you want to show on your contact form.
To Add A new field, you can click on the blue plus icon.
On the next screen, you can see how many new fields can be added to your new ninja form.
Click or drag and drop the contact form fields to make them appear in your forms.
Step 3: Finish and Publish
Once you are done adding the fields, you can click on the publish button. This will make you valid, and on the next screen, you will be shown a set of shortcodes assigned to each contact form you create through Ninja Forms.
Paste these shortcodes wherever you would like to display your form.
How To Create a Contact Form With Form Maker by Web-Dorado
If you chose Form Maker by Web-Dorado plugin, follow this quick guide.
Step 1: Go To The Forms Section
One of the many reasons I love this plugin is its simplicity.
The moment you install this plugin, you have a set of forms available with you doing anything.
Simply copy the shortcode and past it where ever you want to display a particular form.
The available pre-made forms are contact, Event, feedback, and other genres of forms.
Except for contact form 7, every other plugin on this list is very powerful and customizable. It's up to you which one you choose and what works best for you.