11 Best Content Writing Services for All Your Content Needs
Content is the backbone of every industry. It describes your business, values, and what you have to offer. Without proper content, there is hardly an image and reputation that a firm can withhold.
However, great content requires great practice. It is not always easy to develop content that best suits your audience and does justice to your business. And most of the time, you, as an individual, cannot do it alone.
Since content writing is a professional skill, one needs professionals to work on it. And that is why there exist content writing firms.
These firms have skillful and knowledgeable professionals working day and night to perfect the content. They align it completely with your business objectives. 
Here are the best content writing services you can choose to create powerful content.
Contentellect is a quality content writing service with a twist. Unlike most content writing services, you get access to a personal, dedicated account manager.
Yes, even the tiniest orders will get a dedicated account manager.
This account manager makes sure that a crystal clear brief goes out to the professional ghostwriters. A clear brief will ensure that writers always deliver quality content on time. The account manager is also responsible for proofreading and editing content.
Contentellect uses this exclusive service to guarantee that all content goes through a thorough editing process, resulting in some of the best-written content every time.
There is a complete money-back guarantee if you're not happy with the quality of the work submitted. This guarantee makes Contentellect one of the few content writing services that offers a risk-free experience.
Contentellect is also home to an ever-growing team of over 100 professional writers. With such a large pool of some of the industry's best, you'll always get assigned an expert writer that has intimate knowledge of your particular industry or niche.
Not only are all the writers native English speakers, but you also get unlimited edits and revisions to make sure that your content succeeds.
To help you make more money online, Contentellect offers additional value-added services, from image sourcing to writing eBooks and product descriptions.
Top 3 key Contentellect features –
A single standard price per word model that's easier than the pricing models offered by other content writing services.
A range of content and link-building services are available.
Dedicated account managers, no matter how small your order.
Pricing:
Contentellect offers transparent and straightforward pricing. They charge $0.10 per word for their PAYG and monthly packages.
Pricing goes as low as $0.07 per word for their bulk writing service.
Want to try Contentellect? Get 10% off with our exclusive coupon code: BFB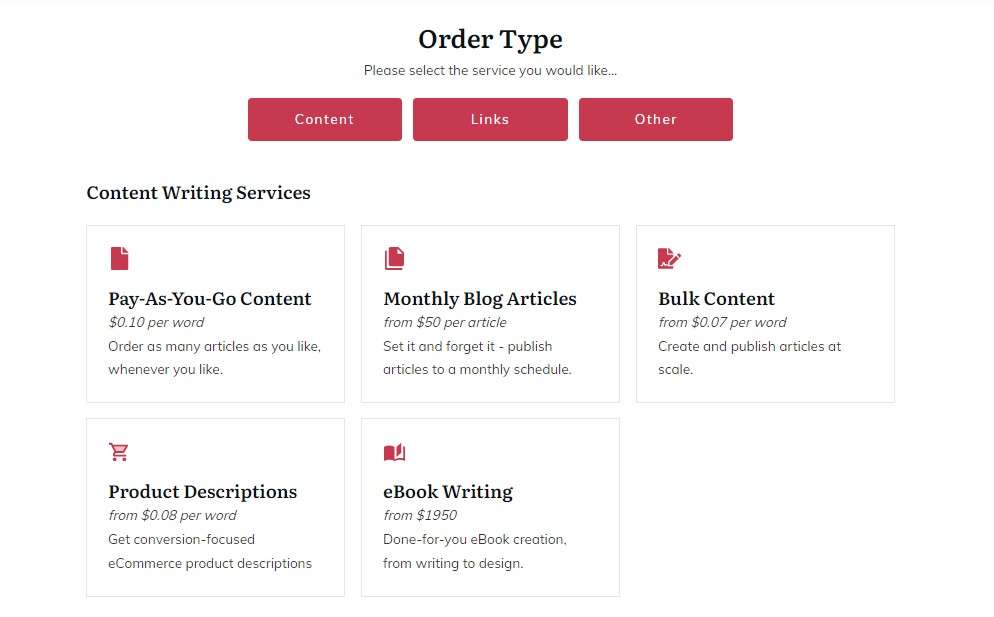 SEMrush is definitely one of our top choices for content marketing services. It comes with the skills to plan, write, and analyze content within a streamlined platform.
SEMrush helps you build a content marketing strategy and detects spots to improve. It also creates content according to your audience's needs and requirements and continues to build on the same for as long as you are with them.
SEMrush is an all-in-one toolkit providing you with content strategizing, content engagement, and content creation solutions. It combines analytics with creativity to improve your workflow. SEMrush starts with planning your content.
The team then ideate new and fresh ideas that align with relevant trending topics. This drives good SEO and does a content gap analysis to understand where improvements are needed. It also collaborates with your team to manage your content calendar in one place.
SEMrush also actively participates in optimizing your content. It does so through actionable SEO-friendly content and makes a robust content SEO-friendly strategy that gives you an organic top Google ranking.
It automates all the content audits, analyzes external content, and finds content promotion opportunities daily. It has a performance tracker, as well, with data-driven insights for your content management strategy. 
Top 3 key SEMrush features –
Promises to develop content that converts with a high focus on SEO.
Build content marketing strategies that are personal and exclusive to your business.
Provides you with data-driven insights to better performance in the future.
Pricing:
It comes with a free trial which can be upgraded to a paid plan later. Its pricing starts from $119.95 per month and goes up to $449.95 per month.
ContentGrow is a managed marketplace that makes your content operational to the best of its abilities. It helps you build and scale your media with winning pitches coming full-time stories!
Trusted by big names in the industry, it helps make sure quality control and standards for your content and scales creativity.
ContentGrow is a leader at getting your content right by creating briefs, assigning contributors, setting the rates, and an instant payment mode that is transparent. It personally creates a team of talent that is best suited for your specific project. Hence, you can rest assured that you get the best people for the job onboard. 
Their easy communication portal lets you talk to the team one-on-one, hassle-free, and explain your unique content requirements to them.
The best part about the platform is that they support all international currencies, making it easy for you to avail of their services no matter from which corner of the world.
Top 3 key ContentGrow features –
Provides you with a weekly drip-feed of story ideas that are exclusive to your project.
Has contributors and writers that focus on the heavy content building aspect of your business.
Supports all currencies for hassle-free and quick payment.
Pricing:
Their pricing plans to buy content vary and depend on the type of service. However, you directly pay, the writer, and the platform only charges a small commission fee. You can get the quotes after registering on the platform.
Scripted is one of the biggest platforms on the internet that provides you with the largest pool of professional copywriters across the globe that excel in specific industries.
They provide you with exceptional blogs, digital marketing content, website copies, and so much more. The platform is equipped with a lot of freelancers to choose from that deliver high-quality content aimed at achieving your business goals.
With a customer base of over 50,000, they have already delivered more than 300 million words as part of their job.
From content marketing, transcription, press releases, product descriptions, newsletters, video scripts, social media posts, copywriting, plain blogging – you get everything on this platform irrespective of the fact if you are an entrepreneur or marketer.  
Since all freelancers on their platform are categorized according to their expertise, experience level, and industry knowledge, it becomes easy for you to find the exact match that you are looking for in your writer. 
Top 3 key Scripted features –
Offers a SmartMatch technology that matches you with the writer experienced in your field of business to cater to your needs.
Guarantees 100% satisfaction, if you don't love it, you don't have to pay for it.
Increases your organizational agility and scalability.
Pricing:
Their plans start at $199 per month and go up to $1,299 per month.
Crowd Content provides professional writing services with their content writers that write incredible white papers, articles, city pages, product descriptions, and a lot more.
They have over 6,000 eligible writers who are ready to make your content creation process simple and allow you the leverage from the self-serve platform. Crowd Content also partners with enterprise teams that offer fully managed solutions delivering publish-ready content pieces at a huge scale.
The platform is very easy to use and comes with a fast turnaround of completing all jobs within 24 hours with the highest quality of content possible.
Their writers prioritize your success and work hard enough to align their ideas with your business requirements. They offer bulk ordering, detailed order forms, custom layouts, and a robust write network that helps you and your business a lot. 
Crowd Content also helps you connect your product catalog and descriptions to eCommerce apps like Shopify. Not only that, with the platform, you can get access to writer teams, Getty images, flexible publishing scale, editing, and a lot more with just one click.
Top 3 key Crowd Content features –
One of the biggest content marketplaces with over 6,000 content writers.
Provides a fully managed content service platform with publish-ready content.
Turnaround of 24 hours or less.
Pricing:
Their service plans only depend on the type of content you have to ask, starting from $2.2 with no upper limit.
Verblio creates quality content for agencies and businesses that need personally rich content to take their business higher. In fact, it is not your traditional content writing service provider. They are a lot more.
They create written content and complement it with a video for even greater impact. Verblio have writers based on their content niche with a diverse professional background that helps everybody create effective and scalable content. 
They have a network of 3000 writers equipped with the skills to curate quality content that drives traffic to your site at competitive costs.
For agencies, they source the subject matter experts that excel in their verticals and product content-rich pieces with an agency-focused platform. They also provide custom agency solutions.
Finally, they have several content writers for marketers. They focus on creating better content to make sure that the marketer is satisfied with the type of piece provided to them.
Top 3 key Verblio features –
You do not have to waste time looking for writers. With Verblio, all you have to do is post your content requirements and the right writer finds you.
They promise you content that drives traffic to your website and increases engagement.
Offers content services for agencies and marketers.
Pricing:
Their pricing plan depends on the number of words you ask the writer to write. The plans start from $34.95 per piece for a 300-word content and go up to $359.95 per piece for a 2000 words blog post.
You can also choose a custom length with the number of articles you want each month and get the quote accordingly.
Contently is the content marketing platform that gives you the relevant content with respect to your domain along with the talent and strategic insights necessary to take your business a notch higher.
Some of the major brands in the industry, including but not limited to the Marriott group, American Express, Dell, and more trusts it. 
Contently supports you in your content journey through an expert content strategy, a global talent network, and an enterprise content marketing platform. It also lets you track how much the content you get from them is worth and how much revenue it is driving for you.
Contently assure you organic traffic and high ROI. It is also one of the highest-rated content writing service providers, according to G2, in the year 2021.
It provides an average content value of about a million dollars every year, with six times more ROI on their investment and 40 percent average audience growth on your website. 
Top 3 key Contently features –
They are the top-recommended content wiring service providers by G2 and trusted by big names in the industry.
6 times more return on investment with content provided by Contently writers.
Grow your audience by an average of 40%.
Pricing:
You can contact the Contently team to get the price quote according to the customs services you require.
ContentFly scales your content creation abilities by giving you blogs, social posts, email copies, and much more from a critically curated top writer in the industry.
Over two thousand businesses trust them and it is an easy to begin platform. Their network of writers is huge. They are equipped with artificial intelligence to enable your work to become quicker and easier. 
From landing page copies, high converting pages, newsletters, email campaigns, social media posts, blog posts, to anything related to the content, ContentFly promises to give you all of it within one platform. It promises amazing ROI from email campaigns and newsletters and increases your organization's online presence and visibility.
To create high-converting landing pages, you can choose from a variety of available templates. You can also share one of your own.
Tell them the desired word count for the content piece, information about the business, and its value proposition. Everything else is to be left to ContentFly's team. They make sure that everything is taken care of from scratch and one of the best products is delivered to you.
Top 3 key ContentFly features –
They provide you with samples before you avail their services.
ContentFly has the top 1% of writers from across the globe waiting to build incredible content for you.
Trusted by over 2000 businesses already.
Pricing:
Their pricing plan starts at $375 per annum and can be tweaked a little according to your preferences.
iWriter provides you with top-notch article writing services that are custom made just for you. They don't take any money from you until you are a hundred percent satisfied.
iWrtier has been existing in the industry for a decade now. Their competitive pricing makes them stand out in the industry. They write all types of content that any business can think of.
They help you build your own client base through the incredible quality of the content and lay down a simple process in front of you. All you have to do is register with them and let them know what content you need.
The writer sends you the draft of the content, and you review it. If you like it, awesome. If you don't, they get it done again until you are satisfied. 
They provide services of all levels from standard, premium, elite, and elite plus. They have writers across the globe that specialize in different industries and have a knack of writing for big brands to make sure that they can do justice to your business and help it reach the heights it deserves. 
Top 3 key iWriter features –
They have written over 8 million articles as of today, which proves their expertise in the field.
iWriters' Oaths platform is critically rated and analyzed to make sure that you only get access to the brightest of the talents.
They offer flexible and custom plans.
Pricing:
Their pricing starts at $1.40 and goes up to $435, depending on the number of words you want to be written and the level of the content. 
Godot Media helps you grow your business and scale its capabilities with incredible content writing. It lets you hire professional writers who work day and night.
They provide content that converts readers into customers and engages your audience. Over ten thousand customers trust it and it is a fully managed content writing service platform.
Godot Media provides you with unlimited reviews, editorial reviews, a free trial, and even a dedicated account manager. They also let you personalize the service to have an experience like none before. 
The content writing services that they provide are in the likes of article writing, blog posts, copywriting, and eBook writing. It also includes social media content, content marketing, SEO copywriting, and product descriptions.
They have plenty of samples on their website. You can look over them and decide if they have the suitable type of writers for you.
Top 3 key Godot Media features –
They provide end-to-end writing management services.
The platform also has custom-designed content marketing packages.
One of their top focus is always on SEO and keyword research.
Pricing:
Their plans start at $1.3 per 100 words and go up to $35 per paper, depending on the type of writing you choose.
Finally, we have Bloghands as one of the top G2 list choices for content writing services, as well. It provides you with quality blog post content that helps in raising your business awareness and growth potential.
They custom-make the content for you and your business and add some freshness to it every month. They have a team of skillful people with expert writing knowledge that helps you grow via blog marketing. 
You can focus on your core job and leave all content-related work to them. The only thing you have to do is let them know about your business and content requirements.
They then figure out your audience needs, develop a content strategy, curate the content that is best suited to your audience, and ensure that you never fall out of the content game. 
With Bloghands, you also improve your SEO. This results in better organic growth and Google ranking. It also updates your social media as per the trends and nurtures your email list as per current and potential customers – all in one go.
Their topmost priority is to deliver quality content that is perfect. They take care of the headlines, grammar, optimization, and the personal touch that every business needs. 
Top 3 key Bloghands features –
They help in nurturing your email list.
The platform also makes your social media marketing more effective with great content.
They check for even minute errors twice, to reinsure the piece is nothing but perfect.
Pricing:
You can contact their sales team to get a quote from them. 
The Verdict
By now, we know how important content is for every business and the rising demand for content writing service providers. It is essential for you to find the perfect writer for your business.
The writer should be able to do justice to your goals and objectives.
Different writing service providers have varied offerings in terms of content focus and pricing. As the bigger picture, all of them aim to provide you with content that converts. Some offer direct services and charge you an upfront monthly fee.
While some provide you with freelancers you can choose from and only charge a small commission without taking anything else from you. The rest is settled between the freelancer and you.
All of the mentioned writing service providers have long been around and won the trust of businesses world over. You need to get hold of the one that suits you best according to your content requirements and budget!