So you're using AI writing tools, aren't you? Copy.ai is one of the most popular in the market and it certainly has plenty of advantages.
It supports more than 25 languages and includes a free plan as well as more than 90 templates to start writing whatever you want.
However, Copy.ai also has some problems. For example, it doesn't include an SEO tool integration, which is a major issue for anyone that wants to rank high in Google. It doesn't include a plagiarism checker and, moreover, its Pro plan is quite expensive, it starts at $49 per month.
Luckily, since the development of the Generative Pre-trained Transformer 3 (GPT-3) language model in 2020, there are tons of really cool AI writing tools in the market.
So today we'll see some of the best alternatives to Copy.ai and you'll be able to generate the best possible content.
The Best Copy.ai Alternatives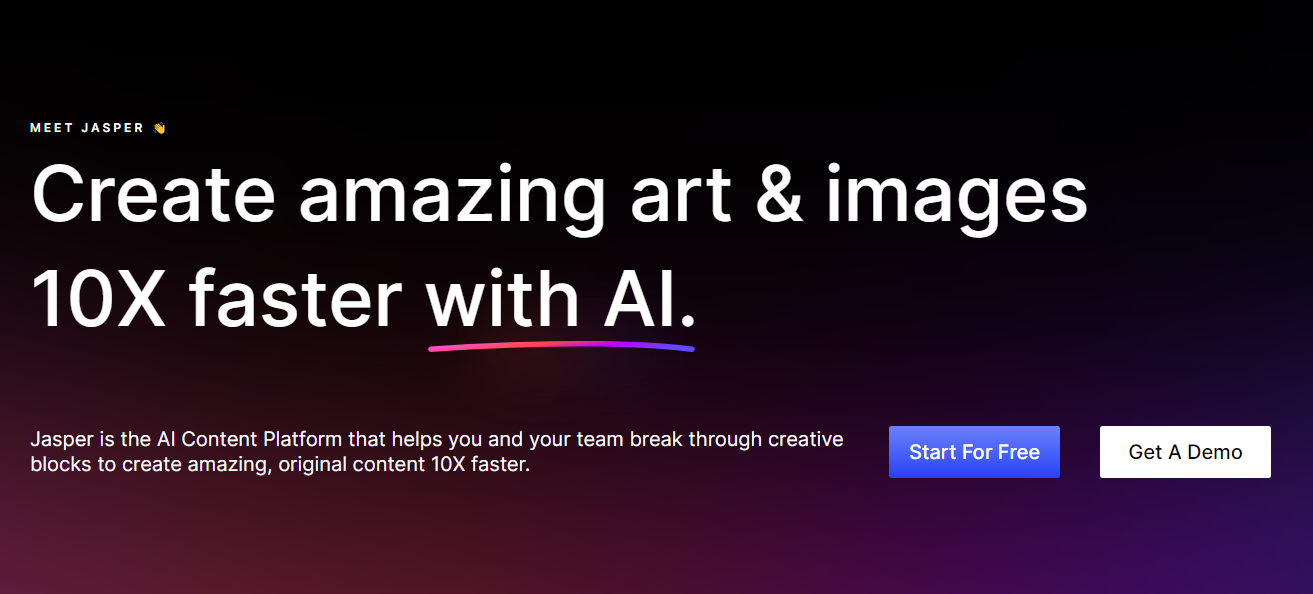 Jasper is an AI copywriting tool that's specially targeted at teams. With Jasper, you can write anything from short-form content like ads and product descriptions to long-form content.
They're also a great option if your content is multilingual: they support more than 25 languages and dialects. You can even input your product data in one language and get the output in another one!
Features
Short and long-form content generation.
More than 50 templates.
Supports 26 languages.
SEO integration
Plagiarism checker built-in.
Pricing
Starter: $24 per month if paid annually. Write 20,000 words per month.
Boss mode: $49 per month if paid annually. Write 50,000 words and access the Google Docs Style editor.
Business: custom plan and pricing. Ideal for teams of more than 5 people that want to get personalized onboarding and training.
Both plans include a 7-day money-back guarantee.
Smart Copy is a tool created by Unbounce to help you generate creative copy. It will soon add Copy Insights, which will give you real-time SEO data for your long-form content.
With Smart Copy premium plans, you can have multiple projects running at the same time. Projects are a collection of information about your company that the AI uses to generate relevant content. This is really useful if you have multiple target audiences.
Features
Short and long-form content generation.
Profiles.
Over 45 templates.
Copy insights.
More than 30 languages.
Pricing
Free: write, expand or remix content up to 40 times per month.
Essential: $15 per month. Access the Writer and get priority support.
Unlimited: $40 per month. Get unlimited projects and credits.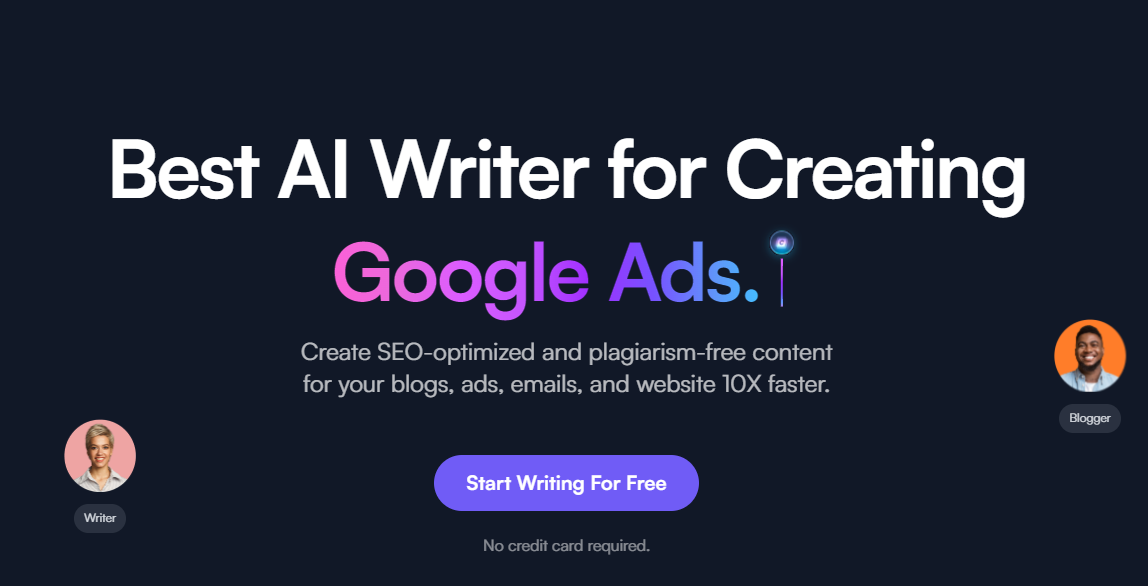 Writesonic is an AI writer and paraphrasing tool that was launched in 2020 and was quickly acclaimed. They have incredibly flexible plans which vary not only according to the number of words but also to quality.
Writesonic is currently developing new juicy features such as research mode and workflows. They also have other handy features, such as their 1-click WordPress export.
Features
Expand, paraphrase, summarize and rewrite.
More than 70 templates.
Zapier and Surfer SEO integrations.
More than 25 languages.
Pricing
Free trial: write up to 2,500 words.
Long-form: $12.67 per month. Write up to 19,000 words and access bulk processing, research mode and more.
Custom plan: unlimited words and users, plus custom AI development.
This all-in-one writing platform provides you powerful features to manage everything from one place: SEO, grammar and more.
What sets apart Rytr from the other Copy.ai alternatives is, besides generating words, it also generates images. AI image generators have been on the rise lately, and Rytr stays avant-garde.
Features
Write in more than 20 different tones.
Built-in plagiarism checker.
Generate images with AI.
Supports more than 30 languages.
API is available.
Pricing
Free: generate 10k characters per month.
Saver: $9 per month. Generate 100k characters per month and create your own custom use case.
Unlimited: $29 per month. Generate unlimited characters per month and get a dedicated account manager.
Peppertype.ai is an AI writing tool that was built by Pepper Content, a content-marketing platform. The company started back in 2019 and since then it has reached a lot of popularity, it has even been featured in Times Square, New York!
Although Peppertype.ai doesn't have a free plan, they do let you earn words for free. So if you reach your limit of words but don't want to upgrade, you can earn free credits by inviting your friends, writing a review for them or even scheduling a training call.
Features
Rewrite, expand or simplify a text.
Unlimited projects.
Coming soon is a built-in long-form editor.
Supports more than 25 languages.
Pricing
Personal: $35 per month. You can try it for free and it includes 50,000 words and unlimited projects.
Team: $199 per month for 5 user seats. Collaborate and share your results.
Frase is one of the Copy.ai alternatives that help you not only to write but also to research and outline your text, as well as optimize for search engines.
Unlike most writing tools, Frase doesn't use GPT-3 for content generation. They have their own proprietary AI model which allows them to provide more flexibility, custom features and competitive pricing.
Features
Multiple AI templates.
Keyword search volume.
SERP data enrichment.
Supports 8 languages.
Pricing
You can get started with a 5-day trial for only $1.
Solo: $14.99 per month. Includes one user seat and it generates 20,000 AI characters per month.
Basic: $44.99 per month. Write and optimize up to 30 articles per month.
Team: $114.99 per month. Includes three user seats but you can add more for $24 per month per extra.
For unlimited AI-generated characters and additional premium features, get the pro-add-on. It costs $35 per month.
INK is an AI co-writing and SEO assistant trusted by over one million users. They say they are the only tool offering Natural Language Optimization (NLO): they combine Natural Language Processing with SEO optimization.
Moreover, INK has accessibility features such as dyslexia and color-blind modes. They also have a spelling and grammar checker, so the quality of the output is 100% guaranteed.
Features
Unlimited AI writing.
SEO optimization.
AI image generation.
Support more than 20 languages.
Pricing
You can try INK for free, with no credit card required. You'll be able to generate 12 AI images per month as well as 2,000 words per month.
Creator: $59 per month. Includes one user seat and the Google Docs style editor.
Professional: $118 per month. Includes the INK SEO content score and an emotional intelligence AI.
SEO Rocket: $590 per month. Includes 5 users and 10,000 Bonus Planner Credits.
Copysmith was launched in 2020 and is an excellent Copy.ai alternative. It really blew my mind when I found it.
Not only does it have accessible pricing but it has free plagiarism checkers in-application, it lets you produce content in bulk and supports more than 100 languages!
You can try it for free or schedule a demo.
Features
Write content descriptions, ads and blog posts.
Team and collaboration features in all plans.
Integrates with Zapier, Shopify, WooCommerce and more.
API available soon.
Pricing
You can try Copysmith with their 7-day unlimited free trial, no credit card is required.
Starter: $19 per month. Includes 20 plagiarism checks per month and 75 credits.
Professional: $59 per month. Includes 400 credits and 100 plagiarism checks per month.
Enterprise: custom. Unlimited plagiarism checks, custom templates, bulk import and export and more.
ContentBot is our final tool on the list, and it's truly unique. Their most premium plan offers human-enhanced AI content, which means it's written for you 70% by AI and 30% by content marketers, but at a fraction of the cost of traditional writing services.
Something ContentBot still has to work on. However, it's translation. They are currently using Google Translate, which we know it's not ideal. So, they are exploring other options, and hopefully, soon they'll have multiple translations at once.
Features
Short-form and long-form content.
SEO tools.
Human-induced AI content.
Supports all languages supported by Google Translate.
Pricing
Prepaid: $1 per 1,000 words. Includes unlimited seats and the long-form assistant.
Starter: $29 per month. Includes more than 30 AI skills and the paraphrasing tool.
Premium: $59 per month. Unlock SEO tools, plagiarism checker, and automation.
Premium+: $99 per month. Includes 2 human-enhanced AI blog posts written for you per month.
Final words
In this post, we covered the best Copy.ai alternatives. It was a great opportunity to see what's the state of the art in AI writing tools.
These software programs are constantly improving, so it's good to stay up to date and change your writing tool when necessary.
Personally, I think all the tools listed here are super cool and will do a great job of helping you write. However, my favorites are ContentBot, with its human-enhanced AI posts, and Smart Copy because of its powerful features, yet it has a free plan.
What about you?
What's your go-to Copy.ai alternative?
Tell us in the comments!