10 Best eCommerce Web Hosting Services – Reviewed
eCommerce websites have a completely different requirement from typical blogs and one-page websites.
There are constantly updated, real-time database changes in multiples at every second, traffic spikes and tons of security issues.
The eCommerce hosting services listed below come with highly customizable features to fit your company's unique requirements with robust scalability that enables your platform to accommodate wildly fluctuating traffic effectively. We've included web hosts for all – from premium to affordable.
All in all, using the RIGHT eCommerce hosting is one of the best decisions you can make. The right hosting is the one that provides you with top-notch support, faster initial setup with the timely deployment of services that gets your business up and running as well as easily enable you to scale when you need it.
These platforms are also highly reliable and secure since IT specialists are the ones working on your servers day and night, ensuring a full-time focus on your e-commerce store's security and uptime.
Here are the 10 best eCommerce hosting services –
Kinsta is a managed WordPress hosting provider that takes care of all your website-related needs. They follow cutting-edge technology with a comprehensive support system that aims to provide nothing but quality services to customers.
Kinsta lets you focus on your core business by taking the responsibility of handling your site. They run, monitor, and scale your website as per the demands and ensure that it operates seamlessly for your customers. They also offer proactive WordPress experts as your support executives, who reach out to you in no time when you need them.
The hosting interface is designed with beginners kept in mind and hence, follows a friendly user interface. Packed with advanced features, it is the top pick of developers as well. You can either start with a simple installation process or directly dive into the pro solutions right away, whatever fits your expertise level.
It has several features that you will love, including a tracking bandwidth that comes with visitor stats and the possibility of creating SSL certificates; it has it all! The Kinsta dashboard allows you to track essential data with a wide range of analytics to enhance architecture performance.
Its thousand plus 5-star ratings by companies like Buffer, TripAdvisor, Flippa, Drift and more proves that it is a hosting service trusted by many that provide quality services to its users.  In fact, we use Kinsta here at BforBloggers too! Read our Kinsta review.
Unique features of Kinsta:
Fully managed

Highly secure

Optional add-ons like Elasticsearch, Redis

Ultimate speed

Daily backups

Google cloud platform

Dashboard overview of all the sites

Granular access rights to users

No fixed-term contracts, instant prorated refunds, and easy upgrades/downgrades
Pricing:
All the plans come with a 30-day money-back guarantee. Its starter pack costs $30 per month, the pro package costs $60 per month, and the business plan costs $100 per month. They also have more advanced plans starting from $200 per month, but the pricing differs from company to company according to their unique requirement. Know about advanced plans here.
Cloudways is a managed cloud hosting platform that guarantees unparalleled hosting performance, high reliability, and 24/7 support for your business. It is the best choice for growing agencies and eCommerce businesses.
Cloudways gives you unlimited applications with PHP app support and an innovative control panel for a worry-free experience. All the backups are automated with real-time monitoring, so you get a hassle-free hosting experience with scalable performance, including an optimized stack, built-in CDN, and auto-healing servers.
This platform enables you to go live within minutes by taking away the complexities of infrastructure and initial setups. The web apps are built and managed more collaboratively and efficiently with fast performance, ironclad security, and seamless security.
The SSD-based hosting enables 3 times faster performance with reduced page times. The dedicated environment cloudways helps maximize server and app performance, with built-in advanced caches and PHP 7 ready servers. Cloudways CDN is a powerful tool that provides top-of-the-chart performance in global response time, along with an auto-healing managed service provider that protects your website from crashing.
The git integration and auto-deployment enable the user to update code that is deployed on live servers for efficient performance, with a server transfer service that transfers ownership of servers to the clients easily.
Unique features of Cloudways:
Expert 24/7/365 problem solvers

Senior support engineers as extended inhouse team members

Cutting edge managed web hosting

Advanced caches

SSH and SFTP access

Multiple team members through one account

Application and server cloning

24/7/365 live chat

Online ticketing fort complex queries and issues

Enhanced SLAs

Private slack channel

Multiple integrations and add-ons like Rackspace email, SMTP, Cloudways API, and more

Application monitoring, server customization, and configuration, phone access
Pricing:
The basic package costs $10 per month, billed monthly. Their most popular plan costs $42 per month, billed monthly. Whereas the more advanced pack costs $80 per month, billed monthly.
The WordPress hosting, Wp Engine, gives you a powerful digital experience with fats, reliable, and efficient hosting performance for businesses of all types and sizes. It is one of the most popular platforms for WordPress hosting and is best suited for small businesses, creative agencies, and enterprise brands.
We recommend it if you are using Woocommerce with a custom setup.
Wp Engine reduces risk with robust monitoring and keeps your website secure through automatic updates, attack protection, managed upgrades, daily backups, and more that allow you to focus on your core business.
It enables you to effortlessly build, launch and/or migrate existing WooCommerce stores to one of the world's fastest and most secure WordPress hosting platforms. The integrated platform is packed with advanced features and possibly everything you need for a successful eCommerce website. It helps you boost your sales with a streamlined store creation and instant store search.
Wp Engine combines content with commerce and grows your digital business with a store plus a content site generating buzz around the products and promoting them.
It gives you 6 times higher conversion rates and increases your blog traffic as well. At last, it provides the users with world-class hosting infrastructure that includes data centers worldwide, performance monitoring of codes, themes, and plugins with WordPress optimized caching, and dedicated servers and server clusters with CDN.
Unique features of Wp Engine:
40% increased page speed

109 million blocked attacks for seamless security

Automatic migration

24/7 award-winning support

Simple local deployment with unlimited development sites, automatic WP installation

Highly optimized platform boosting site performance, high conversions, and SEO

An ecosystem of beautiful themes

Live website within minutes

Powered by Elasticsearch

Optimized WordPress plugins
Pricing:
Its eCommerce hosting start-up pack costs $30 per month, the professional pack costs $62 per month, and the growth pack costs $116v per month. Wp Engine has several price listings for particular services; you can go through all the prices here.
Liquid Web is an optimized e-commerce hosting. It is a secure, reliable, and scalable option for people looking to host their eCommerce business websites automatically. It offers a single-tenant server that is fully customizable for dedicated hosting. The control of the server with cloud flexibility gives you robust insight into VPS, making hosting efficient.
It comes packed with tonnes of features that specially cater to your WooCommerce store for enhanced speed and performance. They give you custom hosting solutions, especially if you are taking a complex project. The hosting advisors work with you round the clock to build the ideal solution that fits your business in the best way possible.
Liquid Web is also a managed hosting service with a managed magneto platform with built-in security, scalability, speed, and service that also back cloud sites for simple and scalable hosting of multiple sites and applications.
Its enterprise hosting comes with private cloud hosting on dedicated infrastructure that is powered by VMware and NetApp, along with a rapidly deployable cPanel powered by OpenStack technology. Its high availability of resilient and redundant hosting solutions ensures enhanced web hosting, and the multiple server configurations provide maximum uptime and performance with keeping critical databases online, guaranteeing high performance.
Unique features of Liquid Web:
24/7/365 on-site support

SSL certifications

Fully managed servers

Dedicated cloud infrastructure

Offsite backup

PCI compliance scanning

It comes with several add-ons related to email, software, security, and performance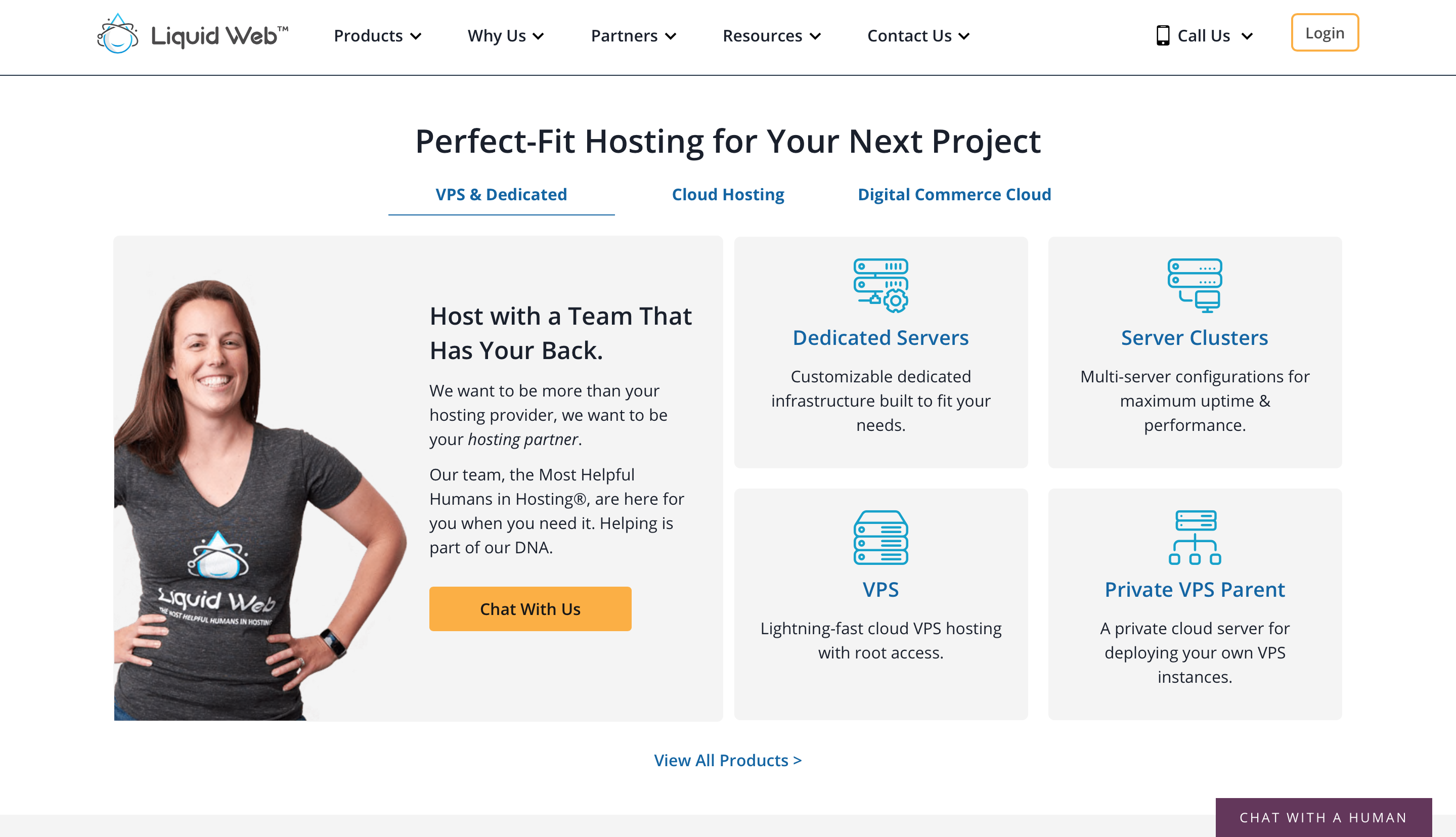 Pricing:
To get a price quote, chat with their executives!
DreamHost is a rather affordable Web hosting with a purpose that ensures fast performance, high security, and up-to-date upgrades for your website. Their custom control panel is super easy to use and is user-friendly, avoiding the headache of managing complex Web hosting features.
Their hosting platform is packed with abundant features that include everything your website needs to be an effective and successful website.
The services provided by DreamHost are fast and reliable and helps you in retaining customers, increasing conversions, and boosting search engine rankings.
It is a web hosting service that fits all types, sizes, and natures of businesses. It is one of the online employee-owned web hosting service providers that helps them cater unique needs of the customers. They are highly secure with a firm anti-spam policy and free WHOIS privacy. Their commitment to security is unparalleled since they have robust security features like multi-factor authentication, sFTP, and free secure hosting with Let's Encrypt and more.
Unique features of DreamHost:
24/7 expert support

Open source solutions

100% guaranteed uptime

Highly scalable security system

Custom domain finder and provider
Pricing:
Their shared starter hosting plan starts at $2.95 per month for 1 website. Their DreamPress pack costs $16.95 per month, and their VPS Basic plan costs $13.75 per month.
One of our personal favorites, Bluehost is one of the most popular and easy-to-use hosting providers. It builds, promotes, and starts selling your eCommerce products from a secure online window that is backed by powerful tools of WooCommerce.
Their online store is fully customizable with several advanced features, has secure payment gateways, and comes with free SSL certificates and domain names that are easy to find and choose.
Bluehost lets you easily add and remove products in your inventory and track it from the beginning. Customizable payment and tax options are available for your shopping cart with a quick code creation for sales and promotion. It monitors performance from a centralized dashboard with automatic updates and protects your website with SSL certification and a dedicated IP.
It also offers a hundred plus free designs for your store template and lets you configure your online store with various extensions and integrations. Not only this, it comes with more tools for a better performance of your online store with powerful eCommerce plugins.
It includes features like payment processing, shipping options, and calendar booking that enhance the checkout experience of your customers and ship parcels seamlessly.
Unique features of Bluehost:
Free SSL

Multiple caching layers

Track trends and customer behavior

Unmetered bandwidth that grows traffic

Free domain

Domain privacy and protection against spam identity theft, malware, and unauthorized changes

Social media tools, SEO tools, marketing dashboards

Plugins to boost website capabilities

WooCommerce plugins helping you with shipping, booking, appointment, payments

No code required hosting
Pricing:
The standard pack costs around $12.95, and the premium pack costs around $25 when billed together for three years upfront.
Pressable is a WordPress hosting service that allows you to design, build and launch stunning websites with a managed hosting platform.
It has the best minds on work since it is created and run by the same people who created WordPress.com, WooCommerce and Jetpack – The Automattic Inc. It is best suited for anybody and everybody including agencies, eCommerce, IT managers, SMBs, freelancers, bloggers, and web developers.
Their global CDN, built-in caching and free automatic failovers ensure that your websites always perform to the best of their ability through a managed WP hosting provider. Whether you are a novice or an experienced developer, Pressable has a super simple built interface that launches websites easily in no time.
The intuitive control panel makes it seamless to create new websites with daily backups, and easily changeable settings. It is compatible with multiple themes and plugins which are also customizable, giving you freedom and flexibility while creating your online store.
Pressable's enterprise-level security delivers protection against regular malware, threat scanning and provides you with a free SSL certificate. Every account comes with jetpack security daily for enhanced protection.
Unique features of Pressable:
999% guaranteed uptime
Optimized performance
High security
NVMe server infrastructure
Automatic failover
Easy to use dashboard
Web application firewall
Managed WordPress updates
WordPress hack recovery resistance
Free jetpack security
Pricing:
Its entry pack starts at $45 per month. Whereas, the starter pack costs $70 per month.
One of the most widely used shop hosting platforms, Shopify is not a new name in the segment of hosting for the eCommerce industry. Trusted by over 1,700,000 businesses worldwide, it handles everything from marketing, payments, secure checkouts to shipping for your online store.
It lets you build an online store easily within minutes and offers beautiful, responsive, and customizable themes to make your website stand out. You do not have to be a designer to have a pitch-perfect Shopify website ready in no time, and you also get complete control over the website's look and feel from its layout, content, and colors.
Shopify is loaded with features for every single thing that your online store requires, including shopping cart features like automatic taxation, multiple language checkout, flexible shipping rates, and more. Its store management features like customer profiles, drop shipping, customer accounts, and refunds make the customer experience an enhanced and efficient one.
Through their marketing and SEO tools, you can generate sitemaps, product reviews and boost sales through highly targeted discount codes and gift cards. Not only that, but it also helps your business through inventory management, digital products, import and export of products using CSV files, product organization, and multiple images of a single product to enhance the product's pictorial representation.
Unique features of Shopify:
70+ professional themes

Intuitive templates

Customizable storefront

Built-in mobile commerce shopping cart

Full access to the HTML and CSS of our store

Work with Shopify experts to customize your online store

Your custom domain name

Full-blown blogging platform

Free SSL certificate

Automatic carrier shipping rates and 100 payment gateways

Robust analytics, including google analytics, product reports, traffic reports, and more

Email forwarding

Instant upgrades
Pricing:
The basic Shopify plan starts at $29 per month. The next level plan costs $79 per month, and the advanced Shopify plan costs $299 per month.
Trusted by 500,000+ stores worldwide, Wix helps you in creating your perfect online store.
It helps you sell more and promote your brand with its state-of-the-art storefronts, optimized shopping experiences, and a pool of industry-leading eCommerce-based features.
Wix is a comprehensive eCommerce platform with multiple sales channels that helps you manage your store from a single integrated dashboard. It helps you through orders, payments, shipping, marketing, and a lot more.
Wix also offers advanced payment solutions to your customers for secure and easy checkout. Handling business transactions seamlessly is one of their top qualities through competitive payment processing rates, custom pay-out schedules, and multiple payment providers.
Unique features of Wix:
Custom templates and themes

Highly optimized shopping experiences

The suite of professional eCommerce apps

Multiple sales channels

Integrated dashboard

Various payment options and providers
Price:
Wix is one of the very few apps that let you try it for free with no limited trial.
Ecwid lets you create your online store with only a few clicks. It is best suited for small businesses as it is already trusted by 1.6 million of them. Ecwid allows you to sync and sell across a website, social media, market process and live in person all around the world.
It has a robust set of easy-to-use marketing tools like Google and Facebook ads that help your business sell more and grow fast.
Not only that, it enables you to manage your business efficiently by giving you control over everything from a single dashboard that has a centralized inventory, order management, simplified payments, and so much more.
The different plans given by Ecwid provide you entry to several sales channels, including Facebook shop, Instagram store, mobile point of sale, and other marketplaces. It also promotes your content through several advertising mechanisms, including apps like Pinterest and Snapchat.
It is device-friendly with interfaces that cater to desktop, tablet, laptop, and mobile phones and is supported on iOS and Android. With unlimited bandwidth and a free instant site, it lets you add your store to any site with Facebook pixels, automated tax calculations, FB messenger live chats, product filters, eBay integration, and so much more.
Unique features of Ecwid:
Live support

New tools and apps on the Ecwid app store

Manage on mobile with the Ecwid mobile app

Lets you create an online store for FREE
Pricing:
Ecwid is probably the only platform to exist that lets you set up your free account once, keep it as long as you like, and start selling online for free!
However, it does come with paid plans too. The venture plan costs around $10 per month. The business plan costs around $20 per month, and the unlimited plan costs around $71.5 per month.
Conclusion
All in all, an eCommerce platform is the perfect solution if you wish to start an online store within minutes, avoiding all the hassles of coding, expensive hardware and software, and the complex infrastructure.
All you have to do is signup, choose from the stunning templates and add essential details.
Rest, the hosting service providers do it all for you! It gives you entry into the world of online stores with cutting-edge technology and advanced features that make your website stand out and lets you focus on your core business instead of worrying about your website's functioning.
It is the best alternative to building a website on your own as it doesn't require you to be a designer or a coder – just an intelligent user who knows which hosting website to choose from!
If you've any questions, let us know in the comments.