Most bloggers do not pay attention to growing their email list. That's a big mistake.
Email marketing is really great when it comes to increasing sales.  This helps bloggers and affiliate marketers increase their commissions and build a strong reader base who trust and follow them.
While stepping into the world of Email Marketing, The first step you will need to take is selecting a decent service. Since you will provide them with your valuable subscribers' list, you need to make sure they are reliable.
There are many different email marketing services to choose from, and most of them are not suitable for bloggers because they make simple things complicated.
Below are the top 5 email marketing services for bloggers.
GetResponse
Getresponse and Aweber are the two biggest rivals. They both shine, but GetResponse proves to be a beginner-friendly service.
Getresponse primarily focuses on helping newbies but at the same hand provides top-notch quality templates and tracking tools to its users.
As you grow,  they will help you reduce the load.  That means you are in a completely scalable environment. I use GetResponse and highly recommend them.
Recently they launched Autofunnel, so if you plan to sell a course, ebook, etc., then you might want to check that amazing feature for sure.
Here is a link for you. This will give a free trial of 30 days and an access account to all premium features. An all exclusive deal for you. Enjoy.
MooSend
Moosend is one of the latest email marketing software that has really got me intrigued.
It has all features a blogger needs to get most of our email marketing. It has a beginner-friendly but powerful email editor and easy to use dashboard.
You get everything that Moosend has to offer in terms of features such as automation workflow, custom welcome drips, and personalization across all the plans.
And it's very affordable. If your list size grows over 1,000, the monthly plan costs $8/month. The cheapest among the popular email marketing services.
Aweber
Aweber rules the email marketing platforms. This service is used by various top marketers around the globe.
The best part about Aweber is their experience and flexibility.  The preceptor among all email marketing software.
Aweber gives you access to beautiful landing pages,  responsive sign-up forms, easy integration tools, and excellent customer support.
As a beginner,  you get lots of educational guides like this one.
The pricing starts at $19/month, for 500 subscribers.
I've managed to get you a 30-day free trial. Here is the link.  Enjoy.
MailerLite
MailerLite is another great email marketing service for beginners.
Some of its best features include:
Free account for up to 1,000 subscribers
Free plan includes access to the autoresponder
Comes with tag-based workflow
Variety of email templates and themes
New email editor
A big list of integrations
Advanced reporting
Different support options
The only thing you don't like about MailerLite is their approval process. It just takes a little longer than others to get approved. However, if you are a beginner and looking for an affordable but feature-rich EMS, this can be your tool.
ConvertKit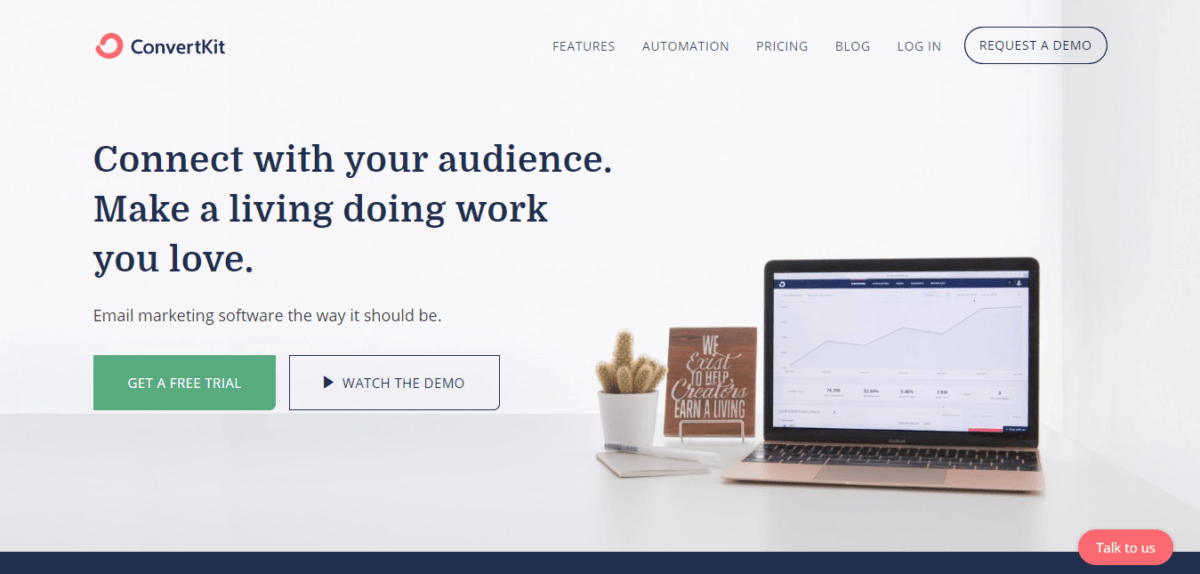 ConvertKit is amazingly a very simple email marketing software. It's very powerful when it comes to automation workflow, but they have kept it fairly simple to use.
Once you par that learning curve, ConvertKit becomes very fast to use. This saves a lot of time doing other essential things, like creating content.
It has everything you need to create systematic automation. It includes tags, segments, workflow visualization, and behavior tracking. ConvertKit has recently released a free plan as well.
MailChimp
The boon for beginners. On MailChimp, you get a free account for 2500 subscribers. I personally recommend MailChimp to each and every new blogger. This free account doesn't require any credit card details
In the latest update, you can now avail of the automation feature from MailChimp with your free account too. You can read the detailed guide on how to set up autoresponders in a free MailChimp account.
Now, these features are not necessary when you are a newbie but if you want to use them, check out the next service.
Make Sure you use a custom email address that is accessible via Your Own domain name. For example – admin(at)bforbloggers.com. You can use Google apps for creating your domain branded email accounts.
Email marketing has proven to increase sales and build great followership that is loyal.  You should be collecting emails right from the first day you start a blog.
Pro tip: For collecting emails, use the plugin Optinmonster Or Thrive leads. These two WordPress plugins work out of the box and will help you generate more leads based on geolocation and exit intent along with more additional features to grow your mailing list. All of the mail services seamlessly integrate with these two.
Head over to our step by step guide to starting an email list.
You would also like to read about the best optin form plugins for WordPress to build your mailing list.
Do remember to share this post and yes, join my email list for latest updates.