5 Free Tools For Lead Generation Magic
There are many powerful lead generation plugins and software for bloggers to grow their email list, but most of them are premium and give no free account and access.
As a beginner, you should be concerned to prepare a decent email marketing strategy and list building.
However, you don't really need to invest a lot to build your email list. You can opt for free tools as well!
Below listed are some of my favorite free lead generation tools that convert like crazy.
1. HubSpot
Since 2006, HubSpot has helped every small and large marketer grow their business through inbound marketing software.
Many of you don't know that HubSpot offers everyone a forever free account with no credit card details.
This free CRM tool is cloud software that helps you to generate leads with interactive lead flows.
Getting started with HubSpot is very easy. Everything is preset and you can go live straight with the premade templates.
The free plan includes everything you need and above all, you can also set the custom follow-up email right from the HubSpot workflow.
It also supports the integration of various email marketing services and software such as MailChimp and Constant Contact.
HubSpot works without a plugin. Install the tracking code you are given and you are done.
2. Optingun
The Optingun is much similar to your typical optin form generator, besides the fact that it provides a free account to its users with every dedicated feature.
With Optingun, you can make
Sidebar forms
Screen takeover form
Popup form
and more. You are given access to the exit intent and cookie behavior settings as well so that you don't lose your visitors.
The optingun also gives you access to 30+ premade templates ready to use. You can activate any form with 1-click. You can also integrate optingun in with a free Mailerlite account.
A statistics graph of the data is shown as soon as you log in to your dashboard. You can also do A/B testing or clone any of your forms with a single click.
3. GetSiteControl
Much similar to SumoMe, the GetSiteControl is also a web-based cloud tool that helps you –
And more. GetSiteControl gives you access to some basic features that are enough for a beginner to generate more leads.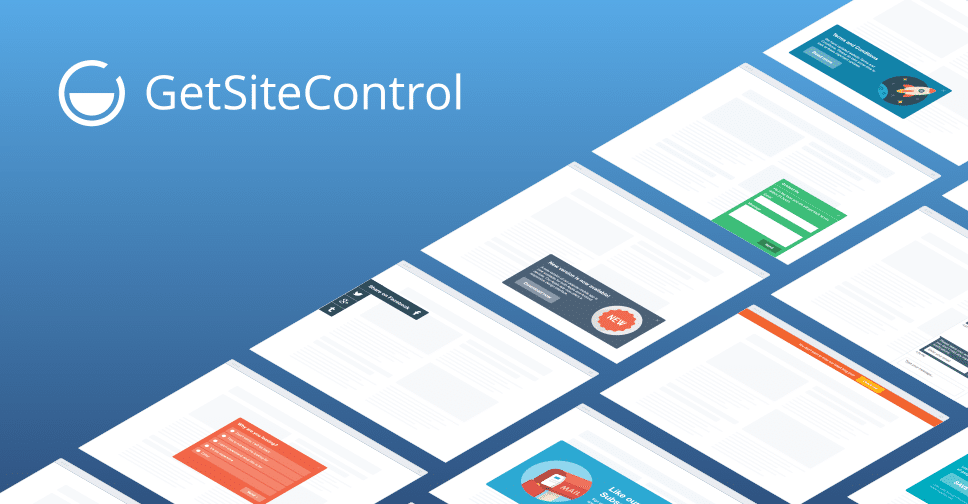 You can set a popup, sidebar or a notification bar to capture emails. Every element is easily customizable and a very well structured preview is shown live on the screen for multiple devices.
You can also set the forms to change their sizes according to the user's device. The free plan restricts you to only 50k views on all of your forms and bars.
However, you can not use any behavioral features like scroll trigger etc. on the free plan.
4. SumoMe
SumoMe comes with a free version that is widely used by new bloggers. It has no restrictions on what tools you can use in the free plan.
However, some features such as exit intent and custom skins, templates, and branding do require a paid plan.
With the SumoMe plugin, you can capture leads through popups, below the screen bar and notification bars as well.
SumoMe comes with other sets of tools such as share buttons and heatmaps as well.
Moreover, you can always add more tools from the Sumo app store for free.
The best part about Sumo is being it highly beginner-friendly and easy to use. You can select from a number of free templates available that are ready to go with basic customizations only.
SumoMe can be used on BlogSpot and custom HTML-based websites as well, and it also integrates with MailChimp with the free version and you can set the behavior and targeting levels too.
5. Privy
Privy is a great web-based list building tool that helps you fast lead generation custom solutions.
Privy is much simpler to use. You only have to create a free account to get started with your first campaign. You can install the privy code on any of your websites easily.
The free account gives you access to all of the premium features except for unlimited views. You can also build landing pages with Privy that are hosted on their server.
3 Tips To Make The Most Out Of These Free Lead Generation Tools
1. Create a lead magnet – A lead magnet works on autopilot. Set it and forget it. People with a similar interest in what you have to offer will automatically subscribe to your email list to get the freebie. Make sure your lead magnet is relevant to your targeted audience and niche.
2. Use High CTR colors –  High CTR colors such as orange, pink and lime green are proven to increase visitor attention. This makes sure that your opt-in forms are visible and they drive the maximum attention of your readers. Make your statements bold and keep your headlines and descriptions short and to the point.
3. Use correct formats – There are various lead form formats available. The best one which converts more visitors into subscribers is PopUps and Sidebar slide-ins. Create a lead flow that converts visitors with direct questioning and reasoning. This will give you more subscribers faster.
One underused format is the page takeover format. A page takeover form leaves your user with only two choices. The one to subscribe, the other to never have an option to subscribe again. This works really great, especially when paired with the exit intent trigger.
If you are a complete beginner, the best choice for you is to stick with the free tools. Once you become familiar with how a particular software or tool works, you can easily switch to the premium one.
It's better to save money and I strongly suggest you, go with the free tools available before purchasing a premium one. Try and test the tool first, then make your decisions based on the results and satisfaction.
Try HubSpot and SumoMe first, if they don't suit your blog, go for others. No tool listed here requires you to have a credit card to access the free plans, signup and go live, that's it.
P.S. Do include an ethical bribe to drive maximum leads for your list.