10 Best G Suite (Google Workspace) Alternatives
G Suite (now known as Google Workspace) is one of the most popular and valuable tools in the market, helping companies bring their team together to work collaboratively and efficiently. However, it is not the most affordable tool, and some companies, even the big ones, find it expensive.
This brings them to hunt down alternatives that are as good as the G Suite but a bit more affordable for them to maintain their expenditure. We will be talking about the best G Suite alternatives packed with features that help you maximize your productivity. 
The 10 best G Suite alternatives are –
Zoho is our top choice when it comes to having an alternative to G Suite. It has a quick interface that does not lag too much, with customer support that is ever ready to take care of all your problems. It fits best to medium and small-sized companies as it comes with its own set of applications that work to enhance your team's functioning. 
You can create a custom domain name with Zoho for all your business emails and streamline them through a single Zoho mail platform. Docs, spreadsheets, and bigger projects can be worked through their native apps that are easy to use and seamless to understand.
It also has standalone apps like Connect mail, Meeting, and Showtime that enhance team communication. A separate workspace called Cliq also exists where you can efficiently collaborate with your team members without any hassle at all.
Everything's transparent, so team members know exactly who is doing what, and they see the progress of their peers as well. Every user gets 30GB storage with the Professional plan, and it differs in all plans. A little pricey, the Zoho application is definitely worth a try if you want to get out of the traditional working of Google and Microsoft as software game-changers. 

Pricing:
They offer a limited free plan with the basic features to start with. However, they also have advanced paid plans which you can learn more about by contacting their sales department.
Microsoft is not a new name in the business and is the most reputed software of all time. It acts as the perfect substitute for G Suite as it comes with all the popular features needed to increase team collaboration and productivity.
Microsoft's Office 365 Business lets you curate personalized emails for your company with a personal domain name and promote the business to clients and customers. 
It also gives you access to the entire pack of Microsoft Office apps like MS Word, PPT, Excel, and more. Team communication is enhanced through Outlook, a tool that allows you to exchange emails within the organization in a systemized manner.
It also gives you access to Skype to conduct audio and video meetings online seamlessly. Google's Gmail, Chat, and Meet apps are truly replaceable with Office 365 Business' Microsoft teams application that helps in conducting real-time team meetings with as many people as you require, situated around the globe.
With Office 365, you can store up to 1 TB of data in OneDrive with a business plan. This fits perfectly for people who have large files to cater to and have bigger teams to lead. With the same plan, you can also get access to 24/7 customer support, and every plan comes with advanced threat protection that restricts any data theft. 
Pricing:
Office 365 Business comes with four different plans starting from $2 per user per month and goes up to $10 per user per month, billed annually. 
LibreOffice is a powerful office suite that provides you with rich systems and tools helping you unleash creativity and enhancing team's productivity its OpenOffice Evolution focuses on compatibility, usability, and performance of the business whereas its Fun Project aspect makes LibreOffice one the fastest growing open-source software providing independent features helping you ace through your work life.
It lets you work with several documents at once with its standard OpenDocument form. This also lets you have a ling term data storage without any hassle. Its customizable interface lets you opt for designs that suit you the best.
Pricing:
Absolutely free!
Apache OpenOffice is a leading platform that focuses on providing you with open-source office software suites that support your word processing, spreadsheets, graphics, presentations, databases, and a lot more.
Its specialty is that it is available in multiple languages catering to people around the world and works on almost every computer. The data is stored in an open standard format, internationally.
Since it is an open development prose system, anybody can report the bugs that may arise, enhance the software, and even request new features. it is available to all, through all! Its interface is user-friendly and easy to learn, hence even beginners can make use of it easily.
Pricing:
Absolutely free!
Greatmail is an email host provider that focuses on the teamwork and collaboration of any company. It works in all Outlook, Thunderbird, Gmail, Webmail, and Apple mail system versions. It is a cloud-based hosting that has robust antivirus protection, spam filtering, storage, and webmail altogether.
Its high volume of SMTP hosting makes it a reliable service for transactional messages, newsletters, and huge email marketing campaigns. The email servers are dedicated, with multiple IP load balancing that supports high volume senders.
They also provide custom solutions that include process-specific servers, dedicated IP servers, and load balancer configurations that have multiple servers onboard. The platform suits best to a variety of business sizes, ranging from enterprise-level anti-spam to start-level effective growth solutions.
Pricing:
Their Standard email hosting edition starts from $15 per month and their Groupware edition costs about $20 per month.
The all-in-one collaborative tool is almost the same as G Suite when it comes to content sharing and creation. It has productivity services like supporting third-party email integration but does not have its own email hosting. However, if you already have an email host, it is a good choice for you to try out the facilities offered by Samepage.
Samepage has its own office apps like text editors, presentations, calendar management, and much more to choose from. Multiple people can brainstorm over a single document with its charting, video calling, and comment support features. 
Connect your cloud storage system to the same page, and you can easily access all the data from there to the platform in one click. Samepage is working to bring together all sorts of third-party services onto their platform in the future that will help you get the best of all in one place.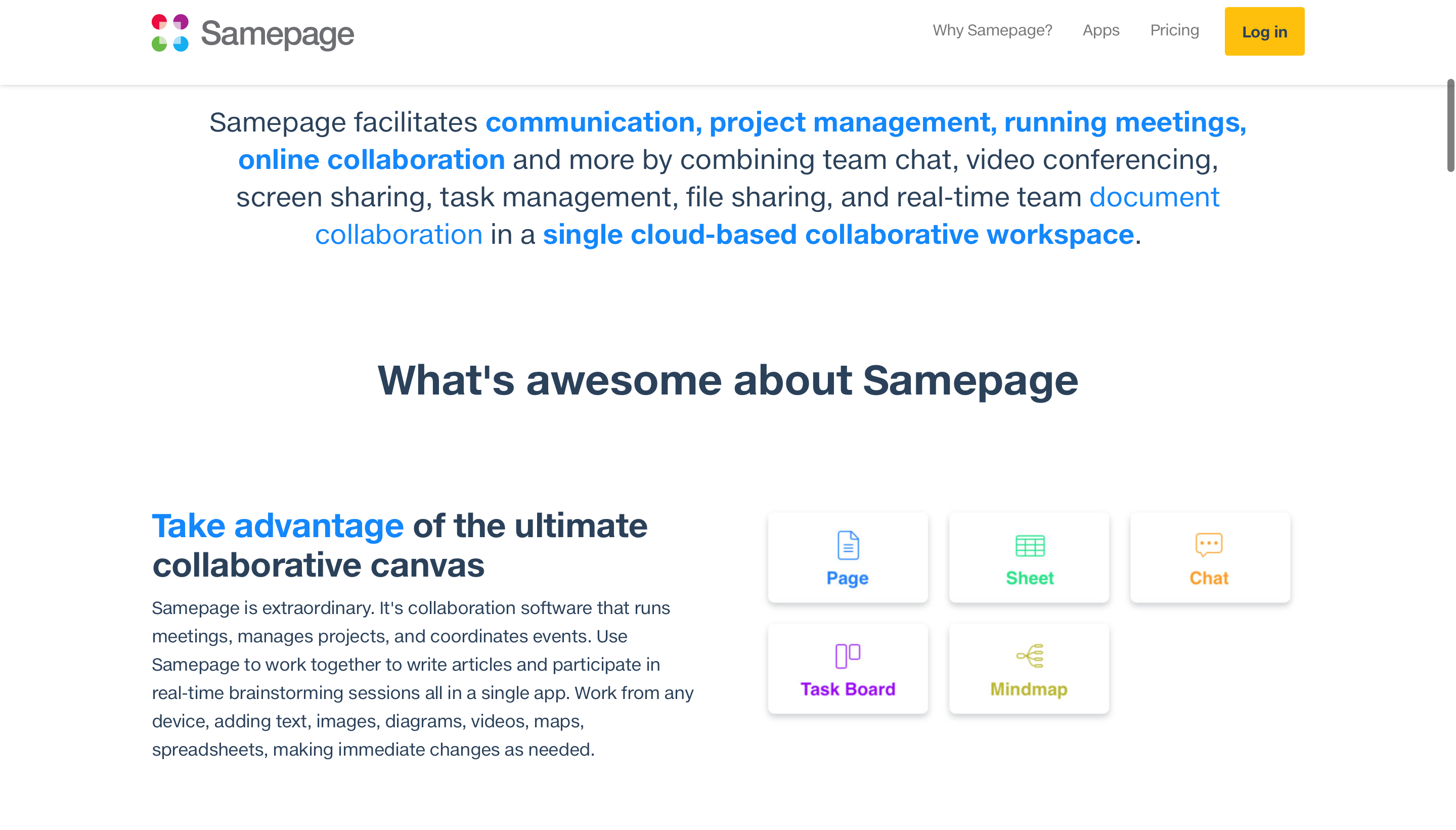 Pricing:
They have a basic plan that they offer their customers for free. The paid plans start at $7.50 per license per month, going up to $9 per license per month.
Rackspace is an email hosting company that provides an office apps suite in collaboration with Microsoft. Microsoft is completely integrated with Rackspace, allowing you to utilize all office apps by being associated with Rackspace. It is a complete productivity tool that provides content editing, team collaboration, and communication services. 
It also allows you to create multiple business email IDs for the users and enterprise wings like the marketing, support, finance, and sales department. Outlook is also another integration of Rackspace that helping efficient communication with the team members. 
It offers a separate subscription plan if you wish to have dedicated storage space. Their customer support is proactive and willing to help you at any hour of the day or night. The application is best suited for small businesses who need advanced services at speech rates but with brilliant execution.
Pricing:
Their plans start at $2.99 per month, with a free 14-day trial.
Fastmail is an ad-free email service provider specially made for professional business accounts. It is a platform focused on privacy and data security that lets you create custom business domain accounts.
It also allows you to create 600+ alias account to serve your business needs while keeping your main email address private.
Fastmail has built-in collaboration tools, such as calendars, contacts, and email folders to help your team efficiently work together. The full-fledged email features including the email import tool help keep your inbox organized at its best. Its Administration control feature allows you to manage access levels, adding further security layers to your sensitive business data.
It offers 2 GB storage per user in its basic plan which goes up to 100 GB per user in the professional plan.
Pricing:
Fastmail offers three pricing options starting at $3 per user per month with a free 30-days trial.
Proton Mail helps you control all the information you receive from your team members online. It offers complete privacy and security, ensuring that all the data is secured within your network. Their servicing works to bring end-to-end email encryption that ensures nobody except you can go through your mails, protecting their confidentiality. 
Since it is an open-source tool, you can check the coding to verify the privacy claims but also can rest assured that not even the company themselves have your data saved in their server. 
 You can create an email account without providing them with any personal details, keeping everything as professional as possible. It is also easy to use with the Calendar and Drive services that help to integrate your events and data. The Proton inbox is sleek and easy to use, extremely responsive and helps you maintain the privacy you deserve. 
Pricing:
They offer a free basic plan that you can use whenever you wish. Their paid plans start from $4 per user per month and go up to $25 per user per month.
OpenProject is an open-source platform that helps business accounts create emails, manage projects, and communicate with increased flexibility. It lets you create as many accounts as you like for the employees, business departments, and even outsourced employees, depending on the type of plan you choose. 
The emails that you send and receive are absolutely private and are not even stored with the company's network. It defines objectives, goals, and tasks details using boards, Gantt charts, roadmaps, and generating reports. Other productivity tools like contacts, task integrations, and calendars also exist to make the business functioning smoother. 
On this platform, you can plan the task, use the timeline view and visualize the entire workflow, change the workflow if needed, create product roadmaps, and so much more that enhances the business's working and increases communication ease with the employees. 
Pricing:
They have a singular paid plan that depends on the type of features you want and your team's size. The cost of this can be known by contacting the sales department of the company. 
Conclusion 
G Suite is surely one of the top-rated collaboration and communication tools of all time. With the reputed name and excellent functioning, it is hard to beat the platform as a whole. However, with advancing technology and better opportunities, more and more alternatives have entered the market that is not only as good as G Suite, but some are even better!
With a few of them having free services, it just makes them all the better. They are accessible to more businesses and people who want the best of services at a lower rate and cater to not just the big companies but the small and medium-sized ones, too.