For successful podcasting, you need the best podcast host that can provide the necessary resources, tools, and services.
Podcast hosting is a service that allows you to store your media files, such as podcast episodes, on a server. The biggest advantage of using a podcast hosting service is ownership over your content.
If you're using free podcast hosting websites such as Anchor.fm, you don't have full control over your files. These free hosts often control your feed as well.
That's why we recommend using an ideal podcast hosting solution for every podcaster.
As there are various recognized podcast hosting platforms – some new and some established players – it's important to assess each of them.
In addition to just hosting a podcast, you must look out for additional features that'll help you take your podcast to the next level.
These features may consist of analytics, episode schedules, social media marketing, campaign management, monetization, website setup, and more.
Here I have compiled a list of the best podcast hosting platforms – both free and premium.
Whether you are starting a brand new podcast or planning to switch to a better podcast hosting platform, you can consider any of the following hosting services.
Take a look at the table below to compare the best podcast hosting companies with cost and free plan details side by side:
Let's dive in right away.
PodBean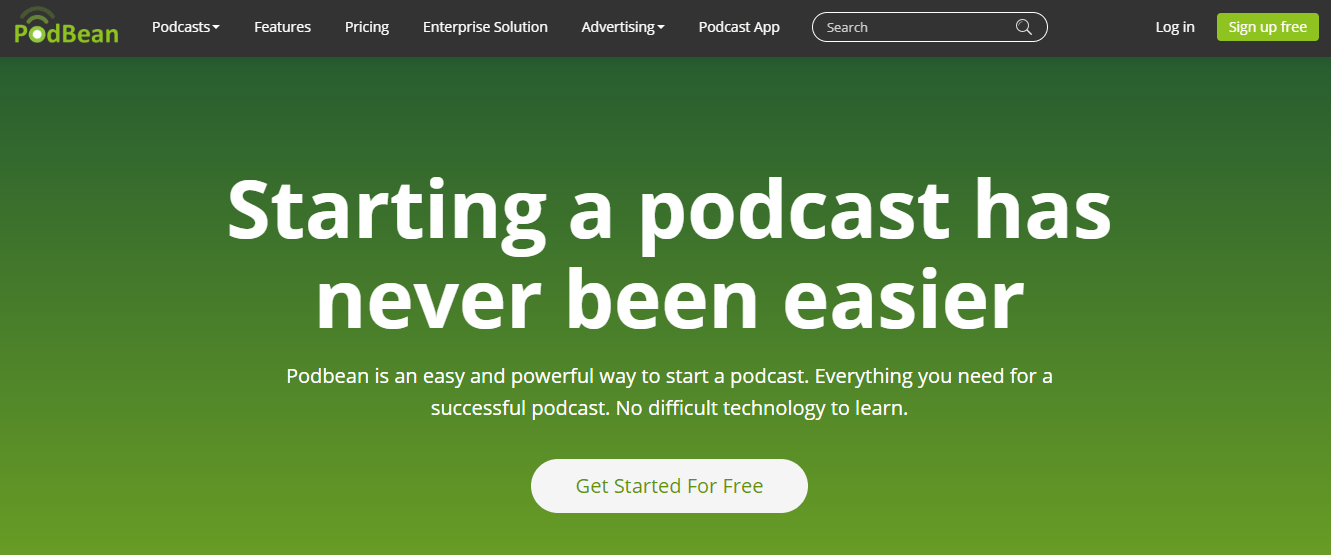 With 440,000+ podcasters and 7.2 billion+ downloads, PodBean is one of the most reliable and suitable podcast hosts for your needs. The availability of a wide range of podcasting tools and features makes PodBean the "King of podcast hosts." Right from conceptualizing your podcast to generating a steady source of income, it helps you in accomplishing all tasks with ease.
PodBean Features
Unlimited storage, unlimited bandwidth, and unlimited downloads – this is what PodBean offers to you. Whether you want to create a custom podcast website on PodBean or embed an audio player on a self-hosted website, PodBean makes it possible.
You can create content on your desktop or mobile phone and publish it directly from the PodBean dashboard. It distributes the feed to streaming apps like Apple Podcasts, Google Podcasts, Spotify, its own podcasting app, and others.
It automatically shares episodes on social media platforms. It creates audiograms (videos) so that you can publish them on YouTube and other video streaming platforms. As soon as an episode is live, it's available on Alexa devices via PodBean Alexa skill.
Collect leads by enabling PodBean's Mailchimp integration; promote content via PodBean Ads Marketplace; display ads using PodAds service, and open up recurring revenue streams by selling premium content and products; PodBean lets you accomplish all these tasks.
PodBean provides valuable insights into top-performing episodes, listener behavior, audience demographics, downloads, user agents, and more.
With PodBean, host live audio shows along with guests/co-hosts, interact with listeners via real-time commenting, sell tickets for live stream, receive virtual gifts, and more.
PodBean Pricing
Basic: $0/month
Unlimited Audio: $9/month
Unlimited Plus: $29/month
Business: $99/month
PodBean Pros
Special emphasis on advertising and monetizing
Private podcasting for paid subscribers
Recurring revenue generation support
PodBean Cons
Most of the necessary features available in Unlimited Plus and above plans
The Bottom Line
PodBean is a complete podcasting package for all types of podcasters. You don't need anything else if you have PodBean with you.
Blubrry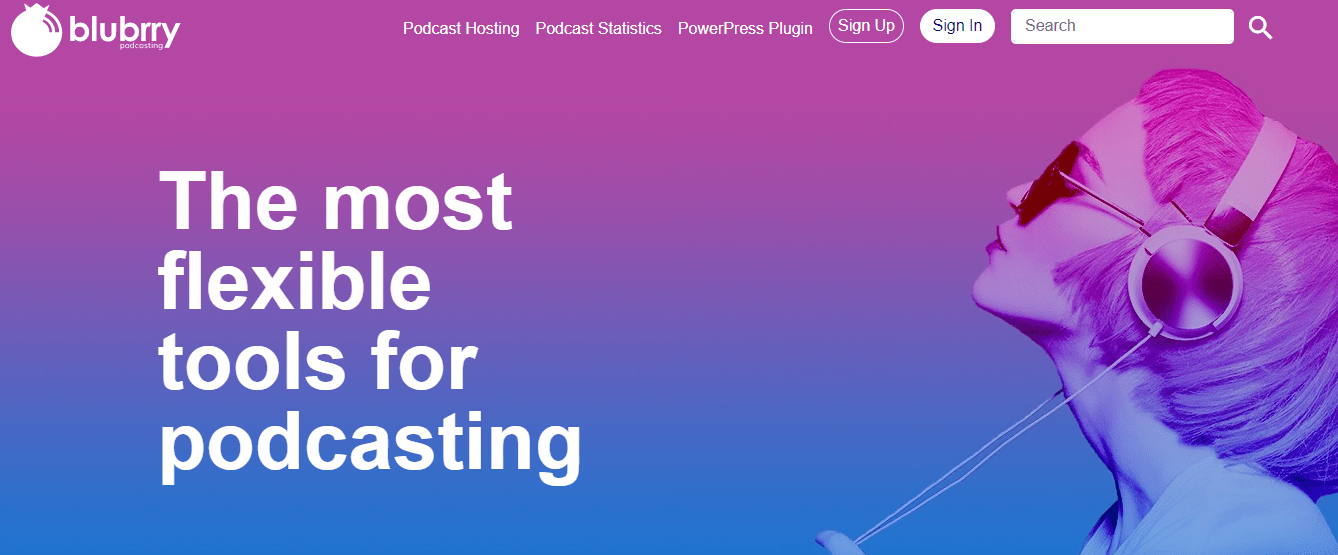 Blubrry is the best podcast hosting service for beginners and professional podcasters. It's ranked #1 on this list.
Blubrry is a unique podcasting solution, distinguishable from other podcast hosts in various ways. Besides offering a superb hosting solution, Blubrry supports private podcasting, website setup, advanced statistics, and much more. It claims to be the world's largest podcast directory, with over 750,000 podcasts in its kitty.
Blubrry Features
Blubrry offers storage with no-fault coverage. It means if you consumed almost all designated storage, you could still upload files provided the storage just spills a little over allotted space. Besides, you get unlimited bandwidth.
With professional statistics, you can analyze what's working best in your podcasting journey. If you need additional insights, opt for Advanced Statistics. For your information, Blubrry is the first company to be IAB Certified.
There are a plethora of audio and video file optimization features that make sure your content performs at its best. The podcast is optimized for streaming platforms like Apple Podcasts, Google Podcasts, Spotify, and others.
Pro-Production services help you with time-consuming tasks like fine-tuning podcast content, generating transcripts, and more. The Blubrry community of podcasters and support experts is always available for help.
Creating a podcast website, whether self-hosted or hosted on Blubrry, is effortless because you've access to the PowerPress WordPress plugin. It manages various chores like channel listing, SEO, migration and imports, inserting audio player, and more.
Private Internal Podcasting is a dedicated solution for podcasters who are looking to deliver content securely to any device. Use it if you have a closed group of subscribers who are paying you for premium content.
Blubrry Pricing
Blubrry Hosting
Small: $12/month
Medium: $20/month
Large: $40/month
Extra Large: $80/month
Professional: Contact Sales
Blubrry Advanced Statistics
Basic: Free
Pro: $5/month
Enterprise: Contact Sales
Private Internal Podcasting
Simple: $150/month
Standard: $250/month
Enterprise: Contact Sales
Blubrry Pros
One-of-its-kind hosting solution
Perfect for professional podcasters
Effective data analytics under Advanced Statistics
Blubrry Cons
Storage is restrained
Might be overwhelming for beginners
The Bottom Line
If you're looking for a one-stop solution that caters to all your podcasting requirements, opt for Blubrry. It can be a turning point in your journey as a professional podcaster.
Use coupon code BforBloggers to get your first month on Blubrry free.
Castos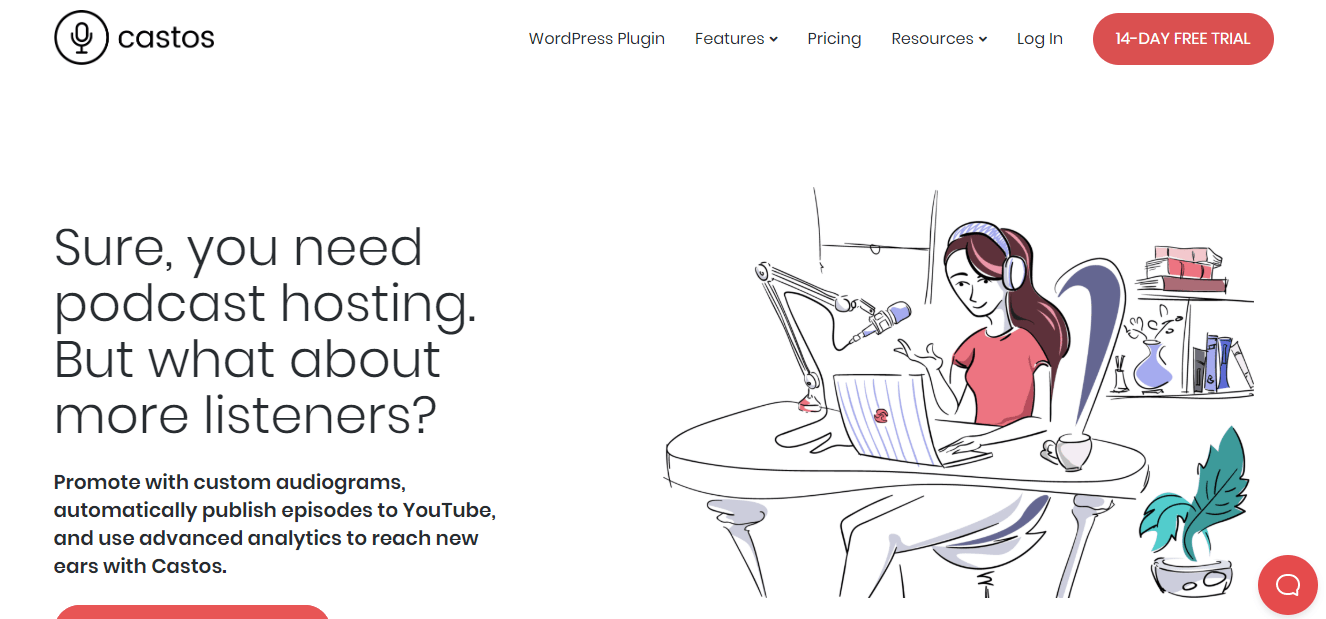 Castos is not just another podcasting platform to host your audio files. It trumps other podcast hosts as it offers tools and features to promote your podcast across multiple channels. If you're planning to take your podcast to another level, Castos is the right choice for you.
Castos Features
When you have Castos, you get unlimited storage and bandwidth to host infinite podcasts. You can manage as many shows as you want and publish as many episodes as you want.
With the assistance of the Seriously Simple Podcasting plugin for WordPress, you can import podcast data from WordPress to Castos and vice-versa. Generate audio player shortcodes and insert them into web pages using WordPress Editor.
Castos automates the task of generating transcripts. You can use these to boost your SEO efforts. Simply download them and use them in whatever way you want to.
Content repurposing is effortless with Castos as it supports YouTube Republishing. It converts audio files into videos – also called audiograms –  and auto-publishes them on your YouTube channel.
If you don't have a dedicated website for your podcast, you can use Castos to build unique podcast web pages for every podcast you operate.
Set up a customizable media player with Castos that represents your brand in the most elaborative manner.
You can also add links to podcast streaming platforms like Spotify, Apple Podcasts, Stitcher, Google Podcasts, and others.
Castos Pricing
Starter: $19/month
Growth: $49/month
Pro: $99/month
Castos Pros
Unlimited hosting for unlimited podcasts
Unlimited downloads, no limits whatsoever
Content repurposing and republishing support
WordPress plugin for easier and effective management
Castos Cons
Video republishing not available in the Starter plan
The Bottom Line
If a premium podcast hosting package that helps with content marketing is what you are looking for, you should definitely go ahead with Castos.
Transistor
Transistor is a hosting platform made by podcasters for other podcasters. Those who have multiple shows under their management, they can look forward to Transistor. Further, you'll find every necessary feature here that'll help you along the podcasting journey.
Transistor Features
Start not one, but many podcasts with Transistor at the same price. The hosting provider doesn't charge extra if you create additional podcasts (there is a limit on podcast downloads, though).
Distributing podcasts to multiple streaming platforms is a piece of cake with Transistor. Whether it's Apple Podcasts, Google Podcasts, Spotify, Stitcher, Overcast, or any other podcasting app, Transistor supports most of the publications.
You can embed Transistor podcast player on your website and provide easy access to your listeners. Various player options are available – multi-episode player, single episode player, and most recent episode player.
Grow your podcast effortlessly when you have access to Transistor analytics. Keep a tab on average downloads per episode, the total number of subscribers, listener trends, most popular podcasting apps, and much more.
The hosting platform also provides a website setup tool to build a dedicated website for your podcast.
You can also launch your private podcast using Transistor, where you manage permissions for a particular group of listeners.
Transistor facilitates seamless integration with third-party apps and tools, such as MailChimp, ConvertKit, and Drip. It means you can easily launch email marketing campaigns to promote your podcast.
Transistor Pricing
Starter: $19/month
Professional: $49/month
Business: $99/month
Transistor Pros
Unlimited podcasts under any plan
Unlimited storage and bandwidth
Live customer support
Transistor Cons
Costlier than its counterparts
Lacks customization features
The Bottom Line
If you're planning to host multiple podcasts without shelling out a hefty amount of money, Transistor should be your first preference without a second thought.
Captivate
Captivate lives up to its name as it literally captivates podcasters from all walks of life. The power-packed podcast hosting platform comes with an advanced set of features, perfect tools, and a stellar support mechanism. It has everything that publishers need to start – and scale – their podcasts from scratch.
Captivate Features
Host unlimited podcasts as you get unlimited hosting with Captivate plans. It's suitable for podcasters who are managing multiple podcasts, whether theirs or those of clients. However, there's a limit on downloads per month (varies as per the plan).
CaptivateSync WordPress plugin synchronizes your Captivate account and WordPress website. The process facilitates auto-publishing of episodes so that your audience can access the latest episodes as they are released.
Don't have a WordPress website? No issues! You can build a custom podcast website using Captivate. The responsive web pages are well-optimized for conversions so that you can generate leads and subscribers.
Advanced analytics are per the IAB Podcast Measurement Guidelines. You can have a detailed insight into podcast performance, audience demographics, most popular devices, often used podcasting apps, etc.
The audio player is completely brandable, offers a plethora of features necessary to facilitate a seamless user experience, and syncs effortlessly to update content regularly.
Captivate offers dedicated personal support that guides you at every point in your podcasting journey. Further, the support reps will help you out with the free migration of your podcast from other hosts.
Captivate Pricing
Podcaster: $19/month
Audio Influencer: $49/month
Podcast Brand: $99/month
Captivate Pros
Free migration to Captivate hosting platform
Dedicated WordPress plugin for effective management
Aids in lead generation with call-to-action buttons
Captivate Cons
Limits on episodes download per month
Sole focus on podcast hosting and management, nothing beyond this
The Bottom Line
If you're looking for a hassle-free podcasting experience, Captivate should be your priority.
Simplecast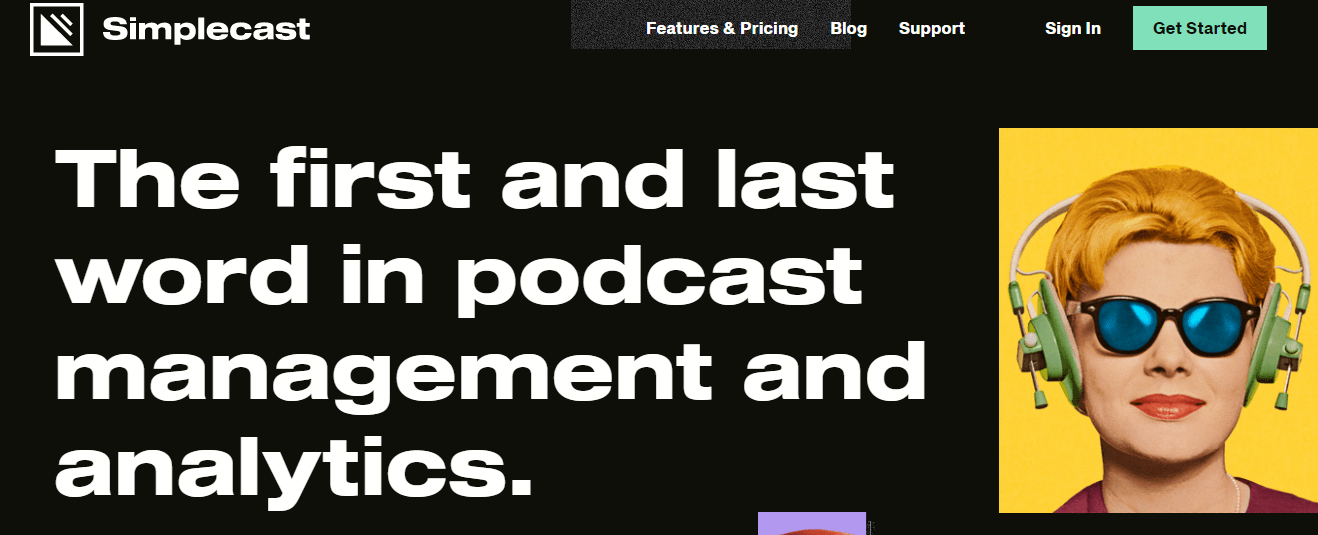 Simplecast is a no-nonsense podcast hosting solution that has been in the business for the past seven years. Some of the renowned organizations like Facebook, Medium, Nike, Fast Company, McAfee, TechCrunch, and others trust Simplecast for podcasting. It offers industry-leading tools to publish, distribute, analyze, and share podcast content.
Simplecast Features
The podcast host supports one-click publishing to distribute content to millions of listeners across multiple streaming apps like Google Podcasts, Apple Podcasts, Spotify, Overcast, Spotify, Stitchers, and others.
The IAB-certified analytics tool displays important information related to your podcasts and episodes. You can compare episode trends, audience demographics, subscribers, downloads, and much more. The analytics are quite insightful and detailed.
If your podcast is hosted on another platform, you can migrate it effortlessly – and free of cost – using Simplecast Show Migrator. In case you're not technically capable of doing it yourself, the support team is always at your disposal.
Embedding the Simplecast audio player is also a breeze. Whether your website is using WordPress, Squarespace, Medium, or any other CMS, you can easily display a single episode or the entire show using the audio player.
And if you don't have a website, use Simplecast to set up a dedicated podcast website. Further, you can create multiple websites for all of your podcasts hosted on Simplecast. To manage these podcasts, you can assign responsibilities to team members.
One of the most interesting features of this hosting platform is the Recast tool. It enables you and your listeners to share audio clips or entire episodes on social media websites. It also offers insights into listeners sharing activities.
Simplecast Pricing
Basic: $15/month
Essential: $35/month
Growth: $85/month
Professional: Contact Sales
Enterprise: Contact Sales
Simplecast Pros
Advanced Simplecast API 2.0 to build and customize your podcast
Recast tool aids in social media marketing
Team collaboration is effortless and productive
Simplecast Cons
Limited downloads in every plan
Lacks a dedicated, feature-packed WordPress plugin
The Bottom Line
Simplecast is an affordable, power-packed solution that has a sole focus on podcasting … and nothing else! It renders a hassle-free podcasting experience.
Spreaker
Spreaker is different from other podcast hosts in several ways. Besides hosting your podcast, Spreaker provides plenty of features to attract listeners. They have collaborations with service providers that'll help you to create professional content and enhance your knowledge of podcasting.
Spreaker Features
Podcast creation is a breeze with Spreaker. You can create an audio file and upload it from your computer or mobile phone. Spreaker desktop and mobile apps allow you to manage podcasts from anywhere and at any time.
And it's not just about publishing episodes. You can also go live and interact with your listeners. You can record the live stream and post it later as an episode.
The centralized Spreaker dashboard aids in managing your podcasts from one place. Whether it's creating, uploading, scheduling, distributing, and marketing, accomplish everything from the dashboard.
Spreaker supports one-click distribution to various streaming platforms such as Apple Podcasts, Google Podcasts, iHeartMedia, Spotify, Stitcher, etc. Spreaker has its own directory of podcasts where you can list all your podcasts. You can even run paid promotions to advertise podcasts.
The built-in monetization mechanism in Spreaker allows you to run ads on your podcasts. You have complete control over advertisements, right from optimizing campaigns to analyzing metrics.
IAB-certified analytics tools provide valuable insights into all your podcasts. It helps you optimize podcast performance so that you can target audiences effectively.
You can purchase additional services from Spreaker to enhance your podcasting experience. It offers mobile apps, podcasting courses, voiceovers, transcriptions, royalty-free music, and much more.
Spreaker Pricing
Free Speech: $0/month
On-Air Talent: $7/month
Broadcaster: $20/month
Anchorman: $50/month
Publisher: $120/month
Spreaker Pros
A free starter plan to host your podcasts
Standalone tools as add-ons
Serves as a streaming platform
Spreaker Cons
No support for website creation/integration
More features available at additional cost
The Bottom Line
If you want to focus on podcasting and nothing else, you should definitely purchase Spreaker podcast hosting.
Libsyn
Libsyn podcast host is a credible hosting platform that caters to the demands of both small and large podcasters. There is something for everyone on Libsyn. Right from creating podcasts, setting up websites and apps, and accessing statistics to monetizing podcasts, Libsyn has a solution for every need.
Libsyn Features
Libsyn excels at podcast optimization with its wide range of customization options. Optimize titles, categories, transcripts, ID3 tags, feed validation, and more. The File Manager helps you access all the tools and features necessary to create professional content.
Libsyn OnPublish feature publishes your episodes to over 20 streaming platforms, including its own. Libsyn RSS feed is compatible with major platforms like Apple Podcasts, Google Podcasts, Pandora, Spotify, and others.
WordPress Libsyn Publisher Hub plugin syncs your Libsyn account with your WordPress website. You can customize and embed the audio player, integrate lead generation tools, share various types of content (audio, video, PDF, etc.), and much more.
If you don't have a website, you can set up a custom mini-site on Libsyn. Besides, you can also launch an iOS and an Android app for your podcast.
Libsyn provides IAB v2.0 Certified podcast statistics that helps you analyze podcast performance with respect to total downloads, geographic heat map, destination stats, user agents stats, social media stats, episode breakdowns, and more. However, these statistics are available only on advanced plans.
For additional features, generally suitable for businesses, you can opt for LibsynPro. It helps you with private podcasting, multi-user account management, concierge service, and more.
Libsyn Pricing
Classic 50: $5/month
Classic 250: $15/month
Advanced 400: $20/month
Advanced 800: $40/month
Advanced 1500: $75/month
Advanced 3000: $150/month
Enterprise Level: LibsynPro
Libsyn Pros
Access to thriving Libsyn Podcasters community
Availability of a wide range of podcasting features
Special emphasis on advertising and premium subscription services
Libsyn Cons
Limited storage
Additional charge for statistics and using your own domain
The Bottom Line
You should look forward to Libsyn if podcasting is serious business for you. It offers industry-leading tools and features that are difficult to find.
Buzzsprout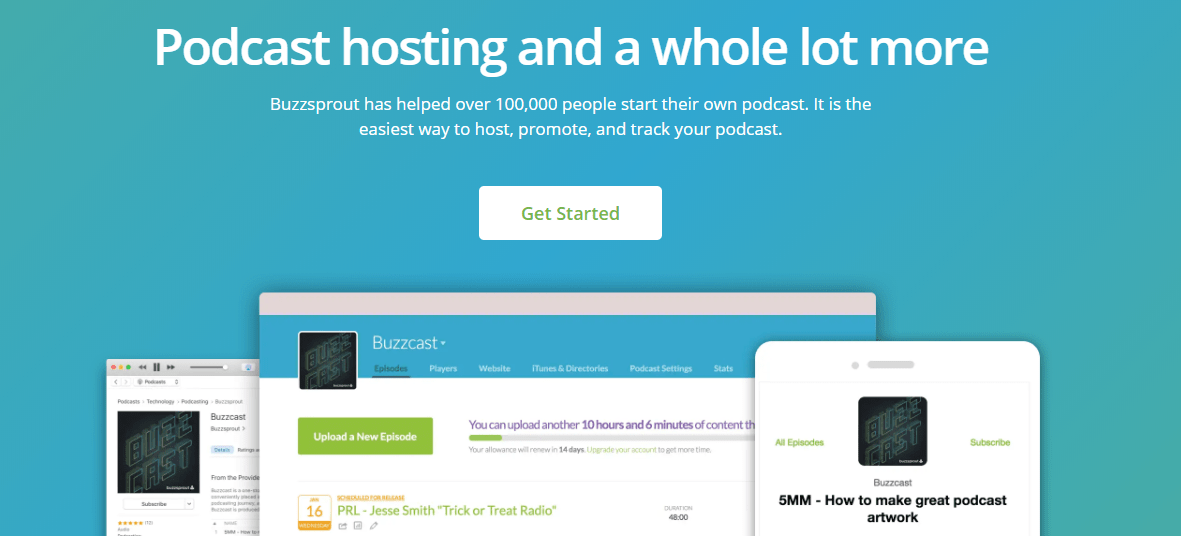 Buzzsprout is the leading podcast host that has pioneered a revolution in the podcasting industry. Since the launch in 2009, more than 100,000 podcasters have started their podcasts on Buzzsprout.
Recommended by top podcasters around the globe, Buzzsprout packs a bunch of mind-blowing features that are hard to find. It helps you with hosting, optimizing, tracking, and promoting your podcast effectively.
Buzzsprout Features
Buzzsprout lists your podcast across multiple streaming platforms that include Apple Podcasts, Google Podcasts, Overcast, Stitcher, Spotify, PocketCasts, and others.
Dive into detailed analytics about total downloads, apps used by listeners, devices used for listening, and more.
To make your episodes more refined and pleasant to the ears, BuzzSprout's Magic Mastering tool comes handy. It optimizes audio files to make them sound sweet as well as professional.
Technical optimization can be tricky, but not with Buzzsprout. The hosting platform takes care of file types, bitrates, ID3 tags, and other aspects.
Transcriptions can help you with SEO and better engagement. Buzzsprout creates organized and accurate transcriptions for your podcast episodes.
You can also embed the Buzzsprout podcast player on your website. It provides quick access to your podcast, facilitates hassle-free listening and social media sharing.
Buzzsprout affiliate marketplace provides you with an opportunity to monetize your podcasts. You can promote brands and their products and earn 15 percent of the total sales.
It facilitates seamless integration with numerous podcasting tools for ease of creation and management. Buzzsprout API lets developers enhance sharing capabilities.
Video Soundbite feature allows you to customize podcasts as per brand styling guide.
Last but not least, create a fully-functional podcast website with the help of Buzzsprout. It provides access to tools and resources to launch a responsive website.
Buzzsprout Pricing
Free: Upload 2 hours each month
$12/month for 3 hours each month
$18/month for 6 hours each month
$24/month for 12 hours each month
Additional Upload: $2/hour
Buzzsprout Pros
Supports multiple podcasts
Team collaboration for effective podcast management
Detailed optimization for seamless user experience
Provides access to in-depth guides, YouTube channel, Facebook community, and customer support
Buzzsprout Cons
Analytics can be improved
The Bottom Line
Buzzsprout is undoubtedly your best bet if podcasting is serious business for you. There are loads of features that make the complete podcasting journey a breeze for podcasters.
Get Buzzsprout Hosting (You'll get a $20 Bonus on the 2nd Invoice)
Podcast Websites
Brought to you by John Lee Dumas and Mark Asquith (marketers and podcasters); Podcast Websites is a unique solution that tackles all your woes related to WordPress websites and podcasting. You can develop a podcast website and grow your business, besides hosting your podcast with Podcast Websites.
Podcast Websites Features
Podcast Websites strikes down two targets with one arrow. In addition to a fully-functional podcast system, you get a website package as well. You can host both your website and podcast with Podcast Websites. The host takes care of daily backups and security. It also offers 24/7 personal support with quick response times.
The website builder lets you build podcast websites from scratch. The simple drag-and-drop builder is easy to operate. You can create conversion-oriented web pages by installing and customizing responsive themes.
Grow your subscriber base and market strategically as Podcast Websites facilitate integrations with lead generation and email marketing tools.
If you want to buy the best podcasting tools, you can check out the Podcast Websites' marketplace. Here you'll get access to all the relevant information and tools required to run a successful podcast.
In addition to these, you get basic podcasting facilities like RSS feed generation and submission to streaming platforms, free podcast migration, Simple Podcast Press (podcast player for WordPress), and more.
To enhance your knowledge of podcasting, Podcast Websites has a dedicated academy wherein you can access resources and tools, interact with community members, and learn from renowned podcasters and marketers.
Podcast Websites Pricing
New: $77/month
Popular: $97/month
Podcast Websites Pros
Special emphasis on WordPress
Free access to the Podcast Success Academy
Exclusive deals on Podcast Websites Marketplace
Robust personal support at all times
Podcast Websites Cons
No provision for mobile apps
Additional cost for podcast hosting
The Bottom Line
If you're looking for a dedicated solution for both WordPress and podcasting, Podcast Websites is for you. The dedicated 24/7 support is the highlight of this podcast media host.
SoundCloud
SoundCloud is a thriving community of musicians and artists wherein you get an opportunity to unleash – and discover – creativity at its best. Podcasting on SoundCloud is a wise decision because you get immense exposure to a broad audience of listeners and promoters. Its distribution mechanism also helps in boosting your content across multiple channels.
SoundCloud Features
With SoundCloud, you get unlimited hosting to store and share your podcast content. However, in SoundCloud Basic, you can host up to 3 hours of any type of audio.
Besides reaching out to millions of listeners on SoundCloud, you can generate RSS feeds and distribute content to major podcasting platforms such as Apple Podcasts, Google Podcasts, and others.
The advanced statistics provide insights into the total number of plays, likes, reposts, comments, and downloads. You can also analyze top listeners, audience demographics, user agent stats, and more.
Use SoundCloud on a self-hosted website by simply embedding the audio player. There's an option to customize the player as per your requirements.
As a SoundCloud Pro member, you receive priority support to resolve your queries and roadblocks within one business day. Along with this, a Pro badge on your profile also establishes your credibility.
Repost by SoundCloud is a useful feature that lets you advertise your podcast and earn money as well. And if your podcast is performing really well, you can apply to Repost Select by SoundCloud. It's an opportunity to grow your audience, get noticed by top influencers, and make loads of money with podcasting.
SoundCloud Pricing
SoundCloud Basic: Free
SoundCloud Pro Unlimited: $12/month
SoundCloud Pros
Access to millions of SoundCloud users
Reasonable pricing
Effortless creation and distribution
SoundCloud Cons
Limited set of features
Greater emphasis on music
The Bottom Line
If you are a true SoundCloud fan and just starting out as a podcaster, you can opt for SoundCloud. However, as you grow, switch over to another podcast host that provides greater flexibility and more features.
Wrapping Up: Start Podcasting Now
Based on the detailed reviews of podcast hosting platforms discussed here, you can make an informed decision about investing in a podcast hosting service.
A podcast host acts as a foundation in your podcasting journey. And if you can set it right, you'll become a successful podcaster in your niche.
If you've more questions related to any of the podcast hosts mentioned here, do let me know in the comments.
Learn how to start a podcast from scratch in this detailed tutorial. You should also check out Fusebox Podcast Player & our other podcasting guides here.
I'll clear all your doubts and help you buy the best podcast hosting service that fulfills your requirements.