SEMrush is one of the most popular SEO tools out there, used by more than 6 million users. They gained this popularity thanks to their powerful features like their backlink audit reports and keyword research toolkit.
However, SEMrush isn't a perfect solution, and you might be searching for an alternative.
So today, we will look at the best SEMrush alternatives out there!
But before we dive right in, let's see why SEMrush is so popular, shall we?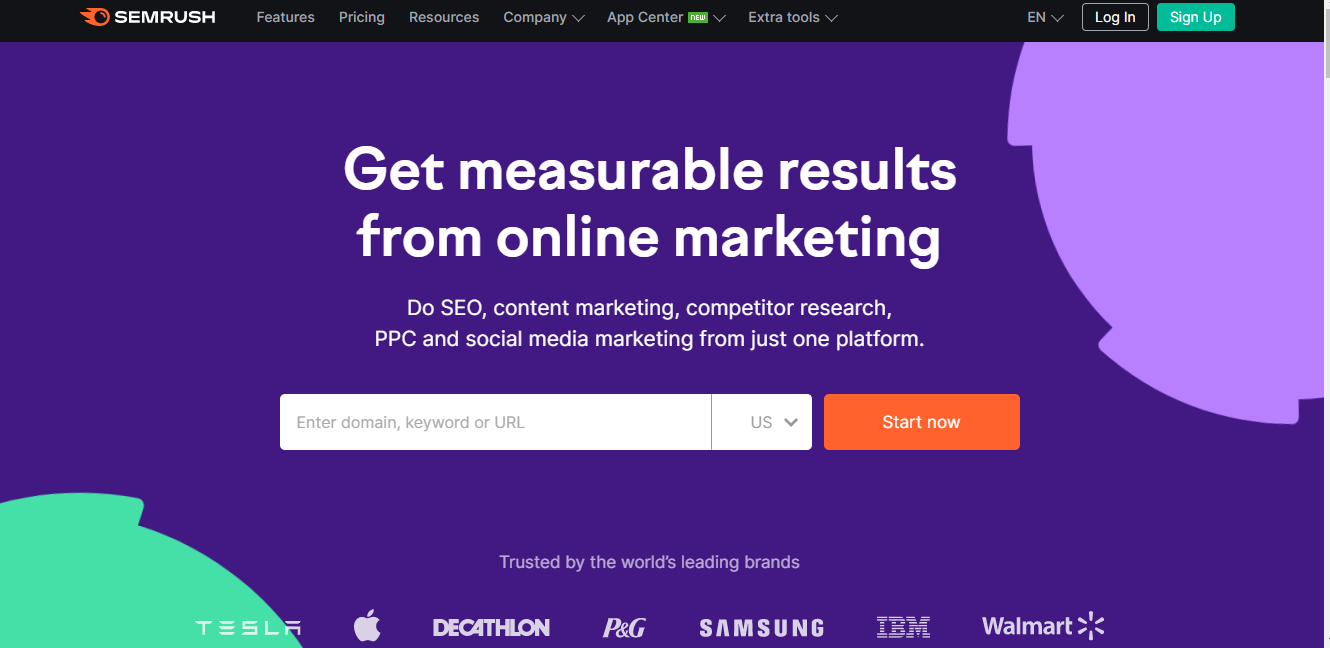 With 14 years of experience, SEMrush is a powerful platform that helps marketers grow their visibility online. Thanks to its daily data updates, it displays one of the most accurate ranking progress of keywords.
Key features
Keyword Magic Tool. A huge database for doing keyword research.
Organic Traffic Insights. It allows you to assess your website's search performance and find out the "non-provided" keywords in Google Analytics.
Social Media Tracker.
Analyze SERP volatility trends.
Pricing
SEMrush has a free trial and three paid plans:
Pro: $119.95 per month. Includes 5 projects and 500 keywords to track.
Guru: $229.95 per month. Ideal for mid-sized businesses comes with GDS integration and device tracking.
Business: $449.95 per month. It lets you track up to 5,000 keywords and access the API.
As you can see, SEMrush prices are a bit expensive for freelancers and small companies. That's just one of the reasons why plenty of people might need an alternative to SEMrush.
Best SEMrush alternatives
Mangools is our first SEMrush alternative, and it has some of the juiciest SEO tools on the market: KWFinder, SERP Checker, SiteProfiler, and more.
It also has tons of learning resources, such as blog posts and an SEO Encyclopedia, where you can find any knowledge you need.
Key features
Find keywords: choose from more than 50k locations and get precise local search results for each keyword.
See what your competitors rank for, and identify seasonal keywords and hot topics.
Track your SERP positions.
Chrome and Firefox extensions.
Pricing
You can start with their 10-day free trial; no credit card is required. They also have a 48-hour money-back guarantee, just in case.
Basic: $49 per month. Track up to 200 keywords daily.
Premium: $69 per month. Get unlimited keyword suggestions for every search and log in on 3 devices at the same time.
Agency: $129 per month. Track up to 1,500 keywords daily and analyze up to 150 sites every 24 hours.
SimilarWeb is used by big brands such as Microsoft, eBay, and Google, but it also supports small companies. This tool is focused on traffic and audience insights, helping customers outperform their competition and win the markets.
They also recently added a new feature that lets you analyze app usage on iOS and Android across up to 60 countries!
Key features
Media buying research tools: analyze competitors' publishers and ad networks.
Weekly Keyword Granularity: drill down on a week's worth of data and analyze it.
Understand keyword seasonality.
Available in 10 languages.
Pricing
SimilarWeb has a 7-day free trial, after which you can choose one of these plans:
Essentials: $199 per month. See up to 1,000 keyword results.
Advanced: $349 per month. See up to 5,000 keyword results and 500 ad creatives.
Ultimate: custom. Look at unlimited data by country or region.
The Keyword Planner is a free Google tool to discover new keywords related to your business. It's a simple tool, ideal for anyone that wants to run a keyword campaign but doesn't require all of the big SEMrush features.
Besides showing you new keywords, the Keyword Planner will also give you suggested bid estimates for each keyword, so you can determine your advertising budget!
Key features
Discover new keywords.
Create new campaigns centered on in-depth keyword research.
See how your keywords fit into different categories related to your brand.
Filter your search results with advanced sorting features such as clicks, average CPC, CTR, and impressions.
Pricing
It's free! Although please remember that the Keyword Planner is actually part of Google Ads so you must enter your billing information and create a campaign to use it.
Ahrefs is a multinational startup with headquarters in Singapore. This well-known company has premium online SEO tools as well as free educational materials.
They also provide impeccable data to its users: Ahrefs updates its index with new backlinks on the web every 15 minutes!
Key features
Keyword explorer with a database of 3 billion keywords with their search volumes, traffic and CPC numbers.
Domain comparison and other insights into your competitor's strategies like Content Gap.
Google Data Studio integration.
Available in multiple languages.
Pricing
Sadly, Ahrefs doesn't have a free trial. But you can get two months for free by paying annually.
Lite: $99 per month. Track up to 750 keywords.
Standard: $179 per month. Access SERPs updates and Batch Analysis.
Advanced: $399 per month. Track up to 5,000 keywords.
Enterprise: $999 per month. Get access to unlimited backlink data and manage access permissions for your team.
Moz has multiple free tools, such as their keyword and link explorers. But if you want a tool that can actually work as a SEMrush alternative, you'll want to use MozPro.
Although their backlink database is a bit limited, they have impeccable support, letting you get started as soon as needed.
Key features
Measure the impact of your keywords by tracking your SERP performance.
Uncover broken links, absent title tags, and other issues in your websites.
MozBar Chrome extension.
A 1-on-1 walkthrough and 24/7 hour support.
Pricing
When you sign up in Moz, you get full access to Moz Pro Medium free for 30 days!
Standard: $99 per month. Track up to 1,200 keywords weekly.
Medium: $179 per month. Track up to 6,000 keywords weekly, and access branded reports.
Large: $299 per month. Track up to 12,000 keywords weekly. Includes 3 user seats.
Premium: $599 per month. Track up to 18,00 keywords weekly. Includes 5 user seats.
Serpstat was found in 2016 in Odesa, Ukraine. Even now, in difficult times for Ukraine, their team continues to give the best service. And if you wish to help, you can support them and Ukraine by choosing Serpstat or making a donation!
Among its many resources, Serpstat has a YouTube channel where you can find some tutorials to start using the platform!
Key features
Analyze trends, keywords, and seasonality.
Keyword Research Tool: expand semantics for each page of your site using missing keywords and group keywords by tags.
Collect the best keywords of competitors for SEO and PPC.
Chrome, Firefox, and Opera extensions.
Pricing
Lite: $69 per month. Search up to 4,000 keywords per day.
Standard: $149 per month. Search up to 5,000 keywords per day.
Advanced: $299 per month. Search up to 8,000 keywords per day.
Enterprise: $499 per month. Search up to 12,000 keywords per day.
You can contact them to access their specific service for enterprise customers if you need more data.
You can check out some of their tools for free, or even request a 30-minute demonstration of the service tailored for your tasks.
Majestic is our final SEMrush alternative on the list. It's a huge SEO tool that was launched back in 2008 and it has created the largest commercial Link Intelligence database in the world!
Last year, they won the Princess Royal Award for Training, showing their unique commitment to training and staff development.
Key features
Keyword generator that uses AI-based NLP algorithms to mine the extensive dataset that is their backlink database.
Fresh Index: data is updated frequently throughout the day.
Bulk Backlink checker: analyze up to 1,000,000 URLs from a file upload.
Rank Tracker (via Google Search Console).
Pricing
Majestic doesn't offer a free plan, but it has a 7-day money-back guarantee for its Lite and Pro plans:
Lite: $49,99 per month. Check Fresh Index backlinks several times a day.
Pro: $99,99 per month. Access custom reports and network neighborhoods.
API: $399,99 per month. Create OpenApps and select how much data you need in one month.
Conclusion
So, there you have it, the best SEMrush alternatives in the market.
They are all amazing options, but when choosing one, you need to see which one fits your needs better.
Mangools and Google's Keyword Planner are excellent for beginners, thanks to their very intuitive interface and affordable pricing.
If support is crucial for you, then Moz is definitely the tool since they have a 1-on-1 walkthrough.
You can also consider who might need support in these difficult times and go with Serpstat as a way of helping Ukraine.
Finally, Majestic and SimilarWeb are super powerful tools with the last technology, ideal for people with experience that wish to conduct a complete SEO analysis of their website.