17 BEST SEO tools for Small Businesses (Compared)
In my decade-long experience working as a project manager for website projects, the most common (and fatal) mistake I have seen clients do is not bother much about the search engine optimization of their websites once the website is up and live. 

Search engine optimization should form an integral part of your business. Why? Because it is no use having a shop with no to very few buyers and visitors after having set it up with so much labor and love. 
Does your website need SEO? Your local business website too?
If you are a startup or a small business owner, the single piece of advice I have for you is – Do Not Neglect the Search Engine Optimization of your Website. And that holds true for local businesses too.

If you are a local business and you have a website, it is probably because you want to reach potential customers who stay farther off, out of the reach of local word-of-mouth references.
Build a website for your local business only if you want to grow your customer base from internet searches. And well, for internet searches you do need search engine optimization.
A lot of business owners go into marketing without any sound knowledge of where their website stands in terms of the search engine. Sure, paid marketing will get you seen, but only till you pay for yourself. You need a more foolproof way (read: organic) of being seen by most people who search for what you offer.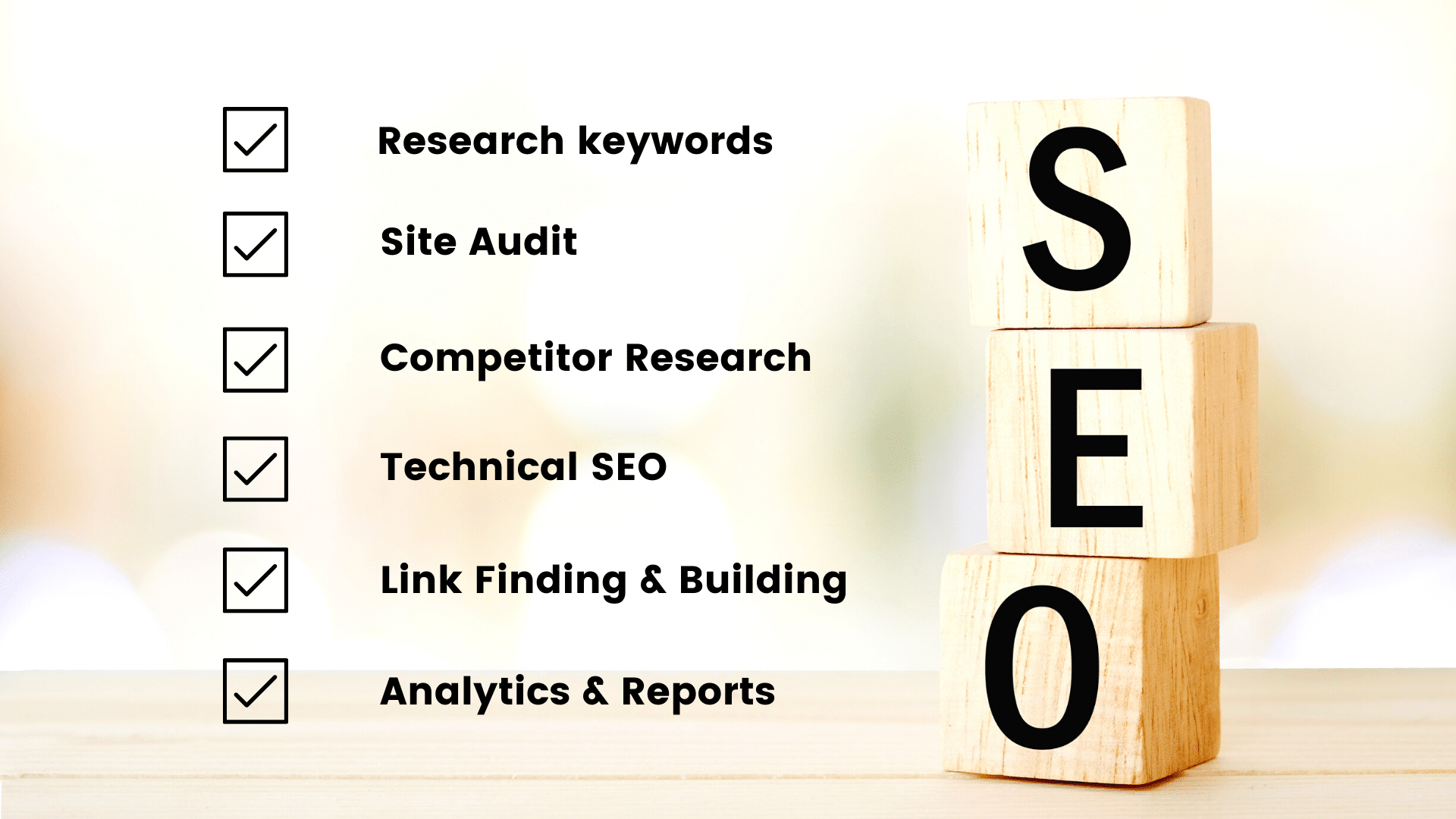 Now, how to do SEO?

SEO can be broadly differentiated into 2 kinds: On-Page SEO and Off-Page SEO.

On-page SEO has everything to do with your website – right from your website design, how fast it loads, the content you put there, how much of the content has keywords on it, the description of your page, etc.

Off-page SEO is mostly link building in different ways. And when I say different ways, there are literally many, many different ways. It's all a matter of time, planning, and implementation to see which off-page SEO tactics best suit your business and for which time of the year based on your business type.
What do you need SEO tools for
So yes, a lot goes behind search engine optimization. If you want to do it all manually, it will take you a lot of time. Besides you need to hire someone to do it or educate yourself on the subject-matter of SEO before doing it yourself.
Again, a lot of time investment.

Thankfully, there are a great number of amazing SEO tools, both free and paid that make a huge portion of the optimization a cakewalk for you.
Imagine putting in your website URL, waiting for around a minute, and bam!
All the data regarding what's good and what's not so good, and what's grossly bad comes up to you. Now all you need to do is turn the gross and the bad and the broken into searchable, good, clean data.

Sounds fun and easy? Well, should be a lot easier when you use the tools. 
An ideal SEO tool should be able to do the following :
Research Keywords

Site Audit

Technical SEO

Link Finding & Link Building

Analytics & Reports of site and Site Performance
The best SEO tools are intuitive and easy to use. They show the problems and offer solutions to those. They are your go-to experts at a fraction of the cost of a human SEO expert. What's more, their data is accurate and you can check the analytics to see improvements brought about by fixing problems or changing poor-performing keywords.

We have curated this list of the best SEO tools for SMBs (there's a bonus one too!). These SEO tools have been selected keeping in mind the two main parameters of quality and value for money. Let's know more about these SEO tools.
SEMRush

Free trial: Yes
SEMRush first started in 2008 as an SEO company, has over the years evolved into a complete digital marketing toolset for companies of all sizes.

SEMRush now offers more than 40 tools dedicated to making your online presence better. For SEO, it has 26 tools to make your optimization better. Let us look at some of the best features of SEMRush. 
Features of SEMRush
Website audit: Detailed website audit with on-page SEO checker.
Advanced keyword finder: Advanced Keyword search tools with the special Keyword Magic Tool that lets you search a database of 20 billion keywords.
All about competitors: SEMRrush will bring up detailed data on your competitors, right from the keywords they rank into how they appear and where they stand on the internet.  
Local business optimization: SEMRush has 3 tools dedicated to helping local businesses. You can get your business submitted to the best local directories. You can also track your position on a zip code and local level to see what keywords are working, and what needs to change. 
Googlebot behavior tracking: The Log File analyzer gives you an understanding of how Googlebot crawlers crawl your website. The details of the crawl activity can give you some good insights into optimizing your website performance.
Track your rank: You have tracked your competitor, and fix your SEO. SEMRush also helps track your website rank. Track every aspect of your SEO segments like keywords rank tracking, domain rank tracking, and SERP ranks.
Backlinking: One of the best in the market in terms of link building, SEMRush offers site link audit, competitor backlinks data, and insights on competing backlinks. SEMRush even offers a Link building tool that helps create campaigns and outreach for link building. 
Pricing: The SEMRush plan most suitable for small businesses and bloggers is the Pro Plan that costs $99.95 per month when paid annually. There are 2 other plans for medium to large businesses – The Guru plan priced at $191.62 per month (paid annually) and the Business Plan priced at $374.95 per month (paid annually).

Try SEMRush Free Full Trial for 7 Days
Mangools
Free trial: Yes
Mangools has a neat user interface with tools segregated into 5 categories. An overall neat arrangement, Mangools is used by popular names like Airbnb and Adidas.

There are 5 neat SEO tools cleanly defined, and even an SEO browser extension that comes for free. The tools come with how-to-use guides, and the Mangools website also offers some free learning material on SEO. Let us look at what the SEO tools offer.
Read our full Mangools review.
Features of Mangools
KWfinder: Search and get results on the best global and local keywords. Check for the keywords your competitors are using. 
SERP checking: Check the SERPs or Search Engine Result Pages of your competitors and know what works for them and what doesn't. Apply the same metrics and use the same keywords to rise up in search engine rank. 
SERPWatcher: Now that you have used the analytical data of successful websites and implemented those in your website, check how your website is performing by using the SERP Watcher tool from Mangools. Rank tracking is made easier with email reports on rank changes. 
LinkMiner: Link prospecting, link mining, and preparing data of prospective links – everything is made easy through the Link Miner tool. Mangools also has a powerful database of more than 9.5 trillion backlinks to search from. 
Site profiling: Check your own website profile to see how it appears in terms of search and popularity, or peep in the search results profile of your competitors. You can check the domain authority, backlink health, and content popularity all in one place.
Pricing: Mangools has an affordable pricing structure. The starter plan named Mangools Basic costs $29.90 per month when billed annually. Two other plans are Mangools Premium priced at $39.90 per month and Mangools Agency priced at $ 79.90 per month (when paid annually). 
Start your Mangools 10-day Free Trial Now
Ahrefs
Free trial: No
Paid trial: Yes
Ahrefs is trusted by Facebook, Linked In, Uber, Netflix, Adobe, and countless other organizations of every size. Reason? It is one of the best SEO toolsets. 
While the paid tools of Ahrefs are great, Ahrefs also provides quite a good number of free SEO tools that small businesses can leverage. The free tools include backlink checker, broken link checker, keyword generator, keyword difficulty checker, and website checker among many other such free tools and SEO guides. 
Let us now look at some of the best features of the paid toolset.
Features of Ahrefs
Website audit: The website auditing from Ahrefs is an exhaustive tool for website analysis and solution for every non-performing nook and corner of your website.
Competitor checker: Check on your competitors by looking at their website data that they might themselves be unaware of! Choose their best tactics to rank faster. 
Keywords explorer: Explore keywords from keywords suggestions, check search volume and difficulty score. Segment keywords into lists for periodic A/B testing of keywords.
Web content analysis & backlinking: Find the best articles in your niche and check their social shares score. From in-depth analysis of content will arise link-building ideas and broken link replacement opportunities. 
Rank Tracker: Rank reports offer the data on your desktop and mobile search ranks. The highly filterable data gives you insights into almost every aspect of SEO. 
Pricing: Ahrefs has 4 different plans for different agency types. The Lite plan, most suitable for small businesses costs $82 per month paid yearly. The other plan pricings on an annual payment basis are:
Standard Plan: $149 per month




Advanced Plan: $332 per month




Agency Plan: $832 per month
Yoast SEO plugin
Free version: Yes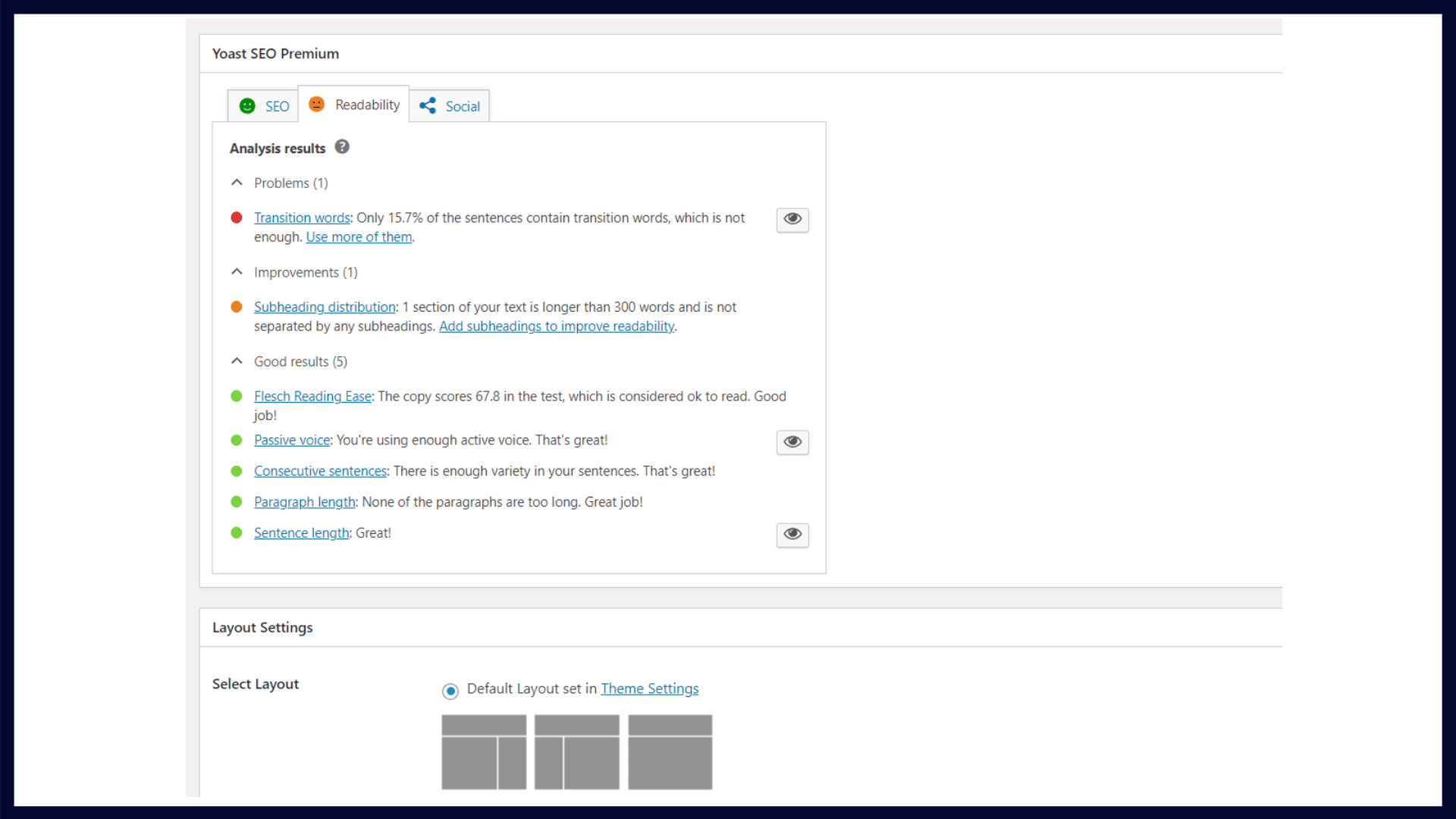 Given that over 30% of the websites in the world are powered by WordPress, the Yoast SEO plugin features prominently in our list of SEO must-have tools.

I have been recommending Yoast to almost every client that we work for. In fact, we actually insist on Yoast because of how beautifully it takes up the responsibility of converting the content of your page into search engine friendly pages.

The interface is really easy and self-explanatory. Yoast SEO plugin helps manage on-page and off-page optimization in the following ways.
Features of Yoast SEO plugin
SEO score and readability: Once you put the primary keyword for a page, Yoast will show you the SEO score and the readability score of your page. Not just that, it also shows ways of how to solve a low score. 
Metadata: Right from the slug to the meta description to giving secondary keywords, Yoast will help you in every way to make the content of your website SEO-friendly.
Detailed SEO analysis: Yoast provides a detailed SEO analysis of your page and lets you know what you did well and what can be improved. 
Insights and social share: The Insights option gives a fair idea of what the content focuses on, and is a great help if you are in a fix between which primary keywords to use. The social share option gives you a preview of how your page or blog post will appear in social feeds.
Pricing: The Yoast free version works great, but is no match to the premium version. Yoast SEO Premium plugin is licensed at $89 per year. Pretty affordable I would say.
Try SEO Yoast Premium Plugin for WordPress
Screaming Frog SEO Spider
Free version: Yes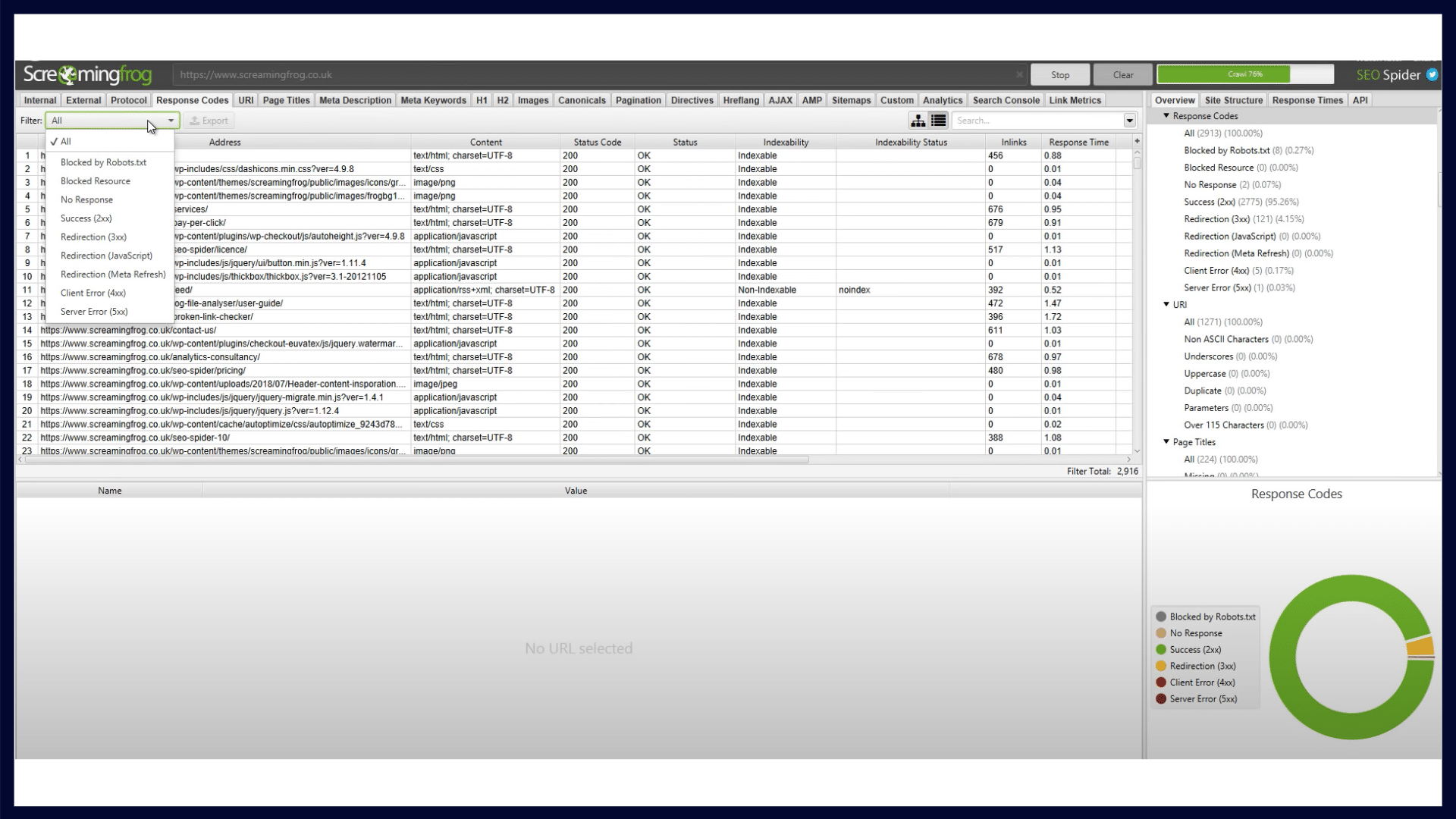 One of the best free SEO tools, Screaming Frog has a forever free version that lets you scan up to 500 URLs for detecting common SEO problems.
For businesses on a tight budget, this downloadable crawler is a boon. Let us see how best it helps with SEO. 
Features of Screaming Frog SEO Spider
Website audit: Screaming Frog offers metadata inspection, broken link detection, and duplicate content detection. 
XML sitemaps: A noteworthy SEO aspect, Screaming Frog lets you generate an XML map. XML maps are used by bots to crawl a website better. 
Integration with Google tools: Screaming Frog allows integration with Google Analytics, Google Pagespeed Insights, and Google Search Console. 
Spell Checks and Grammar: Perform spell checks and grammar checks on your website content without having to put the manual proof-reading effort. 
Pricing: The free version of Screaming Frog has some limitations. The Paid version comes with a yearly license fee of Euro 149 per year.
Moz Pro
Free trial: Yes
Moz Pro is the unbeaten leader in providing top-notch SEO tools that have been refined over a period of 16+ years.
Apart from the paid Pro tools, Moz has a whole bunch of SEO tools that are free to use.
Moz is probably best known for their easy-to-understand "Beginners Guide to SEO" free course. If you are a newbie and want to know about the terms and terminology of SEO, I strongly suggest you go through the guide. 
Let us look at the features of Moz Pro closely to see why they are considered one of the best. 
Features of Moz Pro

Keyword research: Moz Keyword finder is metric-based. This means that you can compare and analyze the best keywords for your business based on parameters of competitor keyword rank, accurate search volume data, etc. 
On-page optimization: Instead of using a host of tools and checking the optimization of your pages, Moz brings it all together under its On-Page Optimization tool. Yout get data on errors on a page, suggestions on error fixing priority wise and content suggestion ideas. 
Tracking rank: Measure where you stand with all the optimization you have done on your website, and check for areas of improvement with the Rank Track Moz tool. 
Site crawling: The Site Crawl feature performs a quick in-depth audit of your website to see where it is lagging in terms of optimization. Check for crawl errors and fix those before they become an impediment to the successful functioning of your website. 
Link building: The Moz DA metrics are considered to be one of the most advanced in the industry. With specific insights on your backlink health, and detailed metrics on backlinks of your competitors, the link research tool of Moz Pro can be leveraged to build high-quality backlinks for your website. 
Custom reports: Custom reports are especially helpful if you handle your clients' SEO and need to send them customized and easy-to-understand analytics.  Moz not only provides chart based easy-to-read reports but also provides report templates with full branding features. 
Pricing: Moz Pro has 4 plans to choose from. The Standard Plan suitable for small businesses and bloggers costs $79 per month when paid annually. The three other plans priced annually are :
Medium – $119 per month

Large – $199 per month




Premium – $479 per month
WooRank 
Free trial: Yes
WooRank has all the important tools that you would need to get insights on your website and make it rank better. The SEO Guides that WooRank offers can help a beginner to get acquainted with SEO terms.
Let us look at the top features of WooRank

Features of WooRank
Website SEO audit and analysis: Starting with a website analysis is a good way to check what needs fixing and what is working well. WooRank provides solutions and suggestions for errors found in a website audit. 
Keyword research: All of us know how keywords are one of the single most important aspects of getting good search ranks. WooRank offers keyword research. It also offers an analysis of which keywords are performing well. 
Competitor analysis: Know what keeps your competitors ahead by checking on competitor data, and putting their best practices into practice.
Pricing: WooRank has one of the most affordable pricing. Their Pro Plan, best for small organizations is $39.17 per month when billed annually. The Premium Plan suitable for SEO agencies is $ 119.17 per month(billed annually).
Start your WooRank 14 day Free Trial
Google Trends
Free version: Yes
It is no secret that Google is the mighty Zeus of this entire search engine optimization phenomenon. All these SEO tools are circled around the likes and dislikes of Google and it is Google we want to please when it comes to our optimization practices. 
Google offers a host of free tools that are unparalleled in terms of their usability. Google Trends is one such tool.
Features of Google Trends
Google Trends basically lets you search the trendy terms (call them keywords if you will) that were searched by people all around the world. So, for example,  if you have a business of sustainable dresses for women, you can look up where the word sustainable dresses for women was searched – how many times and in what geographical regions.

Google Trends provides real-time data on searches as well as non-real-time data. This is a perfect tool to find out targeted words for your Adwords campaign. As search results keep on changing, keeping an eye on the trends of searches, and looking for newer terms and seeing the data for them is helpful. 
Pricing: Google Trends is free to use. 
Ubersuggest
Free trial: Yes
UberSuggest is an affordable SEO tool that has the best price structure on this entire list.
The Individual Plan is priced at a life-long one-time charge of $120. This can't get any cheaper!
Let us look at the features of UberSuggest.
Features of UberSuggest
Site audit: Audit websites to see what's working and what needs to be fixed.
Keyword research: Research keywords based on competitor keywords analysis and keywords search data. 
Competitor analysis: Cut down optimization time in half by adopting the best practices of your competitors. 
Backlink research: Track your backlinks and find out suggestions of backlinks that help your site get better domain authority. 
Project dashboard: Manage all your SEO projects under the Projects dashboard. Check reports, get notifications on rank changes and other data.

Pricing: The Individual Plan also has a monthly plan of $12 per month. The Business Plan and Agency Plan have a lifetime one-time cost of $200 and $400 respectively.
Try UberSuggest Free for 7 days

SERPstat

Free trial: No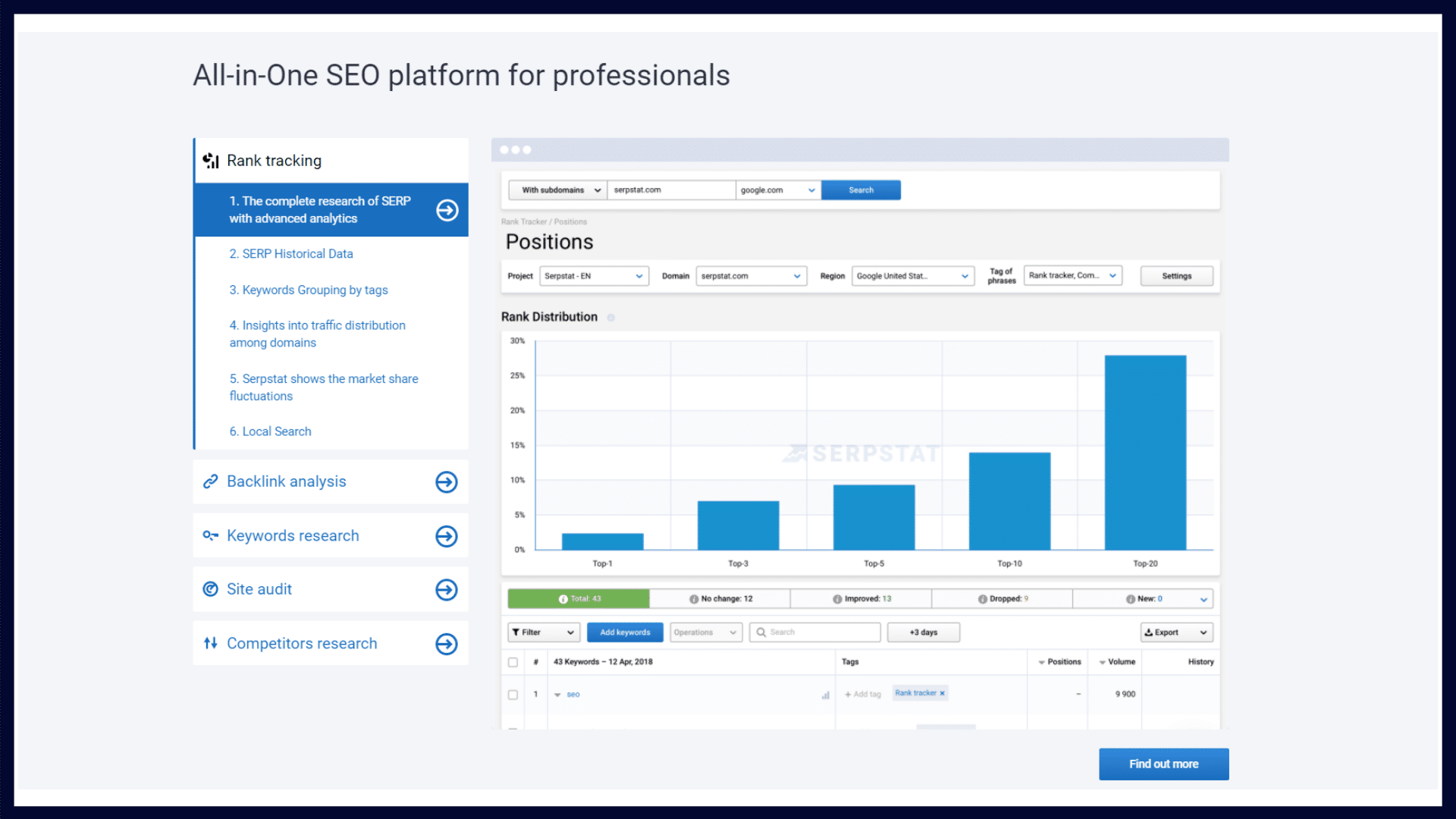 SERPstat is one of the most loved SEO tools worldwide. It has amazing reviews and offers more than just optimization insights.

SERPstat seems to understand well that the objective of SEO is to optimize for business and revenue. It also combines market intelligence and advertising analysis as a part of its offerings.
The top features of SERPstat are given below. 
Features of SERPstat
Site audit and on-page SEO checker: Checks on-page optimizations and offers suggestions and solutions.
Keyword finding: Find the best keywords for your business. 
Competitor research: Sneak peeking on your competitors to see who's doing what efficiently. 
Track rank: Tracking your website rank on SERPs, analyzing data and making changes to keywords or metadata accordingly. 
Content marketing suggestion: Just researching keywords won't do. You need to put them appropriately in your content to get the maximum results. The content ideation tool from SERPstat lets you do that. 
Advertising analysis: This is a great tool from SERPstat that lets you identify your competitors in the Ads space, get the data on your competitor ads, and frame yours accordingly. With this tool, you are armed with an almost winning ad, making your paid marketing less volatile to success. 
Market intelligence: This is yet another novel tool from SERPstat. The market intelligence tool allows you to track the performance of leaders in your specific industry. You get to see what the top performers are doing to get their business seen on the global or regional platform. If you are looking for growth, you need to watch and learn from the leaders, and this tool lets the insights into the leaders' success. 
Pricing: With so much offered, the price of the Basic SERPstat plan is $55 per month. The Standard and Advanced plans are priced at $119 per month and $239 per month. The Enterprise plan suitable for bigger organizations comes for $399 per month. All prices are indicative of the annual billing structure.
Start your SERPstat Basic Plan today
SpyFu

Free trial: No
If you are an agency that works on your clients' SEO, Spyfu is, without doubt, the go-to SEO tool. Not only does it provide unlimited searches for unlimited projects, but you also get data and insights on ads and PPC campaigns of your competitors. 
Spyfu has the following amazing features.  Read our full Spyfu review.
Features of SpyFu SEO
Keyword research: Search for the best keywords for your business and for your clients' business.  
Competitor analysis: Analyse competitor keywords, check how good they are ranking.
Backlinks: Check what sites link to your website, and look for suggestions of high authority backlinks. 
Rank tracking: Know if your hard work is paying off! Check how your keywords are ranking. 
SERP check: Check the status of your SERPs and compare them with the SERP statistics of your competitors to see where you can outdo them. 
Keyword research and suggestions for PPC: Find the best keywords for your pay per click campaigns. 
Competitor ads data: If you are planning to set up targeted ads, look no further than the Competitor ads analysis tool from SpyFu. 
Google Ads templates: Get more ROI on your paid campaigns. Select from the Google Ads templates from SpyFu. 
Detailed SEO reports: Get the data on your SEO activities in neat charts and figures. Send them out to your clients and be praised for doing none of the hard work on preparing the reports 🙂 
Pricing: The Basic Plan is $33 per month paid annually. The Professional plan for medium enterprises is priced at $58 per month billed annually. The Team plan for larger enterprises costs $199 per month paid annually. 

Try the SpyFu Basic Plan today
SurferSEO

Free trial: Yes
SurferSEO is an SEO tools platform meant and built for bloggers. The main focus of SurferSEO is optimization through optimizing content.

With an intricately detailed keyword search based on real-time user metrics, the USP of SurferSEO is its content editor. You can directly create content in the editor and it will show you the data of numerous keywords and how many times you ought to use it to rank your content higher. 
Apart from the amazing content editor, SurferSEO has some noteworthy SEO tools.
Features of SurferSEO
SEO audit: Focused analysis of your website and content, with special analysis on content. 
Keyword research: Keyword finds and suggestions in SurferSEO are based on real-time queries and keywords put by users. Keywords are also suggested on other popular metrics like country-specific suggestions and language-specific searches. 
SERP analyzing: Check the ranking of your SERP as well as that of your competitors. Choose your next optimization move based on this data.
SurferSEO has a free chrome extension for keyword research and surfing from the internet. They also have a good number of resources on copywriting for the web and other content optimization topics. 
Pricing: The Basic Plan paid annually is $49.2 per month. The Pro Plan is $82.5 per month and the Business Plan is offered at $165.8 per month, both paid annually. 
Start your SurferSEO Trial for 7 days
Majestic SEO
Free trial: No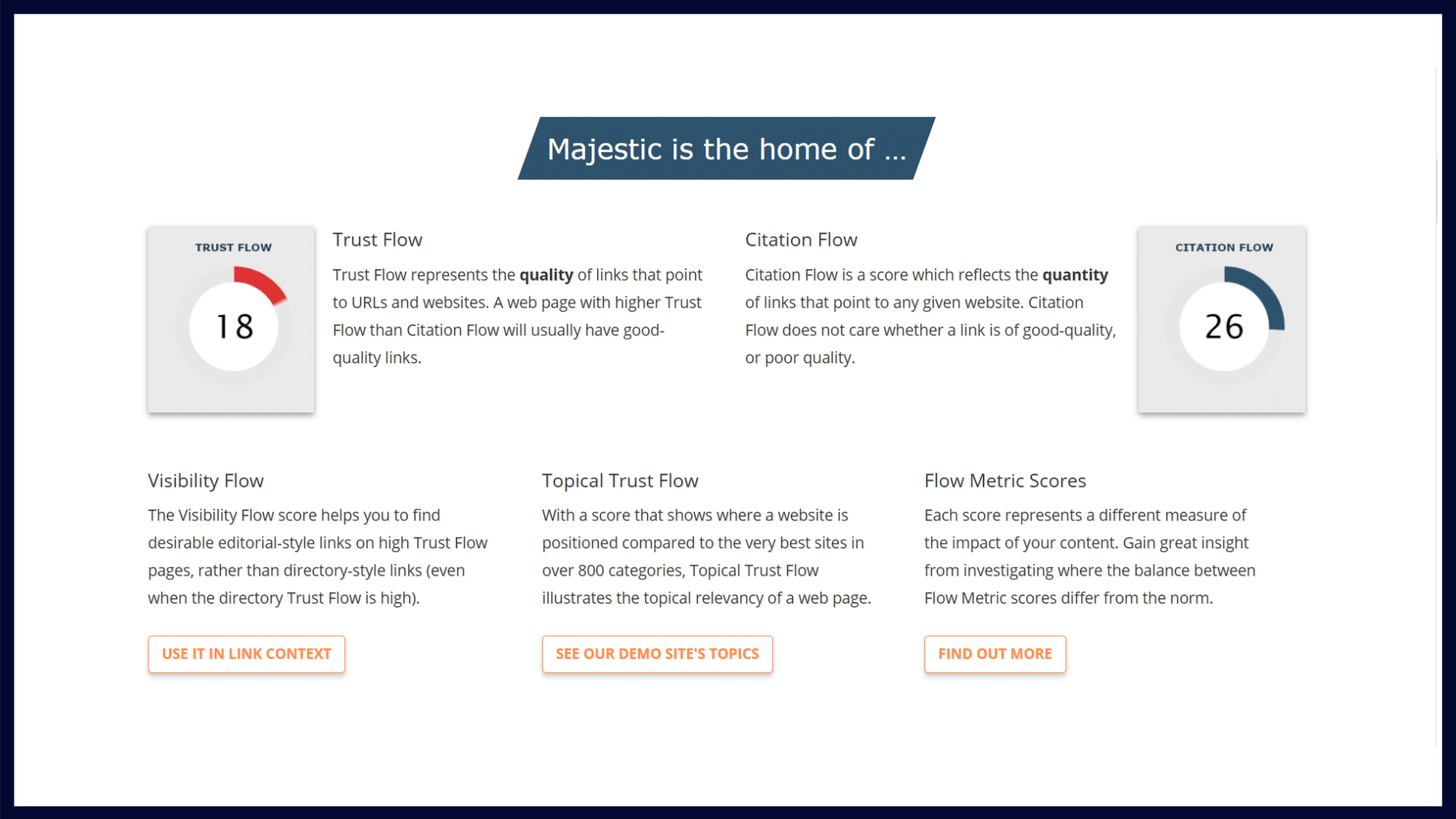 Majestic SEO's core focus is on backlinks and link building. Since backlinks form a very important part of how your website is reviewed by crawlers, focusing on your backlinks strategy with the help of Majestic SEO's backlinks toolset is worth giving a try. 
Apart from the exhaustive data on backlinks and their respective scores in terms of quality and quantity, Majestic SEO also has a number of other great features. 
Features of Majestic SEO
Site audit: Website audit to check on-page SEO and backlinks health. 
Keywords generator and checker: Generate keywords based on your primary keyword. Check the ranking status of your existing keywords. 
Rank tracking: Track how your SERPs fare and take corrective measures for the not so well performing pages. 
Pricing: The Lite Plan costs $41.67 per month paid annually. The Pro Plan costs $83.33 per month paid annually. Larger agencies can go for the Full API plan costing $333.33 per month paid annually. 
Try the Majestic SEO Lite plan today
SEOQuake
Free version: Yes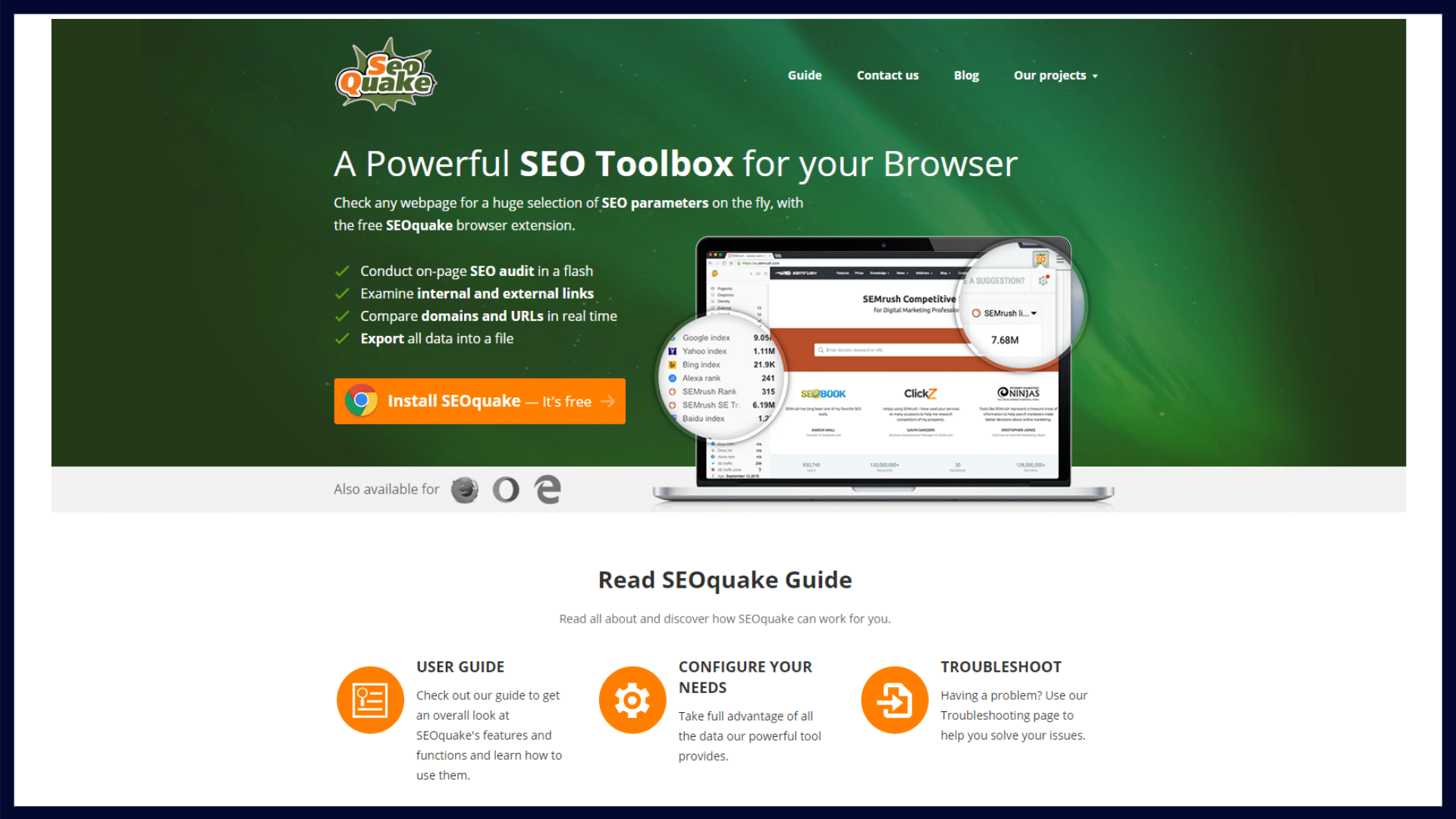 SEOQuake is a free browser extension tool that is a perfect tool for basic SEO checks and corrections.

A quick and powerful tool that provides data on the go, SEOquake can actually be leveraged to grow your knowledge about the metrics of high-ranking websites versus low-ranking websites. The search bar in SEOQuake gives you the ranking stature of every website.
Let us look at the features of SEOQuake. 
Features of SEOQuake 
SEO bar and SEO dashboard: Check optimization scores of websites in a bar or dashboard format.
Keyword research: Look for competitors on the web and find out what keywords have ranked for them.
Download data: Analysing your competitors' websites? Checking keyword density of a page? Download the data quickly in excel form to check back later without having to visit the pages again. 
SERP data: Receive SERP data of competitors and download the results in a CSV format. 
Pricing: SEOQuake is free for all.
Click here to Install SEOquake. 
SEOProfiler
Free trial: Yes
SEOProfiler is a complete toolset for SEO, comprising tools on content analysis, mobile SEO tools, local SEO tools and linking tools. SEOProfiler also has an additional tool for monitoring server uptime.
Of the many noteworthy features of SEO Profiler, the important ones have been mentioned below.
Features of SEOProfiler
Website audit: Auditing a website for checking current SEO status is the first step towards identifying the potential on-page issues and threats to ranking well.
Keyword suggestion and optimization: Receive keyword suggestion and optimization ideas based on your content and primary keyword.
Link building: Check competitor data on link building and get your personalized link suggestions.
Advertising research tool: Research on ads of competitors before creating your own
Pricing: The Standard Plan costs $69.95 per month. There are 3 other plans :
Smart Plan: $99.95 per month
Professional Plan: $249.95 per month
Enterprise Plan: $999.95
Try SEOProfiler Smart Plan free for 7 days
Google Search Console
Free version: Yes 
Google Search Console is a free tool from Google that helps spot and alert issues with your website. When you verify your domain with Google Search Console, it provides you with a link to be put in your domain records.

Once verified, Google will watch and monitor your site on your behalf, and even help you troubleshoot the troubles within your website!

What's more, it shows you the sites that link to your website, sends you search analytics, and take care of your mobile visibility.

Pricing: Google Search Console is a free tool. 
Start using Google Search Console 
Google Analytics 
Of the terms closely related to SEO, Google Analytics is the foremost. Most people even with the faintest of ideas about optimization know that Google Analytics has a major role to play in getting the optimization of a website working perfectly.
Google Analytics is primarily a website performance tracker that pulls up data of your website visits. Visitor activity on your website has a lot to do with how prospective clients view your website, which pages grab their attention, and where are the visitors mostly from.

Real-time visitor data is very helpful in improving the optimization of your website.

Unlike Google Trends, Google Analytics requires a JS code to be placed in your website code for visitor analytics to be fetched. 
Pricing: Google Analytics is free to be used. 
Click here to learn more about Google Analytics.
Bonus Tool – AnswerThePublic
This is an amazing tool that is based on real-time queries of people around the web.

How's that helpful? Well, imagine you have all the questions that people are asking centered around your keyword.
You will put up the answers to those in your website pages in the form of content, Knowledgebase, Resources, blogs, and FAQs. And who doesn't know that if SEO is the kingdom, Content is the king there?

To read more about how AnswerThePublic does and what it can do for you, and how to use it, read this detailed tutorial here: AnswerThePublic Review & Tutorial.
Which tools from this list above do you used or have used at some point in time?
Which one is the best according to you? Let us know.