9 Best Tools to Create an Infographic Online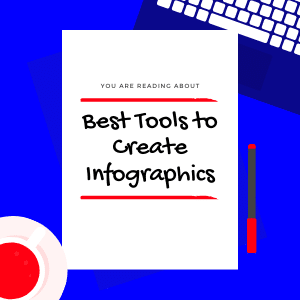 90% of the information processed by our brains is visual.
In fact, over the years, the average speed of reading and comprehension has also decreased!
With movies, TVs, and shows – it's only natural that people are looking for something more colorful, more engaging, and more fun.
This is where infographics come in. Infographics are a visual way of showcasing information – generally statistics or short facts. They're used everywhere, from websites to billboards, and with good reason.
Infographics can raise brand awareness. They allow users to process data much faster, even with a single glance. And most importantly – they allow better data retention.
Today, marketing covers almost every digital platform.
Businesses constantly try to stay in touch with current trends and engage with audiences more personally.
This is where Infographics come in.
With Infographics, you could display anything from charts to graphs to maps simply and easily.
How To Make Infographics?
Thanks to technology, today get started with infographics is as easy as installing an illustration app on your workstation.
Infographics software includes various templates and tools which you can customize to create data-based illustrations.
Since Adobe introduced various software to carry out digital image manipulation, many other companies gave followed suit.
However, while Adobe Illustrator and Photoshop may be for professionals, there is a lot of other beginner-friendly software you can engage with.
With some basic knowledge and a few minutes in hand, you could make some great Infographics with the following software:
1. Canva
Canva is first and foremost a graphic design tool. This means it can perform way more complex functions than just create infographics.
However, that is the aspect that I am focussing on in this article. It is the most user and beginner-friendly option available at the moment. And most importantly – anyone can use it. Canva has a wide range of use, and both professionals and beginners will find it useful.
Canva has a free plan that comes with pretty much everything a social media marketer would need.
They offer over 8000 templates, including hundreds of templates for posts and banners. The Pro Plan comes in at 9.95 USD and offers exclusive access to stock images. Pro users can enjoy around 420,000 templates.
Templates in Canva are divided based on the type of industry – marketing, education, etc. There is also a helpful content planner that you can use to set dates for the images you want to post. Social media managers might find this especially useful.
Canva basically works on the drag-and-drop feature. You can add moving stickers or texts from the templates. For those more versed in such software, Canva offers a blank template.
With higher plans, you will be able to access a Brand Kit. The Brand Kit is a storage space where you can store your brand contents.
This includes the font style, brand colors, or preferred banners of your brand. The templates in Canva are top-notch, and overall, it has everything that one would need to create an infographic.
Key Features:
Brand Kit
Free Plan Available
Photo Editor
Resizing feature
Content Planner
Can directly share to social media
Collaboration
2. Penji
Now, Penji has the most unique business model out of all software on the list.
Because Penji is not software – it is more of an interface. No matter how wonderful the software, nothing beats getting an experienced professional. And Penji offers just that without the hassle of hiring one full-time.
Penji offers an on-demand infographic service done by actual graphic designers.
With every plan, they assign a designer who will exclusively take care of your projects. The general turnaround tie is within 48 hours. Unlike Canva, Penji does not have a free plan.
Penji starts off with a Pro Plan at 399 USD per month.
With this, 2 users can use the account, and a full-time designer will be assigned. You also get designs for unlimited brands. This makes the Penji business model great for those churning a large number of infographics and images.
The best thing is – Penji offers unlimited revisions on all their designs.
Penji is great for those looking for unique designs not created from any template. You get full ownership of the infographic once it's done. The subscription can be canceled anytime, unlike other models that bill yearly.
Key Features:
A real team of designers
48 hours turn around time
Unlimited designs
Full-time, assigned designers
Unlimited bran designs
Ownership of content
Fully customized solutions
Cancel anytime
3. Visme
Relatively new in the market of infographics, but Visme is still a force to be reckoned with.
Visme follows a simple three-step method for designing infographics.
It has options for editing photos, videos, audio, creating layouts and infographics.
The infographics tab comes with various templates for pie-charts, doughnuts, graphs, and more.
However, after creating an infographic of your choice, you have an option inside Visme to animate it. You can also create engaging presentations with their range of stock illustrations.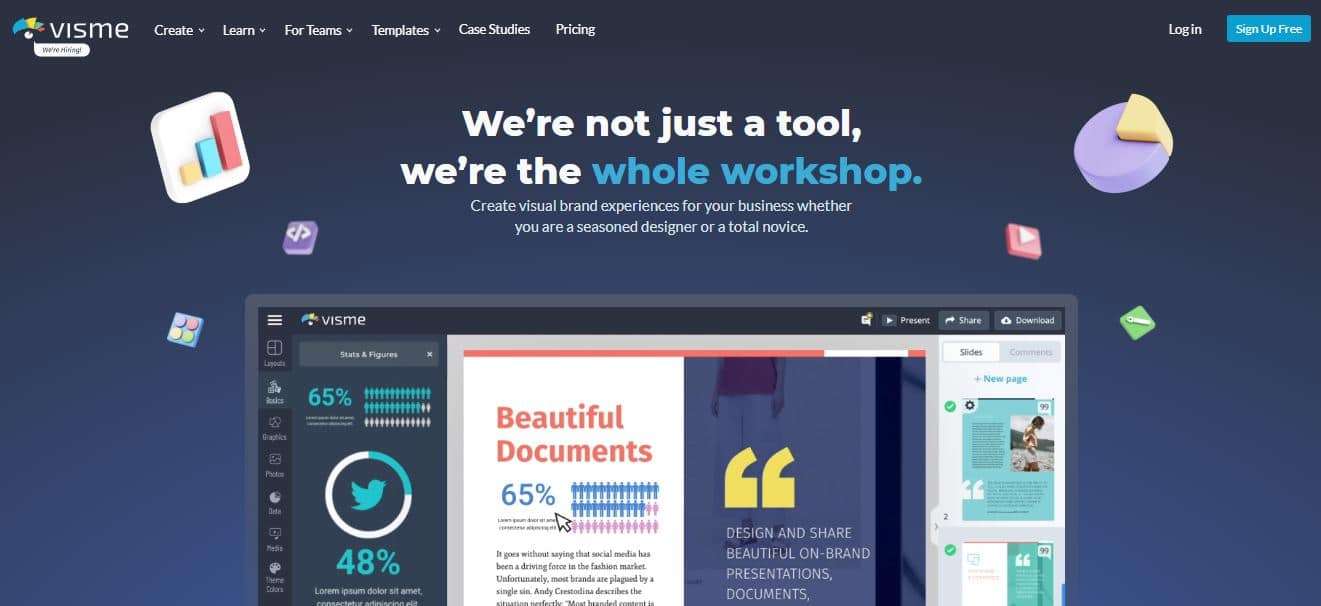 I found the Visme interface to be much less confusing and navigable than other options.
The team has used a simple layout, much reminiscent of PowerPoint. So, it will be easy for beginners to adjust to as well. The slides can be managed on one side, clipart and templates can be accessed from the other.
Visme has a free plan that comes with 100 MB of cloud storage.
You can manage up to 5 projects at the same time. The standard plan comes in at 15 USD per month, but it is billed annually. With this plan, you can access the entire range of charts and templates.
They have an excellent support team.
However, they are only available in the Standard Plan and above.
Key Points:
Dedicated infographics tab
Easy to navigate
Can animate anything
Free plan available
Can directly share to social media
Can edit video and audio files as well.
4. Adobe Spark
Adobe is probably one of the most well-known names in the world of graphic design.
It is also one that caters more to those who already know how to navigate infographic software.
Adobe Spark is fully capable of creating infographics and it can be used for web page design and high-quality video editing.
Adobe Spark is a cloud-based service that relies on the Adobe Cloud.
So you get the fantastic option of syncing your work across multiple workstations. You can also sync it across multiple Adobe software like Photoshop or Illustrator. The cloud service also allows collaboration with remote teams.
Adobe Spark does have a free plan. However, only allows you to see the interface.
You can neither save anything nor collaborate nor access the Adobe Cloud. Hence, it is more of a UI-introduction rather than a free plan.
You get a "real" free plan for 14 days by providing your credit card information. This one has pretty much everything other than call and chats support.
Adobe offers a great range of templates that you can easily customize with your brand colors. They offer a Brand Content Management feature which makes it easy to follow the same guidelines across multiple collaborators.
Key Points:
Cloud-based service
Brand Content Management
Professional themes
Can edit videos
Collaboration
24/7 support
5. Biteable
What sets Biteable apart is that it is a video editing and designing software.
Use Biteable to create moving GIF animations of brochures, cards, and of course, infographics.
Biteable has its own brand color storage to quickly apply your scheme to the existing design.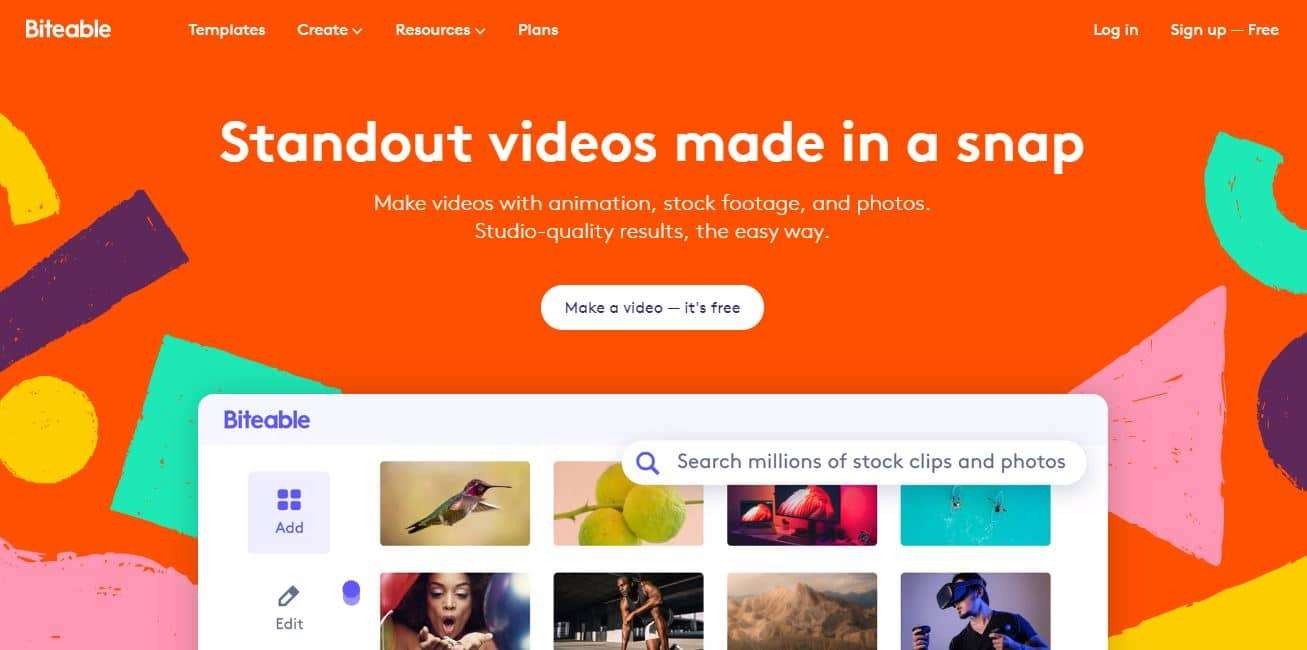 You can start out with the hundreds of video templates provided or upload your own.
Videos can be customized by adding audio and text on top of it. Biteable mainly caters to four industries – Marketing, HR, Agencies, and entrepreneurs. There are also introductory videos for each.
Their gallery is also updated regularly with newer templates relating to the current environmental situation. The Biteable free plan in itself is pretty great.
You can access over 1.8 million videos and get unlimited exports. However, it comes with a Biteable watermark.
In the next plan – 19 USD per month, you get your own watermark. In the final stack, you even get reselling rights for the customized videos you create.
Key Points:
Reselling rights
Free Plan
Video editor
Updated library
Share directly to social media.
Audio library
6. Venngage
Venngage is software that is dedicated to creating infographics only.
There are three different versions offered (Beginner to Professional), and you can choose the one that matches your skillset.
Since Venngage deals exclusively with infographics, it is extremely structured in its categories.
The infographic is divided based on their type and not on industry type.
So you can choose an informational infographic, a fact list or a statistical representation, and so on.
Venngage's visualization skills are unparalleled. It is extremely customizable and has hundreds of templates for Gantt charts, line charts, pie-charts, and bar charts. You have access to their library that offers clipart and stock illustrations.
The Venngage free plan does not allow collaboration and comes with the Venngage watermark.
The next plan is the Premium account at 19 USD per month. With the higher plans, you get a 24/7 one-on-one chat service and even learning workshops.
Key Points:
Free Plan
Dedicated infographics maker
24/7 Customer support
Brand Management
Collaboration
Team Onboarding
Huge library based on the statistic type
6. Creately
Creately is specifically curated for charts, figures, and statistics.
Unlike some other software that offers a limited workspace to work in, Creately offers an infinite screen to explore.
It is similar to several ideation and workflow creation software in this aspect. And that is mainly what Creately is.
It offers a space for concept generation and workflow creation.
There are no complete templates, but it has thousands of design elements that you can drag and drop as you like. Creately has a free plan that offers collaboration as well as community support.
The personal plan comes in at 4.95 USD per month and can allow email support and unlimited projects.
In many ways, Creately is a more advanced version of Powerpoint but is more intuitive. It offers shortcuts to create graphics easily and has a huge library of its own. It also has an integrated Google image search feature.
Creately is a great option for beginners looking to work in a team. The templates are divided based on the industry.
Those looking to create infographics will find most of their needs under the Strategy and HR section.
Key Points:
Collaboration
Great for concept and idea generation
Unlimited workspace
Free Plan
Community help service
Templates for every type of workflow
8. Lucidpress
Lucidpress offers a much more contemporary and modern solution to infographic creation.
Currently, they have a limited set of templates.
However, they do have various design elements that you can drag and drop into your workspace. These are enough of rate quality infographics.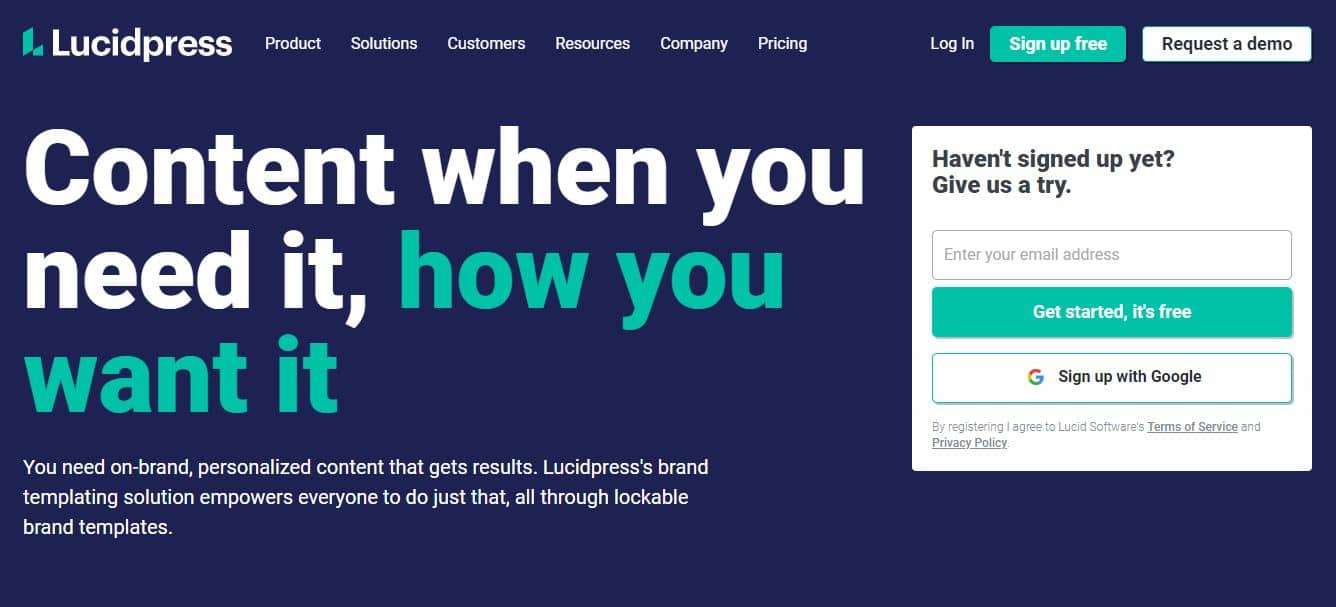 Lucidpress offers a locking feature.
You can lock in certain features like the brand logo or background features.
With the more advanced plans, you can also control which elements other collaborators can and cannot edit. It also has an encryption feature to protect sensitive documents. But again, only the Team and Business plans can use this.
You are able to get Lucidpress for individual use, team-use, or business use.
Lucidpress offers a free plan where you can work on up to 3 projects.
The Pro Package stands at 3 USD per month. The only you would miss out on is the encryption and data automation.
Lucidpress has a strong image editor that offers advanced editing options.
You can import existing vector templates or designs from Illustrator and other similar software.
Key Points:
Security and Encryption
Free Plan
Vector template import
Locking feature
Collaboration
Share directly to social media.
9. BeFunky
Over the years, BeFunky has made a lot of changes and improvements to its UI.
It has become a standard software for editing images and creating infographics from being an informal collage maker and image editor.
BeFunky's strongest feature is its image editing abilities.
From creating layouts to resizing to advanced export options – they have it all. However, BeFunky is also a strong contender for creating statistical infographics.
They have a separate infographic maker on their website that comes with hundreds of templates.
Currently, BeFunky has partnered up with Unsplash and Pixabay, and you can access millions of stock images from both websites.
You can use the free template. However, it comes with limited features. You can not save your file either.
The Team Plan costs 4.99 USD per month, billed annually. The editors in BeFunky are extremely simple, and the workspace offers guided tours for new users.
Key Points:
Free Plan
Infographics Maker
Share directly to social media.
Strong image editor
Unlimtied images from Unsplash and Pixabay
Design elements editor
Which One Does Your Brand Need?
Like the name, infographics aim to present information graphically. But the best software to create it is completely up to your needs. Some like Adobe Spark and Canva allow very smooth real-time collaboration.
Whereas the in-depth library and features of Venngage are great for those looking for detailed and professional infographics.
Not all have video editing capabilities. While Adobe Spark and Visme allow animated elements, Biterable is undoubtedly the best when it comes to accessing a huge online video template library.
Canva's content planner and direct share to social media channels make it ideal for agencies to manage media handles.
Either way – one thing is for sure. The scroll is endless, and perhaps the right infographic can make people stop and take note!