SSD (solid-state drive) servers are faster and more reliable.
Unlike traditional HDD servers (Hard disk drive) which rely on a mechanical arm and a magnetic coating to store the data, SSDs have a flash memory that reads and writes the data faster than HDDs.
HDDs have moving parts inside, so they may crash more often than SSD storage. This can cause low uptime frequently.
In this post, you'll learn about the 7 best WordPress web hosts that offer SSD servers, for free. If your current hosting doesn't have SSD, it is better that you leave them.
At the same price that you pay for regular hosting servers, you can have SSD servers. So, it makes sense to switch to something better.
1. BlueHost
BlueHost is one of the most affordable managed WordPress hosting services. SSD storage comes standard with all shared hosting and VPS plans offered by BlueHost.
Even if you buy the base plan, you get SSD hosting without additional cost. Files and databases both are stored and served through fast SSDs.
Along with that, you also get free CDN and DDoS protection on every plan. They also give you free daily and on-demand backups.
They also offer free migrations and a free domain along with SSL certificates. You get 24×7 chat and email support, as well as a 99.99% uptime guarantee.
BlueHost has HTTP/2 enabled servers as well as server-level cache service which means your site will load fast even if it is a resource-heavy installation. BlueHost shared hosting plans start from $3.95/month.
2. A2 Hosting

A2 Hosting has recently updated its server resources and now every plan comes with free SSD storage. Their hosting servers come with a high capacity SSDs which is not shared with other websites on the same server.
Along with fast servers, A2 hosting offers free site migrations, Turbo server add-on ad 24×7 support.
You also get free SSL certificates to help you load your site over HTTPS secured connection.
A2 Hosting offers you SwiftServer, Turbo Server, and SSD combined. With all three of them together, they guarantee your site will load under 3 seconds. Their plans start from $2.96/month for the Lite plan, $3.70/month for Swift and $7.3/month for the Turbo plan.
3. InMotion Hosting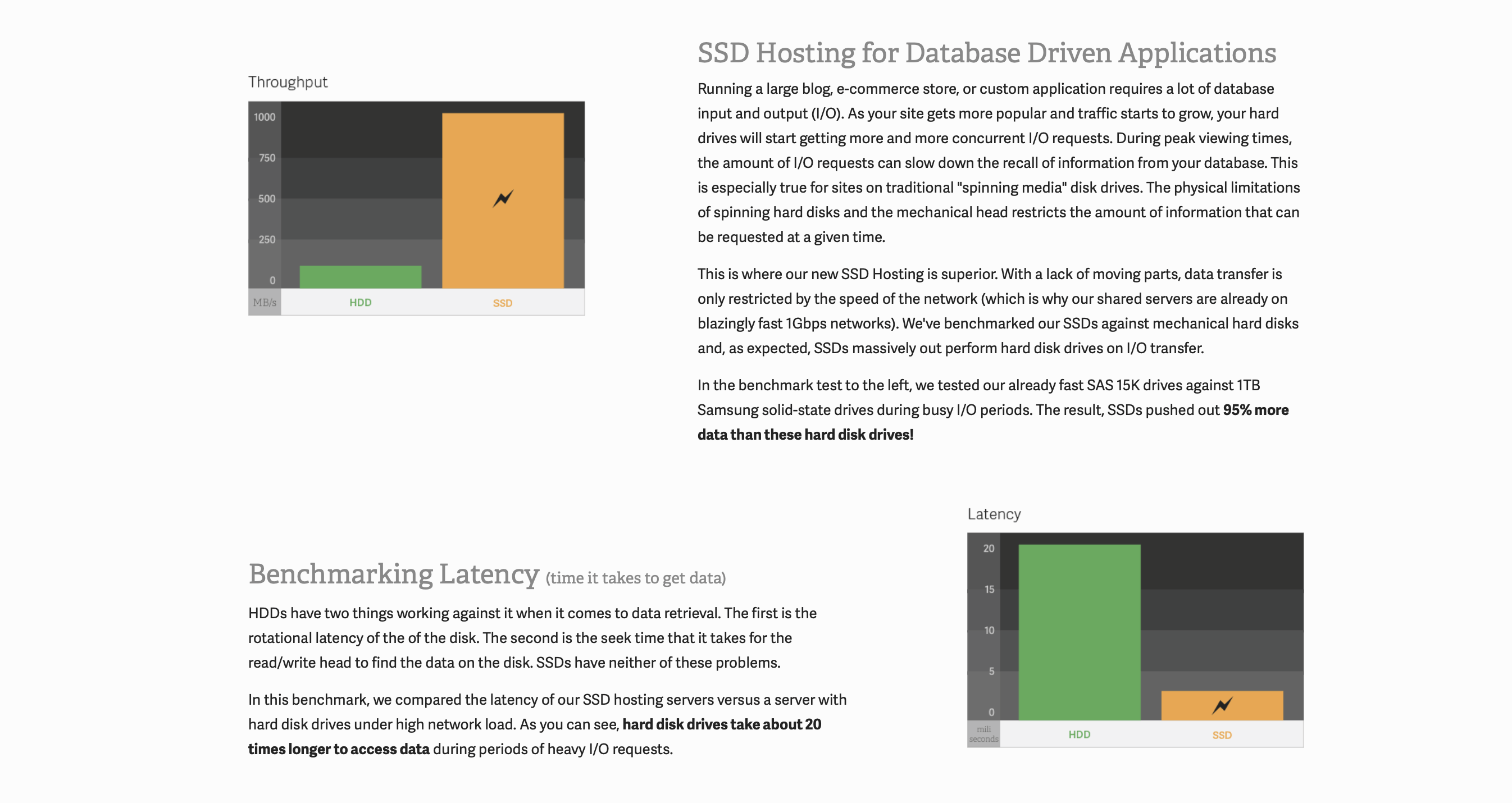 InMotion has a reputation for being one of the fastest shared hosting services. Their new SSD drive servers respond faster and they have a lower latency, which means your website will start loading without server delay.
Lower latency means your users won't have to see a blank-white screen when they visit your website or a blog post. Assets like Javascript, CSS, and images load quicker on InMotion.
They have also implemented non-volatile caching. It is a battery-powered cache mechanism which stores sever files and data in the cache that is separate from the servers. In case the servers go down, your data will remain safe. You won't have to restore your site entirely from backup.
InMotion's base SSD plan starts from $5.99/month and goes up to $13.99/month.
4. Kinsta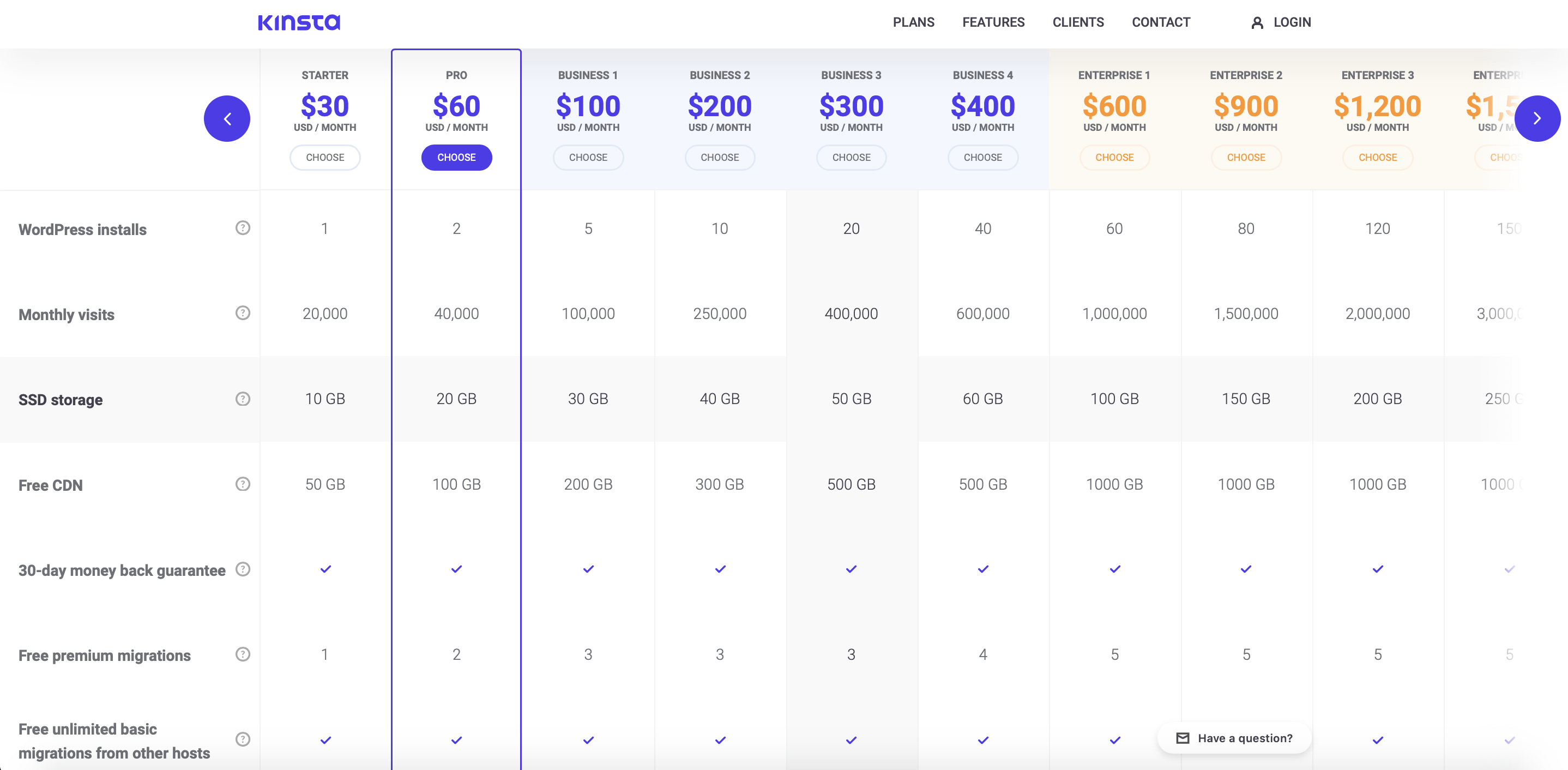 Kinsta is a managed WordPress hosting, specifically created for professional business websites and bloggers. If you don't know, Kinsta is where BforBloggers is hosted.
They offer SSD storage on all plans along with a custom control panel, DDoS/malware protection, instantly scalable servers, and free hourly backups.
They use the Google cloud platform, which makes it faster and easily scalable. Recently, they increased their overall SSD storage spaces on all plans.
Kinsta offers server-level caching, performance monitoring, free CDN and free migrations along with many other advanced features. Your resources are also isolated, i.e., your files and database are not shared with other users on the same server.
Kinsta's price starts at $30/month for the starter plan and goes to $1,500/month for Enterprise plans.
5. WPX Hosting
WPX is a managed WordPress hosting that is pretty famous for their fast servers. They have robust SSD storage and underloaded servers that help your site load quickly.
With WPX, you get features like Incapsula protection, WPX Cloud CDN, staging area and free SSL certificate on all plans.
They offer a fixed for you guarantee which means when something goes wrong with your WordPress website or blog, their support team will manually fix it. WPX also offers 24×7 chat support, and from personal experience, their support is the best of all.
Their pricing starts at $24.99/month and goes up to $99/month.
Before moving to Kinsta, I hosted my blog on WPX hosting servers. So from a personal experience, when it comes to speed and support, they are the best.
Use coupon code BforBloggers to save 50% on your first-month bill.
6. GreekGeeks
GreenGeeks is an eco-friendly web host as they use renewable energy to run their servers.
SSD storage servers are standard on all GreenGeeks plans. You get free daily backups, uptime monitoring, and instantly scalable server, free CDN, HTTP/2, and other advanced features.
They offer free domain names with every plan, so if you're just starting out, it will help you save some money. GreenGeeks uses Powerchacher technology along with PHP 7 which makes it even faster.
You also get uptime monitoring with 24×7 chat and phone support.
Their pricing starts at $2.95/month for the EcoSite Lite plan and goes up to $11.95/month for the premium plan.
7. DreamHost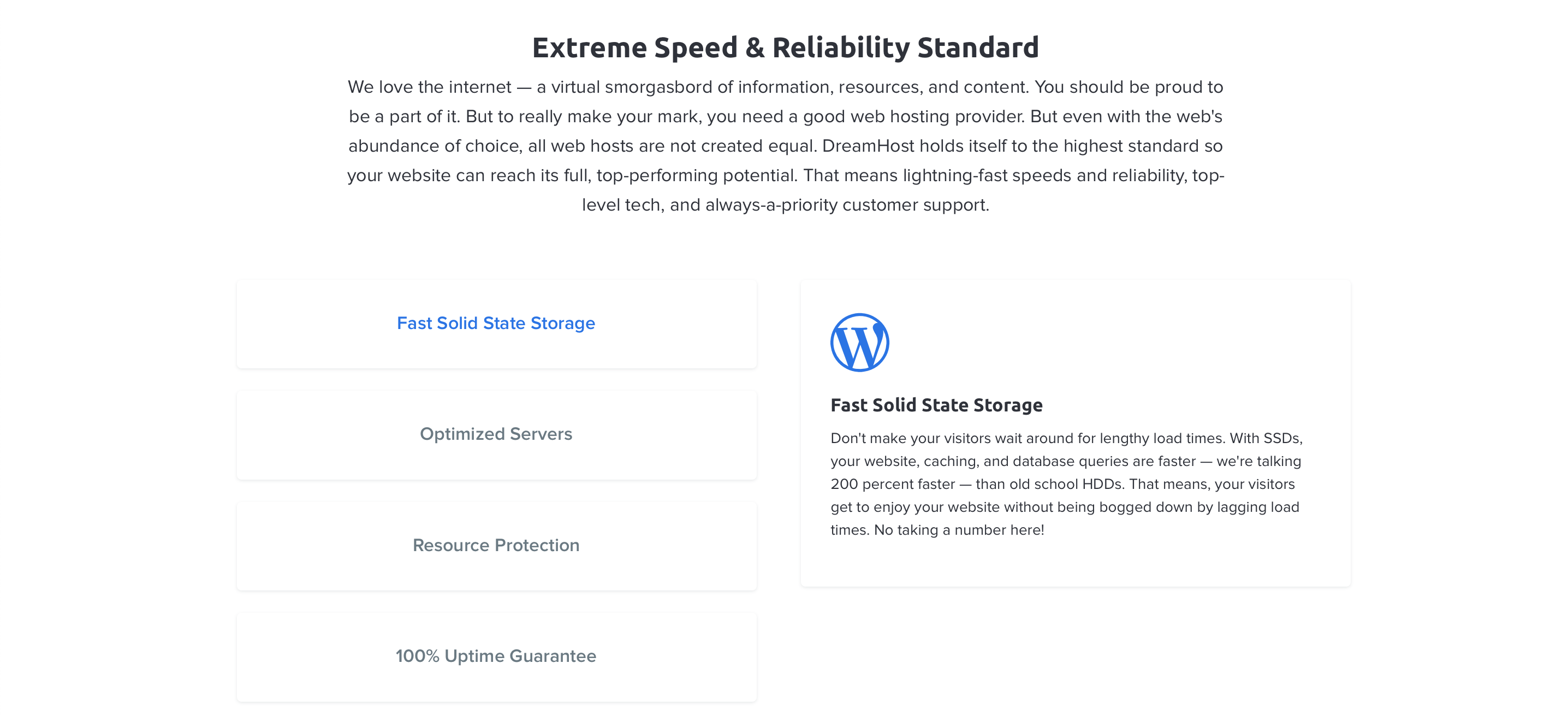 DreamHost is one of the oldest web hosts, and one of the most recommended WordPress hosting.
They offer SSD storage servers that are specially optimized for WordPress websites. If you're looking for an affordable web host that offers SSD, DreamHost is the best option for you.
Every plan has a 100% uptime guarantee, free domain, 24×7 support, free SSL certificate, resource protection and built-in server-side caching.
DreamHost comes with a custom control panel, which is way more advanced and easy to use than the old C-Panel.
Their pricing starts at $2.95/month for the Starter plan and $5.95/month for the Unlimited plan.
Here are more helpful guides for you:
Do let me know in the comments which host you chose, and if your current is using SSD servers or not. Don't forget to share this post on Twitter and Facebook.