Team management is one of the essential things a manager should master. It results in increased employee satisfaction and also builds trust.
Additionally, it reduces the chances of unnecessary conflicts between team members too.
However, managing a team is not as easy as it may sound. Especially if the organization structure is complex and the team is huge.
This is where team management software comes into the picture.
Team management software enhances collaboration and makes coordination easy. It also increases the productivity of each individual as everything gets systemized.
It helps everybody manage, assign, and schedule tasks. It also collects data about completed activities.
These team management tools and software ensures agile task management, efficient task reporting, regular reporting and analysis, easy project management, and coherent team collaboration and communication.
Here is a list of the 13 best team management software –
1. Teamwork
Teamwork is one of the easiest and most powerful ways to manage your team and their work.
It is has a chat, CRM, and desk software integrated and manages complex hierarchies, too. You'll keep track of all your projects, hold your teammates accountable for their job and analyze your productivity with ease.
It can scale into a platform with an all-in-one feature that your business needs.
Teamwork has a strong clientele, including Netflix, Disney, Panasonic, HP, making it a credible source for team management.
Whether it is a small business or a multinational firm, Teamwork helps teams worldwide achieve their biggest goals in lesser time.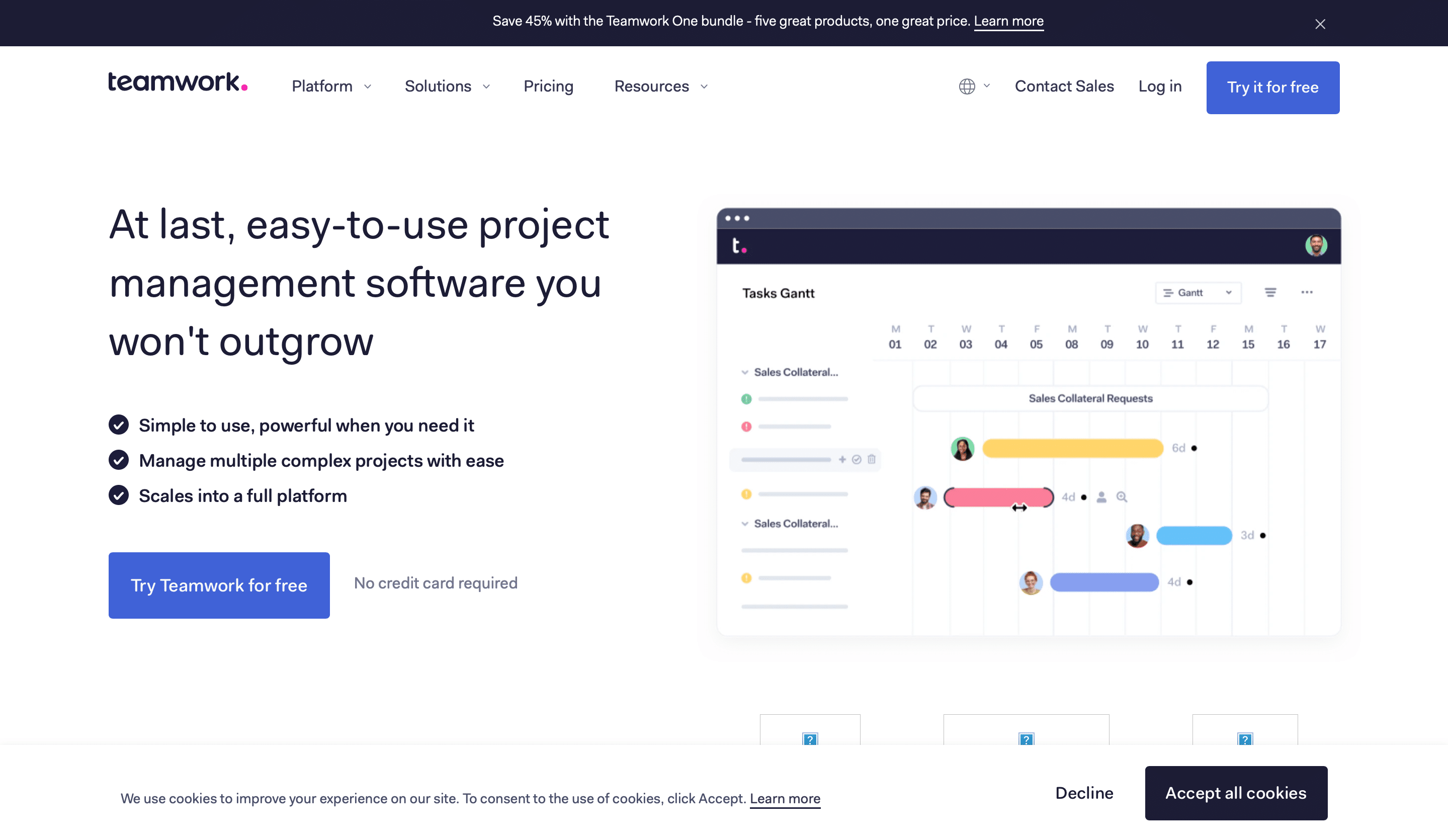 Key features
Helps you manage complex team designs and projects with ease
Custom dashboard, board views, and regular project health status updates
Time tracking inbuilt feature
Get deep insights about your team and its resources
Strong integrations including Slack, Google Drive, HubSpot, Xero, Zapier, Dropbox, and QuickBooks
Includes enterprise-level features
24*7 customer support
Helps in invoicing clients
Chat screens, helpdesk, CRM, and content collaboration software for effective workflow
Pricing
They have a basic plan free forever; the paid version starts from $10 per user per month and can go up to whatever level depending on your requirement.
Contact their admin to know more about their all-inclusive pricing structure.
2. Paymo
Paymo allows you to manage tasks, create schedules, track work hours, and bill your clients through the same single platform.
With 2.12 million projects managed and 2.08 dollars billed, it is one of the most sought-after team management software!.
If you happen to manage clients and work daily with freelancers, try Paymo. You'll love it.
The best part is their invoicing feature. You can pay your team members through Paymo and save the hassle and cost of other payment processing software.
Key features
Task lists and Kanban to set milestones and organize tasks
Advance task management system with filters and task details
Easy scheduling and monitoring
Real-time task comments
Desktop and mobile time tracking inbuilt software
Multiple timesheet views to add, view, and edit time entries easily
Static and live time reports
Customizable report builder
Visual reports with detailed pictorial representation
Quickly see who is available for work or overbooked
Built inaccurate leave management system and planner
Add and track expenses with multi-language invoicing
Assists in creating estimates according to projects
Built-in integrations with G-suite applications, slack, QuickBooks % Xero, Paymo API & Zapier
Paymo provides you with a bird's-eye view of your entire team and replaces many tools you use for different work actions. It keeps everything in sync under the same roof, avoiding messy integrations and extra costs from various subscriptions.
Pricing
They offer a free trial, after which you can subscribe to either of their plans.
The small office plan costs $9.95 per user per month (without a user limit), and the business plan costs $15.79 per user per month (no user limit).
3. ClickUp
We use ClickUp here ar BforBloggers. And we recommended it as well.
With 'all the features without the mess; choose what you want and hide everything else' as ClickUP's tagline, they certainly abide by what they say.
It is a customizable productivity platform replacing multiple workplace app and having everything synchronized under one roof. It caters to all the departments and levels of an organization.
They build on making the whole process of working efficiently on their app, making employees more productive and driven to perform better.
Key features
Streamlined process management
Custom statuses, checklist templates, multiple assignees, task dependencies
Agile board view with status templates
Resolve comments to mark a task finished
Scrum points to value each task
Workload chart to know who has the time and who is overbooked
Reminders, automation, milestones settings
Filter and search tasks
Sort the job according to your preferences
4 different views for assignees, managers, and intermediaries
Drag and drop feature with custom templates
Organize sub-tasks for actionable content
Enables you to copy projects, spaces, and lists
It helps you set priorities according to work's significance and urgency
Bulk rescheduling through Gantt charts
Custom dashboards with real-time management
Automations with webhook actions
2-way sync calendar with time view and tracking
The most diverse pool of integrations with Slack, Github, Gitlab, Everhour, Toggl, Harvest, Goodge Drive, Dropbox, Google Calendar, Figma, Timeneye, Outlook, Capier, Integromat, Single Sign-on, Automatic Import, Bitbucket, Time Doctor, Embeds, One Drive, Sentry, Microsoft Teams, Google Hangouts Chat, Box, Front, Zoom, Twilio, Bugsnag, Calendar, Miro, Discord, Tableau, Giphy, and Marker.io
Complete A to Z customization
Real-time editing, syncing, reporting, and collaboration
ClickUp is undoubtedly one of the best team management software to try. It comes loaded with features and works on all devices, including desktop, Amazon Alexa, Google Assistant, Chrome, Web, Mobile, Image Markup, and Gmail.
They are also coming soon with localization through language translation and Firefox and Safari extensions!
Pricing
They have a forever-free plan with primary and minimal features.
Their unlimited plan costs $5 per user per month, which is quite reasonable, too.
4. Hive
Hive was the tool we used before ClickUp. And I personally think it's the best team management software for small businesses and startups.
Hive is a productivity platform that enables you to work faster and produce quality work. It gives each employee the freedom to manage their own work and switch over to other views whenever they want to.
In short, they are the most flexible team management platform ever!
Its mission is to improve the workspace productivity of all sizes and types of businesses. It is a platform built by the users for the users since the team itself is a Hive user.
Key features
Gnatt charts, Kanban, calendars, and tables to organize work efficiently
Over 1000 integrations
Centralized dashboard
Trusted by leading brands including Google, Starbucks, Toyota, and IBM
Monitor and report projects in real-time
Plan and schedule current and upcoming projects
Direct and group messaging
Share documents easily
Collect relevant information through forms
Repeatable workflows through Hive templates
Creative collaboration with feedback loops and approval cycles
Seamless automation
Pricing
Hive's base package costs $12 per user per month, whereas their Enterprise pricing is only available to those who contact them personally.
5. Monday
This team management software, called monday.com, helps you manage everything in one individual workspace.
You and your team can plan, track, and deliver your team's work to the best of their abilities quickly and easily.
They have an average response time of fewer than 60 minutes, ensuring that if you are ever stuck, Monday's representatives will be the first ones to reach out!
You can plan the entire workflow and share files from anywhere – your bedroom, the sofa, or even the dining table. They are available both as a mobile app and a website.
They provide solutions for various office-related issues like project management, marketing, CRM and sales, task management, remote work, etc. however, their team management software is always the talk of the down due to the various features!
Key features
 200+ ready-made templates
 Easy to use visual interface
30+ customizable workflows
Drag and drop editor
8 different data visualizations including Kanban, calendar, timeline, Gantt, map, form, and workload
Exportable images to share data easily with anyone around the globe
Multiple integrations
Automate repetitive work and save time
Pricing
They offer a 14-day free trial post to subscribe to their basic plan for around $8 per user per month.
Their standard plan costs $10, whereas the pro plan costs approximately $16.
To get a quote on the enterprise plan, contact a staff representative.
6. Asana
We've also used Asana. The first team management tool made us realize how productive it is to get everything under one dashboard.
And there, it just keeps getting better. Asana is highly recommended by Aayush.
Collaborate, communicate, and rebalance your work effortlessly on Asana!
It helps you manage and systemize all your team projects, delegate work, and provide clear instructions on who is supposed to do what.
Asana's work graph model gives the team all they need to stay in sync, adhere to deadlines, and reach their short and long-term goals.
Asana has a pool of highly reputable clientele, including Google, Deloitte, Bill & Melinda Gates Foundation, Vodafone, Spotify, Uber, Slack, Paypal, to name a few.
Key features
Helps in clear communication through team pages, project conversations, image proofing, and task comments
Manages the team, work, their projects, and the task in a systematic order through custom fields, forms, subtasks, attachments, dependencies, and templates
Custom real-time charts
Helps work organizing strategic initiatives and monitors the status of all the team members and their work
High data security
Gives privacy controls by limiting access to any projects, creating a hidden team, or making groups public
Several integrations, including slack, Gmail, Zoom, Dropbox, Google Drive, Adobe Creative Cloud, Microsoft, Salesforce, and box
One on one meetings
Helps in new employee onboarding through an easy setup
Pricing
The basic plan is free of cost.
However, their premium plan starts at $10.99 per user per month.
The business plan costs $24.99 per user per month. And for the enterprise quotation, one needs to contact their sales department.
7. Infinity
This customizable work platform organizes your team projects the way you want and stores everything in one place.
As the name suggests, it gives you a lifetime membership by only paying once.
Whether it is media galleries, social media content, plans, CRM, digital resources, or a complete software overview – Infinity does it all!
They help you and your team work smarter, better, and faster. It is available on the web, Android, iOS, and desktop.
Key features
Columns, tables, calendars, Gantt charts, forms, and lists – they offer it all
Seamless switching between folders and spaces
Clutter-free work with folders and subfolders makes organization easier
Workflow customization
Fully customizable attributed
50+ customizable templates
Helps you save big with the lifetime membership
100% secure, reliable, and trust-worthy
Every increasing and upgrading software
Proactive 24*7 customer support
Preview images or attachments easily
Create and edit essential documents effortlessly
Allows you to add relevant email addresses to the items in Infinity
Simple and advanced formula calculations
Invite, comment, mention, assign
Sharable boards
Upcoming weekly and monthly reports
 Integrations with Zapier, Trello, Clockify, API, Slack, Google Drive, Dropbox, and more
Improved automation
Pricing
Cheaper than most of its counterparts, its lifetime membership starts at $149 for a basic plan.
The one-time payment for the start-up plan is $299, and the business plan costs $499.
They also offer a 30-day money-back guarantee with no questions asked if you do not like their service.
8. Basecamp
If you are working remotely, Basecamp is the all-in-one toolkit for you. They organize every bit of your team and their work for you, with incredible integrations and excellent automation.
It helps you know what everybody is working on, where to put the following items, and access them from anywhere at any time. It is available on the web, iOS, and Android.
They even have a book on working remotely; that is how much they are into making your remote work effortless and efficient.
Its fundamental is to improve any company's workflow, ranging from freelancers, software development shops, design firms, consultants, start-ups, agencies, schools, architects, media houses, and non-profits worldwide.
Key features
Interactive Gantt charts
Project hour tracking
Instant messaging and real-time group chats
Resource allocation and forecasting
Social collaboration made easy
Issue and task history, priorities setting, scheduling
Documentation and management
Add recurring tasks easily
Supports Windows, Android, iPhone/iPad, Mac, Windows mobile
Best suited for small businesses, large enterprises, medium businesses, and freelancers
Cloud host deployment
Automatic check-ins
Separate features and views for owners, executives, managers, individuals
Hill charts for project tracking
File storage
Reports and analysis
Client access
Privacy, security, reliability
Pricing
They offer a 30-day free trial post to buy the business plan for $99 per month, at a flat rate.
The personal plan has limited features but is free for all users.
9. Any.do
The award-winning app helps you stay organized and become more productive. The simple and user-friendly interface allows you to organize tasks, lists, and reminders in one click.
It syncs all your devices seamlessly. It is a flexible platform that lets you keep track of your progress daily.
Any.do is available on mobile, laptop, tablet, desktop, and even your watch! Gives you the ultimate control over your team members and their task assignment.
Key features
Beautiful customized themes and turbocharging powers
Calendaring
One-time, recurring, location-based reminders
Color tags for better visualization
WhatsApp reminders with natural language
Unlimited daily planner
Smart assistant taking care of your team and their tasks for you
Ultimate synchronization of all your devices
Plan, assign, and share responsibilities
Full transparency
Automated workflows
2000+ integrations
360-degree view of everything
File sharing
Activity stream to track progress
Pricing
Their plans are segregated according to how many months you buy the plan for.
If you purchase their monthly plan for a single month, it costs $5.99 per month.
For a 6 months plan, you pay $4.49 per month. And for a year-round subscription, you only have to pay $2.99 per month.
10. Todoist
With over 100,000 teams trusting their projects and enhancing productivity – Todolist is one great place to organize your team.
It lets you never forget important tasks and sets reminders for you and your team to get them done on time. You can prioritize your tasks according to how critical they are and share the workload with others in your team.
Todoist also helps you see tangible progress. Visualize your productivity trends to make them better with each passing day.
Key features
Multiple integrations including Zapier, Dropbox, IFTTT, and much more
10+ apps and plugins
Customizable templates4. Real-time sync across 10+ platforms
Share work by creating projects, adding tasks, setting due dates, and assigning responsibility
Share files easily
Easy view of the team's activity stream by project or team member
Custom views for upcoming and overdue tasks
Todolist boards with the drag and drop editor
Natural language scheduling
Centralized admin
Visual Productivity
Bank-level encryption, ensuring security and reliability
Automatic backups
27/7 data sync
Labels, filters, reminders
Pricing
For starters, they have a free plan with basic features.
The premium plan starts at $3 per month, and the business plan for teams costs $5 per user per year.
11. Wrike
Wrike offers versatile and robust team management software to make teamwork effortless and productive.
It lets you optimize results in the same space through real-time performance insights. With cross-departmental collaboration and 360-degree visibility, it ensures powerful automation to manage teams like never before.
It is tailored according to your personal needs and requirements and has several customizations to ensure team-specific automation and streamline processes.
Key features
Real-time working
Easy and secure information sharing
Real-time updates
Get a bird's eye view of individual tasks and an eagle's view for everything in the portfolio
Encrypted data
Enterprise-grade security
Master integrations with Google, Microsoft, GitHub, Box, SurveyMonkey, and many more.
Customizable and pre-built templates
Gantt charts
Cross-department communication
Real-time and advanced reports
Pre-built automation
Project management teams, ensuring risk management, improved planning, and automation
Pricing
They have a free plan limiting to 5 users.
Their professional plan starts at $9.80 per user per month, limiting to 15 users. The business plan involves a maximum of 200 users, costing $24.80 per user per month.
For their enterprise quote, you need to contact their sales department.
12. Trello
Trello's team management software helps your team, and you work together by customizing and expanding team growth.
It assists you in building team spirit through managing projects and organizing team tasks.
Its intuitive features give your team the ability and agility to quickly set up workflows and customize them according to your needs.
Key features
Lists, cards, customizable timelines, productivity metrics, and calendars
Has a robust pool of checklists, due dates, attachments, conversations, and more
automation without coding, reducing tedious tasks
top integrations with Dropbox, Slack, Google Drive, Microsoft Teams, and more
Reputed clients like eBay, Detr, SproutSocial, and more
Over 1,000,000 teams worldwide
Goal setting feature
100+ power-ups
Tailor-made for each organization
Attachment permissions
Multi-board guests
Public board management
2-factor authentication
Advanced checklists
Command and run the administration
Priority support system for business and enterprise plans
Simple data export
Pricing
Their basic plan for individuals and teams comes free.
The business class plan costs $10 per user per month.
For organizations having 100+ team members, an enterprise plan is the ideal one. You can get a quote for it by contacting their sales department.
13. EasyNote
One of the most innovative team management software is EasyNote.
It is adaptable to any business type, size, and industry.
They've recently updated their software, and now it's more intuitive and faster. One of the best parts about Easynote is that key keep adding new features for better collaboration and productivity of the whole team.
Key features
Grid system to organize information intuitively
Unlimited widgets
Imports allowed from mondya.com, Asana, Trello, or Excel
Robust search engine
Instant notifications about any update
Visualizations to maximize work efficiency
Availability of millions of images
Personal onboarding for free
Quickest support service
File's support and storage
Proactive conversation tools like instant messaging, chat boxes, comments, reviews, etc.
Pricing
The premium plan costs $5 per user per month.
To get a Quote of their most elite plan, called the enterprise plan, contact the sales department.
End Note
Team management software highly helps in managing your team at a vast level. Especially if you have many team members, it makes your work effortless and focuses on your core business.
Everybody in the team enjoys the transparency and security that these tools and software offer. It also helps the assignee assign tasks to the people according to their workload, with numerous integrations and unlimited customizations.
With so many different options available on the internet to choose from, we are sure that you are not away from having an effective and efficient team with increased productivity on board!