17+ Best Webinar Software Reviewed & Compared
Move over, Zoom, we are here with the best Webinar Software and Services!

Webinars have been a tool of great demand since the boom in the coaching industry. We would see a lot of life coaches give live webinars on their respective subject matter.
Most of these webinars are usually available for on-demand viewing until a few days before they are taken off. 
With 2022 in action, some technological tools have seen a magnanimous growth in their demand, and webinar tools and software is one of them.

With (almost) every organization going virtual, we have to depend upon webinar tools and video conferencing options to keep afloat.  Many startups and even established businesses have opened up to using webinar tools, something they had not done before. 
For a lot of businesses, webinar platforms work as their video conferencing tools. Businesses have also used webinar tools for training purposes.

When choosing a webinar platform, instead of going with what every other organization is using, you should first ask what your needs are from a webinar platform. Consider the following :

– What will you most use the webinar platform for – meetings, training, presentations, or sales?
– How many people do you want to join in at a time? 
– How much are you willing to pay? 
– Do you need a webinar service on an ongoing basis?
Based on your answers to the above questions and your specific requirements, you can select from our curated list of 17+ best webinar software and services. This curated list includes paid as well as free webinar tools. 
Demio
If you are looking for a webinar solution that integrates sales and marketing – Demio is the perfect webinar tool for you. 
Built keeping sales in mind, Demio makes it easy for webinars to be conducted, replayed, and reminded. Demio is browser-based and requires no messy downloads for your audience. 
It is also available on Google Play and App store.
Demio is primarily a webinar tool with video conferencing options available. It is effortless to use and has clean chat functionality.

You can also interact through polls, Q&A sessions, and give out handouts. All these features make your webinar experience more interactive, more engaging.

Demio is built keeping webinars as a sales tool, and it does deliver every feature to make your webinars convert. You can integrate your email marketing tools like Mailchimp, ActiveCampaign, or Aweber.

You can also launch a call-to-action page at the end of the webinar. Demio allows integration with Zapier. Demio also provides an API key to get your software integrated with Demio. What more could you ask for! Demio does make webinars seamless.
Features
Let us look at some of the most prominent features of Demio.
Easy registration to webinars. No downloads are needed for your audience. 

HD Streaming, clean waiting rooms, overall great ease of use for the audience.

Great branding features, great integration features – marketing automation at its best for a webinar tool.

Unlimited recordings and unlimited storage for your webinars. 

Easy analytics to look up, and understand, presented in graphical form. 

Apart from screen sharing, you can also share videos and slides in your Live events. 

Video tutorials from Demio to help create the best webinar experience. 

Great customer support for any hiccups you may come across. 

Interactive and clean UI and a great website too. 
Pricing
Demio comes with an equally neat pricing structure. They have the following 3 plans : 
Starter Plan at $34 per month with a capacity for 50 attendees at a go.
Growth Plan at $69 per month with a 150 attendee room.
Business Plan at $163 per month for a 500 attendee toom. 
Trial Period
Demio comes with a 14 day trial period with all features from the Growth Plan.  

Cons
Pricing can be a bit high for startups. But given the features available, it is worth giving a try. 
Zoho Meeting
Many of us are familiar with Zoho as CRM software, but did you know that it has very affordable webinar and video meeting tools as well? 
Zoho has, very conveniently, merged video meetings and webinar solutions. Pricing, however, has been kept separate to suit the different needs of organizations. So you can actually take two different plans for your online meetings and your webinars, making it a lot more customizable to your requirements. 
The Zoho Meeting website might not be as cool as Demio, but features-wise, it almost equals Demio within a more affordable price structure. 
Zoho Meeting is available for no download and joins through apps in Appstore and Google Play. Zoho Meeting also has browser extensions. So, basically, your audience can join in whichever way they prefer. 
Features
Zoho Meeting has some great features when it comes to webinars. 
Customizable registration forms for webinars with company branding.

Raise hand feature for the audience. 

Call to action and redirection to a thank you page or a survey page available. 

Q&A sessions and polls feature available. 

Dial-in using a phone for conducting webinars for low internet connectivity areas. 

Registrant control features to reduce spam. 

Screen sharing feature available. 

You can have co-organizers and co-hosts for your webinars. 

All Zoho Meeting audio and video are encryption protected. 

Analytics reports of webinars in CSV and Excel formats. 
Pricing
Zoho Meeting offers quite a wide range of pricing options, and the plans are all very affordable. 
Webinar – 25 plan priced at $15 for up to 25 attendees. 
Webinar – 50 plan priced at $23 for up to 50 attendees. 
Webinar – 100 plan priced at $31 for up to 100 attendees. 
Webinar – 250 plan priced at $63 for up to 250 attendees. 
Trial Period
Zoho Meeting offers a 14-days trial period with limited features and without any card detail inputs.
Cons
Storage is limited to 25 recordings
Livestorm
A highly customizable platform with great features, Livestorm is for anyone looking for a great webinar experience with automation at its best. 
Livestorm has by far the most customizable options for a webinar. Apart from all the basic features of webinars like screen sharing, video sharing, polls, analytics, etc., Livestorm offers some advanced webinar features like multi-language support, exporting video to Youtube, advanced analytics for registrants, emails and replays, and so on. 
Livestorm has a lot of help docs to help you get started. What is best, you can try out the Free plan to check if it fits your organization's webinar requirements.

Features
HD browser-based webinars with screen sharing, chat, polls, and Q&A features. 

Custom registration with form embedding features.

Unlimited replays and replay storage. 

Inbuilt email tools with an automatic email reminder and email customization options. 

Zapier and Slack integration and download feature for webinars plus polls and chats. 

Multi-language support and call to action redirections. 

Registrant and email filtration to reduce spam.

Advanced analytics reports in bar presentations on webinars, replays, email campaigns, and registration sources. 

Invite on Stage and guest presenter features. 
Pricing
Livestorm has a completely free plan! They also have a free video meeting plan. Their plans are as follows : 
Webinar Basic at no cost with 10 attendees.
Webinar Premium plan starting at $99 with 100 attendees. The plan is customizable with the number of presenters and attendees up to 1000 attendees. 
Webinar Enterprise, a completely customizable plan to suit enterprise needs. 
Cons
Livestorm can be overwhelming for small businesses that do not need as many features as they provide. 
Webinar Ninja
Webinar Ninja has a very personable feel with the message directly from the CEO and founder on their website and a full demo walkthrough by the CEO. There's even a pop-up chat message from the CEO displaying current plan offers. 

An able competitor to the biggies like Zoho and Demio, Webinar Ninja, has almost all features required from a webinar tool at affordable prices. You can create live, pre-recorded, and hybrid, i.e., pre-recorded streaming + live host webinars. You can also create a webinar series for a course or training. 
Features
 The following are some of the best features of Webinar Ninja :
Share screens, insert videos, or upload slides during webinars. 

Custom registration forms and automated emails for registration confirmation and webinar reminders. 

All templates, logos, videos, and other marketing material can be stored in the media library. 

Call to action page directions.

Easy chart and pictorial presentation of analytics. 

Integration with leading email marketing campaigns and Zapier.

Scores of on-demand video tutorials for creating the best webinar experience that converts to sales. 

Your webinar gets featured in the inbuilt webinar search engine – The Webinar Finder.
Pricing 
Webinar Ninja has a straightforward pricing structure with 3 plans and pricing that beats its competitors.
Pro plan at $79 per month with 300 attendees.
Plus plan at $129 with 500 attendees.
Power plan at $199 with 1000 attendees. 
Free Trial
All Webinar Ninja Plans have a free trial for 14 days. 
Cons
Hybrid webinars are not available on the Pro plan.
EasyWebinar
One of the USPs of Easy Webinar is its TrueVoice Technology that allows for noise reduction and high bandwidth streaming with zero delays.
You can also enable live streaming on multiple social media platforms simultaneously through the EasyCast feature.
All EasyWebinar sessions are in HD quality, and you can have up to 4 presenters in a single webinar. EasyWebinar also has a plug-and-play page builder making marketing integration easy.
True to its name, Easywebinar makes recording, live chat, and registration easy. EasyWebinar allows 3 kinds of webinars – one-time, recurring, and evergreen webinars – webinars that are pre-recorded but have the look and feel of a live webinar.
Features
EasyWebinar has some cool features that are tough to beat in the pricing bracket they offer.
Simple webinar launches in minutes.
Easy integration with a lot of tools.
Strong in-built marketing that helps in lead generation and sale of products.
Strong analytics to understand attendance and purchase behavior.
Same time broadcast to YouTube and Facebook.
Comes with encryption security provided by Dolby technologies
'Block days' feature to create customer demand and boost sales.
Pricing 
EasyWebinar has 3 simple pricing options.
Standard plan at $78 per month with 100 attendees.
Pro plan at $129 per month with 500 live attendees.
Enterprise plan at $499 per month with 2000 live attendees.
Free Trial
EasyWebinar plans come with a 14-day free trial.
Cons
Cost affordable only for Enterprise plan users.
GoToWebinar
We have all used or heard about the GoToMeeting platform, and from the same stable comes a wonderful webinar product – GoToWebinar.
If you have been a loyal fan of GoToMeeting, you will love GoToWebinar. It comes armed with custom registration, branding features, and webinar templates from previously organized webinars.
In the engagement dashboard, you can check audience engagement, time remaining. GoToWebinar also has a 'raise hands' feature to connect better with customers.
Features
Polls, Q&A, and live chat features.
Easy integration with email marketing tools and CRMs of your choice.
Chart and bar analytical interpretation of customer engagement and sales behavior.
Guest presenter feature available.
Possibility of getting featured in the front slots of GoToStage, the platform where webinars are showcased for viewers.
A good resource center with articles, case studies, and webinars on how to conduct successful webinars.
Competitive pricing, one of the best in the industry.
Pricing 
GoToWebinar has 4 plans to choose from.
Lite plan at $49 with 100 attendees.
Standard plan at $99 with 250 attendees.
Pro plan at $199 with 500 attendees.
Enterprise plan at $399 with 3000 attendees.
Free Trial
GoToWebinar offers a free trial of 7 days on their plans without any credit card details.
Cons
There's no mention of HD quality streaming on their platform. Webinar streaming is more dependent on your bandwidth.
EverWebinar
EverWebinar has a full 30-days trial period with a money-back guarantee. Now that's what I call a trial period that really lets you try a product that you're going to use for your business in the long run.
What's another striking feature of Everwebinar is that they have a single plan for all their features – one plan that can be paid in 3 different ways – in installments, annually, or biennially.
EverWebinar comes with HD quality video and audio streaming across all devices. You can record live webinars or play simulated ones that look and feel like live recordings.
You can also import previously recorded live webinars using Webinar Jam and turn them into evergreen or simulated live webinars. You can also import your live chat and make a simulated one. You can further create live chat recordings and insert them into your simulated webinars.
Features
No-download browser login
Importing previously recorded live events to create simulated webinars.
Live chat, live chat simulation, Q&A sessions, polls, and surveys are available.
Split testing is available for running marketing campaigns.
Live offer display feature.
Webinar and traffic analytics.
Pre-built landing pages to aid in better conversion.
Easy integration with your favorite CRM and email automation tools.
Pricing
EverWebinar has one plan payable in 3 different ways.
Installment plan at 3x$199 per year.
Annual Plan at $499 per year.
Biennial Plan at $799 every two years.
Free Trial
There's no free trial, but you can use their services for a full 30 days with a money-back guarantee.
Cons
No plans designed for Startups.
LiveWebinar
LiveWebinar offers a lifetime free plan for 5 attendees. Which might be a good plan to start testing the platform. HD recording and streaming, stack integration, marketing automation, and dial-in attendance are some of its USPs.
You can also integrate LiveWebinar using API keys. Customization of webinar plans is offered to suit client needs.
LiveWebinar comes with a Whiteboard feature that allows you to draw and write while conducting live webinars.
Features
LiveWebinar has almost all the features that you would look for in a webinar platform.
Live streaming to social media platforms.
Live chat, polls, and surveys are available.
Simulated webinar feature available.
Ability to get more presenters on board easily.
Customizable branding of your company in your webinars and meetings.
Easy registration for attendees.
Competitive plan pricing.
Pricing
Free plan at no cost with 5 attendees.
Pro plan at $11.99 with 100 attendees.
The business plan at $95.20 with 500 attendees.
Custom plan at custom pricing with 1000+ attendees.
Free Trial
14 days of free trial on all paid plans.
Cons
Full HD recordings come only with the Business and Custom plans.
GetResponse Webinar
GetResponse is a complete email automation and marketing platform with an additional webinar service that makes it a platform of choice for many companies.
With GetResponse Webinars, you get built-in marketing tools, evergreen webinars, live and on-demand webinars, and up to 20 hours of webinar recordings.
You also get to trial the software free for 30 days without any card obligations. A win-win all the way.
Features
Hassle-free no installation browser login.
Unlimited webinar hosting.
Up to 2 other presenters onboarding.
Webinar URL customization is available.
Special offers promotion and lead conversion automation are available.
Live streaming to Facebook and YouTube features.
Pricing
Plus plan at $34.15 with 100 attendees.
Professional plan at $69 with 300 attendees.
Max plan at custom pricing with 500 attendees.
Free Trial
GetResponse offers a 30-days free trial with no card obligations.
Cons
Compared to the mainstream Webinar platforms regarding features. The GetResponse Webinar platform is just an add-on feature to GetResponse marketing automation tools.
ClickMeeting
ClickMeeting doubles up as a webinar plus meeting platform. You can create paid webinars, use a whiteboard during your webinars to explain better, create polls and surveys, and live chat with the audience.
Though more popular as a video conferencing tool, ClickMeeting has all the best features of a webinar platform. You can create on-demand webinars, record them, store them, share them on social media, and check the statistics.
I was blown away by the intuitive website, and I have used their Meeting platform before. The UI is clean, intuitive, and has a great user experience.
You can also automate your webinars and have custom branding, registrations, and send customized emails.
Features
Few clicks webinar setup.
Screen sharing, polls, surveys, Q&A sessions, and live chat are available.
Call to action pages.
Availability to join webinars from phones.
Easy to understand presentation of webinar analytics.
Webinar performance rating feature.
Streaming on Facebook and YouTube feature.
Stack integration with a huge number of tools.
Pricing
Live plan starting at $25 per month with customizable attendee number.
Automated plan starting at $40 with customizable attendee numbers.
Enterprise plan at custom pricing with customizable attendee numbers.
Free Trial
Free 30 day trial period.
Cons
File storage capacity is limited.
My Own Conference
You just cannot beat My Own Conference at the pricing part. What's best, they come with a free plan that allows up to 20 attendees with HD quality video streaming available. I'll call that a webinar solution built with keeping solo entrepreneurs in mind.
My Own Conference is multi-language supported, allows up to 10 presenters in a single event, and has a live chat feature. Check out more features of this amazing webinar tool below.
Features
My Own Conference has data standards fit to cover worldwide webinar events.
Branding features available.
Pre-recording of webinars available.
You can share videos, documents, and screens during the webinar.
One-click joining from the browser, no login needed.
Automated email reminder facility.
Filtration of registrants and attendees.
Pricing
My Own Conference offers one of the best pricing structures in the industry.
Free plan at no cost with 20 attendees.
Paid plans start at $30 for 60 attendees, and are available for up to 10,000 attendees.
Cons
Limited cloud storage in the paid plan.
BigMarker
BigMarker has gained a formidable presence among webinar tools and software, especially through its large-scale up-reach possibility. The Premiere plan can host up to 1000 attendees at a very affordable $299 a month.
All plans include access to tons of features that range from stack integration to marketing automation for webinars.
BigMarker is suitable for paid webinars that run globally; it has more than 135 currencies available.
Features
Some other noteworthy features of BigMarker include the following.
Live, on-demand, and recurring webinars are included.
You can automate webinars and create evergreen or simulated webinars.
Live streaming to YouTube and Facebook.
Landing page builder and email responders available.
Live Chat, Q&A, and pop-up offers are available.
You can also sell tickets. BigMarker integrates with more than 135 currencies used worldwide.
Pricing
Starter plan at $79 per month with 100 attendees.
Elite plan at $159 per month 500 attendees.
Premier plan at $299 per month with 1000 attendees.
White Label plan at custom pricing with 10,000 attendees.
Free Trial
7 day free trial without credit card details.
Cons
No evergreen webinars or multi-currency integrations for the Starter plan.
Cisco Webex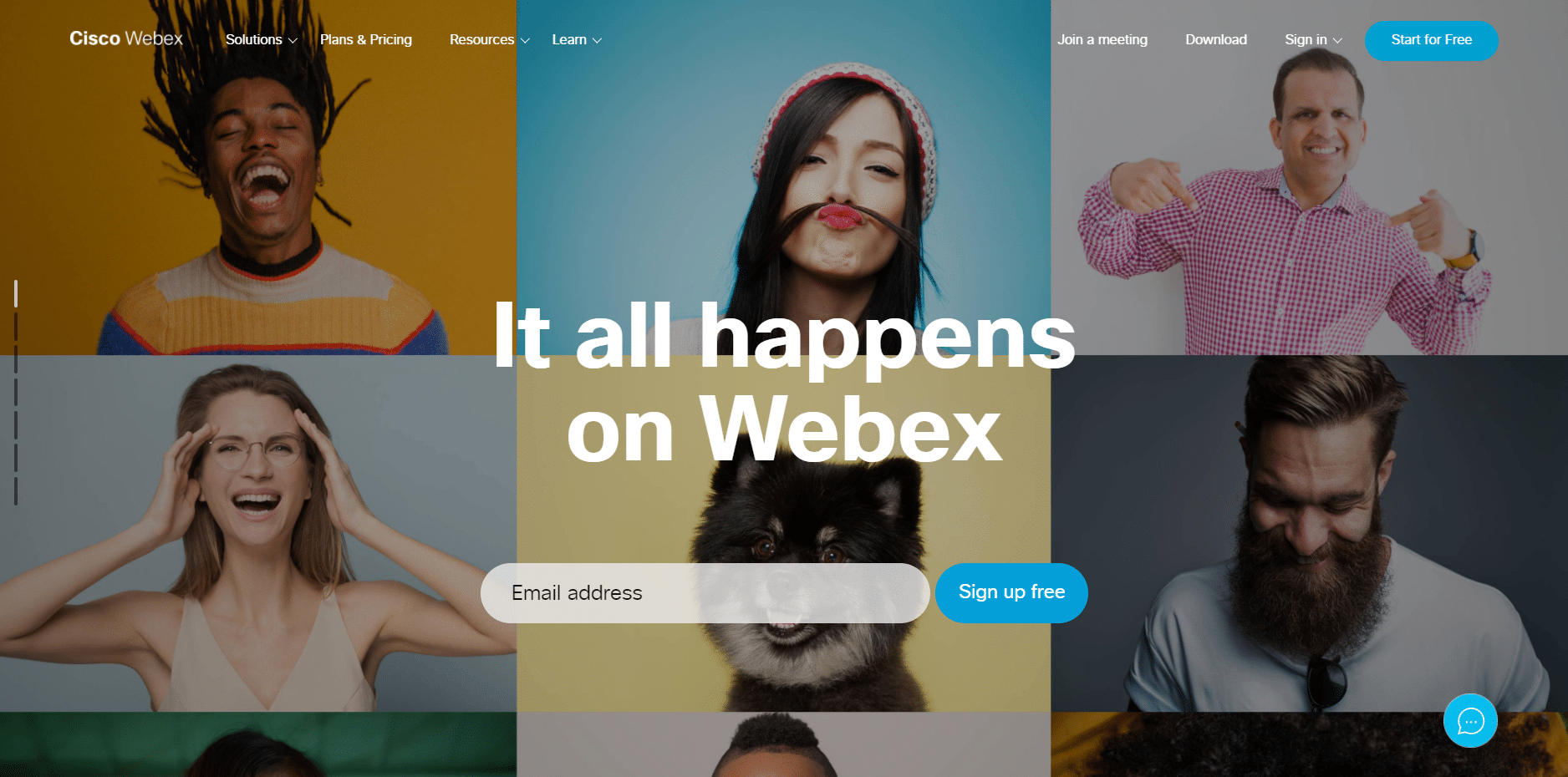 Cisco Webex is one of the earliest webinar and video meeting tools.
Cisco has been a game-changer in more ways than one. Cisco Webex still has one of the best free plans with up to 100 attendees and up to 50 minutes.
Even half a decade ago, Webex was the number one choice for conducting virtual meetings across the globe. Its Webcast feature that can hold around 100,000 attendees is in good demand by enterprises.
Though geared for enterprises, Webex works wonderfully for small and medium businesses. Webex has almost all the features that advanced webinar tools have. Multiple presenters, Q&A sessions, live chat, custom branding, polling are some of the great stuff a Webex plan comes with.
Features
One of Webex's important features that many other webinar tools miss is scaling up a level. You can switch from the webinar to webcast with Webex.
Webex also has expert Webex producers to take your content and scaling to new heights. Hiring a Webex producer can help take out almost all the hassle associated with planning and executing a large-scale webinar or webcast.
You can create live webinars or pre-record them. There are in-built e-commerce tools to help you monetize from the content you deliver.
Webex provides training on webinar creation and sales-boosting – you need to contact their sales team to get started.
Pricing
Webex has several affordable paid plans to choose from.
Free plan at no cost with up to 100 attendees.
Starter plan at $13.50 with up to 100 attendees.
Plus plan at $17.95 with up to 100 attendees.
The business plan at $26.95 with up to 200 attendees.
Enterprise plan at custom pricing with up to 100,000 attendees.
Free Trial
There is no free trial but a free plan for a lifetime with up to 100 attendees.
Cons
No browser login, no promise of HD quality with every webinar. Unlimited storage only with the Enterprise plan.
BlueJeans Events

BlueJeans events is a browser-based webinar and meetings platform and is a product offering from Verizon.
Powered with high-quality video streaming and crystal-clear audio from Dolby, BlueJeans Events can prove to be your perfect webinar tool and sales converter, especially if you have live events to cover and stream in real-time.
You can live stream your webinar to Facebook and keep your audience engaged with interactive polling, Q&A and hand-raising Q&A. BlueJeans has a bandwidth optimization feature called BlueJeans Accelerator.
Features
Possibility to scale up to reach up to 50,000 attendees and up to 150 presenters in a single event.
Cloud recordings of webinars are available.
Advanced meeting moderation controls.
Easy content sharing during live sessions.
Pricing
Video Webinar plans start at $83 per month for up to 100 attendees; $313 for up to 200 attendees, and $499 for up to 500 attendees.
Large Scale Events plan at custom pricing up to 50,000 viewers.
Free Trial
A free trial for 14 days period is available.
Cons
BlueJeans Events is more geared towards large-scale webinar events.
Google Meet
Over the years, Google has upgraded its chat feature to be used extensively and independently for meetings and webinars.
Google Meet is free and ready to be used for small, medium, or large-scale attendees. Meet does not have inbuilt marketing or any kind of marketing automation. Nonetheless, it is a great tool to be used by startups for training purposes and classroom teaching.
Features
Recorded webinars are streamed to YouTube.
Smooth screen sharing and live chat features.
Extensions for Chrome and has browser login enabled.
Many presenters can host the webinar.
The screen sharing feature is available.
Pricing
Google Meet is free to use.
Cons
There is no marketing automation. You need a Gmail account to participate or host.
Zoom
Zoom might have been in the news for privacy compliance, but it is undoubtedly one of the most widely used video conferencing platforms worldwide.
Zoom Video Webinars also has a very modern and intuitive webinar solution that comes with some of the best webinar features. The audience can upvote and like your live Q&A sessions. You can track registrant sources, share screens, and integrate your webinars with marketing tools and CRM.
Zoom has also upped its data privacy and security measures.
Features
You can screen-share, create polls, surveys, and Q&A at events.
Whiteboard and annotation tools during webinar sessions.
Customizable branding and company branding registration pages are available.
Reminder emails.
Live streaming to Facebook and YouTube.
Pricing
Zoom Plans start at $400 per year for 100 attendees and go up to $64,900 for up to 10,000 attendees. Beyond 10,000 attendees, you can get a custom quote from their sales department.
Free Trial
No free trial.
Cons
Requires software download to work.
Microsoft Teams
Microsoft Teams is a free video-conferencing and webinar tool provided by Microsoft. The host would need to have a Microsoft 365 subscription to enable webinar sessions or conferences.
Ideally developed as a team meeting feature, adding external guests to your Microsoft Team event is possible. The external guest is not required to hold a Microsoft account.
Features

Live events recording with up to 10,000 attendees.
Screen sharing and document sharing options.
Moderator controls and waiting room features.
You can have live captions for videos. A live chat feature is also available.
Raise hand feature for better attendee engagement.
Pricing
Microsoft Teams is free to be used.
Cons
Lacks HD streaming and marketing automation tools.
Adobe Connect for Webinars
Adobe Connect for Webinars is a webinar platform designed to accommodate large-scale out-reach.
Adobe Connect offers one-click browser login, different time-zone management for joining events, webinar moderation, among other features.
Features
Brand customization is offered.
Integration with CRM, email automation tools, and other tools available.
Ability to create easily repeatable and accessible webinar solutions for differently-abled persons.
Custom polls and surveys feature.
Pricing
Adobe Connect for Webinars offers custom pricing based on webinar requirements.
Free Trial
There is a 30 day free trial period.
Cons
No straightforward pricing structure. The platform is more suitable for webcasts or webinars with a larger attendee list.
Try Adobe Connect for Webinars
Over to You …
That was my list of top webinar platforms and tools.
What's your favorite platform or tools to conduct such online events and meetings?
Do you have any other tools you'd like to suggest?
You can ask questions in the comments below.