10-Point Blog Post SEO Checklist
SEO isn't only about link building.
It's about giving Google what it wants and helping it understand your content. Directly publishing thousands of blog posts won't help you get more organic search traffic.
Here, I'll share with you a thorough SEO checklist you can use to make sure every time you publish a new post (and update old ones), you are making it easier for Google to understand and rank it.
This will help you check whether you've done all the certain on-page SEO or not.
So, you'll want to bookmark this page for future references.!
Blog Post SEO Checklist
1. Pay Attention to Readability
Is readability a ranking signal?
Yes, probably a more critical factor now when Google has launched the mobile-first index.
Your content's readability directly impacts various other factors such as bounce rate and user time spent, some pretty essential ranking signals.
If your content isn't easy to understand, cluttered with ads, and hard to read, it won't rank.
How clearly your content is written has a direct correlation with a few essential ranking signals, including:
Pogo sticking
User time spent
User retention (how often a user comes back to your site)
The bottom line – devote time to analyze your content to check if it is easy to read or not. You can use an online readability checker to perform readability analysis quickly.
Here's how you can check if your content is easy to read or not:
Go to the Hemingway editor and enter your full content or at least 10 paragraphs to start readability analysis. The editor will soon highlight all the sentences that need a change. Sentences that are highlighted in red will be the hardest to read and will require a replacement promptly.
2. Improve Your Blog's Speed
No one want's to look at a white page only to dream when the content appears.
Speed is an important ranking signal that Google uses to determine which blog will give users the best experience. And for Google
If your blog is loading slowly, then you are losing visitors every day.  It's essential that your blog's loading time is below 2 seconds, or else it may result in lower rankings.
Improving your blog's loading speed will get you higher rankings and better user retention. Follow the guides below to enhance your blog's loading speed:
You can check the current non-optimized areas of your blog using tools like GTmetrix and Pagespeed Insights. If it takes more than 2 seconds to load your page, you need to start optimizing right now.
The main aim is to deliver your static assets as fast as possible, so GZIP/CSS and image compression should help get your blog closer to 1 second load time.
3. Target 1-2 Long Tail Keywords
Target your content to 2 different long-tail keywords at most and optimize it to rank for them. Long-tail keywords are easy to rank and have less competition but may have high search volumes.
You can find amazing results just by targeting long-tail keywords if you are blogging in a crowded niche. Here's how you can find these keywords for your blog posts: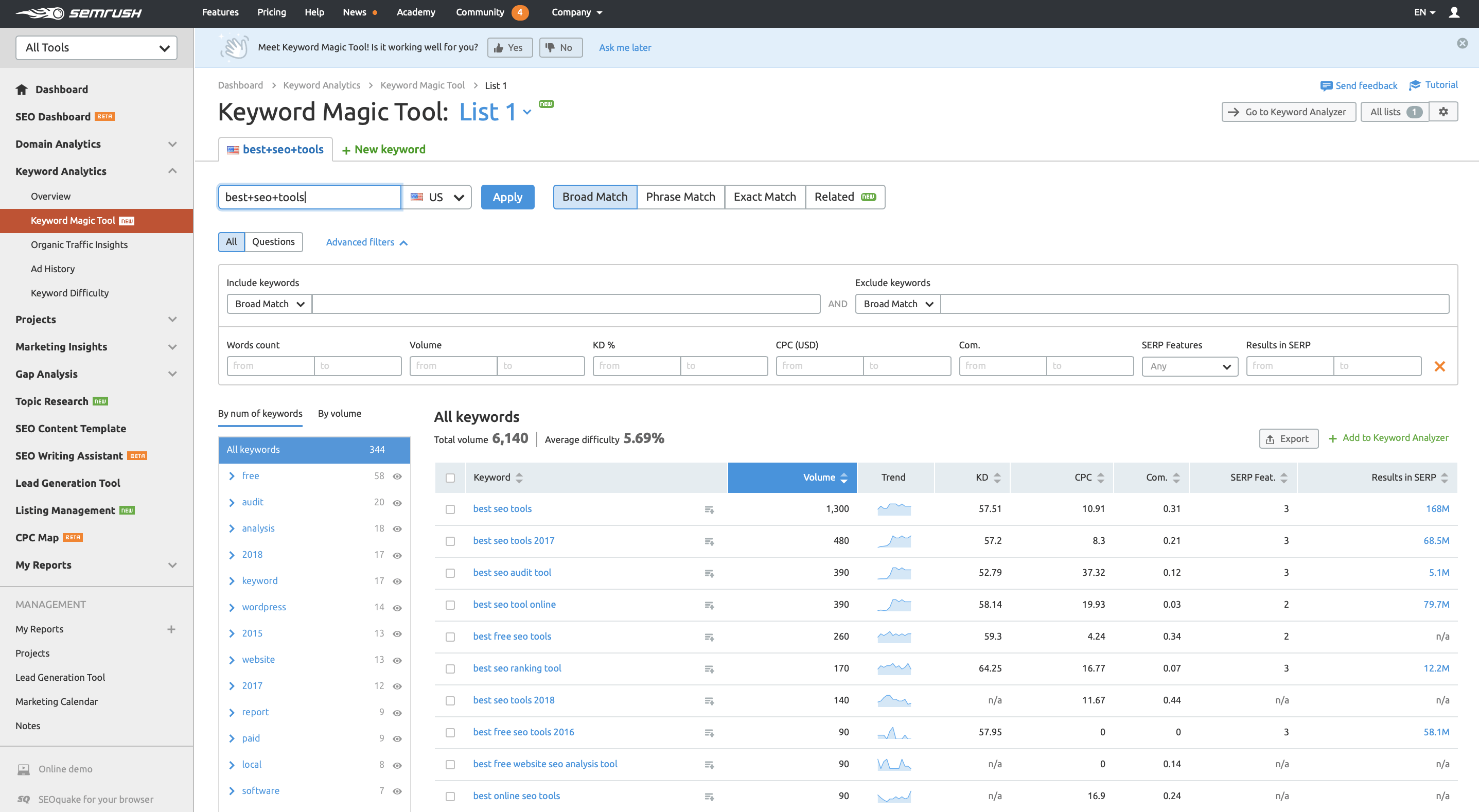 Go to SEMrush's keyword research tool. Enter a primary keyword you want to target, such as "best marketing tools," and SEMrush will give you a list of long-tail keywords you can target.
SEMrush is a powerful SEO tool I use, but you can also use KWfinder for a more simple keyword research tool.
4. And Add LSI Keywords
In the early days of Google, if you'd mention SEO in your content over and over again, Google would think it is all about SEO. Your content would get higher rankings only If you repeatedly mention a keyword enough times in your content.
But that's not the case today.
Google now penalizes sites that practice keyword stuffing. Merely mentioning a keyword a hundred times won't help you anymore.
Google now uses a semantic search algorithm, finding the real context of a page by analyzing LSI keywords.
One of the very best ways to avoid keyword stuffing is adding LSI keywords.
After releasing the Hummingbird update, Google can now understand the correlation between words and user intent, meaning it now analyses words in a copy to find their exact context.
Here are some tools you can use to find LSI keywords:
You can also use Google autocomplete and Google search results to find LSI keywords.
Go to Google search and type in your target keyword. Google will automatically show you the related keywords which are great to add to your content.
5. Add Focus Keyword in a Subheading
Generally, subheadings should be wrapped in H2, following with H3, H4, and so on.
Don't publish your content without subheadings if it is longer than 500 words. Subtitles help dividing content into parts, which makes it super easy to read.
Especially for skimmers, subheadings are an instant attraction that improves the user experience.
A good practice is adding your target keyword to your subheading once, but only if it naturally fits in. I generally try to add the target keyword in either the first subheading or at the end of my blog posts.
It gives a small sign to Google that the content is focused on that topic, which adds to your overall on-page SEO efforts.
6. Optimize Meta Description
SERPs show a title and a description, which is typically a part of your content. If you don't write a meta description, Google will fetch some relevant sections for your content to display in search results.
Meta Descriptions play a massive role in improving your rankings. If you are already ranking on page 1 but don't see any traffic coming in, Meta descriptions could be a cause.
A proper meta description gives search engines and their users a clue about your content. Before the users click on a result, they read the title and the small description to judge which link is better.
Don't skip writing a meta description for your blog posts. A clear, descriptive meta description will get you more clicks. A good practice is to include your target keyword in the meta description once.
You can use the Yoast SEO plugin, which prompts you to set a meta description for each post.
7.  Optimize For Mobile Devices
SEO for mobile devices requires a few extra tweaks. With 58% of all searches starting from mobiles, you need to optimize your blog posts to perform better in mobile searches.
With the new mobile-first index and mobile-friendly update, Google clearly showed us it focuses on mobile users (pretty much more than desktop users).
So the bottom line is – you need to make your pages responsive on mobile devices. An excellent way to start is switching to a mobile-friendly theme, using the mobile cache (found in cache plugins like WP Rocket), and following Google's mobile-friendly test guidelines.
A good thing about WordPress is you can implement AMP pages easily and quickly.
AMP pages are accelerated mobile pages that open extremely fast on mobile devices. You can use AMP for WP to implement AMP on your WordPress blog.
8. Optimize Image Alt Tags
Adding images to your posts can have a significant impact on your SEO. When you compare articles with zero images and posts with at least 1 image, you'll see the one with images rank better.
But simply adding images won't help that much to your SEO efforts. You need to optimize them too.
Google doesn't scan images to understand what the image is all about. Instead, Google uses alt tags.
Alt tags are regular HTML tags with words that describe the image. Here's an example:
The alt tag describes what is inside the image so Google can rank it accordingly. You can automate adding alt tags to images using this tutorial. A good practice is to add your target keywords into your image's alt tags.
9. Add Internal Links & Outbound Links
One of the biggest SEO mistakes you could be making is not adding internal and outbound links. They add value to your content and help search engines and users easily navigate and build a connection between relevant pages.
Adding internal links to relevant pages with excellent anchor text will help that page rank higher.
If you write a blog post on the best social media tools, add a link to another relevant page which talks about social media through it. And always use an anchor text to link content.
Checkout Link Whisper. A phenomenal internal linking plugin that makes it a lot easier to add relevant links to your posts.
Outbound links are links that point to sites other than your domain. Linking to a source from Wikipedia is an example of outbound linking. These links help you build credibility and trust among your readers.
Outbound links do help in SEO, but only when you link out to authority sites. Always try to link out to relevant authority sites from your content.
10. Write CTR Optimized Headline
Click-through rate (CTR) has become one of the most essential parts of SEO in recent times. Google now uses specific user signals, which include CTR as a ranking factor.
If your post is ranking on #3 on Google and your competitor's #1, there's a high chance you can outrank them if more people click on your link in the result.
Optimize your headlines for higher click-throughs.
In fact, one of my review posts started to rank #1 on Google outranking my competitor's position, which has been there for 4 years. Just because my link gets more clicks.
You can use Thrive headline optimizer (The tool I used to do the test above) to A/B test different headlines and track which variation performs better, gets more clicks and engagements.
That's all.
Use this checklist for each blog post you write and try to be as consistent as possible. You can download a detailed PDF eBook of this post by subscribing here.
I would like to know your take and must-dos in the comments.