How to Turn your Blog into Passive Income Sales Funnel
A blog is not a place to publish your thoughts and ideas anymore, it is a business.
Most of you who start a blog want to make a passive income from it, and if you think placing ads is the way you can make passive income, you are wasting your time and energy in the wrong direction.
The Passive Income ModelPassive income is the money that you generate without working for it again and again. That means you work for a limited time, then the money keeps on coming to you, and you reap the benefits of your hard work.
This passive income model shows affiliate marketing with recurring income, and selling your own products via your blog is the best way to make that happen.
A word of caution before we begin: When I say Passive Income, it means you'll make money in non-working hours. Such as while you're sleeping. You know, why? Because you'll be working thrice as hard as others while you're awake. There's no such thing as Passive Income. Don't fall for it. Without true hard work, there is no money to be made.
One of the many ways to generate passive income from your blog is to set up a sales funnel. A sales funnel is the journey of a visitor, which starts from seeing your content, taking action on it to becoming your customer.
Core Stages Of A Blog Sales Funnel
A basic sales funnel consists of 4 stages:
#1 Content Marketing
The first stage is creating content and promote it or simply put – Content marketing.
The funnel starts right from the moment you publish actionable content and promote it. Promote it like it is your best content.
These content are created explicitly for generating leads for a sales funnel.
You want your content to be out there and get noticed by as many people as you can. The more people see, read and share your content, the more you'll get stage-one opportunities.
#2 Incentives
The second stage offers incentives to visitors who will be reading your content. An incentive is something that motivates or tempt your visitors to take action.
In a sales funnel, this call to action is an optin form letting people sign up to your mailing list.
The 3 incentives you use on your blog are
They are important, and without incentives like these, your sales funnel is not complete. It helps to generate leads fast.
#3 Collection & Introduction
The third thing you have to do collect email addresses and immediately introduce yourself to your first-time subscribers.
Start your mailing list if you haven't yet. You need to have an email marketing service for you to collect email addresses and store them in a database.
An email marketing service is also essential to send emails and set up autoresponders. The sales funnel is entirely dependent on an email list.
After a person joins your mailing list, you immediately send them an introduction email. This email should contain a few essential points, such as
Who are you?
What do you do?
How can you help your subscribers?
What should they expect from you?
Why should they trust you?
And be as much as personal as you can. Don't hire anyone to write your introduction emails, do it yourself.
You must send an intro email as well as a few onboarding emails once a week at least, else your subscribers might forget about you.
#4 Nurture & Offer
In the fourth stage, you'll be nurturing your subscribers.
You have to prepare a sequence of actionable autoresponders (more on this in the 3rd point below) in order which will result in the final act.
You don't have to make your initial offer in the first 3 emails, That's what I do, and the results will blow your mind.
Keep nurturing your subscribers for at least 3 days and then introduce your offer.
Show them its use, specialties, talk about why your product is better than your competition, and impress your subscribers. Then immediately make your first pitch.
Click here if you want to learn more about the different stages of a sales funnel.
1. How to Create Content That Attracts New Visitors
While blogging, you are generating leads for your funnel with content marketing.
But, to make your content work and attract new visitors to your blog, you need to make it insanely actionable.
There's lots of content out there. You can't afford to create the same boring content that sucks. You have to do something unique.
That's where funnel optimized content comes in.
I find funnel optimized content has 5 things that make it attract new visitors, fast:
It is insanely actionable
We target it for a specific audience
It is unique from other material out there
We optimize it for search engines and humans
It provides outstanding value and helps accomplish a goal
A 500-word post is nowhere to be found. You have to create epic content that stands out of the crowd.
Usually, pillar articles will help you accomplish that goal. A pillar article is actionable long-form content, covers one topic thoroughly, and helps a reader accomplish a specific purpose.
If you are like 99% of those people who read and understand the verbal meaning, you might have just missed what a pillar article is all about.
If you are the rest 1%, you see that a pillar article helps users achieve a single result at a time, better than anything else. It is so broad on a single topic, a reader won't skip soon.
In short – it is written for one goal accomplishment at a time. And no more than that.
You have to create content just like that. This content is highly effective in driving targeted visitors.
Now I am not a huge fan of publishing content based on word count.
To me, a 2000+ word article written by a naive author filled is worth nothing. Most of the successful content writers I've met have no intention to push their word count past the limit at which they think that they have conveyed their message.
So don't push yourself in the rabbit hole of word count. Be you, but be skilled in the art of copywriting. It is the highest in-demand skill for the next 2 or 3 decades.
2. How To Convert Visitors into Subscribers (Best Practices)
The next part is to convert the visitors into your subscribers.
You have to install powerful lead generation tools that you can use to convert your visitors effectively.
There are many free email capture tools you can choose from.
If you want something more powerful, you should use some of these paid lead generation tools.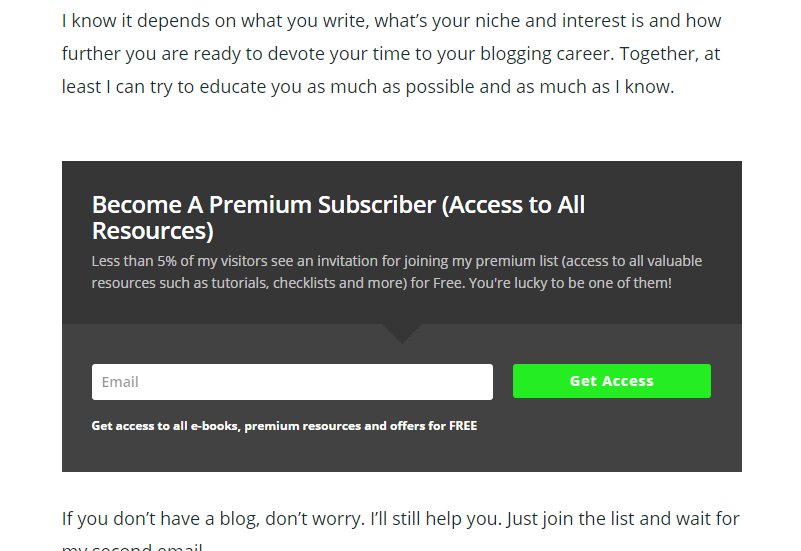 There are powerful WordPress plugins to add optin forms on your website.
My recommendation would be OptinMonster for creating popups and Unbounce for building landing pages.
Once you've chosen your tool, you'll have to prepare an incentive.
By using ethical bribe and lead magnets on your blog, you can get a conversion rate that is multiple the rate you would get without them.
A content upgrade can give you a doubled conversion rate than you would get using an ethical bribe or lead magnet.
However, you should use content upgrades less because that's what makes it better at increasing conversions. Use these smart strategies to convert your visitors into leads.
3. How To Collect New Subscribers' Emails & Introduce Yourself & Your Business
Next, the third stage is what I call the "paramount stage" of sales funnels.
When you start getting email subscribers, you'll have to find a place to store them. You will have to start an email list.
This email list the core of your sale funnel. An email list is a database where you store emails you collect from your optin forms.
The first you should get is an email marketing service.
I recommend you to choose ConvertKit as your email marketing service. It is easy to use, powerful, and cost-effective.
It will help you set up autoresponders, segment your audience, and make visual funnel automation. You can go to ConvertKit and signup for a free account and create your first email list.
Blogging is a great way to build a brand, whether business or personal, and that's what makes a sales funnel much more effective.
The moment someone joins your email list, you should send them an email introducing you and your business.
Here's a template you can use:
Hi,

Welcome to <your blog name> community.

My name is <your name>.

I'm the founder of <your blog name> and from now on I will be your <your business> companion.

I've been in this field from so long that I'm sure I can help you with any problem you may have. Simply reply to this email and I'll get back to you.

Meanwhile, I'm happy to offer you <make your initial offer> because I know it will <your product goal>.

Here's what you're getting:

<bullet list of features, goals and info about your product>

If you've any questions or you need any sort of help, hit reply to this email. I'd be happy to chat with you.

Best,
Your Name
A short introduction with a sales pitch is enough. A general rule of thumb – Be confident while writing your pitch. You can't doubt your own product.
Write headlines that are optimized to maximize the click-through rate.
It worked for me so well that I made 17 referrals for LeadPages in the first 10 days of using this same template.
You should also track your email signups using conversion goals in Google Analytics. This will help you track your progress and set a benchmark.
4. Nurture & Promote Your Product To Your Subscribers
Keep nurturing your subscribers and in-between pitch them with emails that are targeted to product sales.
Your subscribers are real people, not a robot sitting on a computer to click on buy buttons. Your main aim should be to impress them and winning their trust.
Create an autoresponder with emails set to be sent one day after a subscriber joins your list. Each email should go out 1 day after the previous email has been sent.
Your first few emails should allow your visitors to understand your business. Make your emails as much personal as you can.
Ask their problems, understand their expectations, and let them know you. The more you build trust with your subscribers, the better they'll follow your recommendation.
In between these emails, promote your products as a solution to your visitors. Don't force them to buy from you.
Educate them as much as you can and impress them by showing the qualities of your product. Build a strong relationship with them, and you will quickly start making sales.
If you are selling your products or online courses, using checkout software such as Samcart will help you increase your checkout conversion rate. It's important that you use a separate checkout software that gives you ab
Repeat this process, and don't rush with promotional emails. Too much of them and they'll unsubscribe.
If you don't have your own product to promote, you can signup as an affiliate to promote other people's products. Every sale made via your affiliate links will earn you a commission.
Repetition of Pitch
Once you start making sales, you can repeat this same structure for every possible product you come up with.
If for some reason, your first attempt fails, it doesn't mean your funnel failed.
It is just that your pitch was not successful; that's a part of the funnel too.
Reaccess your offer, re-write your pictures and start again.
Again a not-so-passive strategy is to jeep split testing multiple headlines and CTAs. This way you'll understand what tonality, offers, and sales pitch converts most of your audience.
Wrapping Up
Congratulations – You've your sales funnel up and running.
You don't have to hire a team or spend hours creating a sales funnel that works.
From here, your list audience will keep on growing, and you'll earn passive income, even while you sleep. Keep on generating valuable content and improve your sales pitch over time to further scale your business.
It is not a one-time setup, and you have to make sure you keep adding more value for the subscribers. Don't set and forget the content part, it needs to be updated regularly. The rest of the process is fully automated.
Most of the time, you'll have to wait for at least a week or two before you start seeing any result. But that's the part of any long-term and high-revenue generating business model.
What did you accomplish with this, and what you expect your blog sales funnel will do?