It may happen that you're going through writer's block.
Or maybe, you just ran out of new ideas cause nothing special and new is happening in your niche.
Either way, you are not alone. A lot of bloggers who start a new blog find themselves out of content ideas in a few short months.
But guess what?
It's damn easy to come up with fresh topics.
A few superb tools over the web generate headlines, new topic titles, and questions out of the keyword or phrase you enter.
Below listed are some of the very useful tools to discover new blog post ideas and topics.
AnswerThePublic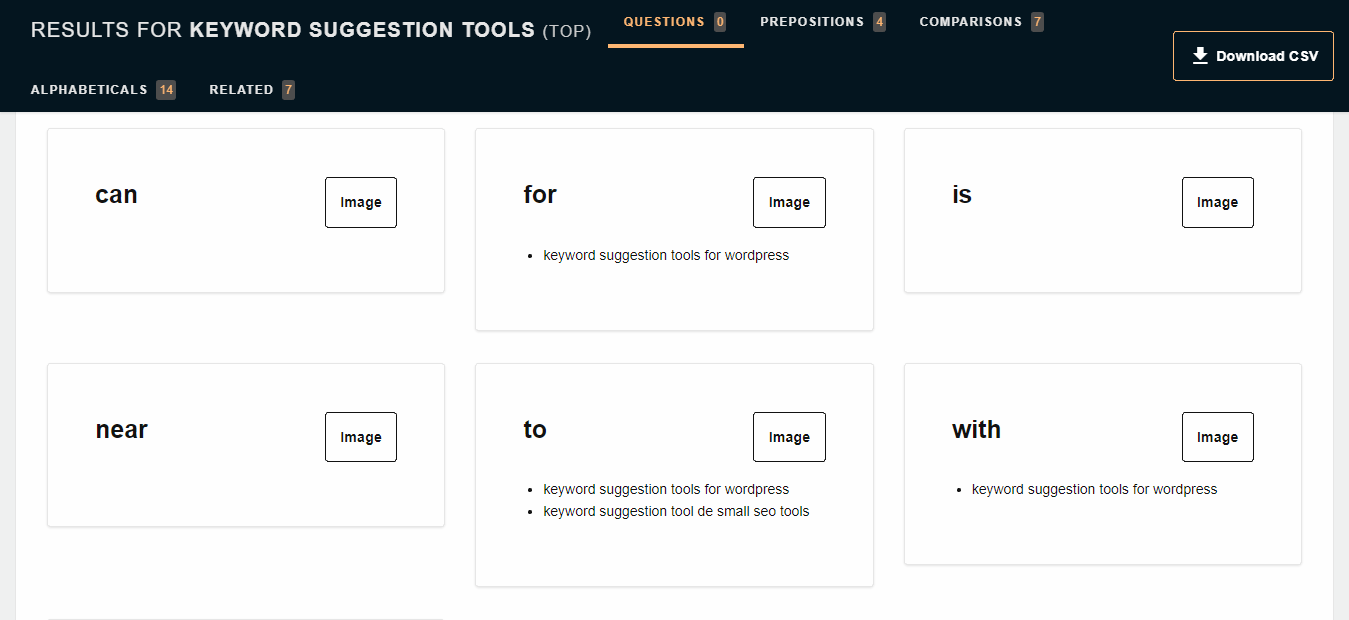 This is one of the best topic suggestion tools I have ever used.
A little secret here,
The idea of writing this post came from the AnswerThePublic itself!
The AnswerThePublic tool is a different topic & content idea suggestion tool. Here you won't find any usual report you see in a standard keyword research tool.
This tool works on a simple rule. Enter a keyword, and it will suggest more than 100s of new blog post ideas in the form of questions and phrases related to most search queries on Google worldwide.
It's free and straightforward to use. Once you start usingAnswerThePublic, You will never go out of content ideas for new blog posts.
Keep in mind, Answer the Public will show you the most relevant questions to the topic you enter, such as "how-to," "can," "do," etc. You can download the visual data in the image format. You can download the suggestions as CSV as well.
The correct way to utilize its full potential is to use a keyword research tool (like the ones later in this post) that shows the search volume and CPC data along with it.
Blog Title Generator from SEOPressor
I use this tool quite regularly. Title generator by SEOPressor (One of the SEO plugins) has hundreds of title ideas and combinations ready to be used. You can put some of the keywords you like, and SEOPressor will show you the available content ideas in the form of headlines.
They have recently updated their tool, and it's way much better than the previous version.
Here's how it works:
You enter a keyword and select a select the nature of the topic if it is a generic term, brand name, event, and so on.
The tool shows you more than a 1k blog post headline ideas.
When you are out of ideas, use a keyword research tool to find a long-tail keyword, then use the seed keyword in the blog headline generator to come up with hundreds of new post ideas, and you can use this tool before writing any of your posts to write better headlines.
Go to the idea generator from SEOPressor.
Portent's Content Idea Generator
Portent's content idea generator is an exceptional tool. Not only was this one of the first tools to create meaningful headlines, It purely focuses on giving you more vast ideas for new topics.
Portent's tool analyses your topic and combines it with other powerful and situation-based words. This helps you to get more catchy headlines that are conversion-focused.
Here's how it works:
You enter a keyword, and that's it. The ideas show up. You can keep on refreshing the page to get new combinations.
Go to portent's idea generator.
BlogAbout
BlogAbout is a very interactive tool that lets you play with ideas, and it gives you new topics to write about.  It comes with a notebook where you can save multiple headlines and sentences for future access and reference.
BlogAbout is a tool created by Impactbnd for bloggers, and I use it to quickly get new ideas. The outcome headlines are broken into parts, and 2-3 words are editable. You can change the subject, noun, verb, and others to make your own unique headline.
Once you have made plenty of them, save them in your notebook, and BlogAbout will send all of them to your Email.
Here's how it works:
You enter a keyword in the BlogAbout tool.
It shows you editable headlines and content ideas. It's that simple.
It's one of the most user-friendly tools I've used.
HubSpot's Blog Idea Generator
HubSpot's idea generator lets you add three different nouns, and based on those three nouns, it shows you the topics you can write about to get better conversion and traffic.
On each refresh, The HubSpot idea generator gives you 5 different topics to write about. They would also send you a complete list of more than hundreds of content ideas email.
Here's how it works:
You fill up the 3 slots of nouns or keywords. (You can also enter only one or two)
Boom! 5 results with current topics are shown.
Go to HubSpot's Blog Idea Generator
Kickass Headline Generator by SumoMe
Kickass Headline Generator by SumoMe is simple to use a tool you can use to generate up to 5 headlines related to any topic you choose. This is based on a post where Sarah Peterson shares some great headline formula for high conversions.
Here's how Kickass headline generator works:
You choose from one of the 6 kinds of content headline ideas.
The tool shows you available topic ideas. Here, you can change the keywords in the blanks as you like. You can change the topic, desire, time, and other options to see which combination suits you.
In a few combinations, you will get the ideas of new posts and headlines.
Although few of these tools are primarily headline generators, you can use them anytime you run out of ideas. They work the best as I've experienced so far.
Try Kickass headline generator.
In this competitive age, you can't rely on random content for getting more search engine traffic. You should be thoughtful enough to prepare a plan in advance on what keywords you want your blog posts to rank for.
No SEO can rely on content creation without keyword research. The content SEO starts from topic research itself.
The moment you start you using a keyword research tool effectively, you will start noticing a vast improvement in organic traffic. It may be slow, but eventually, Google will steadily send you its precious traffic.
Keyword research isn't dead. I don't see it going anywhere soon. You should be smart enough to understand how organic traffic comes to any blog.
You target a trending and high-bid keyword on PPC, create a piece of content, do proper SEO, build links to it, and get loads of organic, free traffic from Google.
No matter how informative and valuable an article you write, you won't get any organic traffic if no one's searching for it.
That's why I repeatedly recommend scheduling a time slot for doing keyword research. It's necessary and vital. Once you make a habit of doing this, New post ideas will keep on coming without bars.
Below are some of the best keyword research tools you can pair up with the topic research tools above.
Ubersuggest
Use this tool to find new keywords and CPC data. UberSuggest is an extremely easy-to-use SEO tool that shows you the best available related keyword and suggestions relevant to the phrase or word you search for.
UberSuggest also shows you the –
CPC of a keyword
Related Long-tail Keywords
Keyword Difficulty
Competitive Data
And more.
UberSuggest is the perfect and quick way to find new long-tail keywords, Content Ideas, and related data for new posts.
SEMrush's Keyword Magic Tool
SEMrush is a full-fledged SEO tool that comes with many powerful features and tools, all in one place.
SEMrush, apart from its site audit and competition analysis tool, also comes with an exceptional keyword research tool named "Keyword Magic."
You can find correlating and high CPC keywords for any seed keyword you enter with the keyword magic tool. Using it is simple: You enter a primary keyword, and SEMrush shows you related, most search long tail and easy to rank keywords and phrases.
Along with long tail and correlating keywords for a seed keyword, the keyword magic tool also shows you:-
SERP competitors
LSI keywords
PPC, Search volume, SEO Difficulty
Expression & Feeling related questions (with the seed keyword)
and more.
If you want a powerful tool that goes beyond keyword research and blog post idea generation, SEMrush is for you.
Try SEMrush (Free Trial Included)
LongTailPro
LongTailPro is the best keyword research tool for digital marketers. LongTailPro shows you the best keywords available for a particular query or question as the name says itself.
A few weeks back, I started using this tool, and I am highly impressed with the backend and frontend both. The results are easy to go through, and LSI graphs are shown the right way.
LongTailPro is a must-have tool for any SEO or online marketer. Performing keyword research with this tool is an easy task.
Get 7-day trial plus 30% extra discount, Try LongTailPro>>
KWFinder
KWFinder is a freemium tool with premium features.
KWFinder is a keyword research tool that comes from Mangools SEO media. This tool should be your one-stop-shop if you don't do well with those overwhelming dashboards for techies.
Unlike SEMrush, Ubersuggest, or Answer The Public,  The KWFinder is much more straightforward and user-friendly. You enter a keyword, and a screen like this with full data is shown:-
The best part, This tool is free for up to 5 searches a day. KWFinder shows you:-
New content titles
Competition ranking for the same keyword on SERPs
Suggestions for long-tail keywords
Questions searched on Google.
Keyword Difficulty
Search volume, CPC, and PPC
Narrow "Local Keyword" Analysis
You can use KWfinder for your day-to-day queries. Here's a pro tip –
"Find the high volume long-tail keywords with KWFinder, Then search the same seed keyword in Answer The Public. This will give you the number of new ideas for your future blog posts."
SERPstat
SERPstat, a very close competition to SEMrush, is a feature that reaches a keyword planner and research tool with an innovative dashboard and super user-friendly interference.
The best feature of the SERPstat keyword research tool is "missing keyword analysis" This a part of its insights tool, which comes with every plan. I use this to analyze my competitors every week. Here's how it works:-
Open the SERPstat keyword overview tool.
You enter a root domain, Keyword, or URL
The keyword data is shown along with several custom views, including tree distribution, suggestive answers, LSI, and missing keywords.
With SERPstat, you can also monitor the keywords you want to rank for, along with many additional features, which makes SERPstat a complete SEO toolbox.
Topic research is the first step, the next is-
Whenever you are running out of new posts, new topics to write about on your blog, do keyword research and along with that, check out other blogs in your niche, Popular forum threads to know more about what people are asking for.
Choose LongTailPro if you are a beginner and unfamiliar with the Competitive side of content planning. LongTailPro has a set of tutorial videos to help you guide through the whole procedure.
Choose KWFinder if you want to have a free tool that helps you out with teaching the basics. This tool has the most beginner-friendly dashboard I have ever seen.
If you want to have a robust tool that helps you go beyond keyword research, use SEMrush.
Every tool in this list is ideal for every niche. No matter if you are a small blogger or a product website, you can use these tools to perform an in-depth keyword analysis every time you plan to write a new post.
Targeting long-tail keywords is a good practice but make sure you are using the LSI keywords as well. Make a routine of doing topic research regularly and stick to it.
In the end, it is all about content. Your content should have a focus keyword for sure, but that doesn't mean you forget about its quality and readability while doing so.
Share your favorite tool in the comments section below and tell us about any other tool you would like us to know about.
Do remember to share this post on your favorite social media.