TikTok and Instagram's popularity has made necessary the emergence of the "link in bio" phenomenon.
Today, in this post, we'll review two of the most famous tools to do so: Carrd and Linktree.
We'll talk about its features, see how they work, and decide which one is best.
Carrd vs Linktree
Carrd is a landing page builder for those that want to create a one-site page. It was created by AJ, a developer that doesn't want to display its full name. It started as a side project meant to challenge its skills and evolved into what's today.
Carrd is now a multipurpose tool that lets you set up bio link pages, collect email addresses for your business, promote your products, or even showcase your portfolio.
Linktree is the Instagram and TikTok tool by far. There's no way you haven't seen it yet: more than 25 million people around the world use it. Selena Gomez is one of them!
Unlike Carrd, Linktree focuses purely on displaying links in your social media bio. So it's less a site and more a place to gather all your links.
Custom domains
Since it works like a website builder, Carrd offers to publish sites to any custom domains you own with full SSL support via Let's Encrypt.
Linktree, on the other hand, always keeps its own domain. What changes is the logo, which you can remove on premium plans.
Integrations
Linktree has 38 integrations with different types of apps. You can collect tips, share your latest music on Spotify, showcase NFTs, promote books and so much more. It also integrates with Zapier and Facebook pixel.
Carrd lets you embed your own custom code and widgets from third-party services like Stripe, PayPal, Gumroad, and Typeform.
Customization
Carrd provides much more customization in the free plan than Linktree. They give you the option to upload an image or alter the background color of the entire page if you want to. You can also change the individual color and font of each individual element.
Linktree, on the other hand, only lets you select the theme in the free version. On the premium plans, you can customize your buttons' colors, select a new typeface, upload a unique background, and more.
Templates
Carrd has dozen of templates to choose from, both free and premium. They vary according to your needs and you'll find some for talking about your products, others for showcasing your photos and, of course, a profile page theme.
But you can also start with a blank canvas! This option is not available on Linktree.
For designers, Carrd has a Seller Program thanks to which they can sell templates and earn 70% on each sale.
Linktree offers a lot of templates, however, most are premium.
Forms
Carrd integrates with plenty of form tools such as ActiveCampaign, Beehiiv, and Mailchimp. And if the only reason you want a site is to collect emails, keep in mind some of their designs are built entirely around forms.
Linktree doesn't have the option to display a form but you can always add its link.
Analytics
With Carrd you can add an optional Google Analytics tracking ID to each of your sites to track and report traffic.
Linktree also integrates with Google Analytics, however, it also has free built-in analytics that includes data regarding mailing list integrations, social icons, subscribers and more. So even without Google, you still have data.
Other features
Carrd has advanced options to improve your load time. For example, you can defer or use lazy loading when necessary. Premium plans also let you optimize images when necessary and change update frequency to tune caching.
They also have collaboration features so you can share editing access to your site with other users.
A variant of this is the transfer feature, where you transfer ownership of a site to another user. However, once transferred, this site will no longer be accessible to your Carrd account.
Both Carrd and Linktree require you to have a premium account to give other users access to manage it.
Customer support and resources
Carrd has official documentation with answers and instructions for the most common questions and tasks. Their page builder also has useful instructions to get you going.
And for support, you can fill out a form to get in touch with them, they usually reply within 24 hours.
Linktree has a whole blog with articles of all sorts. And besides a Help Center, you can contact them via chat.
Pricing
Carrd has 4 plans and a 7-day free trial for their top Pro features.
Free. Build and publish 3 sites. Includes the "Made with Carrd" branding.
Pro lite: $9 per year. Publish 10 sites. Add custom meta tags to each of your sites.
Pro Standard: $19 per year. Includes custom domains and advanced forms. Publish 25 sites. You can use it for free for 7 days, no credit card required.
Pro Plus: $49 per year. Includes password protection and advanced settings like customs styles.
Linktree also has 4 plans:
Free. Unlimited links and monetization options.
Starter: $5 per month. Unlock customization features and analytics.
Pro: $9 per month. Allow multiple admins to manage one Linktree.
Premium: $24 per month. Get access to a Customer Success Manager.
Using Carrd
Carrd doesn't require you to choose a plan or even have an account to get you started.
The first thing you do with Carrd is choosing a template. As you can see, they divide them into categories so you can find them more easily. Each of the templates has a demo in case you want to have a closer look.
Although Carrd only offers one-page sites, their Sectioned designs simulate multiple pages using section breaks.
Then you'll be taken to the builder, where you can start doing your thing. Customizing the template is extremely easy and fun. Carrd offers tons of options.
For example, here I clicked on an image and I can animate it in very different ways. I can determine how it will perform when it has hovered: if it's colorized, lightened, shrink, zoomed in or zoomed out, or anything.
Then Carrd makes sure each of the elements on the page are optimized for mobile. This is done automatically but you can also do it manually, changing the margins, letter spacing and other details just as you like.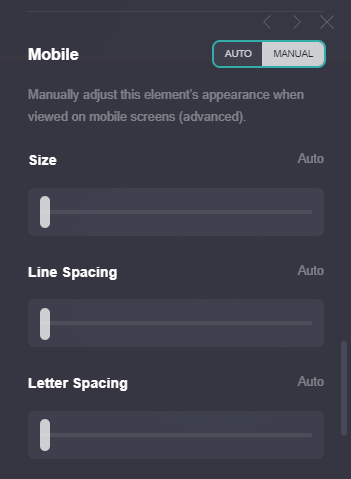 The background can be an image, a video, a slideshow, a color or a gradient. It accepts any file format of up to 2MB.
You can always add more icons, buttons or even a timer.
Finally, to save it or publish it, you'll need to register and add a title and description to the site. If you select a premium plan, you'll also have the choice to save it as a template.
Once you have your account, you'll access the dashboard where you can create more sites. And you can also download your site's unminified HTML, CSS, and JS source code for backup purposes or hosting off the Carrd platform.
Using Linktree
Linktree does require you to sign up before creating your page. In fact, Linktree asks you for more information than Carrd so they can offer you a more personalized experience.
Using Linktree is much more straightforward than Carrd. Firstly, their initial theme's library is much smaller.
You also don't have to work with a builder, you simply give Linktree the basics and it will create the page for you. All while having a preview of it.
Later on, when you arrive at the dashboard, you'll see the Appearance tab where you can make more specific changes to your site. There're premium templates and backgrounds and you can also choose the type of button and font you want.
On the dashboard, you'll also access analytics, Linktree's updates and more.
Carrd Pros and Cons
Pros
More free templates and customization options.
Includes forms.
Speed optimization features.
Cons
Not super straightforward.
Linktree Pros and Cons
Pros
Plenty of integrations.
Accessible pricing.
Built-in analytics.
Cons
Social Good
Besides all the things these tools can offer you, it's interesting to know where they stand in terms of social commitment!
Linktree commits 1% of all revenue to support social good causes and initiatives. They have helped 2,500 charities get free Linktree PRO accounts.
They are also offsetting their CO2 emissions via their portfolio of climate credit projects and have achieved carbon neutrality!
Verdict
Carrd and Linktree are really cool tools to solve the "link in bio" issue. They also both have free plans so they are accessible to anyone.
However, as you could see, they are very different and you might prefer one over the other according to your needs.
If you're in a hurry and just want your followers to access all your social profiles really easily, then Linktree is the best tool for you.
But if you're looking for a place to talk a bit about yourself or want a mini landing page to collect emails, go with Carrd.
Whatever you chose, tell us how that went!
We'd love to read about it in the comments.