ClickUp Review: Best Team/Task Management Tool?
ClickUp is a cloud-based tool that facilitates project management, goal tracking, seamless collaboration, communication, and task management amongst teams and employees.
Are you tired of using numerous apps and platforms for task management, documentation, goal setting, communication, creating reminders, and managing to-do lists?
If you said yes, then you'll be glad to know that ClickUp an all-in-one productivity app that helps you manage all these chores from one platform.
Since you'll be able to manage everything from one place, you'll save plenty of time, money, effort, and other resources. Even ClickUp aims at helping users save a day every week.
Without further ado, let's analyze ClickUp and see if it's worth replacing all other apps that you are using right now.
Here's a detailed ClickUp review for you. Read on to know more.
What is ClickUp? – A Quick Introduction
A few weeks ago, my friend introduced me to the ClickUp app, addressing it as "one of the best productivity apps available right now". I was intrigued.
I researched about ClickUp on the web and decided to try it out. And after using it for a while, I want to reveal that I'm switching to ClickUp. Why you may ask?
Because it's super easy, insanely organized, and eliminates the need to use multiple apps to manage your workspace.
ClickUp is a unique one-stop solution for all your needs like:
Project management
Collaboration and communication
Documentation
Goal tracking
Reminders and follow-ups
Screen recording
Dashboards and reporting
Time management
Resource management
Third-party app integrations
Now let me show you why ClickUp deserves your attention. And I should warn you that most probably, after reading this review, you'll switch over to ClickUp, ditching all other apps you have been using till now.
ClickUp Review – Complete Analysis
When you sign up for the first time, the app will configure the interface as per your suggestions. Once you approve all requests, you'll arrive at the dashboard where a welcome video takes you through the app features.
After this, there are a few steps that'll help you get started with the ClickUp app. These give you an overview of the way ClickUp works and how you can take maximum advantage of it.
About the Workspace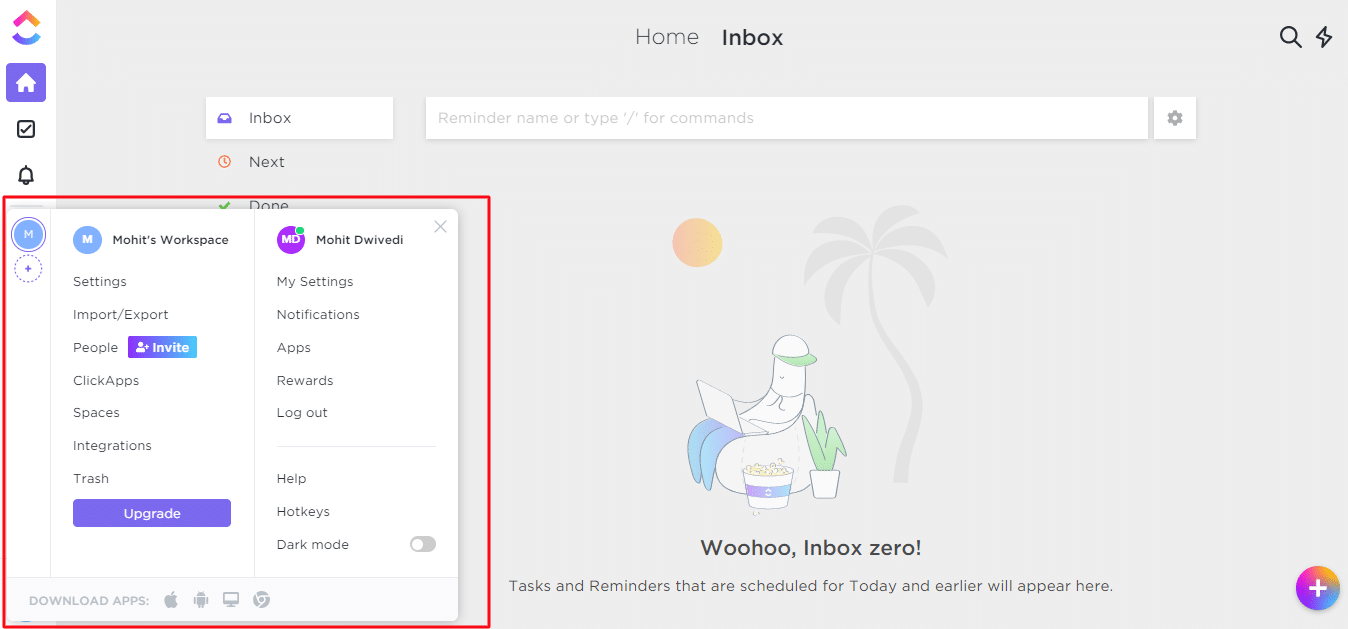 When you first register on ClickUp, the app will automatically create a Workspace. For example, when I signed up on the app, it created Mohit's Workspace.
You can create more workspaces as per your requirements. We'll have a look at these later in the article.
For the time being, let us explore ClickUp features in the order they appear, starting from the first one – the Home page.
The Home screen is the central area in the ClickUp. It provides quick access to every section or tool available in the app. From here, you can have a bird-eye view of all activities in progress.
It's suitable for a user – mostly a manager – to keep a track of all the activities to complete a project in time.
You can view, access, and manage Agenda, Lists, Dashboards, Docs, My Tasks, and Comments from the Dashboard.
It's interesting to note how ClickUp keeps you on toes by providing every bit of information just a click away.
I mean you can effortlessly collaborate with your team members, manage collateral, and communicate with everyone to accomplish tasks and goals before the deadline.
Moving further, on the Home page, you can access the Inbox section as well (check out the above screenshot). Here, you'll find all types of notifications for tasks and reminders in your workspace.
For example, you can check out notifications related to tasks due today, completed, unscheduled, and delegated.
So if you keep on checking the inbox regularly, there's no scope of missing a deadline or default on a task (provided you've created it on ClickUp).
ClickUp Tasks Management
This is the most interesting section of the ClickUp project management app. Most of the action happens here. Let us understand how it works and whether it's worth trying or not.
The following screenshot shows the hierarchical model followed by ClickUp:
Workspace > Space > Folders or Lists > Tasks
Let me breakdown this for you in the form of an example.
Workspace – ABC Constructions (your company)
Spaces – Human Resource, Logistics, Vendor Management, Raw Material, Construction Management (different departments)
Folders or Lists – Construction Site 1, Construction Site 2, Construction Site 3 (folders or lists under Construction Management)
Tasks – Build the wall, install doorframes, unload bricks and cement sacks, etc. (tasks created under any of the lists related to Construction Sites)
This is just an example to show how ClickUp facilitates the creation and organization of hierarchy from top to bottom. You can design your workspace hierarchy as per your convenience and requirements.
Once you become familiar with how ClickUp operates, you'll be able to organize your workflow into spaces, folders, lists, and tasks.
Now let us explore each segment one-by-one.
ClickUp Workspaces
The workspace, as the name depicts, represents your company's online office space where all collaboration, communication, and facilitation happens.
For example, if you own a construction company named ABC Constructions, you can create a workspace in the name of the firm.
Under this, you can create multiple Spaces (departments), Folder or Lists, and Tasks.
Now you can create multiple workspaces in ClickUp, but keep in mind that information transfer is not possible between workspaces.
So it's like a closed network wherein you can create workflows, add people, and manage permissions, but cannot share anything with other networks.
Create Custom Spaces
The next level in the workflow is ClickUp Space. In a Workspace, you can have multiple Spaces that may represent departments, subsidiaries, or any other division in your organization.
On the left panel, you manage all the Spaces, whether it's adding new ones, deleting or renaming existing ones, changing avatars, creating duplicates, saving templates, etc.
On the right side, you can view all the tasks listed under a Space. Here, you can change the view, selecting any of the various options available under Task Views and Page Views.
For example, here List and Board views are enabled under Task Views and Chat View enabled under Page Views.
Under Task Views, you can manage all the tasks in a Space, and under Page Views, you can manage all other aspects like chats, docs, embeds, etc.
As we can see, ClickUp Space is about creating divisions in your organizations. Moving further, you'll arrive at the next level – Folders and Lists.
Typing "K" lets you instantly switch to different Spaces, Folders, and Lists. It lets you jump anywhere you need in a flash!
Create Folders and Lists
Here you can create Folders and Lists in a Space. It's a way of organizing your departments and allocating work into defined segments.
For example, in the above screenshot, you can see Task Management is a folder, and under it, there are three lists – Action items, Ideas, and Backlog.
Now you can create both folders and lists. Inside folders, you can create lists, but you cannot create folders under lists. It means that folders are above lists in the hierarchy.
So, for example, you can create a folder named Marketing, and under it, you can create lists like –  Inbound Marketing, Facebook Marketing, Email Marketing, Guest Blogging, etc.
The right side panel is similar to the one you see in the Space section. Here you can organize the Views as per your requirements, selecting available options in the Task Views and Page Views.
Whatever you see on the screen is restricted to the Folder or the List level. Although you can manage tasks here, you'll have to move further down to the Task level to manage every aspect of an individual task.
Create Lists of Tasks
Finally, you'll arrive at the Lists level, where tasks are categorized into lists. Here, you have complete control over tasks, right from creation to completion.
Some of the task's attributes that you can manage are:
Fields – The ones visible in front of a task, like an assignee, progress, due date, department, status, etc.
Subtasks – Create subtasks under a task if needed.
View Settings – Manage how you want tasks and subtasks to appear on the page.
Views – Lastly, switch to a particular view that suits your purpose. Select from options like List, Board, Workload, Timeline, Gantt chart, Box, Calendar, etc.
To add a new task, simply click on the "+ NEW TASK" icon and feed the details like name, description, comments, assignees, etc.
To edit a task or engage with collaborators, simply click on the task. A floating window appears on the screen.
Here, you can manage all the attributes, documents, and attachments on the left side. On the right side, you can engage with the assignees, leave comments, and track the progress in detail.
Key Takeaway: With so many customization options available in ClickUp, it's a breeze to manage all tasks with utmost efficiency.
Since ClickUp emphasizes a hierarchical model, it's easy to categorize tasks, assign roles and responsibilities, analyze important attributes, and ensure successful project completion.
Now a lot of factors influence the productivity of an organization or an individual, besides efficient task management. ClickUp, with its suite of tools, ensures your productivity remains at its peak. Lets us see how.
Quick Access Notifications
Here you'll be notified about every update on ClickUp, right from tasks to goals to mentions to changes, and so on. You can manage notifications and mark them as "Cleared".
Don't confuse Notifications with the Inbox feature. The former keeps you updated about everything happening on ClickUp, whereas the latter provides updates related to tasks and reminders.
To alter notification settings, you can visit the Settings section. Here you can manage every aspect related to the notifications. The changes will only reflect for a particular workspace. This is because every workspace functions independently.
The whole point behind emphasizing so much on Notifications is ensuring you don't miss out on any details related to tasks, reminders, and goals. It plays a major role in facilitating communication and collaboration.
ClickUp Dashboards
Productivity is defined in terms of performance, and Dashboards in ClickUp lets you keep a tab on performance so that you function at your peak.
A Dashboard is an interactive, simplified, and engaging way of analyzing various parameters related to the overall workflow, whether its tasks, schedule, or goals.
It's a collection of widgets, where each widget contains information related to a particular segment. For example, the task list displays all tasks allocated under Spaces and/or Folders.
You can display multiple widgets on the Dashboard. To add a widget, simply click on the "+ Add Widget" visible on the top-right part of the page.
There's a provision in ClickUp to create multiple dashboards, based on your requirements. You can also keep dashboards private or make them public by adding people and giving them permissions.
ClickUp Docs
Creating documents in MS Word and Google Docs, and then uploading them to task management apps; it's a hassle because it becomes difficult to manage and keep a check on progress.
ClickUp resolves this issue by providing an in-built documentation tool called Docs. You can create documents, categorize them, share and assign to the team members, and much more.
It also ensures privacy because you are creating and managing docs inside ClickUp. Hence, it's a perfect solution for creating private docs like a knowledge base and standard operating procedures (SOPs).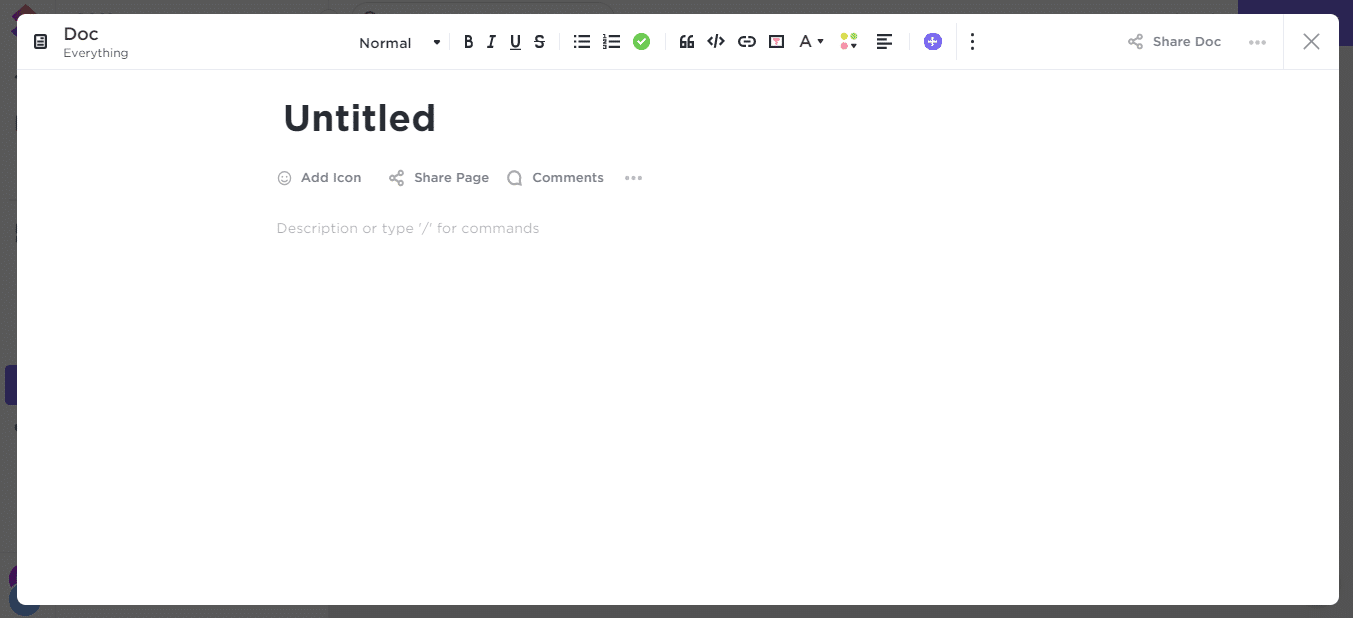 The Docs editor is equipped with necessary editing options to develop a document complete in all aspects. It may not be on par with MS Word or Google Docs, but it serves the purpose.
Generate shareable links, set permissions, attach files, import/export, add icons, enable comments, and much more; there's a lot to do on ClickUp Docs.
ClickUp Goals
Whatever you do, it's done to fulfill a purpose. So it's important to set realistic goals and achieve them by creating a structured workflow and implementing tasks as per the plan.
And to accomplish all these together, you can use ClickUp that also lets you set milestones with its Goals feature.
It's really easy to create goals in ClickUp. You just need to provide basic details like name, description, owner, date, etc. Further, you can set multiple targets that'll help you accomplish your goal.
Once goals and targets are in place, you can create tasks and pursue them to inch towards your goals. When you complete tasks on time, you'll witness a growth in the progress circle.
If you have multiple goals to achieve in a particular space, let's say your personal life, create a folder to group your personal goals.
ClickUp Goals is an important feature that helps you remain motivated and pushes you to strive hard to achieve your goals. You may take time to get familiar with the Goals feature, but once you are, it'll turn out to be a game-changer for you in both professional as well as personal spaces.
Help & Support
Next comes the ClickUp Help section. Now I must say that this is one of the most extensive help & support sections I've come across recently while reviewing productivity tools.
If you're new to ClickUp, there's a set of onboarding videos that'll help you get familiar with the tool and its functionality. Further, you can watch videos, access docs/FAQs, and check out the demonstration.
The most interesting part, though, is the webinar section. ClickUp has numerous webinars – streamed and lined up – for different types of businesses and departments.
For example, if you are a freelancer, you can attend their webinar on ClickUp for Freelancers to know how to use ClickUp for your job.
The Support section lets you connect with the ClickUp representatives for various reasons, such as availing help, requesting a feature that should be in the app, or submitting a bug.
As you can see, ClickUp pays attention to what their customers have to say. It means you can expect new features in the app now and then, aimed at solving genuine problems faced by users like you.
Portfolios
ClickUp Portfolios is a feature that lets you create a collection of lists that holds immense importance or needs to be prioritized at the moment.
The feature is helpful if you have too many folders, lists, and tasks to manage. Since it's really difficult to keep track of everything, you can utilize the Portfolios feature to curate a collection of important lists that needs your immediate attention.
Fairly easy to implement; simply name the portfolio, assign lists, and finalize privacy settings before launching it.
The lists appear in the same fashion as they appear elsewhere, like in the Tasks section. Just click on the list visible in a portfolio to view details in a new tab.
Productivity, Task & Goal Reporting
Similar to the ClickUp Dashboards, the Reporting feature provides you insights into your performance and productivity. And this is the reason it'll be soon replaced by the Dashboards, once and for all.
Here you can keep a track of all spaces, lists, and tasks, whether completed or being worked on. You can analyze all calculations pertaining to time management. Further, you can add custom fields as per your requirements.
The most interesting aspect is the Workspace Points, a kind of gamification to spice things up and increase engagement.
ClickUp Rainbow "Add" Button
Finally, the ever-present Rainbow button that appears on every page lets you create a new task, doc, reminder, open notepad, and record a clip.
Basically, it provides quick access to the most accessed tools in the ClickUp app. For example, if you want to take some notes, you can open the notepad.
Or if you want to record a video and share it with your colleagues, you can use the clip tool to start screen recording.
Asana vs. ClickUp: Which one to use?
Okay, this is a tough one. There are various similarities between Asana and ClickUp, but some major differences as well.
Asana is an established task management tool, trusted by thousands of organizations of all sizes. It helps you with project management, communication, portfolios, and goal setting.
ClickUp, on the other hand, is a comprehensive tool that covers all Asana features. Besides, it helps you with document creation, time management, screen recording, to-do lists, dashboards, and more.
Both apps facilitate third-party tool integrations. However, ClickUp goes a step ahead and imports data from most productivity apps, including Asana.
Excellent support, seamless communication, and effortless collaboration are the highlights of both the apps.
So if you are solely concerned about task management and collaboration, you can opt for Asana. However, if you are looking for a comprehensive tool that also provides features available in Asana, you should definitely use ClickUp.
Both have an easy to use and responsive Andriod and iOS app too. But ClickUp's smartphone app is better in terms of UI and speed.
Why should you use ClickUp?
If you're juggling between multiple apps to manage tasks, to-do lists, goals, docs and sheets, and other things, you can consider ClickUp that provides you a one-stop solution for all your professional needs.
Since it facilitates easy third-party app integrations and seamless data import from apps like Asana, Todoist, Trello, and others, switching over to ClickUp won't be a major issue.
Pricing also favors the selection of the Clickup productivity app. The free plan is feasible for beginners and freelancers. The paid plan is available at a mere price of $5 per user per month if you pay annually.
Pro tip: use coupon code BforBloggers to save 15% on ClickUp for your first year.
So are you adopting ClickUp soon or do you still have questions that remain unanswered? If yes, tell me in the comments. I'll revert.