Coschedule Review – Pros n Cons
As a startup founder, I am always on the lookout for tools that will help boost productivity.
I have used many tools and discarded a good amount of them. I still had to juggle between Slack, our custom CRM, at least 3 spreadsheets, Google Keep, and a notepad and pen to be at the top of everything.
Not to mention the multiple emails meant for sales, support etc.  But that was until I stumbled upon Coschedule.
Why Coschedule…….because Productivity Matters
Before I delve on how CoSchedule has simplified my life and boosted my productivity, I want to put a disclaimer – CoSchedule is not your run-of-the-mill marketing toolset that promises to obliterate the need of every other tool that you have been using. Nope. CoSchedule is just a very simple, yet very powerful scheduler that helps marketing processes.
Let me simplify this further.
Often, larger applications are complex. If you have a single tool with multiple toolsets inside one larger application, it either isn't intuitive to use or costs a hole in the pocket for single or team applications. Moreover, you might not need a majority of those tools but end up paying for them.
Most startups and small businesses prefer standalone tools for different aspects of the work. For example, you might use the Hubspot free CRM, Slack for team communication, spreadsheets for sales leads, MailChimp for an email blast, and so on.
While these standalone processes do their respective jobs well, what usually causes businesses to fall back on their productivity part is simply not having a calendar scheduler that will help plan their workweeks in advance.
I know it sounds ridiculous. But think of all the tasks you reminded yourself to execute the next day, and then forgot all about it until at least 3 days later.
If you are a project manager juggling several projects, you can totally relate to the following scenario –
You are running 5 projects simultaneously, 2 are just starting out and need your full attention, 3 are in the middle phase, and 1 project is complete, waiting for the final phase of payment to be done so that you can make the project live.
You are completely engrossed in the 2 new projects, over-timed-out (if that's a word), working on weekends, planning, getting the team to execute. It's Friday at 3 am and you suddenly remember to email the client whose project is complete, to write for the final payment.
And then, it's Tuesday before you remember again. By then, your sales target is already lagging behind for the month.
Happens?
Happened a lot with me.
I have had since long realized that it was not the gamut of tools that was slowing my productivity – it was the lack of a reminder, an organized scheduler that I needed to fully actualize the hard work I was putting in.
In my search for the perfect reminder tool, I came across Google Keep, which is an amazing tool in itself. Even the Tasks feature of Gmail – the rightmost 3rd icon in your Google email dashboard – is amazing.
But frankly, nothing worked for me until CoSchedule entered my work-life 🙂
What is Coschedule?
For those of you who think the introduction was longish, you can happily skip to this part.
CoSchedule is a work management software. Though the software is targeted at marketers, this is a perfect tool for
CEOs
Project Managers
Team Leads
Customer Support Leads
Basically, anyone who deals with deadlines can benefit from it. And if you are an "I'll remember it later" or a "scribble to-do list everywhere" person, you definitely need it. Give it a try right now before you procrastinate further.
Try CoSchedule free for 14 days
CoSchedule debuted in 2013, and over the years has polished its product to be minimalistic and intuitive – a rare combination. Keeping what's really needed and not bombarding with "extra" features makes this software product unique.
CoSchedule comprises 2 basic products: Marketing Calendar and Marketing Suite.
Let us look at their features and discuss how they can specifically help you.
Marketing Calendar
Marketing Calendar is a standalone tool from Coschedule. As the name suggests, Marketing Calendar is a calendar for scheduling
Tasks – create tasks, assign to team members, set a due date.
Calendar Events – create calendar events, put start date, end date, Repeat, Description. Pretty much A Google Event creating a page, a little more simplified in design and execution.
Taking a note – Note description, date, visibility to public or private.
You can also create and schedule
Projects
Social Campaigns
Projects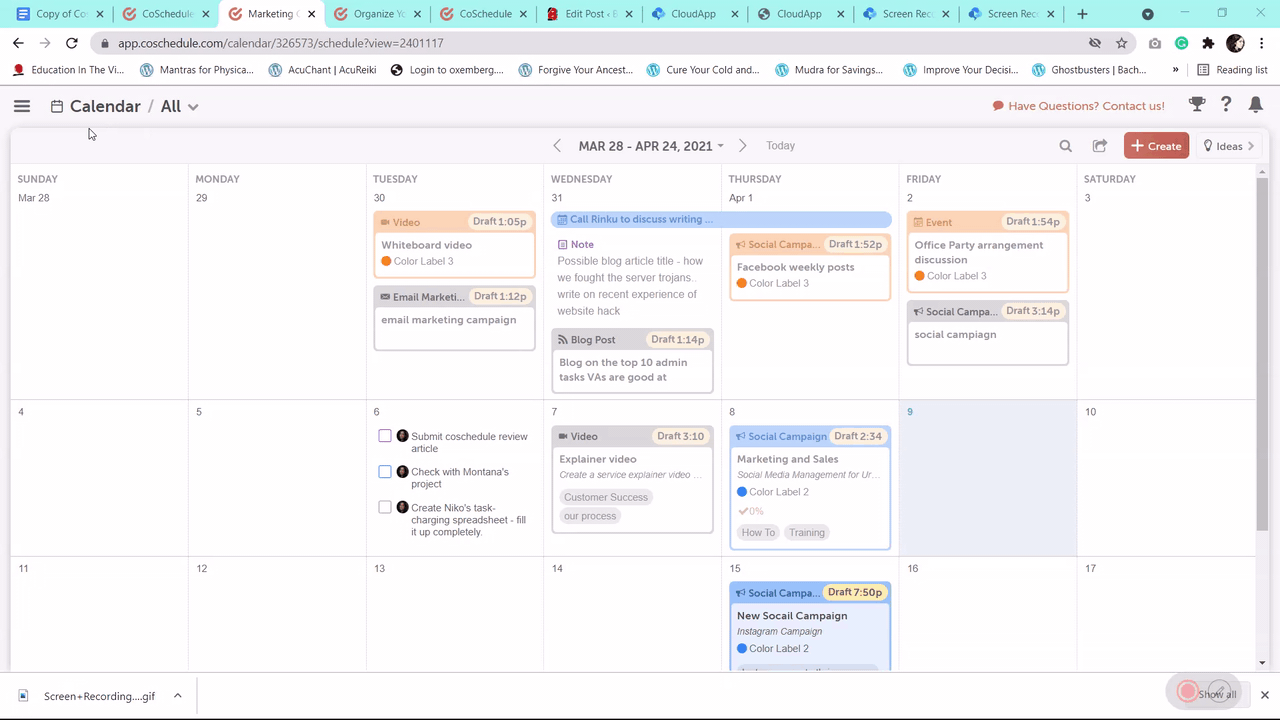 Once in your CoSchedule dashboard,  click on Calendar from the left panel. Once you land on the calendar, click on the plus sign (+) that appears top left on every calendar date.
The first option that appears is Project. When selected, the project inner page appears. It has a Project title field, a description and a tags field. There is also a dropdown that lets you select whether your project is on a
Blog post
Article
Newsletter
Email Marketing
Social Media Campaign
Video
Whitepaper, or
Event
When you select any of the options from the list, a page specific to that particular kind of project opens up. For each project you select, the project page, on its broad left panel,
opens up a Text editor to frame your blog post there.
lets you add files from your computer and Google Drive, including Google docs. Also lets you assign already uploaded files to your blog post project.
let's attach a social profile to the project so that you can create and send social media messages for the project.
lets you link other existing projects to this project.
On the right panel, you will find the
Task tab, that lets you note down tasks specific to that project.
Discussion tab, where you can invite team members to discuss and chat on projects.
Contributors tab, which lets you invite team members and assign them different roles like Manager, Admin, User and Guest with different permission levels.
Social
Clicking on the Social option opens up 2 more sub-options – Social Campaign and Social messages.
Selecting Social Campaign opens up a project page dashboard that has the same features as any other project options page (like a blog post, Video, etc).
When you select the Social Message option, it will prompt you to link one of your social media profiles provided it is not linked yet.
Once linked, you can schedule a massage or a post with media (image/video) and schedule it.
You can schedule your social media posts/messages on Facebook, Instagram, LinkedIn, and Twitter.
Marketing Suite
The CoSchedule Marketing Suite is a toolset consisting of all the features of the Marketing Calendar + 4 sub tools –
Calendar Organizer
Content Organizer
Work Organizer
Asset Organizer
The Marketing Suite has the following additional features :
Sorts calendar by teams
Tracks team progress
You can save assets and files
Manages marketing requests
Apart from the primary features of CoSchedule mentioned below, it has some additional, important features that make CoSchedule the perfect productivity tool.
Integrations
CoSchedule comes with inbuilt integration to a lot of apps and platforms for content publishing, email marketing, analytics, project management tools, other calendars, cloud storage and Zapier.
Some other noteworthy names in this context are YouTube, Jira, Slack, Google Analytics, MailChimp, Shopify and WordPress. In fact, CoSchedule actually started as a WordPress editorial calendar app.
3 More Tools, for Free!
The Resources tab of the CoSchedule website offers 3 more unique tools – Social Media Message Optimizer, Email Subject Line Tester and Headline Analyzer.
These tools are helpful in creating better email campaigns, better social media campaigns and better content optimization.
Auto-Draft
Every task or project or note or event you create gets saved as a draft. Uber handy for people who multitask, or have a habit of juggling between tasks.
Colour Labels
You can color-code a project. You can also add your own custom color labels from the settings.
Notifications
The bell icon on the top rightmost shows you notifications, your recent scheduling activity draft + published) and your favorites.
You can set in-app, email and browser notifications. Enabling browser notifications is helpful.
The Navigation
Navigation is an important parameter for me while rating apps.
If hitting the back button is the only way to get to the page you read just half a minute back, you probably need to work on your product. CoSchedule has easy, intuitive navigation. You won't have a hard time navigating between sections.
Blog, Case Studies, Guides, A Podcast and Books
CoSchedule has ample documentation in the form of case studies, guides, and blog posts to help you use the software.
They have a Podcast, focused on marketing topics,  and you can also buy their books on marketing from the CoSchedule website.
Support
CoSchedule has sturdy customer support in the form of live chat and email support.
Cons
Too many marketing pop-ups on the website at too short intervals.
Does not have Pinterest in their social media scheduler options.
Pricing
CoSchedule Marketing Calendar costs $29 per month per user when paid annually and $39 per month per user when paid monthly.
There is a no-obligation, no credit-card-info-required 14 Day free trial that I suggest every professional go for.
For the pricing of their Marketing Suite, you'll have to contact their sales department. There is no free trial on the Marketing Suite.
Who is CoSchedule for
I think CoSchedule can benefit anyone professionally. CoSchedule works well for marketers as well as school teachers with deadlines.
Basically, anybody dealing with clients or working in a team/group needs a scheduler like Coschedule.
Who is CoSchedule not for
If you are looking for a one-app-does-it-all, CoSchedule is not for you. You probably need a Keap CRM + Marketing suite for that.
Our Verdict?
Go for Coschedule! The 14-day free trial is a completely risk-free way to try it out.
Do you use any other scheduler?
Have you tried CoSchedule yet? Do let us know.