Most of the email marketing services count subscribers like this:
One same email in 5 different lists is treated as 5 separate emails.
And what's worse is that you have to pay for all of them. Even if they are the same, you are paying for more people than there are on your list. It actually will hurt your ROI and obviously, your conversion rate reports will be inaccurate.
To relieve you, I found a few ways to tackle and take care of this issue, no matter what email marketing service you use, seriously.
I had my recent interaction with GetResponse, Aweber, SendinBlue, and their team. If you are one of my subscribers, you would see there a few emails in your inbox from GetResponse, which was never intended to be sent.
I was testing some of the email marketing software to switch over from MailChimp and see if I could get better management elsewhere.
My lists and campaigns look like this:
And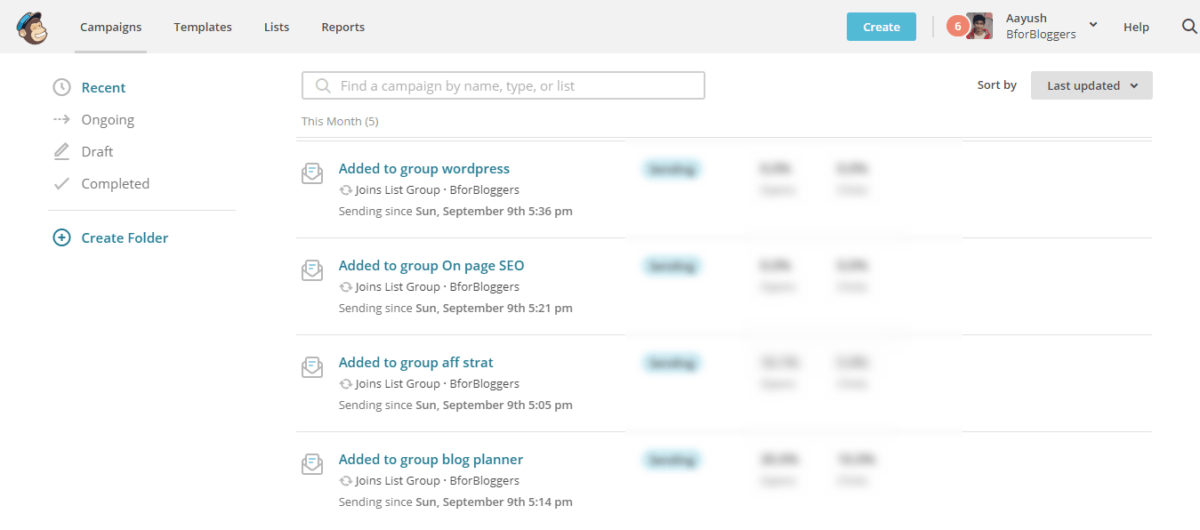 Notice how I have divided them into groups. Each subscriber on my list has been assigned to a group or multiple groups. So are my campaigns.
Each of my autoresponder campaigns is triggered by an action called "joining group," rather than joining a list.
This is the only facility of MailChimp that was keeping me from switching to another service.
I signed up for GetResponse to see if they had any feature like this, or something even better.
You won't believe how many times did I asked the support team of GetResponse to show me any feature like this in their system, but the support team didn't have a clue of how to handle this.
They simply told me to create multiple lists. Yeah, why not, It's me who will be charged multiple times for the same user.
After I asked for an alternative, they said to create a custom filter, but that too was only useful in automation workflows after setting the sequences. (They didn't tell me that, I had to figure it out)
Neither they had a clue about any feature like this, nor they told me about an alternative method.
Not GetResponse's fault, it is great, but the support staff is unaware of their own tool. They need to get trained.
I got fed up and found a better way to deliver my unique lead magnets to each user who subscribers to get it, but at the end goes to my primary, single email list.
Let me be very clear what this tutorial will help you with:
Suppose you have 5 lead magnets.
Each lead magnet needs to be delivered only to the user who subscribes to it. In normal circumstances, you would create 5 lists for 5 lead magnets to assign them an autoresponder that'll deliver them their incentives.
Normally, this would mean that this same user will be counted as 5 different emails in your list, sucking up your overall list size.
What I will show you is If someone subscribes for more than 5 lead magnets, it gets all three of them but, in the end, remains as only one subscriber in your email list. Thus, you can save money on your email marketing service using these few steps.
1. Using Thrive Leads WordPress Plugin
If you are using WordPress, the great news for you. Thrive Leads is a lead generation WordPress plugin that has an asset delivery feature specifically designed for a lead magnet, ethical bribe, and content upgrade purposes.
Using their asset delivery feature, you can send your lead magnets without relying on your email marketing services' autoresponder.
Step 1 – Download and install thrive leads
Thrive Leads is a premium plugin that comes from thrive themes. I did an hour of research to find a similar plugin that has the same functionality in free WordPress plugin repo, but there wasn't any.
Thrive leads is really a complete lead generation tool, and you can use to build your mailing list so quickly that'll it will make you a fan of itself. I use this plugin myself here.
Step 2 – Click on the asset delivery menu in your thrive dashboard
Go to your thrive dashboard, click on the advanced features menu and select asset delivery. Click on add new button. Here you can see the integration options available.
Select the email delivery service you want to use for the Asset Delivery feature. Integrating with one of these services ensures that your emails get delivered without you needing to deal with email server setups and spam protection.
I use Sendgrid and recommend the same. You can also use Mandrill or Mailgun.
Step 3 – Prepare a default email template
The default email template in which your lead magnet will be delivered is already set and written by thrive leads. If you think it needs a change, feel free to change anything.  You can define what your default asset delivery email will look like. You can change this for individual emails later.
You can also use shortcodes in this template which are:
This displays the name of your opt-in offer.

This displays the name of the person receiving the email (if available).

To insert a download link or a list of download links.
Step 4 – Click on add new button and add your lead magnet
Click on the add new asset group button. Give a name to this group, something relevant to your lead magnet should be ideal.
Then click on the add new file button.
Upload your lead magnet and give it a name your readers will easily recognize. Click on save.
Now that the lead group is ready, you can now assign it to any lead form you create with thrive leads. See how it's done.
Firstly, go to any of your existing forms, or create a new lead form with thrive leads.
Then click on the lead generation or optin form and select enable asset delivery. Choose your lead group and click on save. Make sure you integrate your email marketing service.
So, this was the first way you can send lead magnets to new subscribers using thrive leads, without setting up an autoresponder in your email marketing tool. Every new subscriber will go straight to your mailing list and will also receive their desired lead magnets.
2. Using LeadPages
LeadPages is another great tool to build landing pages and optin forms.
It comes with a lead magnet delivery system, quite similar to thrive leads but different in a few ways which I'll talk about later in this tutorial.
Step 1 – Get yourself a LeadPages account
LeadPages also is a premium tool. You need to create an account for LeadPage to use it. It'ss free to get started so don't worry.
Step 2 – Create a New Lead Magnet Group In LeadPages
LeadPages has a template pack you can download by clicking the link as shown in the image above. Click on the create a new lead magnet button.
Step 3 – Enter your lead magnet details
Upload your lead magnet file here and give it a name. The enter the senders' emails (which is your email, preferred to be a domain branded email). In the message box, enter your thanks message and a short introduction. Then, Click save.
Step 4 – Connect It To LeadPages Lead Forms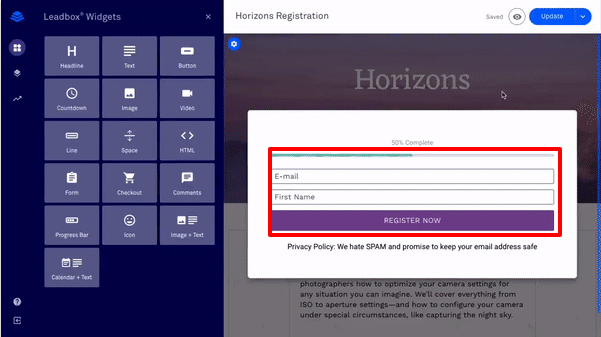 Go to any of your existing lead optin forms you create in LeadPages or create a new one. Click on the lead form and select the actions menu.
Select "email a file to visitors." Then select your lead magnet from the drop-down menu and click on the save and close button.
This is how you deliver different lead magnets to subscribers and send them in only one list with LeadPages.
3. Using Automation Sequences
While spending time with the GetResponse, I went through their automation feature deeply. I also used Aweber and ActiveCampaign and found one solution that will work in almost all of the email marketing automation workflows. They only need to have:
Choice of adding multiple lists in one automation workflow
If your email marketing service has an automation feature and they allow adding two list sequence in one workflow (the majority of them do) then here's the trick you can use:
Create a primary list (name it as your goal or name_primary)
Create a new list for lead magnets (Create a "dedicated list" for each lead magnet)
Create an autoresponder for assigned to each of the lists (include your lead magnet in it)
Go to your existing automation workflow or create a new one
Create the first sequence as "subscribed to list" and for the second sequence select the dedicated lead magnet list and connect the relevant autoresponder to it. Do it for every lead magnet that you may have
After the autoresponder sequence, set the "add subscribers to" and select the primary list.
This will lead all of your new subscribers to first go to the dedicated lead magnet list, receive their lead magnets and finally get straight into your primary list.
Below is the image of how your automation workflow should look exactly: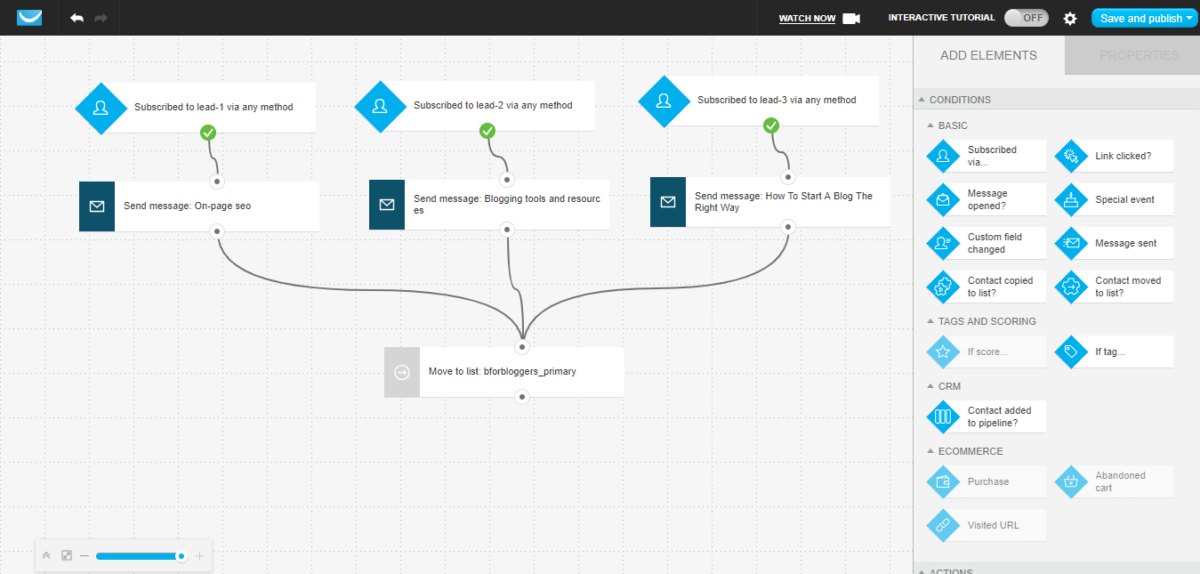 It's simple.
It works just the way we want. On average, if I calculate my own costs, doing this can save me straight 30 dollars a month.
It took me 20 days before I found this solution and I thought it is worth writing about it in detail.
I hope this guide has helped you and if yes, share this post on your favorite social media and leave a comment below if you have any questions or problems arising.