Domain Authority: Definitive SEO Guide for Beginners
This is a beginner's guide to domain authority.
What it is.
What it is not.
And how to boost your DA starting today.
What is Domain Authority Exactly?
Developed by Moz, domain authority (DA) is a search engine rankings score that predicts a website's ability to rank in the SERPs. DA scores range from 1 to 100, and the higher the number, the better a site ranks.
DA is measured on a logarithmic scale. So it gets harder to grow the higher you go.
For example, it is much easier to raise DA from 10 to 20, than from 40 to 50. In the former case, you could do it with a month's worth of decent marketing. In the latter, you'd probably need a year of concentrated marketing effort.
That's why new websites explode with their DA, while older blogs look stuck and unable to move forward.
They aren't stuck.
They're competing in a whole different league.
How to Check the Domain Authority of Any Website?
There are 2 ways.
First, go to Link Explorer and plug in your target URL. It will show your DA and a sample of links hitting your site.


The second way, and more robust and practical, is to install Moz's free Chrome extension.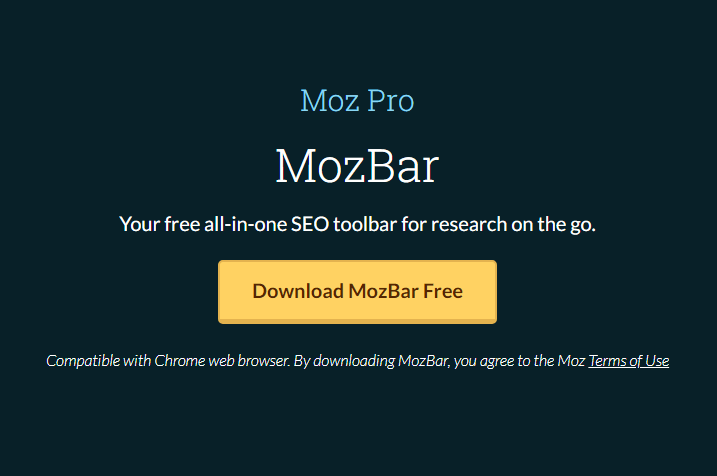 This extension can rapidly check out who you're fighting in the SERPs for top spots.
For example, if Aayush wants to rank his AccuRanker review. So he must check which sites stand in his way.


Next, I will show you how to raise the score Moz assigns to your site, but before that something crucial for you must know…
Domain Authority is not a Google metric!  It's Moz's best guess, so never get fixated on it.
This is from John Mueller who knows how Google's algorithm works.
However, Google has its own set of metrics that webmasters can influence with proper SEO.
How to Raise Moz's Domain Authority Rating?
Raising your DA is worth doing because it indicates good link building practices.
So, a bigger DA score correlates with having better positions in the SERPs and raising ships for all your keywords.
#1- Get More Good Links
Good links are relevant backlinks from niche websites, provided that those sites also get decent links.
So, if you're in an SEO, SEM or a relevant niche, a link from Moz would help a tonne.
If you're in the fashion industry, then a link from Vogue wouldn't do you harm.
And If you're in the diet space, then a link from NerdFitiness would turn you into a fit, strong, and powerful website.

Pro tip– Most links you'll ever get will be from weaker sites. Because there's so many of them compared to the behemoths, I mentioned above.
And that's ok.
Backlinks from weaker websites help raise your DA, but you need more of them to see it.
Also, and this is crucial since there are many weaker sites compared to stronger ones, your link profile must consist mainly of relevant links from weaker blogs.
This is natural, and Google will see your link profile as naturally built.
#2- Don't Get Spammy Links
You'd think spammy links would help at least a bit, but you'd be wrong. In fact, Moz has a system where they'll lower your score when you get too much spam sitting in your link profile.
You can't control who links to your blog, but never waste time chasing those links.
They don't help and might damage your SEO.
Example of spammy links are:
Keyword optimized blog comment links (see image below)
Forum links with keyword-rich signature
Exact-match-anchor guest post links
Paid links
PBN's
Web 2.0's
Injected links
#3- Diversify Your Link Profile
Diversification means two things:
First, increase the number of referring domain linking to you. It's better to have two sites linking to you than to get two links from the same blog.
However, this idea is often abused. And some bloggers suggest never getting multiple links from any website.
But that's crazy.
For example, Moz has forty million million relevant links pointing to their domain.
But there aren't forty million SEO sites in the world.
Instead, there's a lot of repeats linking happening, and it's fine and normal.
Second, link diversity also means different link types.
Good link profile has links from relevant blogs, but also from significant newspapers, press releases about your company and new products, Quora…
How to Raise Your Domain's Reputation in Google's Eyes
Unlike Moz, Google has a more holistic approach to measuring the site's authority, which is good news as there are so many things in your control that you can improve today.
#1- Fix Broken Links
Before building any new links, fix the ones on your site first.
It's easy, and it's effective at raising your domain strength because all link juice you recover now flows inward and feeds your site.
I mean, this hack works so well it's almost a blessing to have a lot of broken links:)
How to find broken links on your WordPress website?
Use the broken link checker plugin.

Install it and let it scan your site.
It'll show you all broken links, and it's neat you can fix them from the plugin's dashboard.
Saves precious time:)
How to find broken links if you have a free website (Tumblr, BlogSpot, Wix Weebly…)?
Use this tool. Plugin your URL, and it will show you which links need fixing and where to find them.


However, you must fix them manually, so it'll take time. Always start your blog on WordPress. It's just smart.
#2- Interlink Your Site Well
Internal links help you in two ways.
First, they spread out link juice across the site. This helps with crawling and rankings.
Second, their keyword-rich anchor texts send powerful relevancy signals to Google about the pages you're trying to rank.
For example, when many pages on bforbloggers.com use "SEMrush review" as anchor text, then Google will rank that review higher Internal links are powerful stuff; but you need many to see results.
So don't get discouraged when you don't notice noticeable movement right away.
Pro tip: Set up your site's architecture to be flat.
Flat architecture is when all content is the maximum 3-click distance from the homepage.
Because homepages are PageRank hubs and link equity distributors.
And closer something is to your homepage, more authoritative it is and better it ranks.
Note: it's easy to distribute PR across the site. Simply place an HTML sitemap in the footer, and categories in your menu.

#3- Get Links From Sites That Already Sit in Google's First Page
Matt Diggity is always talking about this, and I believe him because it makes total sense.
Backlinks from sites that are already high in Google move the needle and bulk up your domain strength.
The theory is that Google likes the websites it ranks. And getting links from them tells Google that you're part of the winning crowd.
It's the old proverb applied to SEO:
"Tell me who's the company you keep, and I'll tell you who you are"
#4- Disavow Links That Look Suspicious

Disavow tool is something you'll probably never use.
However, when you're in a funk. I mean, you're getting a lot of mentions across the web, but are nowhere in the SERPS.
Then it's time to investigate your link profile to see where your links come from.
You might have a significant proportion of harmful links and don't know it.
Google knows which links are wrong, but you can't tell they know. And they certainly won't tell you. So if you doubt the link, or you bought it, or it's a PBN that is "untraceable"-disavow.
You'll be doing your site a favor.
Pro tip– One of the most insidious black hat negative SEO attack is sending "good" links to competitors. These appear to be natural and from real blogs but are actually from PBN's Google penalized.
So they are making it seem like you're buying PBN links, and it's shady because you can't fight it proactively and must be vigilant at all times. Here's a resource by Marie Haynes on when to disavow and when to keep a link.
#5- Get Linkless Mentions
According to Google, they still count linkless mentions this, but these don't pass link equity.
So do they build your domain authority?
You tell me.
If for you DA=PageRank,  then these links are dry.
But if you have a holistic approach to Domain Authority, they help you.
Pro tip: it's still better to turn these mentions into links whenever you can.
Every quarter, gather a list of blogs that mention your name or your brand, and send them a gentle reminder:
Hey name,
I noticed you mentioned my point from X blog post. Thank you!
I'm honored!

But, could you please turn it into a link?

I want people to find me and your link would help a tonne.
This works!
90% of the time, you'll get a sparkling new link.
Bonus Tip- 7 Characteristics of a Good Link
Let's say you have a blog about cars. And you got a link.
Before you celebrate, I must ask you:
Did you get a link from a domain about cars or land transportation? If yes, it's a great link.
Did you get a link from a blog post about cars? Yes? Excellent!
Is your link keyword-rich, but natural? Yes? Super!
Is your link surrounded by relevant co-citations?
Is your link buried in the footer of the post? Links high in HTML pass more Page Rank than those below.
Is the page linking to you high in site architecture or buried deep in the blog feed?- The value diminishes as the post moves down in site architecture.
Is the page linking to you link-worthy? Yes? Good. It will get links and your backlink will grow stronger with time.
#6- Have Excellent On-Page SEO
I recently listen to Brian Dean talk about on-page SEO. I really like the analogy he used.
On page is entering the race and links are fuel you need to win the race.
This is so true.
Before you win, you must complete it. And on-page is entering the rankings fray.
Aayush has an excellent on-page SEO guide, but here's a quick reminder.
Target keyword goes in:
SEO title
meta description
URL
content
image filename and alt attribute
subheading
#7- Be Mobile friendly
In 2017, Google announced they're switching to the mobile-first index. Now they use Google-bot mobile version to crawl/index your site.
And also to determine how to rank you in desktop search.
That's why you must get your site mobile-ready. Or you'll disappear from both mobile and desktop search.
Pro tip: the easiest way to check whether your site is mobile friendly is to go to Google mobile tester and check your website.

#8 Boost Your Page Speed
Here's how BForBloggers fare's in Google Page Speed Insights:
Here's GTMetrix:
Bottom line
You need a fast-loading website.
My advice is to get a better host, Use a CDN and then optimize your images.
#9- Publish more content
Publish more content, yes.
But make it niche content so you have dozens and hundreds of articles about your topic. Then Google will know you're an authority on the subject, and you'll rank higher and faster.
For example, bforbloggers.com is inching towards 300 articles, and they're all about blogging and affiliate marketing.
So Aayush has built an authority website around these topics, and it's much easier for him to rank for specific queries.
Pro tip– Organize your articles using the pillar-cluster model.
This means you have one article which is your pillar and targets a head term, And then you have dozens of interlinked articles targeting related long-tail keywords.
For example, this Unbounce review is Aayush's pillar article.
But he also a few supporting Unbounce articles:
#1- Have Excellent UX Metrics
UX metrics are feedback on how users perceive your site.
They're:
Pogo sticking
Dwell time
Sessions per user
Return visitors
Note- get data in your Google Analytics account.
So, how to ensure excellent UX signals?
First, make your site fast and accessible on all devices.
Second, target long-tail keywords.
Why?
Because people who search for long-tail keyword X know exactly what they want.
And if your page is about X, they will click and consume content.
For example, "coffee" is a head term with unclear user intent.
When someone types "coffee" into Google, they could be looking for:
definition
history of coffee
How to make a cup
Coffee varieties
Bean varieties
Robusta
Arabica…
So your page about just one of these would be a hit and a bunch of misses.
But, when someone Google's for "where can I buy X brand of coffee," and you've reviewed that coffee brand, they will click, read, and most probably buy.
Because your page satisfies the exact user intent.
#11- Build a Brand
I guess for you, Coca-Cola and McDonald's are brands. But anyone can become a brand. You can, too, and you start thinking in that direction if you want to rank highly in Google.
How to create a brand from scratch?
Be everywhere.
But also be smart.
If you're a one-man team, then focus on your blog and few easy social channels like Twitter and Facebook.
But when you can start moving into:
These all build brand signals that will help you rank higher.
#12- Extend Your Domain Name's Registration Date
Do this for yourself. Not because of Google.
Imagine you lost your domain because you forgot to renew it.
I think I'd SCREAM! You may have to spend thousands of dollars to require it so it is better to play safe and extended renewal to more than 2 years.
Domain Authority FAQ
a) What's a Good Domain Authority?
"Good" depends on the strength of your competitors.
So anything that lets you compete and outrank everyone is more than enough.
b) Does Domain Authority Matter
Yes and no.
Yes, because having high DA allows you to target more competitive keywords
No, because no SEO metric really matters. What's important is how much money you're making.
c) How Long Does it take To Build Domain Authority
I can't tell you. It depends on your niche, knowledge, skill and work you put into your site.
Honestly, expect it to take years. It's easy to start a blog, but building it is grueling work.
d) Can I Ever Beat My Competitors Who are Stronger Than Me?
You can.
Remember, DA is Moz's best guess and they're often wrong.
Your competitor could have higher DA but be de-indexed from Google because their site is spam built on spam.
e) Is Domain Authority and Domain Rating the Same Thing?
DA comes from Moz, while DR comes from SEMrush and Ahrefs. They both try to mimic the scoring Google uses to rank websites, but they are not the same.
They are not the same because they're built on different algorithms and work on different link indices.
For example, Moz claims to have 37 trillion links, while Ahref sits at around 17 trillion.
To show you how different they are here's a comparison of Moz and SEMrush reports:
Just remember, Google doesn't use either DA or DR. These are all best guesses that often seem correct.
Conclusion
My domain authority guide for beginners is over.
Now you know what domain authority is, and it's time to go and improve yours.
It won't be easy- but it will be worth it.
Finally, remember that no SEO, metric or even some fancy hidden Google metric can replace the only number that matters… how much you earn from your website.
Ask your questions in the comment section below.