What Are DoFollow And No-Follow Links: SEO Basics
Whenever we talk about SEO, the word link, either in the form of backlink or internal link strikes us. Search the keyword " how to rank high on Google" and you will find the answers backlinks and link building.
💡 Update Knowledge BoxThe Nofollow tag (rel="nofollow) will be treated as a hint as announced by Google. Google may or may not honor the rel="nofollow" tag like it used to do in the past.
Google has introduced two new tags named "UGC (user-generated content)" and "sponsored".
rel="UGC" can be used for user-generated content such as blog comments, forum links, and rel="sponsored" tag can be sued for affiliate links and partner links. You can read the official announcement here.
However, you don't have to stop using Nofollow links if it is necessary, so keep reading.
It's somehow true that Google really appreciates the websites or blogs which receive high-quality backlinks through thousands of referring domains.
While linking to a website you trust you should use Dofollow tag and when not, a Nofollow tag.
Dofollow and Nofollow links are two important Link tags.
These tags are used in the HTML codes of all blog posts which contain a link to anything.
The Dofollow links allow search engines like Google etc., to follow this link. This link passes link juice between yours and the linked website.
Here comes a word called link juice. Passing link juice means allowing the search engine crawler bot to crawl the link which eventually creates a bond between these two websites.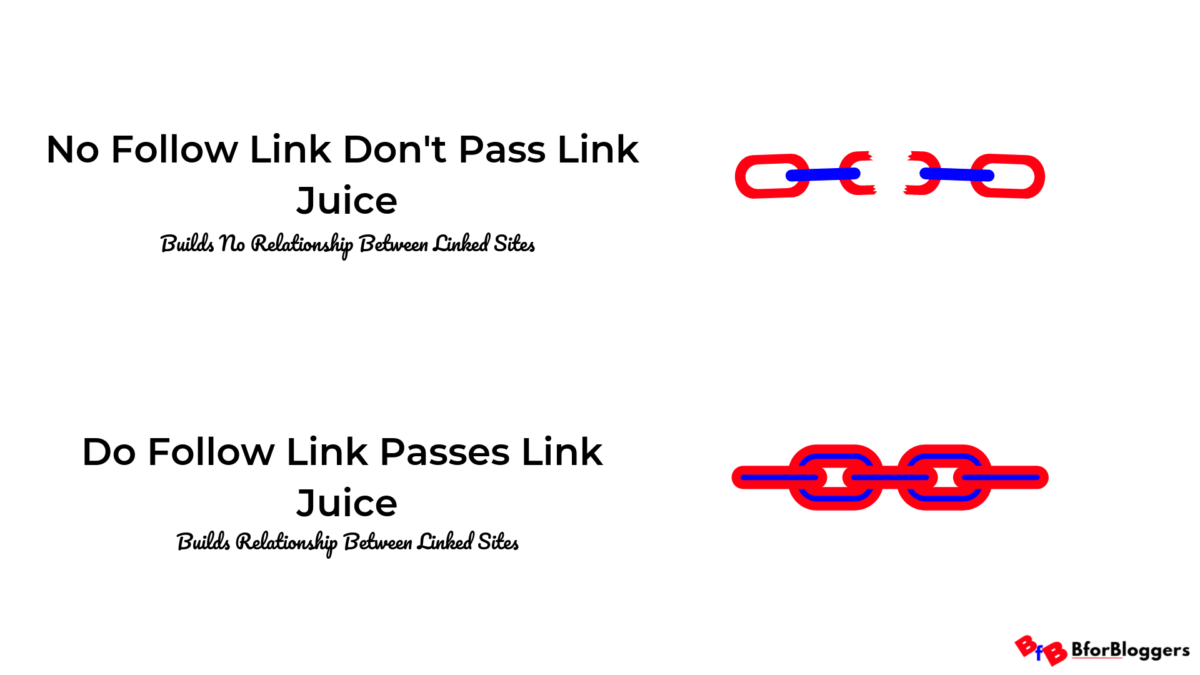 We know that Google's algorithm uses the interlinks and outbound links along with backlinks to judge the rank and quality of our websites.
So why you should care about Dofollow tags?
DoFollow links, as they sound are meant to be followed. They allow the link juice to pass. This tag makes sure Google indexed this link. An example of how a Dofollow link appears in given below –
<a href= "https://bforbloggers.com" > BforBloggers </a>
This a simple hyperlink reference tag. The link is attached to an anchor tag that is the word BforBloggers.
This is quite a beginner-friendly as we have read this in our 6th Standard books. Also, note that every link is a DoFollow by default. You are not required to do anything manually.
Now suppose you are linking to a website which is having great content. However, this website is new and you don't know whether it would continue to publish great stuff or not. What if it becomes spammy?
You cannot risk your website in such a case, so you have to make sure Google keeps you secluded from this one. Who knows, if this will become a bane for you.
In such cases Nofollow tag becomes handy.
Now follow tags are used to indicate the search engines not to follow the given link. This will prevent crawlers to create a bond between you and the linked site.
An example of the nofollow link:-
<ahref ="https://bforbloggers.com" rel = "Nofollow"> Bforbloggers </a>
Adding this tag will make sure you keep the SEO as well as your readers happy.
Nofollow tags are also used to prevent people from generating backlinks by commenting unnecessarily on other blogs and Q&A sites like forums and Quora.
This tag is widely used in affiliate links nowadays so that Google ignores it if you link to any unknown or cheap affiliate networks.
1. Dofollow link:-
The links should be indexed by search engine crawlers. These links do not need any specific tags. All-natural links are Dofollow by default.
We allow search engines to follow these links.
We use these links for internal links and for trusted outbound links
Ex. – <a href ="bforbloggers.com"> BforBloggers </a>
2. Nofollow Links:-
The links should not be indexed by search engine crawlers. These links contain a "nofollow" HTML tag between their hyperlink anchor tags.
We don't want the search engine to follow these links.
We use these links for affiliate links, untrusted links, and also in comments and forums.
This should not be done in case of interlinking.
Ex. – <ahref ="bforbloggers.com" rel = "nofollow"> BforBloggers </a>
Google prefers to look at backlinks to rank a page but not each and every one of them is going to boost your rankings.
Backlinks pointing to your site from spammy and low-quality websites will make you lose your rankings, severely.
And you should always target for DoFollow backlinks.
Similarly, when you link out to such sites, you will lose your rankings as well. Google may also penalize you for being spammy. This also includes links from and to the irrelevant sites.
That's why WordPress automatically adds the Nofollow tag to the comment links. Now I think you've understood what are Nofollow and DoFollow tags and how they work and behave.
Do ask if you have any confusion remaining in the comments section below.