Top 15 Free A.I. Video Generator Tools
Artificial technology is everywhere nowadays. We've talked a lot about A.I. writing tools and even about A.I. builders but what about A.I. video generators?
When you hear about A.I. video makers, you might feel a little confused. What kind of input do they need how does the result look like?
In this post, we'll answer all these questions and provide you with a list of 15 free A.I. video generators so you can try the technology yourself.
Let's start.
How do A.I. video generators work?
An A.I. video maker or video generator creates videos based mainly on texts but also images, audio files and other sources.
Most generators even offer a wide range of avatars (human presenters) so you don't need to appear on the video. It's the quickest it gets and great for shy people.
That's it.
Best 15 A.I. video generators
The following video generators either have a free plan or a free trial.
Pictory's A.I. lets you create short branded video snippets from long-form videos. It will automatically extract 'golden nuggets' hidden deep within your Zoom, Teams and Webinar recordings to create videos for social media.
Pictory has video marketing Masterclasses to help you make the best of their generator.
Features
3 video projects of up to 10 minutes long.
Text to video creation.
25 text-to-speech A.I. voices.
5,000 music tracks.
Pricing
Pictory has a free trial, no credit card is required and plans start at $19 per month.

We can't make this list without including Synthesia.
Although its free trial is super limited, it's a super powerful A.I. video generator with tons of ultra-modern avatars that's worth giving a try. Even if it's only one try.
Features
More than 60 diverse avatars.
Custom avatars.
More than 50 pre-design templates and A.I. voices.
Free media library.
Pricing
Synthesia lets you create a free simple A.I. video but you'll need a business email to receive the result. Plans start at $30 per month.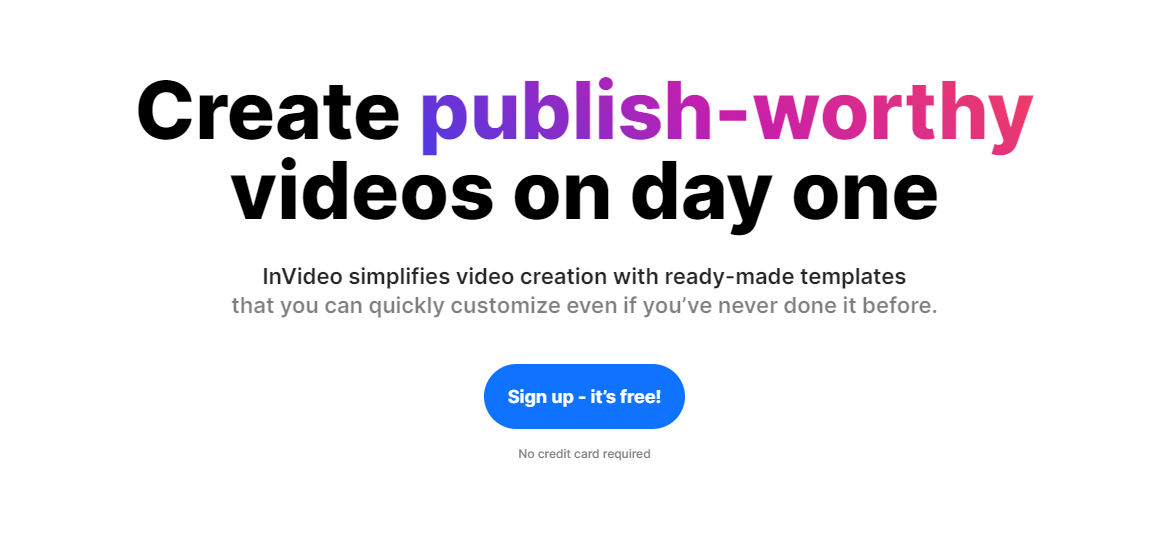 InVideo is an online video editor trusted by Microsoft, Dropbox, CNN, and other big companies. Amongst its main features, there's automated text-to-speech available on its free plan that lets you generate videos with an A.I.
Features
More than 5,000 video templates.
Automated Text to Speech.
40-minute video duration.
More than 3 million standard media.
Pricing
If you wish to access more premium features and remove InVideo's watermark, prices start at $30 per month. They also have a 7-day money-back guarantee.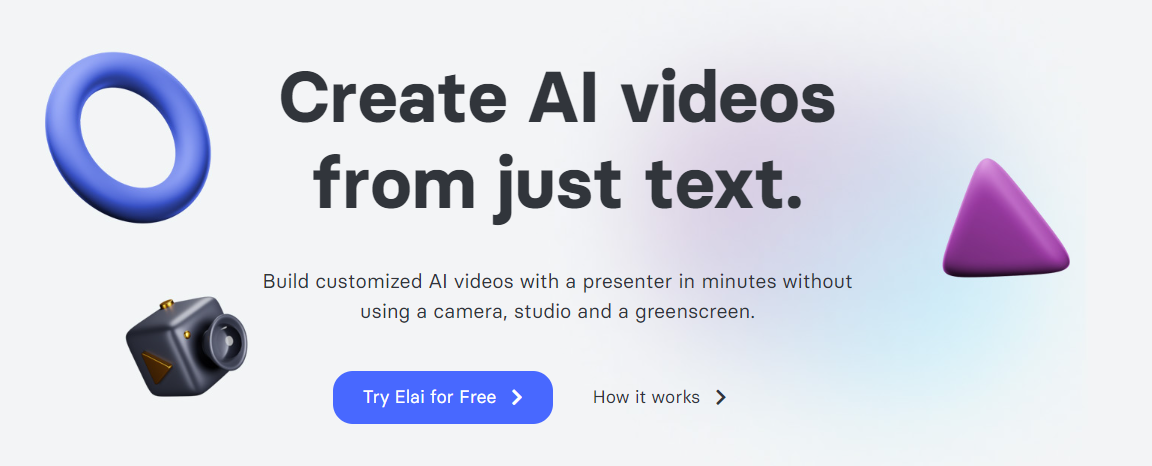 With Elai.io, you can generate videos by simply copying and pasting the link to an article. Elai.io has over 35 avatars available for your videos and you can get custom avatars of yourself or a 4K studio-quality avatar!
You can also clone your own voice and use it as a text-to-speech voice.
Features
1 minute of video per month.
35 Avatars.
More than 65 languages.
More than 450 voices.
Pricing
Elai.io has a 14-day free trial and premium plans from $29 per month to $99 per month.
Last but not least, HeyGen is an A.I. video generator winner of multiple awards. HeyGen supports more than 20 languages and requires no editing skills.
It's ideal for turning your text into a professional training video or explainer, as well as an advertisement.
Features
1-min video credits per month.
More than 80 real and CG human avatars.
Over 200 templates.
Pricing
It has a free plan and premium options from $30 per month to $225 per month.
Lumen5 is a video maker powered by A.I. that helps you create engaging video content.
You can enter any sort of text, for example, a blog post, and Lumen will automatically find the perfect audio and visuals based on that.
Features
Unlimited videos per month.
Automated captions.
Content library with millions of stock photos and videos.
Pricing
Besides their free forever plan, they have other plans that start at $19 per month. With them, you can remove Lumen5 branding and invite team members.
Steve A.I. was awarded as the number 1 most innovative A.I. solution in 2022. It personalizes your videos depending on whether you are a marketing team, an agency or an enterprise.
With Steve A.I. you repurpose your audio files and convert them into videos, repurpose blog posts and more.
Features
Text to Speech.
3 video downloads per month.
Millions of free-to-use video and images.
Upload your own audio tracks.
Pricing
Steve A.I. has a limited free plan and premium tiers from $15 per month to $60 per month.
GliaStudio helps you simplify your video creation workflow by converting news posts and articles into videos. Like any video editor, it also has other classic features such as resizing and cropping your videos, zooming in or out and putting your clip on a loop.
Features
URL to video.
Create up to 50 videos.
Access to millions of images, footage, and GIFs.
Automatic text summarization.
Pricing
GliaStudio offers customize pricing and a 14-day free trial. For this trial, however, you'll have to fill in a form.
A bit different from the previous A.I. video generators, Stable Diffusion is open to the public and generates videos by interpolating the latent space of Stable Diffusion.
You can either dream up different versions of the same prompt, or morph between different text prompts, however, you can't make an avatar say anything.
Features
Create unlimited videos.
You can download it without signing up.
API available.
Pricing
It's completely free.
Meta announced last September they were launching a new A.I. system that lets people turn text prompts into brief, high-quality video clips. With this video generator, people can create photorealistic illustrations and storybook-quality art using words, lines of text and free-form sketches.
Meta also states they are committed to using its responsible A.I. framework.
Features
Text-to-video.
Create surreal, realistic or stylized videos.
Add motion to a single image.
Fill in the in-between motion to two images.
Pricing
The project was open to submission for anyone wanting to try it. Currently, the form is no longer accepting replies but it will soon reopen.
Similar to Stable Diffusion, Deforum generates animations by constructing frames that take their forefathers into consideration.
However, it has more customization options: you can tweak the color coherence, angles and fps. Predictions typically complete within 22 minutes, but the time might vary according to the input.
Features
Create unlimited videos.
You can download it without signing up.
API available.
Pricing
It's completely free.
Created by Google, Imagen Video is a text-conditional video generation system based on a cascade of video diffusion models.
However, in a truly honest approach to A.I. technology, Google has stated it is concerned about the tool generating explicit and violent content. So it won't publicly release the tool until the concerns are mitigated or addressed with a plausible solution.
Features
High-definition text-to-video.
Various artistic styles.
With 3D object understanding.
Pricing
Like Make-a-Video, Imagen Video provides a free research paper to anyone who is interested. For now, it's not available to use but we hope things change soon.
Hour One is a video generator that works with brands like Intel, DreamWorks and Microsoft.
You can use virtual human presenters in your videos, or even request a custom character to represent your brand. It also has different voices, cadences, and accents to apply the preferred vocal combination for your characters.
Features
Up to 3 minutes of published videos.
Customized avatars.
Unlimited access to stock media.
Supports over 60 languages.
Pricing
Hour One has a free forever plan! It also has premium plans, starting at $30 per month.
Raw Shorts generates video drafts from your video scripts. It was specially designed for people who need to explain a certain subject or showcase their products.
Their Spreadsheet to Video technology helps you transform your catalog feed into a library of compelling marketing videos.
It also does great animated videos that you can easily customize.
Features
3 free exports per month.
Access to a media library.
HTML5 builder.
Pricing
They offer a free trial and two plans: Essential at $25 per month and Business at $45 per month.
Designs. A.I. is an A.I. generator built by Inmagine that includes a logo maker, a design maker, and a speech maker. It auto-generates thousands of project variations.
It also has free assistive tools to guide your creative processes such as a color matcher, a font pairing and a calendar!
Features
Unlimited projects.
10 premium images per month.
Access to more than 20 languages.
Unlimited logo generation.
Pricing
They don't have a free forever plan but they have a 30-day free trial. Plans go from $29 per month to $69 per month.
Final words
So those were the best A.I. video generators out there. As you could see, it's a really new and powerful technology but still, they all offer, at least, a free trial and some are completely open to the public!
It's important no note that A.I. video generators if left with no supervision or rules, lead to people generating hurtful content.
I hope this post help you get a sense of the A.I.video generators that are currently available and you start using some of them.
If you do, leave us a comment!