How To Generate More Leads in a Small Budget : 7 Strategies
Want more leads but tight on budget? Wish you could gather more potential customers with the minimum investment possible?
Today, it is all about getting leads the smarter way.
Lead generation is the process of finding and pursue interested people to buy or take action in your business products or services. If you have an awesome product available at an awesome price – it is probably gonna fail if no one knows about it.
One way to not let that happen is to generate leads as fast as possible because the more emails you have, the more potential customers you have.
Capital investment works faster and better for serious marketers who want to achieve results faster and want a good ROI (return on investment) as soon as possible.
But that doesn't mean you always have to force capital-intensive techniques to achieve great results, you only have to think and work smart.
So, here are some of the best minimum to zero investment and cost-effective lead generation techniques.
#1 Make Use Of Content Marketing
Creating content that's proven to drive traffic to your blog is the most cost-effective and easy way to generate leads.
But the question is – how do you create content that drives traffic?
By creating helpful content and following the best SEO practices. SEO if done right is the best free source of traffic that turns into high-quality leads because people who are needy mostly come from search engines.
Moreover, content generation doesn't need any investment at all and is generally evergreen (unlimited traffic).
#2 Use Content Upgrades
Use content upgrades inside your blog posts to double your email optin rate.
Content upgrades add more value to your content hence it gets the attraction of any visitor more easily.
When people are reading your guides or tutorials, you put these small bars somewhere in between:
These are two-step optin forms so when a user clicks on them, a popup box asking for his email appears. It's very hard to resist these content upgrades so you should be using them if you aren't.
#3 Use Targeted Lead Magnets
I hope you are using lead magnets already (you should be) but are you using it the typical way or smart way?
Lead magnets are often created and used across all the areas of your website and blog pages but, it hurts its conversion rate constantly. Why – because people see it, again and again, it fails to attract their notice.
So, you should be using highly targeted lead magnets, which means they should be relevant to the page content your visitor is viewing. This will help you attract more visitors who are interested in your lead magnet and the chances of them being converted into a lead will be higher.
#4 Use A Quiz
A quiz is an interactive way to get quality leads right from your website. Your quiz may go viral attracting thousands of visitors to your blog increasing its revenue and leads.
It will eventually grow stronger every day and over time it will help you build a strong relationship with your audience. You can use any tool like Thrive quiz builder to make that.
#5 Use Instagram
Everyone's on Instagram these days—including more and more businesses.
An estimated 60% of people say they discover new products on Instagram and 200 million+ people visit at least one Instagram Business Profile on a daily basis.
So if you're not yet on Instagram, it might be time to reconsider. (And if you are, there's always more you can do to tap into the platform's highly engaged audience that turns them into leads). Tailwind and Agorapulse are two automation tools that make posting and scheduling on Instagram easier.
#6 Use High Converting Free Tool
You need to have the right tool for lead generation, something that's built for it. When you're starting out, you don't have to spend your entire marketing budget on it, there are free options.
I find hellobar to be the best free option as a lead generation tool.
Hellobar has built-in page takeover and slidein formats which increased my conversion overnight and moreover it has a free full-featured plan to use on your website.
#7 Influencer Outreach
If you really want to get noticed, you'll need to connect with influencers in your niche. Influencers are those people who have a good social media following and are popular in a niche.
Find popular and strong influencers and encourage them to share your content (blog posts), webinars or lead magnets to get a bigger reach in your targeted audience.
NinjaOutreach is a popular tool that should help you find and reach these influencers easily.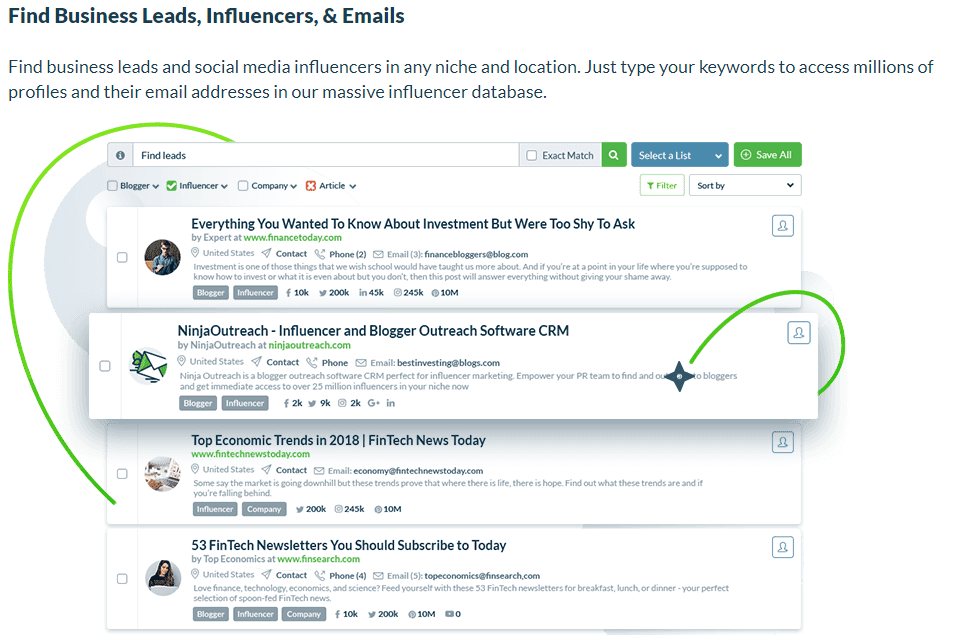 Bonus: Word-Of-Mouth
My all-time favorite technique: leveraging word-of-mouth.
Tell your existing readers, blog comments, subscribers, friends, followers and all of them who you know to share your content and work. Tell them to recommend your products or your business online anywhere they get an opportunity.
News about your business will start to spread and more trust will build over the web for you over time.
Your Next Step 
Generating leads is the first step. Start doing email marketing and nurture your relationship. Build an email list and move them to the sales funnel as they continue to learn more about you and your product. Learn how to build a sales funnel using GetResponse Autonfunnel.
What are the strategies you use to generate leads at zero cost? Comment about them below right now.