GetBeamer Review – Engage Users & Boost NPS
If you manage a team of developers/designers or are a project manager or coordinator who's absolutely crazy about updates of ongoing projects (like I am), you need Beamer.

Or, If you want to measure your customers' happiness and want them to be returning customers and sending referrals your way, you need Beamer.
In short, if you have a website and cater to customers, there are high chances that you need… Beamer. 
If you're going "Really?!" at this point, read on.
Beamer Review – What is Beamer?
Let me start with a scenario. You order a product on Amazon.
You pay for it. And your share of the work is done and dusted. You can now relax knowing that Amazon will send you periodic updates about your product delivery. They tell you when it is out, they tell you the transit details, the exact date.
They even give a time bracket of when you'll receive it on that particular day. 

They tell you who's delivering it. They give you their number to get connected with. Some delivery services even provide the name of the person who would be delivering the product to you.

This is an important factor why app shopping has caught on like wildfire. Not only do you get it delivered to your doorstep, you are in the complete knowledge of where the product is, how long it will take, all the changes from shipping to being in transit to being delayed or arriving early. 
All of the updates, all of the notifications are sent to you from time to time so that you are not left wondering what happened to the product you ordered. 
Beamer does pretty much the same in the service field. All of the updates, all of the software changes, or the service you are using, are provided by Beamer in a nice, understandable, non-jargonic way. 
Life would be pretty much easier and simpler if we had all the updates about the important areas of our life, don't you think so?
While we cannot be sure about life in general, technology is upgrading itself in huge leaps. Beamer is one of those SaaS products designed to keep you and your client updated about every project and every service you provide.
And what exactly does Beamer offer?
Beamer is primarily a changelog and notification tool. It also has an NPS or Net Promoter Score tool that, simply put, is a customer satisfaction survey tool.

Beamer has, therefore, 3 main tools or Products, namely : 
Changelog
Notifications Center
NPS
Who is Beamer for?
Anybody selling a product or service on the internet.
Beamer is ideal for:
Apps and eCommerce Websites. Project Management.
Beamer Changelog
A changelog is simply a log or a record of the changes a particular software or service has undergone. Changelogs are good for customers and absolutely essential for project managers.
This is what a changelog looks like :
All of us using a smartphone have seen changelogs in the app updates we receive. A changelog of an app looks something like this.


Beamer Changelog is a customizable widget that can be used in-app, on the website, or even on landing pages to announce new features, new additions, and fixes in updates or simply product updates. Read below on the important features of Beamer Changelog. 
Features of Beamer Changelog tool
Comes in an easy WordPress plugin and single-line code format that can be embedded in websites, landing pages, and apps. 

Customizable widget designs to match the overall design of your website and/or app. 

Images and videos can be used in the changelog to make it visually appealing to users and clients. 

You can segment users and send targeted notifications to each segment of users. 

No coding skill is required for installing widgets on websites or apps. 

Push notifications option to highlight important updates.

Analytics on how users and clients are engaging with your changelog and other notifications.
Beamer Notification Center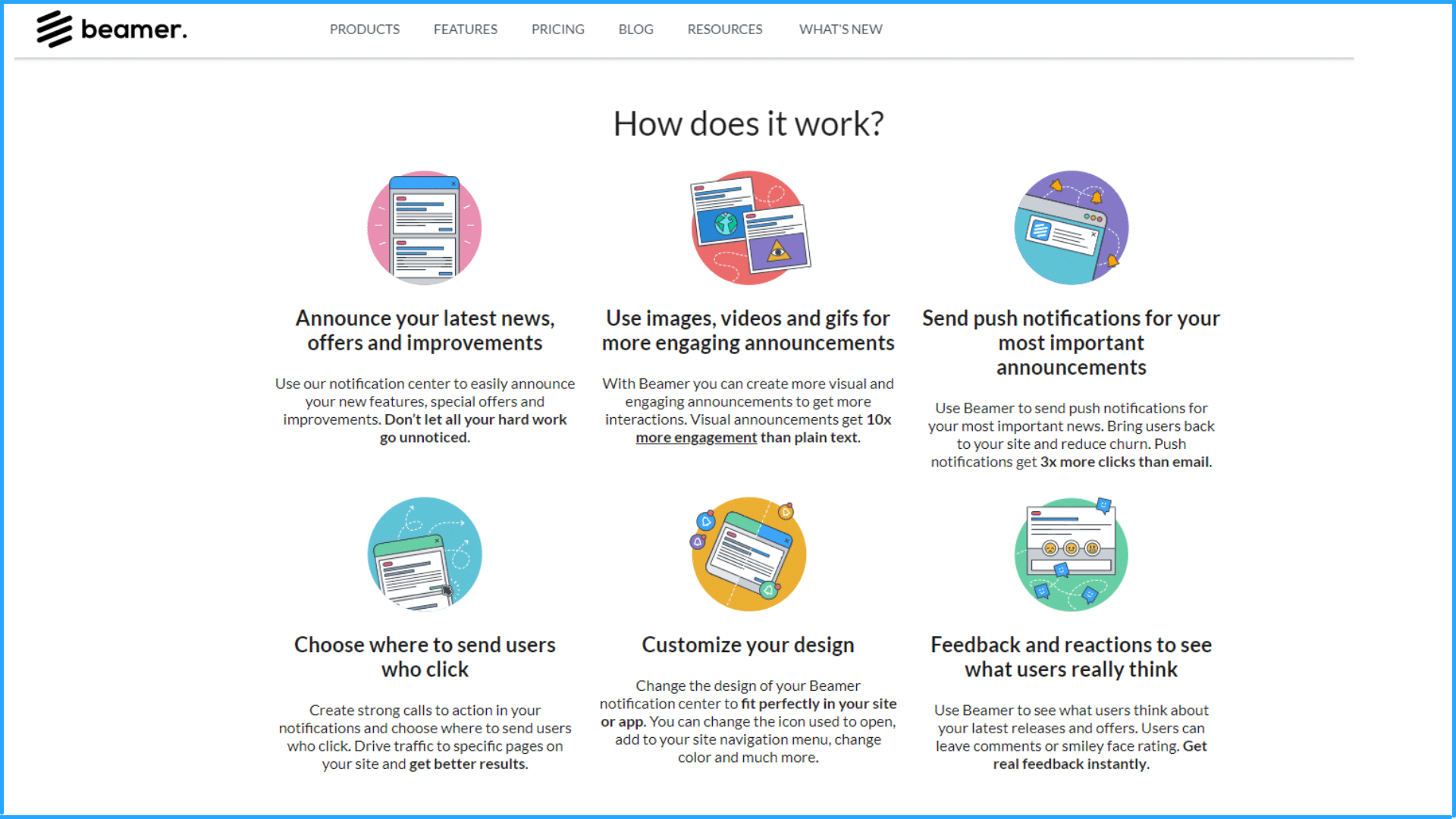 Beamer Notification Center is a tool that allows you to put up notifications on your website or app.

While Changelog might sound very technical to you, notifications probably don't. The Notification Center tool is the correct tool for your business if you are :

– an eCommerce business selling products 
– a SaaS services industry
– a subscription-based services industry
Most industry types that need an online presence would benefit from a notifications center.
A notification center would ensure that you do not have to send email blasts or notify each customer separately on the changes or upgrades to services or products. One notification section in your website would enable all customers visiting it to be aware of the changes. 
For customers not frequenting or visiting your website, you can send push messages, and they will be notified of changes to service. You can also use push messages to push discounts and offers to potential clients.
Features of Beamer Notification Center tool
Best for sending out offers and discount notifications.

The push notifications can do a great job of bringing old and unsubscribed visitors back to your services. 

You can use videos, images, and gifs for your notifications. Visuals make for a better retention rate in websites and apps. 

Call to action features within notifications enhance sales.

Fully customizable notifications design. 

Reactions and comments to notifications available for analyzing user satisfaction and retention rate. 
Beamer NPS 
NPS or Net Promoter Score is a tool that measures customer satisfaction. It is one of the most reliable tools to measure and predict customer loyalty and take corrective measures when customer satisfaction is at stake. 
NPS is usually through surveys. A popular NPS tool you might be aware of is SurveyMonkey.
Features of Beamer NPS tool
Beamer NPS needs no coding to be installed on your website. 

You can install in-app surveys or surveys within your website to measure customer happiness. 

You can send survey links via email or as a link through direct messages or over social media. 

You can analyze customer satisfaction with your products or updates over a period of time through easy tracking analytics. 

Categorize users and send targeted NPS surveys to them. 

You can tag user responses into common ones, unsatisfied ones, or tags of your choice. 

Send auto-responses upon completion of a survey. 

Customize NPS surveys to match the look and feel of your website or app. 
Why do you need to show your customers a changelog and app/website notifications?
Changelogs and notifications help in several ways : 
From a Project Manager / Coordinator perspective
You remain abreast of the developments without having to ask your developer for updates every day. 

You can notify your customers regarding updates by putting up an in-app or website notification. 

You can send push notifications to your customers regarding offers that can help achieve more sales. 
From a customer perspective
From a customer or client viewpoint, regular updates on services are always welcome. You know that work on your project is being done.

If it is a service that you are subscribed to, knowing what's new and the upgrades helps in using the service better.

Push notifications are helpful to know about discounts and offers without having to visit the website or app.
Why do you need NPS? 
I believe most businesses need NPS or some form of a customer satisfaction measurement tool. A lot of companies do it manually through email or through forms.

The chances of missing out on serving an unhappy customer are higher if NPS is done manually. An embedded NPS survey system like that of Beamer makes it a lot easy, and more timely. You can tackle dissatisfaction right after it occurs and take corrective measures.
A happy customer is a returning customer. A happy customer is also a loyal customer who can potentially bring in a lot of business.
Beamer How-to for WordPress and HTML
To be honest, Beamer needs no tutorial. It needs no coding either. Beamer is intuitive. For WordPress sites, there is a plugin. For custom coded websites, you need to copy a code and add it to the body tag.

Body tag can be found in the HTML code of your website. You can too easily do it yourself. For a coder, this is literally a 5-minute job, and your developer can get it up and ready in a matter of minutes.
Beamer is available for Squarespace and Simvoly. All websites that use HTML coding can use Beamer. 
The dashboard again walks you through every step, making installation easy. You might actually feel like a coder after you're successful installing Beamer. 
I used Beamer for one of my websites (that's still in the staging phase), and it worked like a charm.
Once I had connected my Beamer dashboard ID with the Beamer plugin, the notification bell icon appeared with the notification I had put up in the Beamer dashboard. It was a cakewalk from the first step onward. 
Kudos to the Beamer team for integrating a complex tool like notifications doable and easy. Not just the back-end, the website is clean and makes complex technical terms like a changelog and NPS understandable. The graphics are cool. Overall, a 10 on 10 experience.
We suggest using Beamer if you need the following features in your app or website : 
Notifications
Push notifications
Release notes
Changelogs
User segmentation for notification
Feedback and Reviews
Beamer can additionally do the following for you : 
Schedule posts
Share posts with media (images, audio, and video)
Integrate with other 3rd party apps
New to WordPress? Read our WordPress guides here.
Beamer Pricing
Beamer has a free plan! Woohoo! For all you eager beavers willing to try it out, go for the Beamer free plan.

If you like it and want to make it a part of your website or app, Beamer has the following plans for you : 
Free plan: Forever Free
Startup plan: $49 per month (billed monthly) | $40.80 (billed annually) 
Pro plan: $99 per month (billed monthly) | $82.50 per month (billed annually)
Enterprise plan: $249 per month (billed annually)
Beamer Review – My Verdict
Updates are going to be one of the driving factors of sales and customer retention in the coming years. As we get more used to apps than websites, notifications start ruling large. 
We no longer have the time or the inclination to read longish emails or techy changelogs.
We want fast updates and want regular project status updates. As professionals, we are looking for ways to eradicate the time taken on creating reports on changelogs and project progress. We want to be fast, automatic, updated and all of that packaged really well. 

We are increasingly looking for in-app or in-website notifications and looking for visually appealing notifications.
Beamer stands out as the undebated contender for being the best notifications and changelog tool in the market.
It has comparatively lesser competitors now. However, the scenario might change in a few couples of years to come.
Beamer is also a bold changemaker in terms that it is trying to revolutionize in making changelogs and notifications look and sound interesting and engaging. Not many SaaS companies have come up with such an untested product. 
Have you tried Beamer?
Let us know. We would absolutely love to hear about your experience of using it.

Share this article with your buddies who have a startup or are thinking of launching an app. Or simply share it in your social media feed.
Spread the good word about all the fantastic tools we share here at BforBloggers. Who knows, your share might just help someone starting out. Cheerio!