GetResponse is one of the most beginner-friendly email marketing services. I know because I use it.
Although GetResponse is primarily an email marketing software, they've recently released something worth looking at, especially for internet marketers who sell products and services online.
It is called GetResponse Autofunnel. Recently rebranded to GetResponse Conversion Funnel.
It is a pre-created sales funnel system which means, you don't have to plan a sales funnel from scratch. You simply pick a template, edit it accordingly and launch your sales funnel. It is super simple.
An integrated sales funnel system within GetResponse's powerful email marketing platform was demanded by people way back 4 years:
Big thumbs up to GetResponse for listening to users and implementing our ideas into building a much more powerful product.
Here's everything you need to know about GetResponse Autofunnel (aka Conversion Funnel) and how it can help you sell more.
What is Conversion Funnel (Formerly AutoFunnel)
GetResponse Autofunnel is an all in one tool that allows you to build sales funnel using tested and pre-made sales funnels so you can sell digital and physical products online.
With Autofunnel, you get 40+ conversion-optimized scenarios written and designed by industry experts to sell, build contact lists, showcase your offers, and help you grow.
It allows you to use tested landing pages and email sequences to sell any kind of product. It eliminates the guesswork and helps you set up a funnel very quickly.
GetResponse Autofunnel is easier to use and a lot more affordable when compared to platforms like Clickfunnels.
GetResponse already has all the features you can expect from an email marketing service. The new Autofunnel adds some more interesting and helpful features like:
Landing pages
Web forms
Exit-intent popups
Sales pages
Drip emails
Stores for your products
Abandoned order emails
Automated order confirmations
Multiple payment processor integrations
E-commerce integrations
Webinars
You will be able to build landing pages, store to list your products, sales pages, confirmation pages, popups, optin forms and webinars right from the GetResponse dashboard. Which is pretty amazing.
Since GetResponse allows you to track web events and send emails according to actions on your website, you can easily integrate it with your e-commerce store to use features like abandoned cart recovery and follow up emails.
You can integrate your funnel with PayPal, Stripe, PayU and BlueSnap for collecting payments, and GetResponse doesn't charge any transaction fees.
GetResponse Autofunnel is currently available to all users who are on pro and above plans.
You should note that if you're using GetResponse as your email marketing service, you can test Autofunnel for 30 days on the basic email plan. If you're on their pro plan, you have full access to Autofunnel.
How To Create Your First Sales Funnel Using GetResponse Autofunnel
In this part, I'll walk you through the whole process of how you can create and launch your own sales funnel using GetResponse Autfunnel.
Step 1: Create a GetResponse account
If you already have a GetResponse account, you can start using Autofunnel right away.
If you don't have a GetResponse account, you can start by signing up for a free trial here.
Go to your GetResponse dashboard and click on the Autofunnel under the growth tools menu.
Step 2: Enter details for your sales funnel
Choose your preferred goal and click on create a funnel.
Enter your funnel name and select a goal that you want to accomplish with your funnel. It could be selling a product, building your email list or promoting your webinar.
In the next screen choose your sales funnel type. It can be a full sales funnel or a quick sales funnel.
The full sales funnel will begin from the signup page and will contain stages such as sales page, confirmation page, abandon recovery, a confirmation email.
The quick sales funnel will start from your sales page and will include a product checkout page and confirmation email. The full sales funnel has 6 stages while quick sales funnel has 3 stages only.
If you have a product to sell, I'd recommend you to choose the full sales funnel because you'll be able to nurture and better convert your leads into your customers.
Step 3: Create your store
This is will be your store where you'll be able to list your products. Click on create a store to proceed.
Step 4: Edit your store
Click on create a store button and enter a name for your store. If you happen to have an existing store on Shopify or Magento, click on connect an existing store.
Set a currency for your store and click on create. Make sure the currency you choose matches the currency of your payment processor.
Step 5: Add products to your store
Click on the "let's do this" button on the add products to your store page. You'll see an option to connect your payment processor here, but you should leave that for now.
Step 6: Enter your product details
Select the type of product you're selling. It can be a downloadable file like an eBook or a WordPress plugin, an online course hosted on Teachable, Thinkific, etc., a service or a physical product such as clothing.
Give your product a title and a description and finally, set a price for it
Upload an image for your product. Because this image will be displayed as a cover image for your product, make sure it is of high quality.
Select how will you deliver your product to your customers.
If it is a digital product such as an online course, enter its URL.
Then select which list the buyers are going to be added. Getresponse automatically creates a new list the moment you name your Autofunnel funnel so you'll see a new list named exactly the same as your Autofunnel name.
By default, your buyers will be added into this new list, however, you can change that by selecting another list of your choice. Click save once you fill all the details.
Step 7: Connect your payment processor
Click on your preferred payment processor to connect your payment account with GetResponse with it so you can receive payments coming from your sales page. You can connect with PayPal, Stripe, BlueSnap and PayU.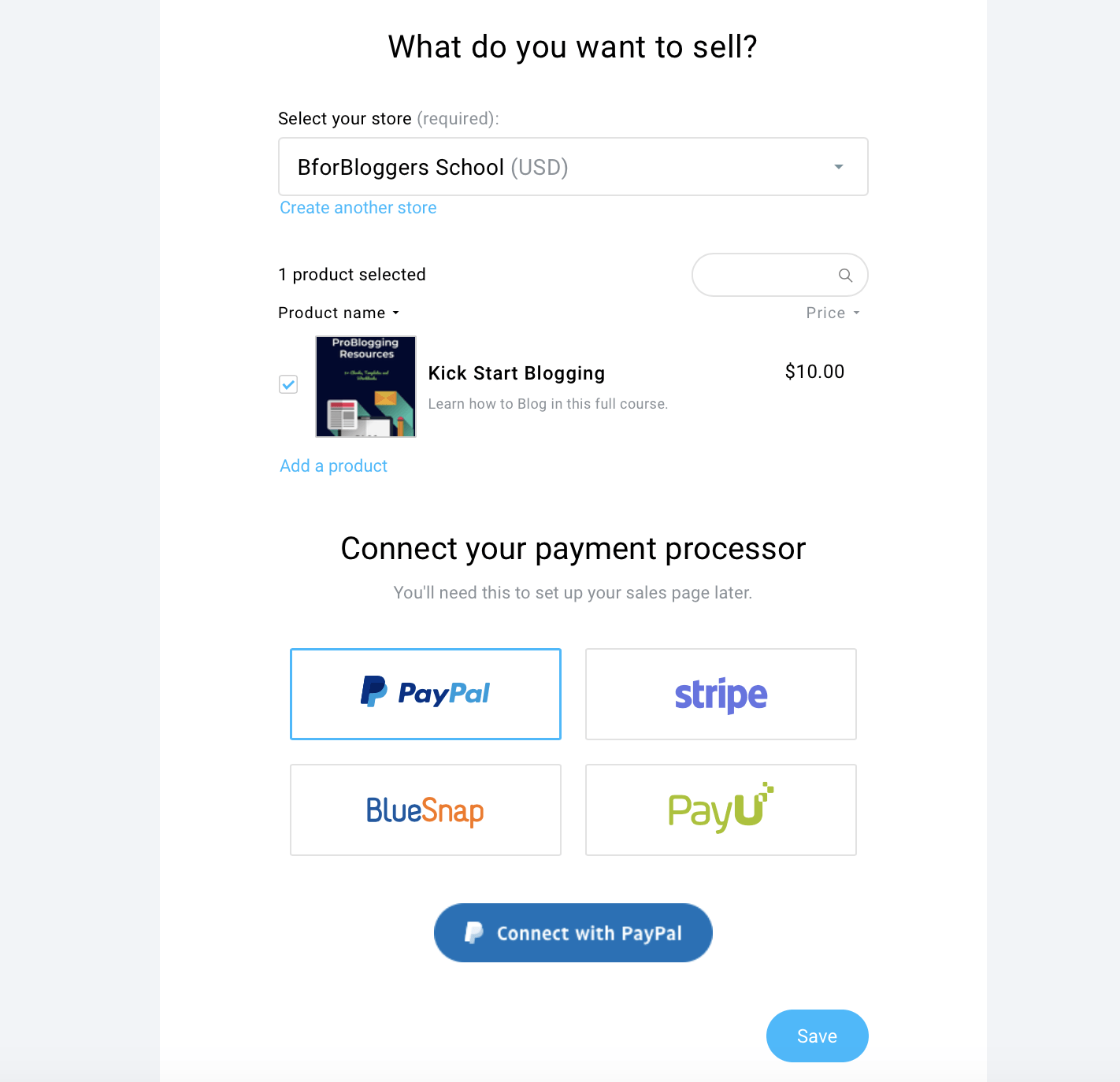 GetResponse won't charge you any transaction fees or any extra charges for selling your products through autofunnel. In this tutorial, I'll connect my Autofunnel with PayPal.
Click on PayPal and then click on connect with PayPal.
On the next screen log in to your PayPal account and click the on "Agree" button to authorize GetResponse and Autofunnel to send Payments to your PayPal account.
Once you're back at the Autofunnel page, click on save.
Now the only thing left is adding:
A signup page
an email autoresponder
a sales page
and a confirmation (thank you) page
Open your Autofunnel by click on its name and you'll see a visual sales funnel showing you 5 different stages of your complete funnel. You need to edit each stage before making it live.
Click on the "create a signup page" button to proceed. This where your visitors will put in their email to enter your funnel.
You'll find over 30+ templates create specifically for products like eBooks, downloads, courses, physical products, services and webinars. Pick the one you like and edit it using hr drag and drop builder.
Check out this article on how to write a landing page copy for help.
Then click on "create an email" button to create an autoresponder email that'll welcome your leads.
GetResponse has dozens of email templates too so you can choose a template you like and edit a few words in it, and you'll be ready to go. But always remember to personalize your emails for a higher response rate.
After that click on "create a sales page" button to create a page where your visitors will see your offer and will be able to buy your products. Again, use the landing page copywriting tips to make a high converting landing page.
You can choose from dozens of sales page templates:
Click on add a "confirmation page" to create a page where your visitors will be redirected once they complete their purchase.
This will be the page that'll deliver your downloadable file, course login details, the details of your service such as an appointment date or order number for a physical product.
That's it – congratulations!. Your sales funnel is ready to go live.
Click on the "enable" button and your sales funnel will be live.
Start sending traffic to your landing page and test your newly create sales funnel. The best part of GetResponse Autofunnel is that it shows you all the analytics in one visual chart and you can easily tweak any part of your funnel anytime for improving conversion rate.
How do you plan to use the new Autfofunnel? Let me know in the comments.