Collecting, curating, and analyzing data is as essential as it is to monitor it. The most accessible and famous tool used for data analytics is Google Analytics. However, many alternatives in the market serve the purpose right, and some are significantly better.
Data analysis is one of the essential things for any business because it helps you track all the relevant data and metrics and extract actionable insights from all the possible data.
Everything in today's time is data-driven and hence is its importance. An alternative tool can be considered keeping in mind its privacy policies, ease of use, and more.
Here are some alternatives to Google Analytics and why you should consider using them –
Fathom Analytics is a tool offering analytics software tracking essential metrics like pageviews, top referrers, bounce rate, top pages, unique visitors, and more.
Their embed code loads way quicker than Google Analytics, making your SEO game stronger. You can make your dashboard a hundred percent public or grant access to only specific people with its private-public or passworded dashboards.
It is trusted by big names in the market like GitHub, Buffer, SavvyCal, and more. The tool is powerful in protecting your digital privacy and also comes with a free trial for you to get the hang of how it exactly works.
What makes it better than Google Analytics –
Fathom's main motto is to preserve user privacy by hook or by crook. Hence, their privacy systems are solid and definitely more potent than that of Google Analytics. Unlike the latter, Fathom does not use cookies to track visitors and proves a better user experience for visitors.
Pricing:
The subscription plan starts at $14 per month and goes up to $34 per month.
Clicky is an analytics software that does not just track the key metrics but lets you, as a user, see the exact actions taken by your visitors.
This is done through its unique feature of monitor uptime, heatmaps, and a lot of ore that they have to offer. They have been in the market for quite some time now, so they know precisely how to upskill your SEO game and strengthen your website's online position.
What makes it better than Google Analytics –
Clicky gives you the exact behavior of your visitors instead of just telling you their basic information. Unlike Google Analytics, it gives you user information that makes more sense to develop your website according to the visitor preference.
It does the job of strengthening your SEO and making your website rank better, as it is already used on over 1,000,000 websites.
Pricing:
They have five different paid plans that start from $9.99 per month and go up to $19.99 for a pro platinum plan. For a custom plan, you need to call their sales department to get a quote according to your exact requirements.
Microsoft Clarity provides free heatmaps and session recordings for a seamless analytics experience. It makes your website work better for your customers and even your business, without any cost at all.
The session recordings help you examine user behavior, whereas the detailed heat maps show you exactly where the user clicked and how much they moved around the site with the location. This helps you discover your site's most engaging areas. 
It gives you insights on essential things like excessive scrolling, rage clicks, and clicks that go nowhere. It streamlines your design with data-driven decisions. 
What makes it better than Google Analytics –
The most significant difference between the two tools is that MS Clarity focuses highly on engagement and enhances it for your website. Whereas all Google Analytics does is track your web traffic.
As necessary ta sit is to track traffic, MS Clarity is able to identify the most engaging segments of your website, unlike Google Analytics.
Pricing:
Absolutely free!
Simple Analytics is one of the most straightforward, cleanest, and friendliest analytics tools for businesses. It shows you the essential metrics like referrers, top pages, screen sizes, and page views.
The data is enriched with useful information, and no cookies are used to collect any personal data. So, the entire experience is clean and free from cookie banners. 
Their dashboards are super easy to understand, and the email reporting gives you access to detailed reports about your website.
What makes it better than Google Analytics –
The fact that it does not use any cookies ensures that your personal data is safe and never sold to anybody. Since you pay for the subscription for Simple Analytics, unlike the free Google Analytics version, you rest assured that your data privacy is taken care of as the utmost priority. So, no leaked information and no spam emails!
Pricing:
The starter plan costs $19 per month, the business plan costs $59 per month, and the Enterprise plan has a quote that you can get by contacting their sales team. It comes with a free trial too!
Woopra is an end-to-end customer journey analytics tool that helps you make data-driven and intelligent decisions. It gives you the analytics for the product, marketing, sales, and support teams to strengthen your online position.
Seamlessly track and unify all data across different segments with over 50 integrations, analyze customer trends, retention, segmentation, and much more. 
You can easily sync existing user data from your databases and SaaS services without developers gaining immediate insights into the customer journey with historical data.
What makes it better than Google Analytics –
Woopra runs as a desktop application. However, Google Analytics is web-only. Woopra also has real-time tracking that Google Analytics does not, and Woopra is absolutely instant while updating, unlike the former. 
Pricing:
Their basic plan starts for free, and the paid plan starts from $349 and goes beyond $999 according to your feature requirements. 
Heap is the digital insights platform that shows you all that your users do on the site. It automatically surfaces everything that is invisible to the other tools. Heap grows your teams faster than any other platform with unmatched visibility, targeted insights, and robust reporting.
It offers over 100 integrations that automatically let you deliver the correct information to the right customers at the exact right moment. The top-ranked platform is loved by everybody for top product analysis, best for startups, and is also a gold winner in digital marketing analytics and optimization.
What makes it better than Google Analytics –
 Google Analytics only tracks page views and sessions as an analytics tool. However, Heap takes on the responsibility to capture clicks, form submissions, field changes, and more -n all automatically.
It also enables a full view of user engagement that helps you understand user friction without any engineering effort that GA does not offer. 
Pricing:
Go through their subscription plans here.
HubSpot's traffic analytics helps you view the website traffic data, including traffic sources, device types, country, topic clusters, and a lot more.
Having an external site will allow you to install the tracking code to your site in order to begin the traffic tracking in HubSpot. HubSpot offers robust reporting and enables you to customize and filter the entire report data. 
The analytics view customizes your analytics view according to your own preferences. You can save and export this report as an XLS, CSV, or XLSX file. It has a page tab that is dedicated to showing you your content's performance with crucial traffic metrics. All in all, it is a powerful tool for your web analytics.
What makes it better than Google Analytics –
HubSpot's platform is easier and seamless to use compared to Google Analytics. It is also easier to understand due to its straightforward interface. HubSpot gives you a set portal for each website that you want to track, segmenting and organizing multiple websites at once.
Pricing:
The starter plan costs $45 per month, the professional plan costs $800 per month, and the enterprise plan costs $3200 per month, which includes each and everything that you need to market your content and not just basic analytics. They also have a free plan, to begin with!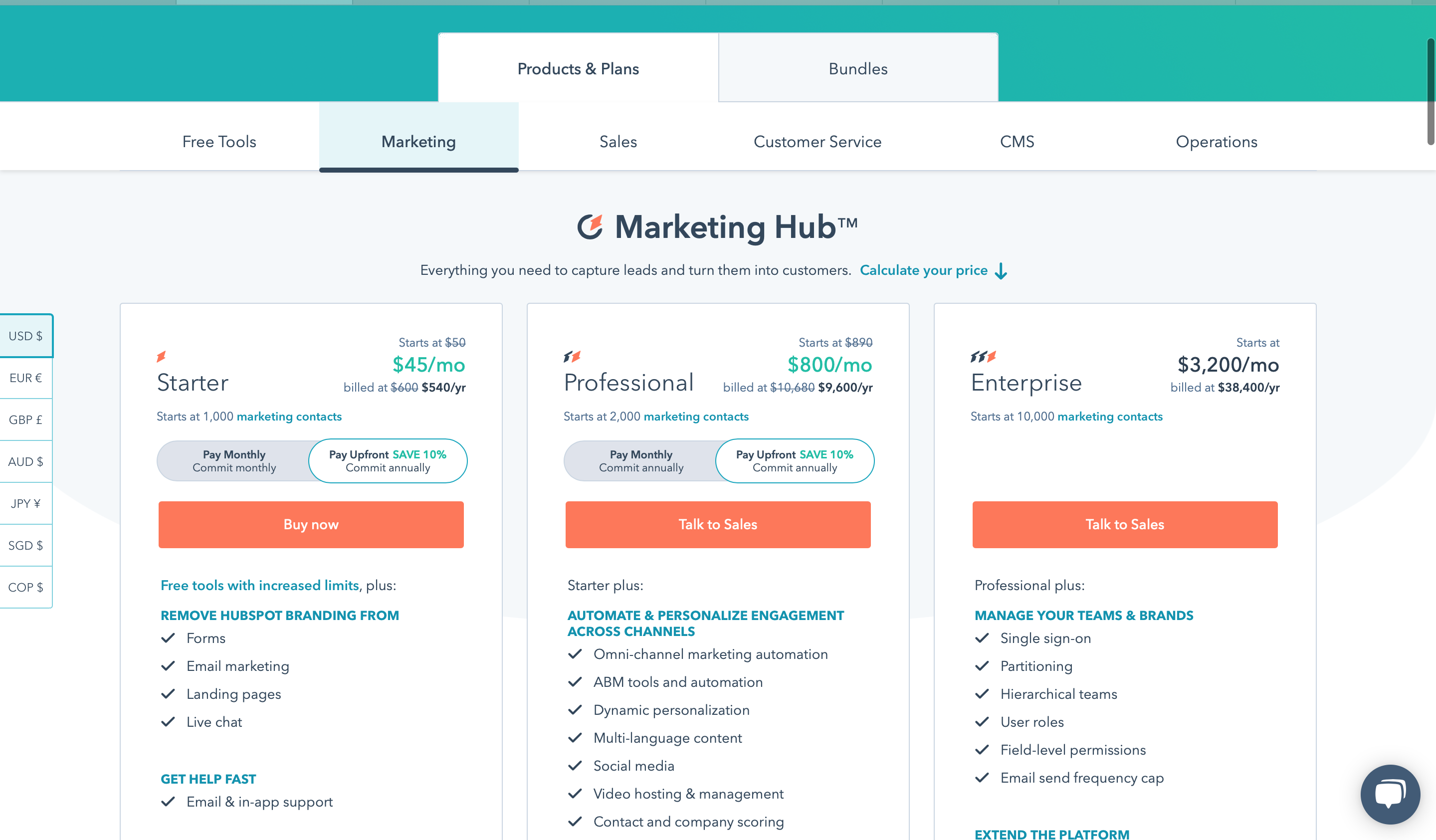 The modern analytics tool is created on the philosophy that taking action by a user speaks more incredibly than the page views.
It builds user flows that are able to assess how users navigate through your website and segments it into an intuitive way to uncover informational insights. It has an interactive reporting section that helps you learn in-depth about your visitors. The team dashboards and alerts make it a point to monitor your metrics regularly.
Their segmentation is limitless and focuses on the surface hidden trends to strengthen your website's visibility and position. It also measures B2B account health through its feature of group analytics. It offers powerful tools for data integrations, data management, security and privacy, and scalable infrastructure. 
What makes it better than Google Analytics –
Mixpanel, unlike GA, offers advanced analytics features and functionality. It is only based on event tracking and not page views like Google Analytics, making user behavior a priority. It gives you more precise insights into the health of each of your business accounts with powerful tools that are created for separate things and not combined as an all-in-one service.
Pricing:
They have a free plan that you can try out today. Their growth plan starts at $25 per month. Whereas their enterprise plan is customizable, and you can get the quote by talking to their sales team directly.
FoxMetrics is a customer journey analytics tool that allows you to create custom data models to upgrade your analytics more than you can in Google Analytics.
It is best made for advanced users who have the proper knowledge of SQL. After building the models, the users can create stunning custom dashboards and set up alerts for your system to tell you the abnormalities, giving you enough time to handle the situation.
It empowers the businesses to collect, transform, visualize and explore the visitor activities by easy reporting. The reporting is mainly made on page views, custom events, sessions, users, and more such related metrics.
What makes it better than Google Analytics –
It is best suited for enterprise business owners and focuses strictly on advanced users. On the other hand, Google Analytics is a more generic analytics tool that caters to businesses of all sizes.
The strict policy of FoxMetrics to enhance enterprise-level business makes it the perfect choice for big companies and advanced users, unlike GA.
Pricing:
They have a free core plan that beginners can take advantage of. The growth plan costs $299 per month, and the enterprise plan's quote can be known by contacting their sales team.
Chartbeat is an advanced web analytics tool that offers increased leadership amongst users. It has powerful dashboards, optimization skills, and reporting mechanisms to take your web analytics to another level. It also provides image testing, integrations, and headline optimization giving you actionable insights. 
Its pipeline features data streams in unique real-time content data, piped straight into your systems without any hassle. The tool is made to monitor, optimize and measure.
It also offers several add-ons to make the analytics robust, like its slack integration, the big boards giving you a view of your data designed for extensive format monitoring. 
What makes it better than Google Analytics –
Chartbeat is a tool with real-time data for front-line action takers that provide you with real-time analytics for your websites and blogs. It shows you the visitors, load times, and referred sites on a minute-by-minute basis.
However, GA is only enterprise-class web analytics that does not focus on real-time site data.
Pricing:
The pricing starts at $7000 per year. 
Matomo offers robust analytics solutions and protects your data and privacy. You can get the control back with Motomo, which focuses on ownership.
It provides 100% data ownership, and you know exactly where your data is stored and what it is being used for. It is an open-source platform with 100% data accuracy and elite support. You can adjust the platform according to your needs by controlling everything firsthand.
You can also easily import all the Google Analytics data that you had stored earlier into your Matomo platform. It gives you unlimited data with unlimited websites, segments, and users to work with. The platform is effortless to use with enhanced insight and securely lets you track personal data backed by privacy laws.
What makes it better than Google Analytics –
GA does not allow you to track personal data following the privacy laws, but Matomo does. Matomo also protects your reputation as nobody can use your data without your permission and is way more ethical than GA. It does not make any privacy sacrifices that may be possible with Google Analytics.
Pricing:
They have a free plan that you can try out without any obligations. Its paid plan, also called the cloud plan, costs around $35-$40 per month.
Smartlook helps you in recording all the users on your website and mobile apps. It helps you find useful information even when there are over a thousand recordings in no time and provide you with the relevant details that are important to you.
You can dig deeper into their events statistics and save hours by its fast-forwarding replay of only vital recordings.
It connects its funnels to recordings and offers tools like retention tables improving user engagement, automatic event tracking, retroactive data, and a lot more. It is available for websites, iOS, and even android, pricing you with different stages where you can host the platform.
What makes it better than Google Analytics –
Smartlook is the perfect platform for conversion rate optimization. It is a powerful tool that performs better when it comes to converting visitors into customers, with its advanced tools focusing on user engagement and retention. GA is, however, a little more straightforward and does not involve as many specific features as Smartlook, which makes the latter better. 
Pricing:
Their basic plan is free. However, they also have 3 levels of paid plans that cost $31, $79, and more. The enterprise plan is fully customizable, and you can get to know the quote by contacting their sales team.
Google Analytics is undoubtedly a great free tool. However, the tools that we have mentioned in the list may be paid, but that is the reason what sets them apart from GA.
They value your data protection and customer privacy as a priority and ensure that none of the data on your website ever falls prey to misgauge or leakage.
They also provide way more features and options than Google Analytics that act as a powerful tool for your website's analytics and reporting. 
P.S. You would also like to learn how to track clicks in WordPress and Jetpack Vs Google Analytics: Which One's Better And Why)