How to Optimize for Google Discover (With Examples)
Google Discover (the Google feed) has been the main attraction for bloggers, YouTubers as well as podcasters for getting targeted traffic.
It is a fantastic channel for retargeting, especially when you consider the fact that it is free to appear in.
Those quality blogs which have been online for quite some time now may have seen impressions coming from Discover in their search console dashboard.
However, the majority of bloggers still have not made it.
So, if you're one of those bloggers who don't understand why their blog posts aren't getting any traffic from Discover, this article will help you out.
In this guide, I'm highlighting seven strategies that'll land your blog posts in Discover feeds.
These strategies should work for you if you have a blog that is at least a year old, particularly those who have decent domain authority.
Let's get started.
Publish Consistently
Mostly, its the latest content that appears on Discover. It's rare to find content on Discover feeds from blogs that rarely publish or update their content.
Even if you can not publish new content regularly, keep updating the old ones.
This will help you get a decent crawl rate from Google bots, making sure when publishing a new blog post, it gets indexed quicker.
Publishing frequently is not the same as publishing consistently. There's a fine line between both.
You may publish a new post on Monday, then next week, on Friday, and then again on Sunday. This isn't exactly what we are talking about.
Being consistent means having a routine of when you publish a new post.
Make it once a week or twice a week on a fixed day. I usually publish new articles every Monday. I schedule it a night before so that even I forget, my blog gets automatically updated.
No matter what kind of content you publish. Be it a podcast episode to a Youtube video, just make sure you are consistent.
Target Trending Keywords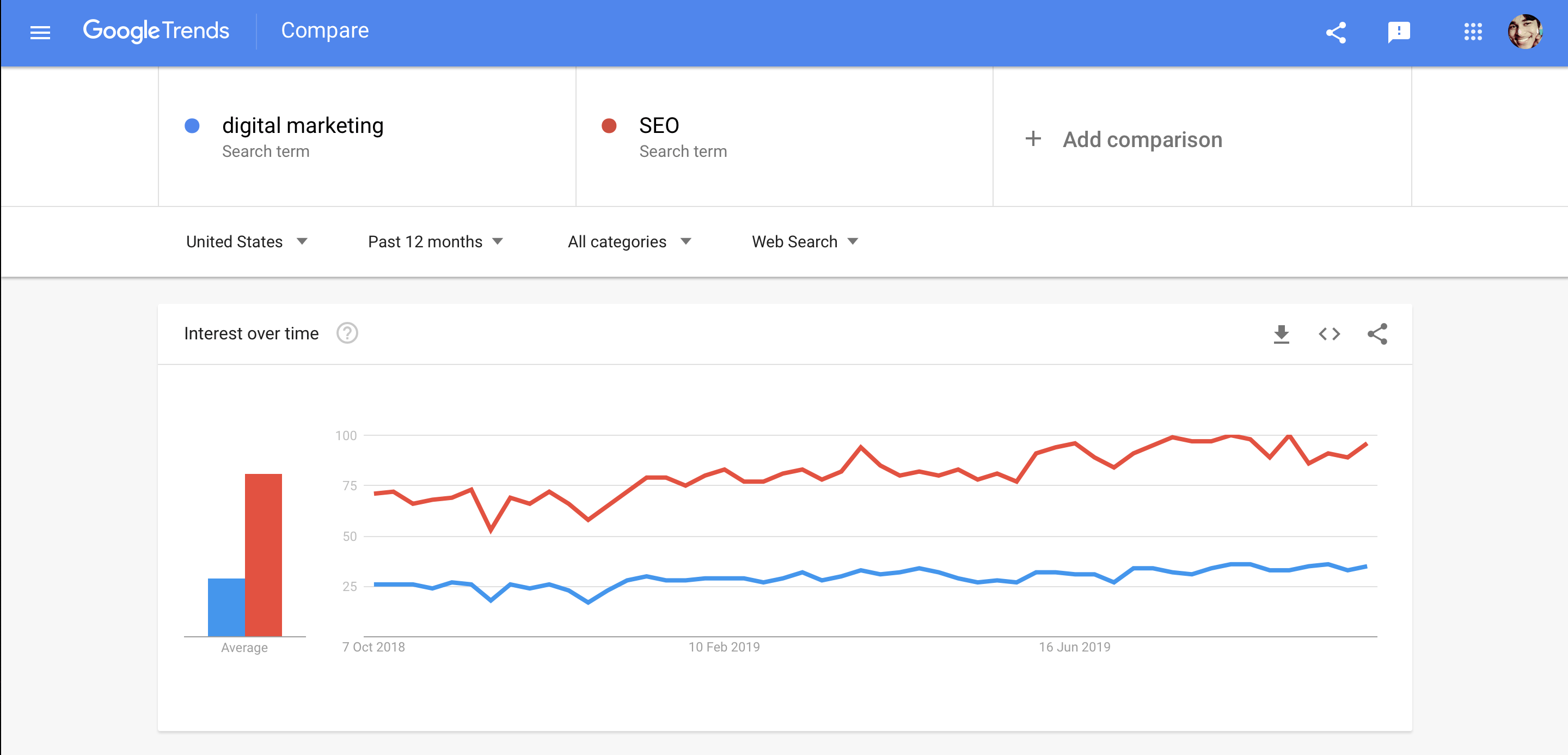 Trending topics, recent news, and viral videos often popup on Discover.
You can find trending keywords in your niche using tools like Google Trends and BuzzSumo. You can target specific countries in Google trends to find trending topics.
BuzzSumo will allow you to find trending topics that other bloggers have published recently.
Trending keywords will help you get a better click-through rate in Discover feeds as your article is already becoming viral, and people are eager to read about it.
Once you start to get a higher click-through rate, Google may push more articles to form your domain, because your content is preferred by the audience.
Add Winning Featured Image
Along with your headline, your content in Discover also appear with a featured image.
This featured image will have a significant effect on your click-through rates. So, a featured image is a must.
You can create your own image using tools like Canva.
The featured image you add to your posts should be specifically designed to give a glimpse from inside the post.
Something persuasive enough is the when someone looks at it, they are immediately hooked to check the entire post.
Use AMP
Accelerated mobile pages (AMP) is one of the best optimizations you can do to make your site mobile friendly. AMP pages make your mobile pages super fast as well as responsive.
Your pages load fast as a result of optimized HTML and reduced Javascript loading, so when a user clicks on an AMP result, the page opens almost immediately.
Implementing AMP can significantly increase your chances of appearing in Discover feeds.
Because of Google's emphasis on the experience of mobile users, publishing AMP pages will help you get an advantage in the mobile-first index algorithm.
You can simply install AMP for WP plugin on your WordPress site. It will automatically create AMP pages for all of your existing posts and pages without errors.
Implement Local SEO
Local SEO is another essential factor. Local intent searches are now at 46%.
Discover regularly delivers local news and updates.
If your content and website are optimized for local SEO, you'll have more chances of appearing in front of a highly targeted audience.
You can publish content on local issues, community updates, regional events, etc. to grab the attention of local readers.
One of the biggest advantages of local SEO is a higher conversion rate. You appear straight to a user who is in the buying mood or action mood.
So, it is a good idea to optimize your content for Local SEO, especially if you are a business selling products in a specific market.
How to Check If Your Site is Appearing In Google Feeds
If your site is appearing in Discover feeds, you'll notice a new Discover tab under the Performance section in your Google search console.
Here's what it looks like:
You can check your impressions, total clicks and average click-through rate in the report. The most important metric here is the CTR, and your target should be improving it.
Conclusion
If you get low CTR through the year, then it means your content is less engaging and your headlines are not compelling.
Headline A/B test tools like Thrive Headline Optimizer can help you test two headlines and understand which headline works the best.
I hope this guide helped you with getting your content in Discover feeds.
Let me know your stats in the comments. Share this post on Facebook and Twitter.