GreenGeeks Review: The Eco-friendly Web Hosting
Today we're talking about GreenGeeks. There are tons of hosting platforms out there to choose from. It can be overwhelming.
But only one puts ecology as a priority and helps you make a difference: GreenGeeks.
So keep reading this post where we'll cover:
What exactly is GreenGeeks?
Why is it "green"?
Key features.
How to get started.
Let's go!

What is it?
GreenGeeks is the world's number one green energy web hosting provider. It has more than 45,000 customers from over 150 countries and has hosted around 600,000 websites.
And they have an interesting unique selling proposition.
Most times it seems like business growth and environmental protection can't coexist together.
But that's not true. GreenGeeks was founded in 2008 and has been committed to environmental protection since day one.
Here's how:
Why is it "green"?
If you care about the environment, chances are you take day-to-day steps to reduce your carbon print. Maybe you stopped eating meat, changed your transport to a bike, started composting, or reduced your number of plane trips.
But did you know the Internet is one of the world's largest polluters?
Just as data centers are responsible for as much carbon emissions as the airplane industry.
As the name indicates, GreenGeeks prides itself on being green.
But is that actually the case?
Well, yes. They work with multiple environmental organizations to stay true to their word.
For example, they work with One Tree Planted and with every plan purchased, GreenGeeks plants one tree.
They also have eco-friendly data centers and servers. They match 3 times the amount of energy they consume from the grid in the form of renewable energy credits!
And for everyone who uses GreenGeeks and wants to spread awareness and environmentally friendly practices to everyone, they have green website tags.
Just copy the code of one of these tags and place it on your website. Let everyone know you care about the planet!
Hosting options
GreenGeeks has multiple hosting options to fit all your needs:
1. Web hosting plans
They offer WordPress hosting as well as other apps for the same price: WooCommerce. Drupal, Magento, Joomla, cPanel, CMS, PrestaShop and OpenCart.
2. Reseller plans
They also have reseller hosting with cPanel and WHM if you're interested in managing multiple hosting accounts or reselling web hosting.
3. VPS plans
Finally, for those who need more resources than those of traditional web hosting plans, GreenGeeks offers a Virtual Private Server.
You can install your own software and have root access. Billing ranges between $39.95 per month and $109.95 per month.
They also have dedicated servers with resources just for your websites. Prices go from $169 per month for 2 GB DDR 3 Memory to $439 per month for 16 GB DDR 3 Memory.
Features included in all plans
Free SSL Certificate.
Free domain name for the first year.
Unlimited databases.
Multi-user access.
Free website migration: the average turnaround time is about 24 to 48 hours.
Free shopping cart installation: perfect if you use an ecommerce platform.
Developer-friendly features
They offer Perl and Python support, an unlimited number of FTP accounts, and access to the latest developer tools. Moreover, you can access files via the command line and upload files to the server securely via SFTP.
Website builder
Security
Free nightly backup.
Proactive monitoring.
Real-time scanning and secure vFS framework.
Protection against DDoS attacks with network-level mitigation services.
Great speed
GreenGeeks was one of the first to adopt PHP 7, the latest version of a programming language that helps a lot with website speed.
They also have free CDNs which allow you to cache content and serve it from servers closest to your visitors for faster web serving.
They also offer the latest network protocol, like enabling HTTP3 / QUIC to speed up in-browser load times.
WordPress features
One-click WordPress installation.
Automatic updates.
Quick launch WordPress.
Support and resources
GreenGeeks has an FAQ section, step-by-step guides, and a blog.
If you need personalized help, their chat support is available 24/7 everyday. I talked to them multiple times – I had a lot of questions- and I can assure you they answered quickly and are all very helpful.
GreenGeeks expert support is also available via telephone or email tickets.
Besides, all the basic information and tutorials on how to use their services can be found on their YouTube channel, "GreenGeeks", where they upload videos regularly.
Although this is not to be confused with Geeks of Green, a totally different channel dedicated to plants and gardens.
Pricing
Prices are quite affordable and they offer a 30-day money-back guarantee on all their plans.
Lite: $2.95 per month. Host one website and 50 email accounts. Get 50GB of web space. Performance in this tier is standard.
Pro: $5.95 per month. Host unlimited websites and email accounts. Access to the WordPress repair tool and on-demand backups.
Premium: $2.95 per month. Includes a free dedicated IP, free Alpha SSL and object caching.
How to start using GreenGeeks?
1. Select a plan and set up your domain name -or use a domain name you already own. Coming up with a name can be hard, so read this post if you need some guidance on the topic.
2. Create an account. Fill in your information and customize your package. You can choose between these locations: Chicago or Phoenix in the United States; Montreal or Toronto in Canada and Amsterdam, Europe.
When you purchase a plan, you receive two free addons: domain locking and total DNS control. You can also choose to add an ID Protect – WHOIS privacy for $9.95 per year.
When you add this protection, you prevent your information from being available to anyone on the Internet.
If someone does a WHOIS search, instead of seeing the information on the left, they'll see Green Geeks' information.
You can pay annually, biennially, triennially, or monthly.
3. Login. Depending on the device you use to do this, you might have to authenticate with a code. Once you do so, you'll arrive at the dashboard.
4. Launch wizard. This feature was developed last year and it gets your site running in no time. The cPanel, however, is still on the hosting platform, so you can work from there too by selecting "Skip this".
As a new user, you'll be automatically directed to the wizard and you'll see something like this:
If you don't have a website and don't have time to create one, choose "Starter Site". This option grabs the content you supply and designs a website for you in about 24 to 72 hours.
Start a new website
5. If you select "Start new website", choose an app between WordPress, Weebly, and WordPress + WooCommerce. Then click the "Continue" button.
6. Start the website setup and choose your theme. There are eight website themes.
Then select one or multiple plugins to be automatically installed for you. GreenGeeks will also install the LiteSpeed and LSCache plugins, which will make your website reach lightning fast speeds.
7. Click "Confirm". A message like this one will appear on screen and you're ready to get started with your website!
Starter site
When you choose the option to build a site with GreenGeeks, the setup is a bit different.
First, you need to choose a theme from this list. As you can see, you can visit the demo site to take a look at each one.
Then, for the rest of the setup, you'll also give GreenGeeks some content for your Home Page section, information about your business and social media profiles.
After that, simply click "Create my website" and it's ready!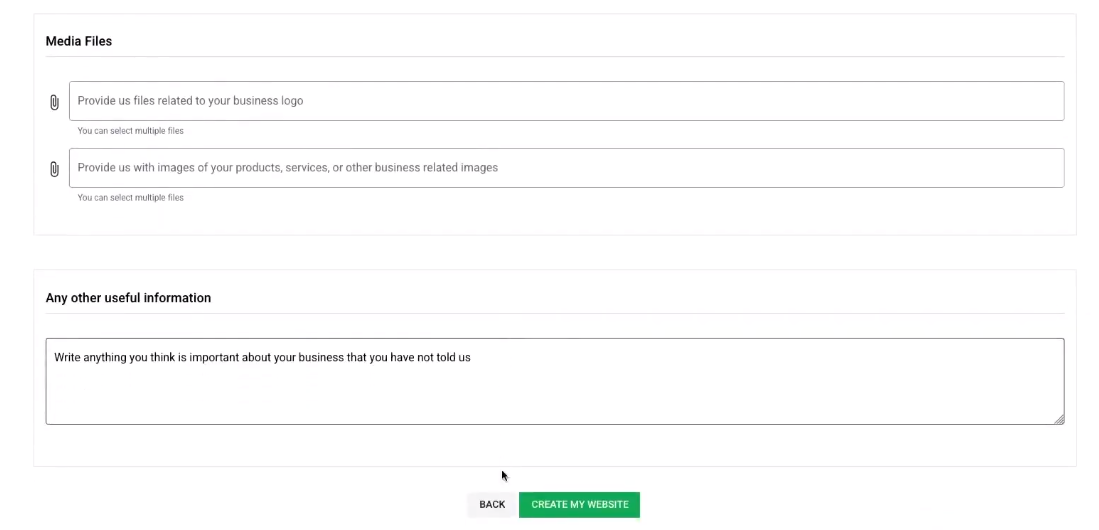 Pros and Cons of GreenGeeks
Pros
Powerful performance: Remember all the latest speed-prime technology they use? Well, it's not surprising GreenGeeks is one of the fastest hosting providers out there.
Affordable plans with plenty of features: they have tons of free features other platforms will charge you for.
Helps the environment.
Excellent customer support.
Cons
Few data centers. They only have five datacenters and none are in Asia or Africa.
No 24/7 phone support.
Available only in English.
Conclusion
GreenGeeks is a truly remarkable hosting platform.
Besides being 100% committed to protecting the planet, they have powerful features on even their lowest plans, making it a powerful yet affordable option.
It's a pity that, having customers all over the world, their service is only available in the English language.
However, it's not surprising since most platforms do the same.
And although their number of data centers could be higher, they remain one of the best hosting platforms you could get.
Have you been given a chance to join GreenGeeks?
Are you interested in using a green web hosting?
Tell us your experience and opinion in the comments!