Every new blogger has a specific pattern towards making money from a whole new blog, that is:-
Publish a few contents
Apply for AdSense or other CPM networks
Earn non-motivated money
There are many high-paying CPM ad networks, which can help you earn a fair amount of money on Auto-pilot. Even hundreds of blogs rely on AdSense and, guess what, they do, make millions every year. Take labnol.org, for instance.
Why do people focus on advertisements to monetize their blog rather than more rewarding techniques and strategies?
That's because it's so easy to earn money with it! Set it & forget it and money keeps on generating all by traffic with zero manual work afterward.
Most beginners think it is the only way to make money online.
This is one of the most popular reasons behind so many people running Advertisement banners on their blog because they have no time or are just lazy and unaware of what lies ahead of this same process.
In fact, you absolutely don't need ads on your blog. There are dozens of highly rewarding ways to monetize a blog without ads.
There are many more ways you can earn real money to sustain your livelihood by generating recurring online income.
In this post, we will look into some of the many ways, and I will show you some of the best, hand-picked for any niche ideas to monetize your content without displaying any Ads on your blog.
Below listed are 9 ways one can make money from a blog without displaying any Ad(s):-
1. Affiliate Marketing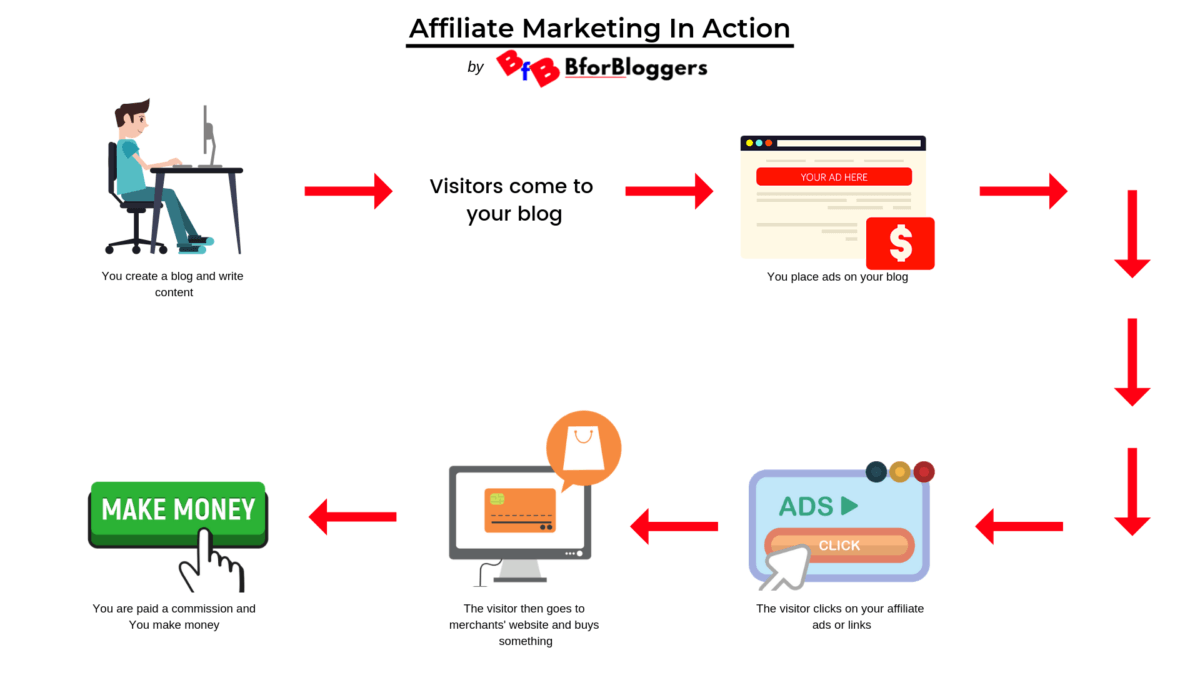 The real way to earn money online is through affiliate marketing. Affiliate marketing has helped me, and many more bloggers make a share of the money that is more than any given 9-6 job. If you want to know how much money I earn from my blog, BforBloggers, you should check out my recent income reports.
Affiliate Marketing is when you sell a product made by someone else – that isn't yours. This way, you earn a commission from whoever you refer to if he/she ends up making a lead or a purchase.
The commissions earned in doing this are quite impressive and generally range from $1 to $10,000, maybe more. Affiliate marketing is a business model that can be connected with various other conversion models.
This way, you can expect to earn more than multiples of the money you were generating through serving banner ads on your website.
All you have to do is join an affiliate program and refer. The amount of revenue you will generate depends on your marketing strategy and skills.
However, this is relatively easy if you pay attention to general profitable tips related, and if you have any misconception regarding affiliate marketing, read this.
If you are serious about your blog revenue, you should start doing affiliate marketing. No matter how small-scale it is, it's still more profitable than advertising networks.
2. Portfolio Showdown
This mode of making money is quite advanced. You need to have a little bit of expertise and experience for practicing portfolio showdown.
Basically, your blog is a kind of portfolio.
So, why not drive more work with it?
If you are a great content writer, or you know how to market a particular product better than anyone else, you can showcase your talent by adding a portfolio to your blog.
This will work the same way as a typical resume would do. A client will come through one of your blog posts, and he will look for the author (of course, if the content is excellent).
Now, you have included a portfolio link in your author bio. The client spots it and makes an offer. That's how you get your paid job, and this process is repeatable as long as you want!
If you are a WordPress user, you can use Envira Gallery to create outstanding portfolios.
I highly recommend this step for photography, graphics, lifestyle, and other related niche bloggers.
Check out Elna Cain, she has a beautiful portfolio where she drives traffic through content marketing (Blog Posts).
Many more bloggers craft their "Hire Me" page where they showcase their experience as a blogger and the work they can do for anyone looking for a skilled person and, of course, in that niche.
3. Sponsored Content
Writing sponsored content is very much similar to doing content marketing to generate affiliate commissions.
However, when you are sponsored for content creation, i.e., writing a post, you are paid before publishing the post. That's how you earn money with this content.
The payouts are higher than that of an affiliate commission, but it's not recurring.
If you are about to accept a merchant's proposal to write sponsor posts, make sure, you charge a reasonable amount. This amount should suit both of you, but the priority should be your satisfaction.
If the payment you finalize is not accepted, do not write a post.
The content you publish is evergreen; so is the referral steam that it creates. Once a post is published it will continue benefiting the merchant, whereas you will get nothing out of it again.
That's why sponsored content promotion should be handled carefully.
If you are good at writing reviews, you can earn a very handsome income for every single article you write. The best part is, you can charge the merchant in advance!
4. Selling Digital Courses And Ebooks
I used to have a BforBloggers store. That's where I used to sell my e-books and other digital stuff.
That helped me to earn a straight income of 10 dollars per sale. That means if I can sell 100 e-books a month, I can make a whopping $1,000. No shares, no nothing. Every single dime goes into my pocket.
Selling your own digital products has its own benefits, such as:-
No earning shares
No need to wait for payout dates
No worries to cross payment threshold
Unlimited Income
Better Credibility
If you can create anything, you can sell anything. It could be an ebook or software. It may be a SaaS as well.
The most effective and highly profitable way of selling your own products is 'selling courses".
You can easily tailor a short or an extended course for newbies in any niche you want. The only thing you need is genuine experience and proven strategies that will work for beginners. You can sell these courses on your blog, and the best part is the income will depend on how you drive more enrolments.
Once a couple of students have signed up for a couple of courses, you can easily insert your product, either affiliate or owned, into them.
Yaro Starak is a great example to check out. Using a tool like Podia or Thinkific can make the whole process a lot simpler.
5. Start A Paid Membership, Forum, Or An Interaction Site
This can be a great idea if you think you can create an expertized group of like-minded people willing to help and lift each other up.
A paid membership site and a paid forum mean only those people will be included willing to pay the price.
You can charge a straight one-time amount, or you can create a subscription-based plan.
A perfect example of a paid forum is the STM affiliate marketing forum.
Similarly, you can create a freemium QnA or a community site that allows users to register for free and enjoy premium services.
The scope for QnA & forum sites is really scalable, and you may have noticed how many forums start promoting affiliate products as well.
6. Email Marketing With Sales And Revenue Generating Projects
Actually, email marketing turns out to be a game-changer in every phase of making money online.
Every subscriber of yours is an asset. That means you can generate a profit from each subscriber that resides on your list. You just need to set up the appropriate system and see your revenue grow to predefined levels.
The process remains simple. Start using one of the free or paid lead generation tools and get yourself an email marketing service, the free one if you're just starting out.
Start collecting emails using some ethical bribes, then set up a sales funnel and nail it! If you get close to 1000 subscribers and each of them converts to $10 each, it means you get $10,000 in a month out of nowhere.
7. Paid Guest Posting
If you look into some blog directories, you may spot this:
Many bloggers accept guest posts on their blogs only when the guest author is eager to pay for them. This is a good way to earn money if you have a high DA and authority site. Unless you haven't built any credibility yet, you may want to keep it free.
After a while, when you have built an engaged audience and your blog is quite big enough, you can ask for any amount you like, and the guest author may be willing to pay it!
8. Launch a Product
The smart way to earn more money and build the foundation of a startup is by creating and launching a product. It may be an SaaS, Software, or Web-based tool. Extensions, Plugins, themes, and anything!.. phew.
Sounds like a "for professionals" version? It isn't that complicated.
You don't have to be a developer, coder, or front-end designer to create a product. You have to do what you're good at. Create engaging content. If you have a friend who's fantastic at marketing and knows how to do coding, you are all set for a startup. You just need to find the right partner to collaborate with.
The only thing you need to have is an idea. Once you know what kind of product you can market and profit from, go on and grab a developer from various freelancing sites like freelancers and Fiverr.
Start doing content marketing, and attract visitors to your product. Make them fall in love with it, show them how useful and different your product is.
9. Start a Podcast
Podcasting is a great way to connect with your audience. It is even more effective in increasing product sales, and it's way more comfortable to monetize and effective in getting sponsorships.
If you can start a podcast that will be listened to by a good number of people, let's say 10K listeners per month or more, you will get sponsors all over your email. Companies and brands from your niche will reach you with partnership offers.
Many bloggers are slowly starting their own podcasts. It helps you make money, but it also helps you build credibility and an engaged audience.
That's it for now.
From here, it's up to you.
Tell me about more ideas and different, exciting ways you think one can make money online without displaying any ads on a blog.