If you're selling on Amazon and are interested in making the whole process faster, you've probably heard about Helium 10. But there are tons of other options that can be just as helpful or even more.
Today, in this post we'll review Helium 10 and Viral Launch and determine which is better.
Helium 10 vs Viral Launch
Helium10 was funded in 2015 and it currently has over 2 million users worldwide. It's one of the most popular Amazon seller platforms out there. In fact, they have recently become part of Amazon Emerald (we'll talk more about this later).
But it's not only a multifaceted tool that you can use in your Amazon journey, it also has some tools that are suitable for Walmart.
Finally, Helium also has an award-winning training series and multiple webinars so you never stop learning!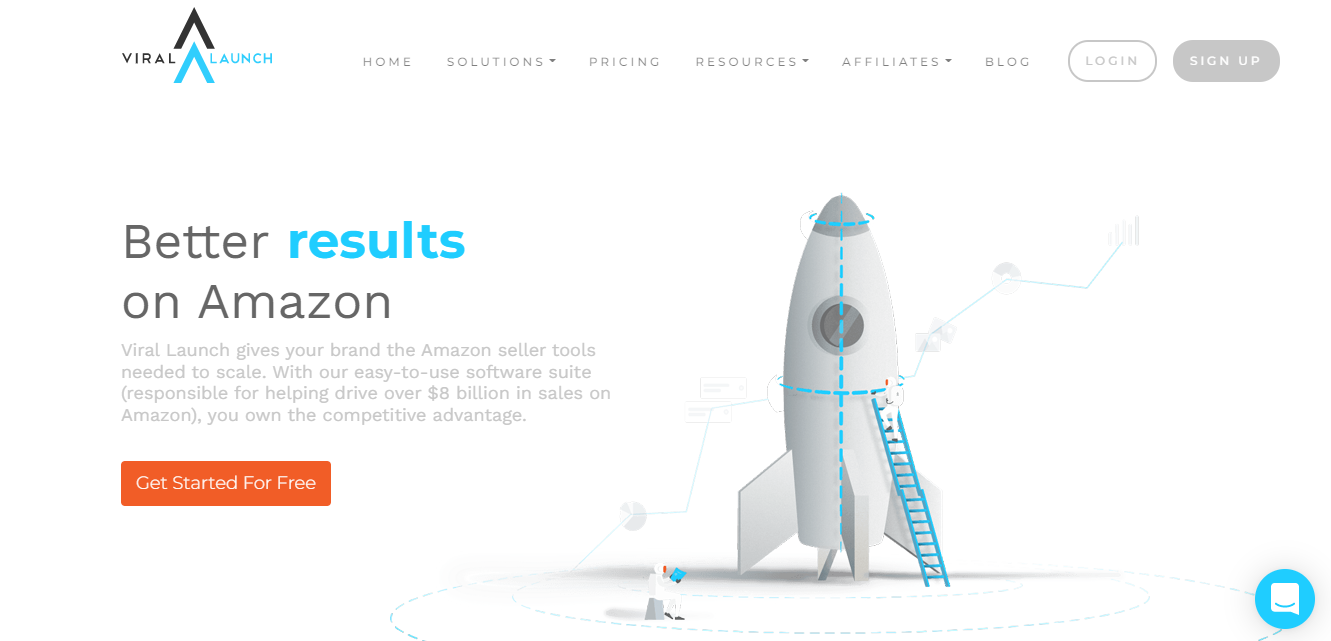 Viral Launch is a US Amazon seller tool that has helped more than 10,000 brands grow. It's an Amazon ad' verified partner and it has everything you need to plan, start and grow your business.
At Viral Launch, they're constantly innovating. One of its recent updates includes an AI listing builder superior to ChatGPT at comprehending Amazon's rules.
Key Features
Product research
Helium 10 has three tools that are suitable for this task: their Chrome extension, Xray and Black Box.
Black Box allows users to search for Amazon products via different metrics. Its core metrics include the monthly revenue a product is generating, the number of reviews a product has and the overall star rating of the product.
Xray, on the other hand, analyzes the demand and competition of an entire market on a selected results page.
Whereas Helium 10 has multiple tools designed to tackle different aspects of the same process, you'll see that Viral Launch has one unique tool for all. In this case, the Product Discovery tool.
With Product Discovery, you can get a look at the Amazon market trends, keep a close eye on competitors and estimate sales, among other things.
Keyword research
Helium 10 has two keyword research tools: Magnet and Cerebro.
Magnet enables you to conduct exploratory keyword research with a number of filters and data points to identify viable opportunities.
Cerebro, on the other hand, helps you conduct a competitive analysis of your competitors' keyword targets so you can reverse engineer their work.
Viral Launch, on the other hand, has one Amazon Keyword Research tool that combines Magnet and Cerebro's features.
It gives you reverse market lookups to take all your competitors into consideration. And it also shows you Amazon search volume data and historical search volume trends. The tool even helps you find low-bidding opportunities for your relevant keywords.
Listing optimizations
Helium 10 has a Listing Analyzer that shows you what makes a good listing be good. It gives you an in-depth look at any Amazon listing's health by entering any ASIN. It even lets you directly compare multiple ASINs simultaneously.
Plus, last April Helium 10 released an AI listing builder. This builder is available on the Diamond plan and it uses the power of ChatGPT to automatically generate your title, bullet points and product description.
Viral Launch's listing optimization, on the other hand, historically has included three tools that integrate seamlessly.
On the one hand, a Listing Analyzer tells you what improvements you can make to your listing. Then there's the Keyword Manager which tracks your most important keywords' analytics. And finally, a Listing Builder.
To stay relevant and competitive in these modern times, Viral Launch also recently launched Launch GPT. However, although similar to Helium 10, this tool isn't included in any plan and you'll need to pay an extra fee per month after the 30-day trial expires.
Amazon Emeralds
How you get your notifications is something extremely indispensable. I know I have missed valuable updates because of issues with alerts!
Now all that can be easily fixed with Amazon Emerald, a new program that allows third-party services to send notifications directly to sellers on Amazon Seller. As it's quite new, not many Amazon seller platforms have been included in this program yet.
However, Helium 10 is one of them!
We're yet to see if the same happens with Viral Launch.
Walmart
Although we're thinking about tools you can use as an Amazon seller, it's always good to consider all features. In this case, Helium 10 has an advantage because it's the only one you can use in Walmart Marketplace.
Sure, we're not here for Walmart, but you never know when your business will expand and having this tool becomes a pro.
Collaboration tools
Helium 10 gives you one user seat on its free plan and lower premium plans. When you reach the Diamond plan, you get 5 user seats.
Viral Launch, sadly, doesn't seem to have collaboration options.
Free tools
Although Helium 10 has a free forever plan, it also offers free tools. You can use these tools on their dedicated landing page, yet if you sign up for a free account, you'll receive a higher level of access and more searches each month.
The list of free tools includes the free Amazon keyword tool, Amazon Sales Estimator and Amazon Trending products.
As to Viral Launch, you can use their FBA profit calculator for free online. The tool is quite remarkable and you can even edit dimensions and advanced settings.
Chrome extension
Helium 10 offers a free Chrome extension with extensive looks at product search results pages directly on Amazon. This includes essential product validation data such as monthly sales, average revenue and estimated Amazon FBA fees.
Read this post for a tutorial on using the browser extension.
Viral Launch also has a Chrome extension that's included in all its plans. The tool is called Market Intelligence. You can use it to see historical trends, monthly sales and much more, all while browsing products on Amazon.com.
Languages and marketplaces supported
Helium 10 supports English, Spanish, Simplified Chinese, German and Italian. This means that the dashboard is accessible to people whether they speak English or not.
Helium 10 also works for 13 marketplaces, including Mexico, the United Arab Emirates, Australia and Japan.
Viral Launch, on the other hand, only offers subtitles on their tutorial videos and that's how far their multilingual approach goes. Basic tools such as the Listing Builder are only available in the US marketplace.
Resources and support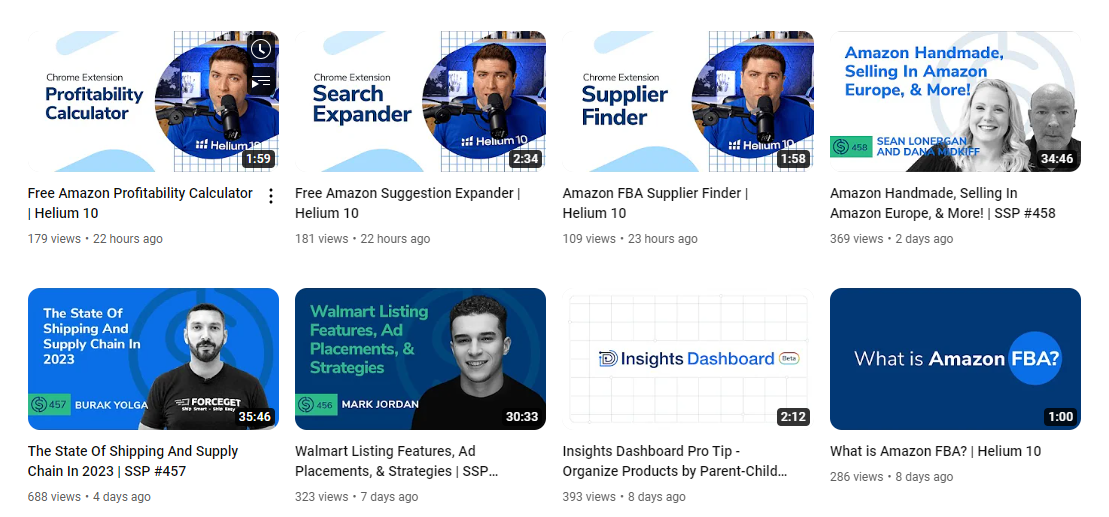 Helium 10 uploads videos frequently, with multiple videos per week. They have a Facebook community you can join to discuss industry news and learn helpful tips and selling strategies.
If you need help, you can go to their knowledge base or submit a question.
Viral Launch has a solid list of learning resources as well. It has a podcast on the best practices for succeeding on Amazon and free e-books.
You can contact support via email and they typically answer quite fast.
Pricing
Helium 10 has a 7-day money-back guarantee if you're not satisfied with the Helium10 suite of tools:
Free forever. Try the features Black Box, Xray and Xray for Walmart with some limitations.
Starter: $29 per month if paid annually. Access business coaching and limited keyword research and limited use of Black Box.
Platinum: $79 per month. Includes keyword research tool and Black Box's full features.
Diamond: $229 per month. Includes a listing builder and a Walmart financial analytics dashboard.
Adtomic and Diamond bundle: $349 per month. Includes A.I. power suggestions and advanced templates and automation.
But that's not it. If you prefer a more flexible subscription, there's the option of creating a custom "à la carte" plan, paying only for the tools you're interested in.
Viral Launch offers a 14-day free trial on all their plans.
Essentials: $69 per month. Includes Amazon product filtering and Keyword Search Volume.
Pro: $99 per month. Monitor competitor strategies and use metrics like monthly revenue and price trends.
Pro Plus Ads: $199 per month. Unlock advertising features, as well as organic and PPC keyword tracking.
Helium 10 Pros and Cons
Pros
ChatGPT's technology is included in the Diamond plan.
Supports multiple languages and marketplaces.
It's part of Amazon Emerald.
Cons
Viral Launch Pros and Cons
Pros
AI Listing builder with a free trial.
Powerful Chrome extension
Cons
Doesn't support other marketplaces besides the US.
Verdict
So there you have it: the key features and the pros and cons of Helium 10 and Viral Launch.
As you can see they both have a solid listing builder and product research tools.
However, variables such as the Amazon Emerald program and the international marketplaces make Helium 10 continue to be the better option compared to others.
Have you tried Viral Launch before?
If so tell us in the comments your experience!