Fiverr is a giant marketplace or more specifically, a portal, where you will find various freelancers willing to provide you exceptional services at a low and yes, meager cost.
Read:- What is affiliate marketing.
On Fiverr, you will find online services such as web designing, content writing, SEOs, coders, graphic designers, Facebook/Twitter header creators, vocal artists for videos, WordPress developers, and many more.
Only the sky is the limit.
But did you know about their affiliate program in which for referring services Fiverr freelancers offer, you can earn a commission on every new sale.
Hybrid vs CPA Fiverr Commission:
Fiverr recently updated its affiliate commission plans by introducing the hybrid commission system. The hybrid system means you'll get a fixed commission on every sale plus a 10% recurring commission on every sale made by your referrals.
The CPA commission plan will earn you upto $150 per sale, depending on the CP structure. You can find the Fiverr CPA structure later in this post.
The main difference between a CPA and a Hybrid is CPA will earn you a one-time commission. And Hybrid will generate recurring income. Which in my opinion you should be choosing.
In this post, I will show you the necessary steps on how you can join the Fiverr affiliate program. I will also tell you some pro tips to maximize your affiliate earnings.
About Fiverr

As I Told you above, Fiverr is an online freelancer portal.
You can find various online enthusiasts and skilled people to solve your marketing and online problems. You can get a customized logo, theme, you can get your WordPress blog set up, or you can hire someone to write on your blog.
Everything that Fiverr offers makes it a giant that can sell itself. You just have to refer to customers. Eventually, they will find the service they were looking for.
Q. How to join their Affiliate Program?

Step 1
Go to the Fiverr Affiliate Registration page. Fill Out The form as shown below:-
Use your original and valid e-mail address and make sure you add your Skype id. This will help you connect with your affiliate manager more quickly.
Fill out all the details correctly and click on reCAPTCHA to verify. Click on the submit button.
Now your application will be reviewed depending on the situation. Sometimes you may get direct approval, and sometimes you don't. Don't worry, they aren't very hard on blogs, and they approve very quickly.
One more thing, to join Fiverr as an affiliate, you need to have a relevant website or blog that is dedicated to providing tips, how-to, guides, etc. On online services. It's not like an Amazon affiliate.
Step 2

If you have been approved for Fiverr affiliates, now it's time to add affiliate links to your website. To find this link:-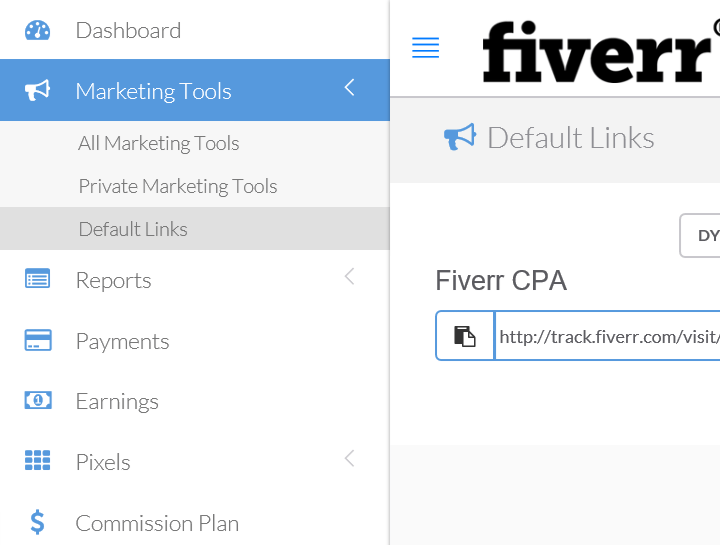 Login To Your Fiverr Affiliates Dashboard and Go to the Menu. Find the marketing tools option and from here, click on the default link option. This window will show you the default link you can use to drive visitors to Fiverr.
Make sure you go to the account settings and add your PayPal or Payoneer account to make sure you receive your payments without any delay.
Pro Tip:-

Always remember to cloak your affiliate link with a link cloaking plugin. You may read our guide on why you need to cloak your affiliate links.
We recommend ThirstyAffiliates plugin for link cloaking and management (Read Our Review).
When you have completed the whole procedure, it's time for you to earn money.
Here are my 5 tips to help you perform better:-
1. Link to the maximum services you can. For example, if you write an article about a logo and about its benefits, you may link to Fiverr rather than a logo company like 99designs.
2. Link your writing skills. You can use Fiverr to link to an article and give credit to a paid writer at Fiverr. This can be done in Email Marketing.
3. Suggest people take professional help. Fiverr freelancers are really skilled. Not all of them, but yes, the majority. Motivate your reader to opt for professional advice rather than being a rookie.
4. Write a Review about Fiverr. Not everyone is aware of Fiverr. You can write a review about it to attract a large number of people.
5. Make a mega list of services. This is quite hectic, but an extremely great way to earn the maximum Fiverr can offer. Make a mega list of various services that freelancers provide so that people can get what they are looking for more quickly.
Read my Mega list of blogging tools and services for inspiration.
*Commissions are paid for every sale.
For example –
"You referred a person to Fiverr for any SEO or Web Speed Service. He then selects a Fiverr freelancer to work on his SEO as well as Facebook page and coding".
In such cases, you will get commissions from every sale. All three of them
Read- 5 Best Affiliate Programs For Bloggers.
Read:- Misconceptions About Affiliate Marketing (Revised)
Fiverr Affiliate Commission Withdrawal Not Working? Here's Why
A little bit of engagement was happening on this post, and there were a couple of comments that needed to be answered.
Here's what most of the people were complaining of:-
I have a Fiverr affiliate account, and when I check my payment and want to withdraw ($140 in my account at the moment ), this message pops up" Not Eligible For Payment!" I have $355 in balance.
When I tried to click the payment request, it shows you are not eligible for a payment threshold. How to payout?
I have a question. Have you gotten payment from Fiverr affiliates before? And how much did you cash out?
Hi, I have $120 in my Fiverr affiliate account & I have added Payoneer as my payment method. But when I click payment request it gives me the following error. Please check the screenshot by visiting the link: https://imgur.com/a/MfHrSLe I have also emailed them but Haven't received any reply yet. Can you please help me.
People argued they weren't paid their commission, and Fiverr affiliate support didn't respond to their queries.
Since any affiliate promotes a merchant for commissions, it's the most crucial part to worry about if the commission withdrawal system isn't working. That made me catch up with some official information on this issue.
Well, you don't need to worry about it. Your commissions aren't going anywhere.
I reached out to my Fiverr affiliate manager Maxim, and here's the email I received:-
Maxim(Fiverr Affiliates)Hi Aayush,

I would like to introduce myself, My name is Max, and I'll be your affiliate manager at Fiverr. And sorry that we replied to you so late. Our system has undergone a serious upgrade. During the upgrade period, we were unable to answer client emails. From now on, we'll be able to reply in a massively faster way.

Regarding your payouts question, I can't update you with some generalization about why some affiliates can't withdraw their earnings. Each payment case is individual. Generally, the procedure works the following way:

1) FDBs are generated in a frame of a certain month, let's say April 2018.
2) In May 2018 the payments are calculated and checked by our Fraud department.
3) Then, each affiliate eligible for payment and who reached a threshold of $100, should claim his payment by clicking the big green button "Request Payment" visible in the right-up corner of the affiliate interface.
3) Qualified FDBs, are paid according to the current CPA rates at the beginning of June 2018.

I hope it helps.

Best regards,

Maxim Pilenko: Affiliate manager
He made it very clear that it wasn't the payment system's fault. There are many (more than hundreds) of Fiverr affiliates and hence, every individual has to go through their own share of the commission withdrawal procedure.
For example, as Maxim said, I am promoting Fiverr here on BforBloggers, and you bought a service from any given Fiverr freelancer in the month of May.
Now, the Fiverr affiliate system will record this purchase and then you will undergo a few verification procedures such as:-
First, Fiverr will check if the user was FTB (the first-time buyer) or not. If not, you won't earn anything.
Second, if you are a first-time buyer, you will be given a commission based on the fixed percentage, and exact rates are shown below-
And after this, the third procedure is to go through the Fraud department checks that will ensure the purchase was not meant to misguide the Fiverr affiliate tracking system and was genuine.
All of this will take 2 months.
That's why the affiliate commission you earned in May will be paid to you in July or in the first week of August. You must reach a threshold of $100 to receive the commission as Fiverr Affiliate.
You can reach out to your own affiliate manager since the support system is now resumed, and you can expect a faster response from Fiverr.
Hopefully, you have had success in joining Fiverr affiliates. I have tried my best to explain to you the most essential factors.
Do share this post on Twitter or Facebook and share your experience in the comments section below.