Competitions or competitors in any field can make you realize your weaknesses as well as your strengths. This eventually allows you to improve.
Similarly, in a business, your competitors can help you understand the market dynamics.
You can analyze and figure out their strategies to better understand ideas that work and those that don't. SimilarWeb is one such SEO tool that every business needs to do so.
In fact, not just for business, it is needed for any website or blog too.
What is SimilarWeb?
Well, if you go by the Wikipedia definition, SimilarWeb is a website that provides web analytics services for businesses.
Basically, SimilarWeb is a tool that allows you to keep an eye on your competitor's website traffic volumes, referral sources that include keyword analysis, demographics, page views, bounce rate, and a lot more.
SimilarWeb Platform Benefits
Marketing heads

Sales Intelligence

Investors

Research & Digital Marketing Intelligence
The tool currently analyses more than 80 million websites and is trusted by big names like eBay, Google, Microsoft, P&G, etc.
Why use SimilarWeb?
SimilarWeb is used by ad-tech companies, e-commerce sites, and various online services to improve their traffic and reach. There are plenty of reasons to use SimilarWeb.
Some of them being:
Data provided by SimilarWeb helps detect global trends and investment opportunities.

The tool's data gives you a report of your competitor's metrics, such as their portfolio performance and online assets.

By analyzing the relevant sites, you can improve your lead generation strategies.
Features of SimilarWeb
SimilarWeb can do quite a lot of things. Let's go over some of the key features of this analysis tool.
Find some of the top keyword trends ( also for organic and paid traffic ) 

See search traffic for various channels like image, video, news, and others

Get the overall traffic insights like zero-click data, the share of voice, and more

Analyze the engagement metrics of several sites

Get unique visitor's data on a monthly and daily basis

Create your benchmark by Category Analysis tool

Using Custom Dashboards, create dashboards to get quick access to analysis metrics.

With Conversion Analysis analyze conversion rates of multiple websites

Build targeted lead lists
You can download SimilarWeb over iOS, Mac, or Windows. There is a Chrome extension available that plugs into your browser and helps you analyze several websites.
Let's dive deep and see how various features and functionalities of SimilarWeb can help generate more traffic to your website.
How to Understand Traffic Overview Effectively?
The Traffic and Engagement page in SimilarWeb gives an overview of the traffic of any website. It shows the number of visits, engagement, and rankings. 
There are three kinds of rankings provided – Global, Country, and Category. Global rank represents the rank of the website in terms of traffic. The lower is the number, the higher will be the rank.
Country rank denotes the rank of a website in the country where it is used the most. And the category rank (as suggested by the name) shows the website's rank in its category.
On scrolling the page ahead, you'll see Traffic Overview. The Traffic Overview shows Engagement, Total Visits, Traffic by Country, and Traffic Sources. You can expand on it for various localized information. 
'Engagement' gives you the data regarding total visits, bounce rate, average visit duration, and pages per visit.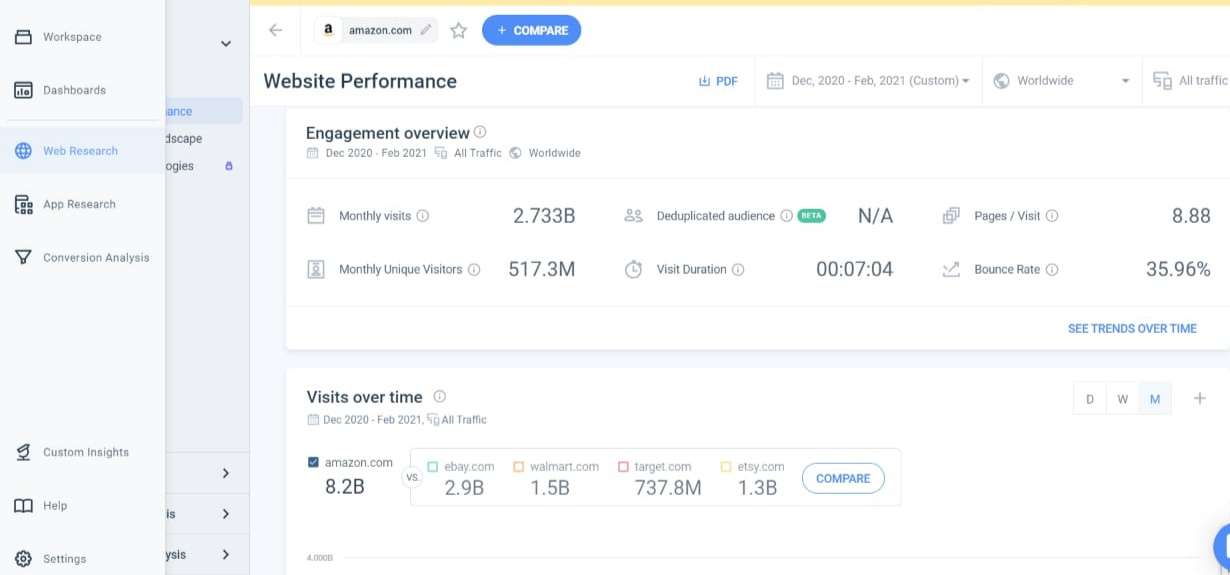 One important section is 'Traffic Sources'. It shows the percentage of traffic a website receives from various sources, including referrals, search, direct, social, display, and mail.
You must carefully analyze these percentages. It might help! These percentages tell you the sources that you must be focussing on for your website.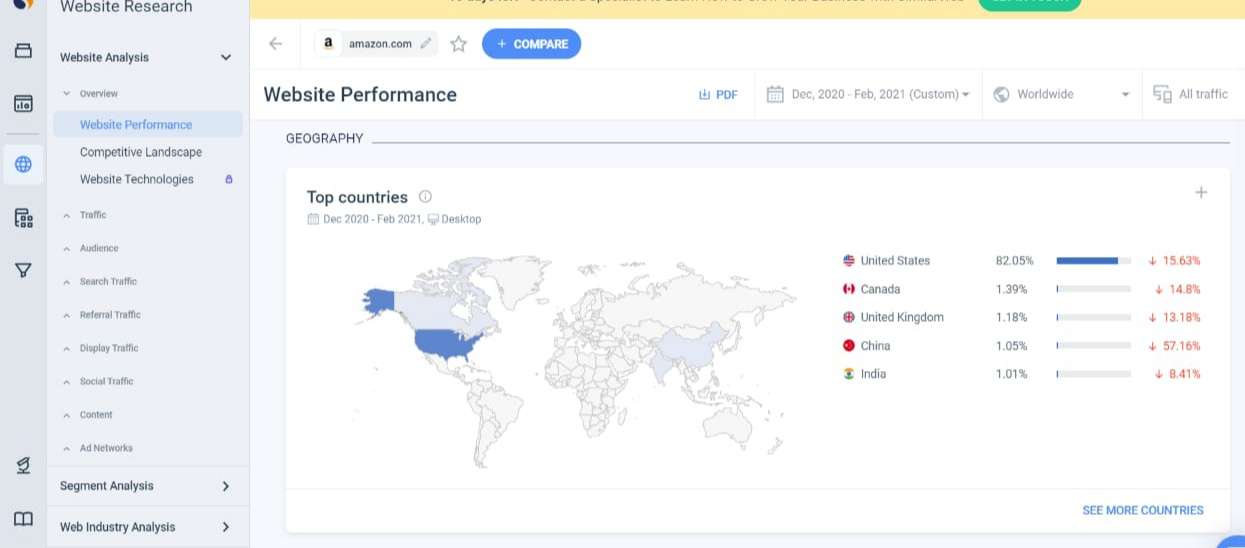 For example, if you see the high social percentage of a relevant website, that means you can even try working on expanding your reach using social media to generate more traffic.
If you find that some channel, say mail, has less percentage, you can double your efforts towards that channel to get even more visitors.
All these data can be advantageous if analyzed well. Also, you must only analyze the websites that are relevant to your target audience and have a greater number of views from your targeted countries. You can then interpret the data to see what strategies helped them to get the traffic. 
How to Get the Right Referrals?
Referrals refer to reaching a website through another website by clicking the link on their article or blog post. This part is one of the most valuable ones. It shows the percentage of visitors coming from referrals.
The 'Top Referring Sites' part shows the percentage of traffic coming from various sites. And the 'Top Destination Sites' shows how those visitors are leaving the site.
You can effectively utilize this to find business collaborators based on local information. 
What you can do with these data is, research more about the top referral sites.
You need to find out what kind of website is the referral source or how your competitors generate traffic through the referral sites ( for example, through content, recommendations, link building, comments, or reviews ).
Then, you can start your link-building campaign by outreaching to these websites. Also, use the 'Top Destination Sites' data and show your presence on those sites. This will add-on to your traffic.
How to Rank High on Search Engines? 
A straightforward way to generate huge traffic is by making your website rank high on search engines. This can be done by posting high-quality content frequently. Remember, your posts must include the keywords. However, in itself, the task may not be as easy as it sounds!
How do you know what keywords to use? You can do this by finding out the keywords that your competitors are using to drive viewers. SimilarWeb's 'Search' section helps you do that.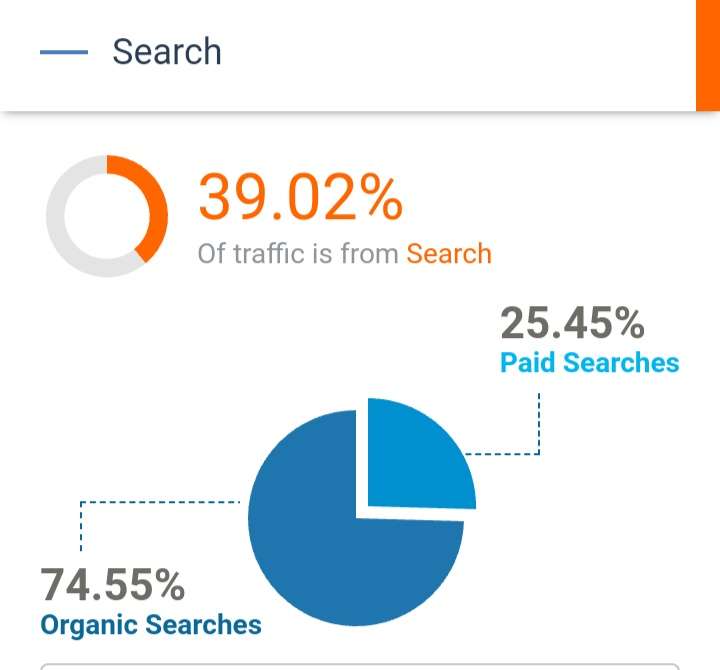 'Search' section has two blocks of data: Organic and Paid. Organic traffic is the one that is generated when the visitor enters a query in the search engine.
Whereas paid traffic comes from visitors who click on paid ads placed on the search engine results page.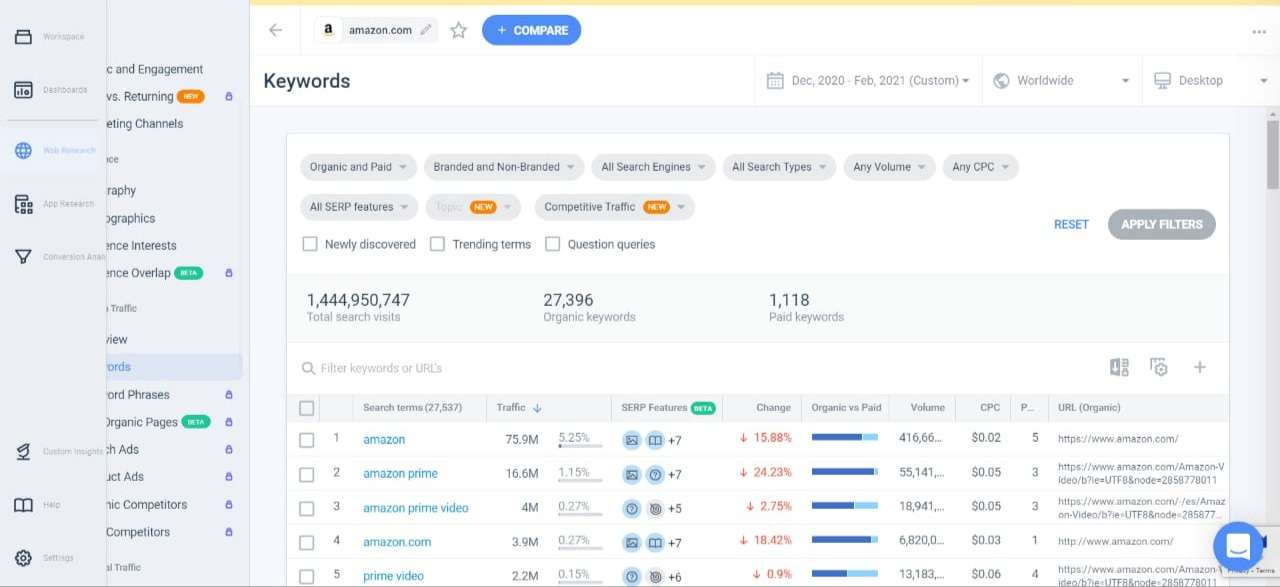 You need to analyze where your competitors are getting their traffic from – is it from organic or paid? If the higher percentage is organic, you got to make a list of those top keywords and build meaningful content. This will naturally boost traffic to your website.
The mobile version only shows the top 5 list for each and also its performance.
If your competitors are doing well using paid traffic, you can similarly use those keywords too for your content. You can even pay for those keywords or to rank higher than your competitor. 
How to Find Sites for Displaying Advertisements?
The 'Display Ads' section in the SimilarWeb shows what percentage of traffic your competitor is driving by displaying advertisements. 
And, you can do this too. But you must be wondering – how to find the right publishers? Well, SimilarWeb got this for you. 'Display Ads' also presents the data of 'Top Publishers ' on your competitor's website. 
Once you know the right places for the ads, you can even place ads there.
Displaying ads is a part of SEM ( SEM or Search Engine Marketing involves promoting websites by making them visible in search engine results pages through paid ads ) and drawing more visitors. So, you must focus on this data well.
How to Find out the Right Social Media Platforms for Your Website?
Social media is another traffic source with great potential. For this, you need to wisely choose the social media platforms to promote your website.
One thing it displays is what percentage of your visitors come from which social channel. This can be from your social pages on Facebook, Instagram ads, or LinkedIn profile. 
Another thing you can see is the "Channels Overview." What percentage of traffic is derived from what channel – is it via email marketing, is it via paid searches, display ads, etc.? 
This can help you recognize your stronger points. Combined with the above information, you can get an effective idea of the channels and media you need to focus on.
You can use this data in two ways. Firstly, you can hop straight into the social media platforms where your competitors are doing fine. Or you can use the data to focus on those sites where your competitors aren't active yet. Targeting the least active sites will improve your chances of getting more visitors. 
How to Understand your Audience Better?
Before publishing your website or blog, you must have an idea of your target audience's interests. Well, even if you don't, you can analyze them using the 'Audience Interests' section present in the SimilarWeb tool.
This will provide you with ideas for your next content or paid traffic campaign.
The ' Categories ' part shows the categories of interests of your competitor's audience. Once you know the categories, you can create a good content strategy for your target audience.
The ' Also Visited Websites ' part displays the list of other sites that your competitor's audience frequently visits. You must focus on those sites.
Also, you can do this analysis for your own website and see where your viewers are peeping in more often. That way, you can get an idea of the sites that you must advertise on, collaborate with or promote as an affiliate to your audience. 
Finally, there comes a ' Topics ' section that includes a word cloud of the topics. These are the topics that are the most relevant to the site's audiences. 
This word cloud gives you the terms that your audiences are looking for. So, work upon them!
How to Stand Against your Competitors?
To stand against your competitors, you need to first understand the strategies that they are implementing. And much before that, you need to know who your competitors are.
Using the 'Competitors & Similar Sites' section in the SimilarWeb analysis tool, you can get a list of your competitors. For example, here is a list of competitors for Amazon.
After getting your competitors list, you can check out the landscape of what they are doing. You can simply go through their websites, see their referrals, traffic overview, content, or anything else you think will be useful. Analyzing all the data, you can decide your next move.
For example, if you see your competitor's referring sites or keywords used, you can easily find collaboration opportunities and ideas for your content of traffic campaigns.
You can do this analysis for your site as well as for your competitor's site. If you do it for your competitor's site, you will know your competitor's competitors ( sounds a little confusing, but that is how it is ). 
That way, you can ask for collaborations with the competitors of your competitor. And that might prove to be great! 
Also, this analysis gives you a list of various similar or competitor sites.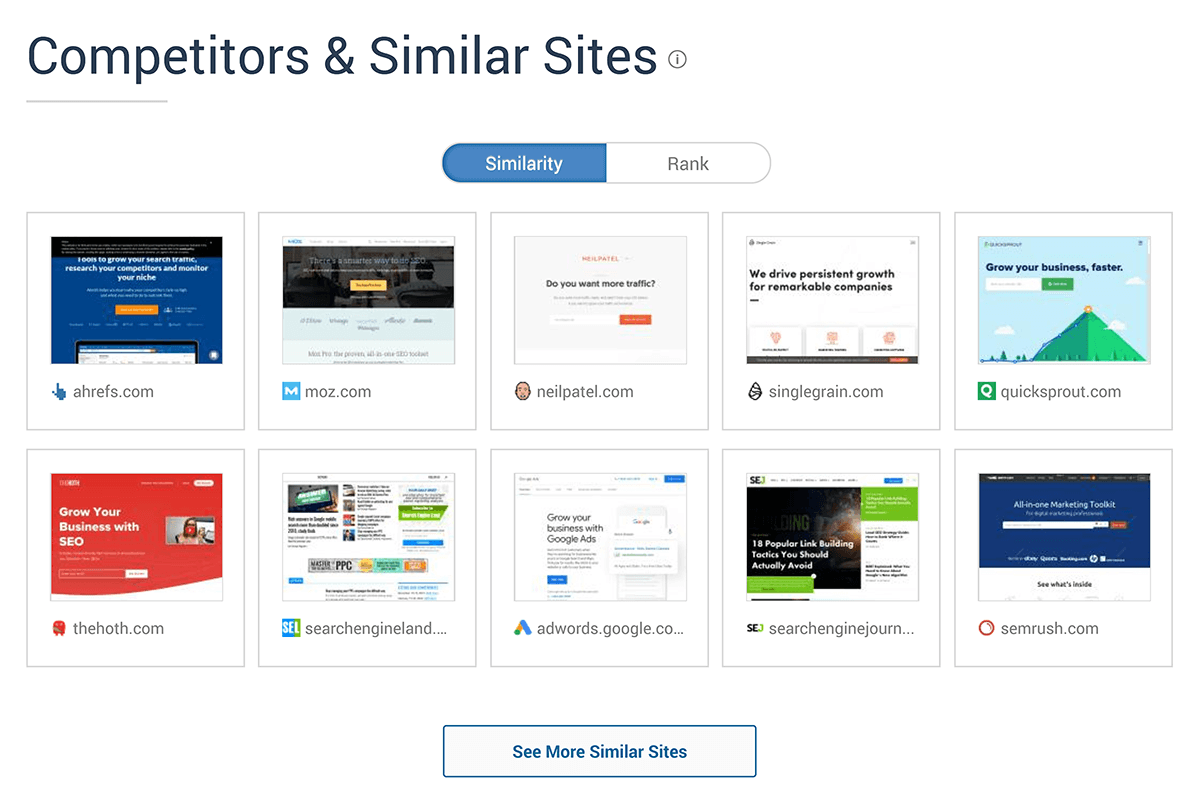 So, you need to carefully research each site before drawing any conclusions. This might be a tedious task, but you will have many strategies and insights by the end of your research. You can use them effectively to improve the traffic of your site.
Do you Need Mobile Apps for your Websites to Increase Traffic?
Mobile apps can certainly ease the efforts of your viewers and give them a user-friendly interface. Also, the more you spread your services in, the more will be your reach.
To understand whether you need it or not, you can understand your competitor's mobile apps' ratings and reviews using the ' Related Mobile Apps ' section in the SimilarWeb tool.
If you find that it helps the audience, you can set up one for your site. If you find negative reviews, you can see what went wrong and improve it while building your own. You must also read the reviews carefully and see what the audiences are expecting but aren't getting are. You can help them with those services then.
How to use the 'Dashboard' to understand data?
SimilarWeb's ' Dashboards ' allow you to access the most important data out of all the available data. It saves you valuable time.
Dashboards are great tools for competitive analysis as they highlight the important stats of your competitors. Also, SimilarWeb allows you to customize your dashboard. You can place widgets for metrics side-by-side on a single page.
The metrics include referrals, total visits, bounce rate, keywords, pages per visit, and a few more customizable elements. So, you can select the metrics that you want to compare. Thus, it provides you with a comprehensive overview of the competitor's data.
This allows you to compare different traffic sources simultaneously and track the performance on a single dashboard. This way, you can easily analyze the differences in your competitor's traffic sources. 
And not only for one or two websites, but dashboards can be created for several websites at a time. This provides you a better understanding of the strategies of your competitors and lets you compare them.
How can the ' App Analysis ' Section help?
The ' App Analysis ' section under ' App Research ' in SimilarWeb gives you in-depth insights into App Store and Google Play apps. 
It shows rank and rating information for the top 5 countries going back 1 month. Whereas in SimilarWeb PRO, you can see rank and rating for 53 countries going back 3 months.

It depicts all traffic sources in detail ( i.e., shows traffic distribution from in-store and external sources ).

In the PRO version, you can find all referring keywords from both search engines and store search.

You can run the analysis on multiple apps.

Other similar apps and websites are also displayed. So, if you require more detailed ideas, you can even run an analysis on other apps.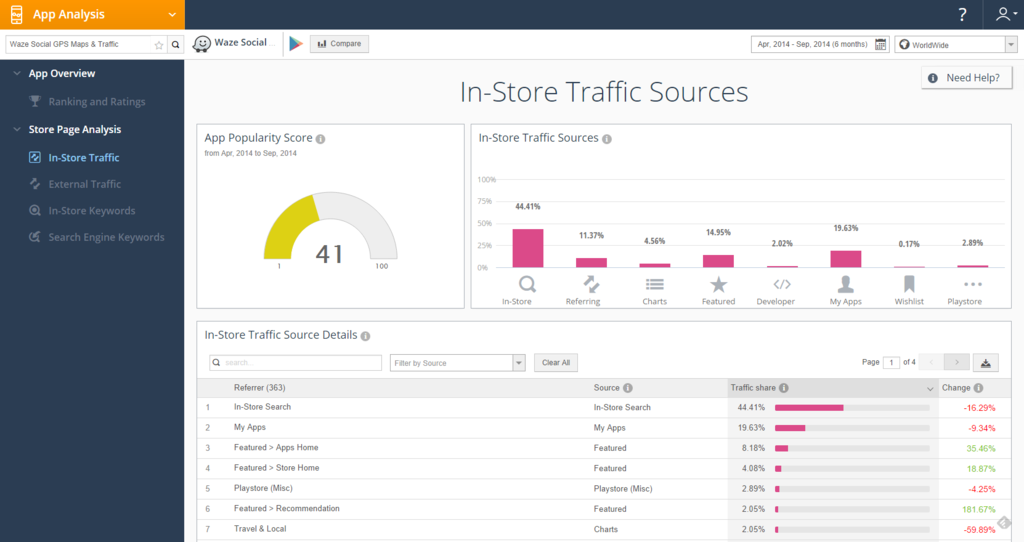 This data can provide you with a clear picture of your competitors. Also, the ratings given by the audiences for the apps will help you understand their requirements. So, you get the opportunity to meet your visitors' needs that your competitors aren't fulfilling.
How to Make use of 'Conversion Analysis'?
The 'Conversion Analysis' lets you analyze the conversion metrics of your competitors' websites. You can understand any website's performance and track the channels that got them the highest conversion rates. 
Also, you get an opportunity to optimize your search engine by figuring out which search terms brought your competitors huge conversion rates.
Once you know what channels have benefitted your competitors, you can even focus on those channels. Or, you can do it the other way. You can rather focus on the channels that your competitors are not paying attention to. This will allow you to pull over traffic plus improve your conversion rates.
How to Use the Insights Gained from Segment Analysis?
The ' Segment Analysis ' in SimilarWeb serves the following functions
The 'Category/Line of Business' section allows you to understand a specific category's performance (e.g., accessories in Amazon.) or a business line. This helps you benchmark specific categories or line-of-business with accuracy and flexibility.

The ' Brand ' section depicts a particular brand's performance on the site (e.g., Nike on Amazon.com).

It gives a detailed picture of the sales funnel. As in the ' Conversion Goal ' part, you can see the converted visits' data ( i.e., visitors who completed the checkout process ).
You can use the data collected from the 'Segment Analysis' section to draw useful insights.
You get an overview of the traffic in a particular category or line of business. So, you can understand the audience's views regarding certain categories. This will help you improve the services in other categories.

You can benchmark the performance of certain brands or products. This way, you can see the areas where you need to improve.
You can do this analysis for your site or for your competitor's site. Either way will help. Even if you do the analysis for your site, you can get an idea of the sections you need to focus on. And if you carry out the analysis for your competitor's site, you can pay attention to the customers' needs in the areas they aren't focusing on.
SimilarWeb – Conclusion
Everybody knows – data is a treasure. Data can be used for making massive changes. When used positively, it can help improve services for the users and provide them satisfaction. 
Businesses, e-commerce sites, and other online services just can't take action on mere intuitions. They need to rely upon the market figures and stats. Moreover, if those data are extracted from their competitors, what else could be better.
SimilarWeb' data can help you turn the stones for your business or your website. When you know what your competitors have planned and can see if their plan is executed effectively or not, you have an additional chance to step cautiously. 
Your competitors' figures can make you realize what you need to improve and whatnot. This is how SimilarWeb helps. The various tools in the SimilarWeb can help you improve your traffic and provide your users with the best of your services.