accessiBe: How to Make Your Website Truly Accessible
The text, image, and video of your website can only be read, viewed, and watched by a certain number of people.
People with a disability such as limited eyesight can't read the text. Your blog content may still be valuable to them, and they would want to grasp the knowledge despite their limitations.
Accessibility options are the only way people with disabilities or elderly people can perceive your content. It helps you make your website more user friendly and overall a better place on the web for differently-abled people.
Is adding accessibility options mandatory for websites?
Not really, but US IT Accessibility Laws and Policies made it a legal requirement for agency maintained websites.
Even if it is not a legal requirement in your country, you should consider making your website more accessible. It will only make your website a suitable place for a diverse population and less discriminatory.
Moreover, Accessibly options are also beneficial for the SEO of your website. The whole idea behind making a website more user-friendly aids in the fact that Google loves websites that are easily crawlable and understandable with quality content.
Chances of your website improving in SERPs rankings will also increase.
So, how do you make your website fully accessible?
Use accessiBe
Probably one of the easiest ways to make any website (not just WordPress) more accessible is accessiBe.
Unlike other WordPress accessibility plugins, accessiBe ensures your website is compliant with WCAG 2.1, ADA, s508 & more legal guidelines.
Which is a huge plus point. Because no other WordPress plugin promises to comply with legislation. In fact, they honestly can't.
It takes multiple steps to follow and comply with the legal guidelines under section 508. One of the most important compliances is a screen reader for people suffering from blindness.
If you don't comply with section 508, there's a possibility of you/your business getting sued. And that can potentially cost you hundreds of thousands of dollars.
⚠️ Disclaimer
Now, we aren't a law firm, and by no means should this be taken as legal advisory. This is just our opinion.
Other WordPress plugins do not optimize the content on your websites for screen readers. Technically, it's not suitable for blind people, even if you are using an accessibility plugin.
accessiBe takes it one step further and actually make your whole website easily navigatable and available for screen reader scanners. So, When using accessiBe, you don't have to worry about any aspect concerning the accessibility of your web content.
accessiBe features include:
Screen reader, keyboard navigation, and website design adjustments.
Contextual scanning through A.I.
Image recognition and Alt-tag optimization.
On-page glossary for people with cognitive disorders.
Complete compliance with ADA & WCAG.
A.I. powered automated accessibility engine.
Fully customizable to match your brand.
24 hour rescanning.
Anyone who has ever used it has said it is the best tool to make their website more accessible and open to a whole new world of people. Talk about brand reputation.
accessiBe might not be free, but it is the only option that actually works.
But I won't deprive you of options. If you're looking for a free WordPress accessibility plugin, use WP Accessibility.
WP Accessibility is one of the best WordPress plugs to enable various options for differently-abled people. It's not the simplest or easiest, but it does check all the options.
However, It won't make your website completely accessible, and it won't help you comply with the legal guidelines.
You should keep a distance from tools like Userway. They don't meet WCAG 2.1 requirements, and it can be potentially disastrous for your business.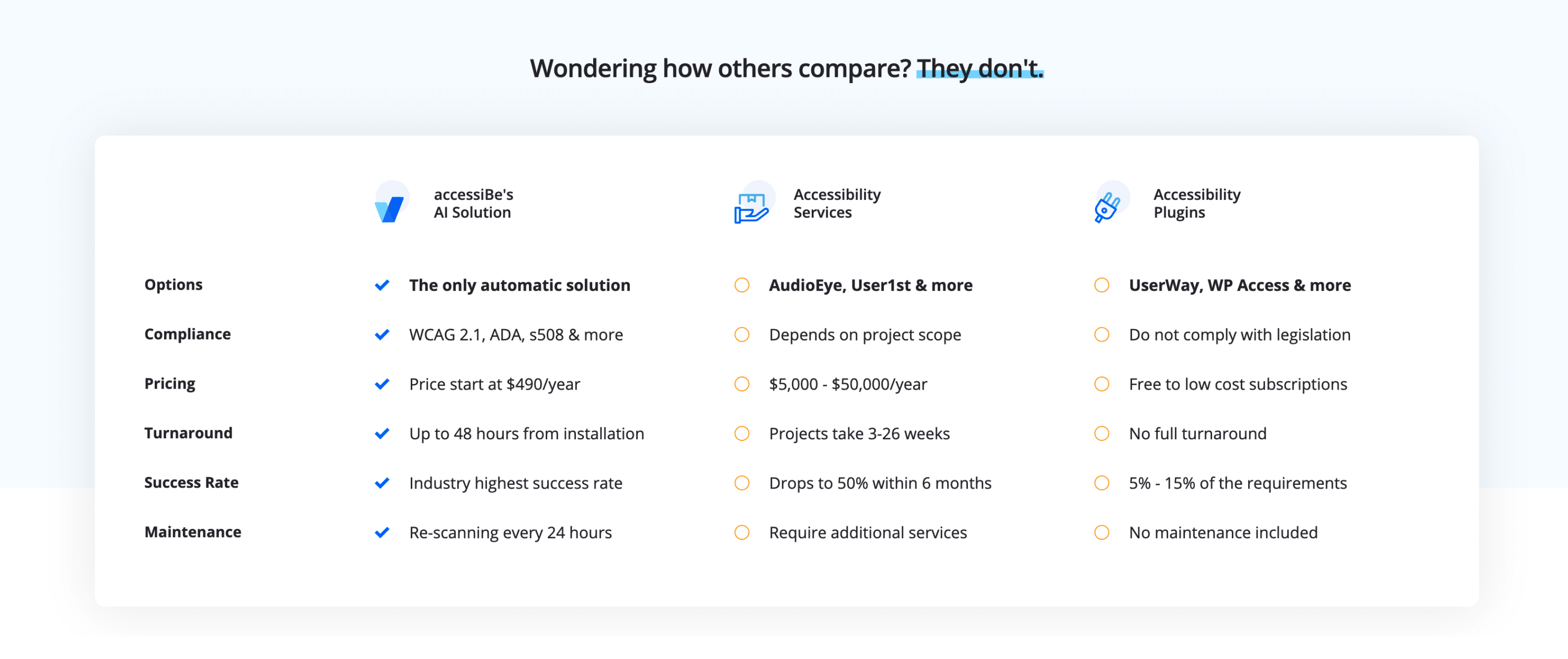 And if you have an e-commerce store, you should definitely make it fully accessible, but with robust solutions and not free tools like Userway.
Since accessiBe is a fully automated solution, you don't have to worry about manual efforts. Simply install a few lines of code, and you're good to go.
It works out of the box and starts implementing the necessary accessibility options in 48 hours.
The team working behind the scenes constantly keeps an eye on the changes and errors. A 24×7 scanning and fixing functionally is constantly working to make sure everything remains complaint on your website.
You also get monthly compliance auditing and reports on your email.
The pricing for the base plan of accessiBe starts at $49/month.
Try accessiBe for your website.
Is your website accessible?
Let us know in the comments.