Marketing and scheduling tools help business automate their scheduling seamlessly. This enables the business to focus on their core job instead of spending time on scheduling meetings, looking into customer service manually, collecting resources, and more. For the same purpose, one of the two most powerful tools to exist is HubSpot Meetings and Calendly. 
Both of these platforms help you schedule meetings in one click and streamline them through one platform. This helps you remain productive throughout the time and never forget a fixed meeting. Let us compare both of these tools to see which one will suit you better!
What is HubSpot Meetings?
HubSpot Meetings is a free meeting scheduler that also allows free and direct integration with email marketing, sales lead, and HubSpot CRM. It helps clients book meetings with you with the power of automation. With HubSpot meetings, you can save a lot of time on sending unnecessary emails to schedule meetings back and forth. 
With its integration with Google or Office 365 Calendar, clients can look at your visibility and schedule a meeting accordingly. Any slots that are not free are marked as a meeting aligned and so there is no chance of double booking a time slot!
What is Calendly?
Calendly is an application that is widely used to schedule events, appointments, and meetings. This helps in eliminating the issues related to constant booking, scheduling, and cancellation of bookings. You can send your time availability with the Calendly ink to help your customers or clients look at the best suitable time to get in touch with you.
Features
Features of HubSpot Meetings
HubSpot Meetings allows your clientele the power to schedule and book meetings with you. This leads to saving loads of time, and it also syncs with your calendar so that everybody booking a time slot with you is aware of your availability. This eliminates the problem of back-and-forth meeting scheduling.

With HubSpot Meetings, you are offered great flexibility as to how you want to schedule your meetings by utilizing group links and round robins. The clients can schedule time with several people at one go with a group meeting link or even use a round-robin link to choose the best representative as per their time availability. 

All clients are automatically added to the HubSpot contact database as soon as they schedule a meeting, enabling your database to grow tenfold. All information is safe and secure on the HubSpot platform.

The platform allows you to embed your calendar and book more meetings. This helps you get a greater number of leads by embedding the calendar on your website. No coding is required for you to do this, and so it is very easy for clients to schedule meetings with you directly on your website. 

You can also include your calendars link at the end of your email so that it is even more convenient for potential clients and customers to book meetings with you. Every time you send an email, your calendar link goes with it automatically.

Automate all sales processes with the appointment scheduler. HubSpot Meetings makes it easier for you to manage multiple clients at once without any hassle. Everything is automated, and hence you are left with more free time to close deals with clients. Your clients can directly book meetings within a breeze!
Features of Calendly 
Calendly allows you to share your availability preferences, and it then creates a custom calendar for you with the timings, from which your prospects can book a slot to conduct a meeting with you.

With Calendly, you can send everybody your Calendly link in a click and allow them to set appointments like a breeze. All tour clients have to do is pick a time that suits them the best, and it gets added to your calendar.

The scheduling process with Calendly is super uncomplicated as it only offers your clients that suit your availability across all the calendars throughout the day.

Calendly offers you high flexibility and the option to customize your calendar slots. You can open your schedule only to the times, days, and dates that work the best for you. You can block days when you do not expect to attend any meetings. Hence, any meeting slot picked by an invitee is automatically confirmed within seconds, offering both you and your invitee a seamless experience. 

Leave all the coordination to Calendly as it does everything ranging from managing calendar conflicts, reminders, rescheduling on its own. All you have to do is let the application know when you are available, and everything else is taken care of by the Calendly team.

Calendly allows you to send automatic confirmations and invitations to your clients. Any changes made to the meeting are also automatically sent to them with all the details to ensure that both you and your client are on the same page.
Key Notes
HubSpot Meetings 
Robust Integrations
HubSpot Meetings offers robust integrations by enabling you to connect with several applications that your team members use. This makes the entire work process even simpler and more powerful. The platform seamlessly works with G-Suite, Gmail, Outlook, and Office 365 for windows. It also allows you to connect HubSpot Meetings with your very own Google Calendar or Office 365 Calendar to make the meeting scheduling process simpler and more understandable for you.
All in One Sales Software
HubSpot Meetings is definitely one of the strongest sales software out there that does more than just scheduling your meetings. It offers email templates, email tracking, documents, email sequences., live chats, calling, sales automation, reporting, and much more things that make your sales process more effective and efficient. The platform also offers features like predictive lead scoring and salesforce integration, which prioritize one's outreach programs to generate quality leads and keep a record of every meeting that occurs through the platform. 
Powerful Yet Free
As powerful as the tool is that helps you book and schedule meetings with one click, the platform is absolutely free for you to use. With HubSpot Meetings, you can focus more on your core job, research quality leads, and close more leads with lesser work for arranging and booking meetings. It also offers a free online form builder, business templates, live chat software, and chatbot builder that can help you overall in terms of your business prosperity. 
Calendly 
Workflow Management
With Calendly, you get assured workflow management as it automates all your follow-ups and reminders without any hassle. Your entire meeting workflow is put into autopilot mode, and it sends you all reminder emails, thank you notes, rejection gestures, and more by itself to ensure that you are only on the most important work. It acts as your personal assistant!
On-demand Scheduling
With Calendly, you can make greater connections and reduce cancellations with a seamless booking process. A few clicks are all that a prospect requires to book a meeting with you via Calendly. Since rescheduling is super-fast, easy, and on the client's terms, cancellations are very less compared to cancellations made on a manual basis.
Courteous Approach
Calendly follows a courteous approach by delighting invitees through its modern and powerful scheduling tactics. It offers a super-sonic speed to book meetings and helps in making the most of your client's time by not doing or asking for any unnecessary detail. They have to enter their name and select a slot to book an appointment with you.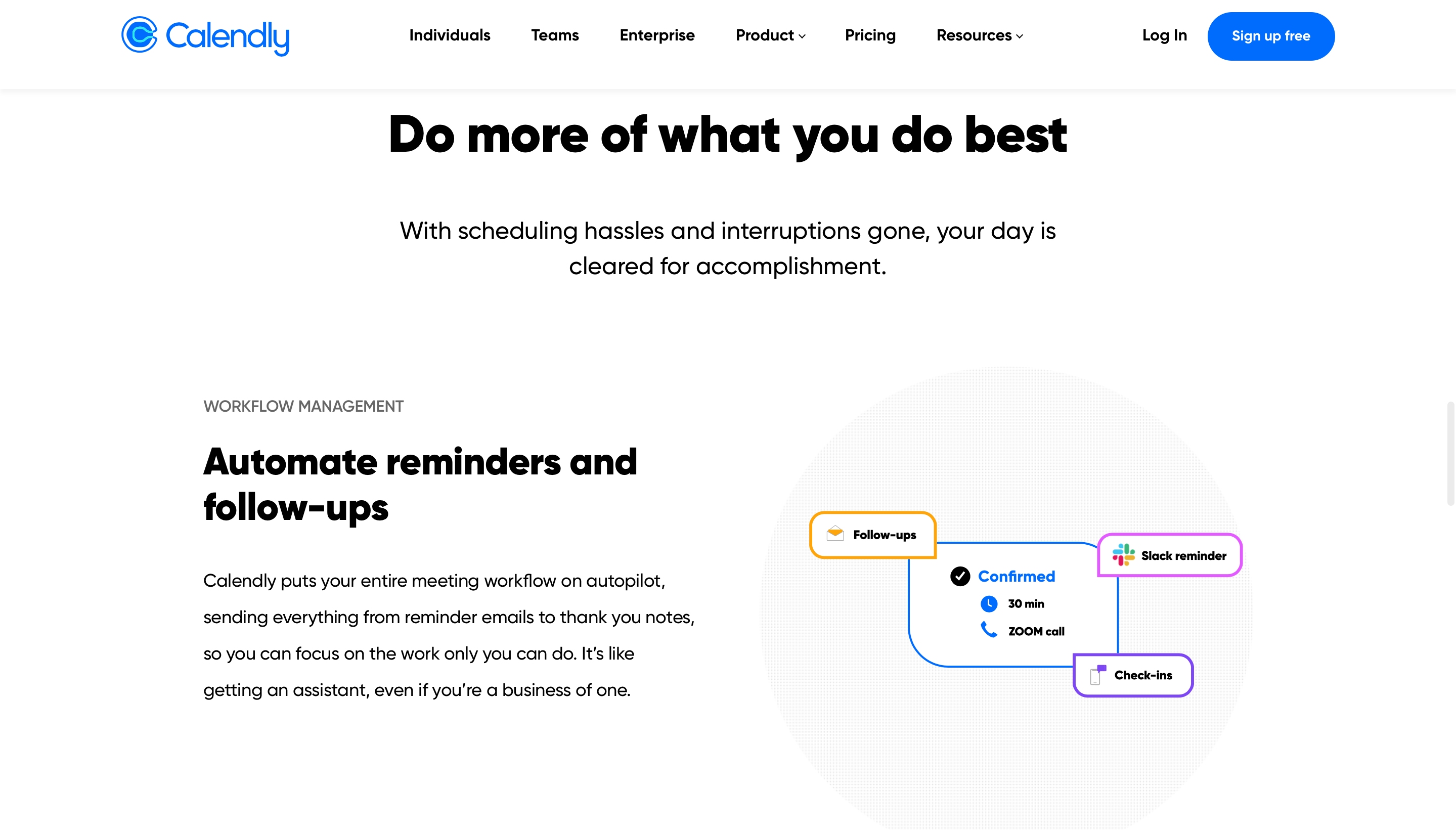 Support
HubSpot Meetings Support
HubSpot Meetings has a proactive support team of people who are willing to help you with any issues that you may have. They are available on weekdays via email and even a live chat feature on their website.
HubSpot Meetings also offers learning and educational material through their knowledge base center, community forum, blogs, academy portal, and developer documentation that answers people's questions.
Calendly Support
Calendly also has a team full of motivated personnel who are ever ready to help you with any app-related issue. From fixing any issue with the calendar to helping you with any technicities, they ensure that you never leave their page unanswered. 
The support team offers various services such as helping you learn all the basics, customizing event types, connecting your calendar to several tools, team scheduling, embedding options, searching for availability, and more by one-on-one conversations and video tutorials.
Pricing
HubSpot Pricing
HubSpot comes with an absolutely free meetings scheduler. However, if you wish to enjoy other tools by the platform along with the seamless meetings scheduler, it offers three paid plans.
Starter plan
The starter plan costs $45 per month (discounted price), billed annually. it includes –
Two paid users

Live chat

Documents

One-on-one emailing

Meeting scheduling

Team email

Shared inbox

Ticket pipelines

Simple ticket automation

Calling

Basic bots

Email templates

Canned snippets

Slack integration

Task queues

Reporting dashboard

Email tracking and notifications

Tickets closed reports

Time to close reports

Rep productivity reports

Email and in-app chat support
Professional plan
The professional plan costs $360 per month (discounted price), billed annually. it includes –
Everything in the starter plan

Five paid suers 

Help desk automation

Knowledge base

Ticket routing

Sequences

Video hosting and managing

One-on-one video messaging

Forecasting

Standard contact scoring

NPS survey

Customer satisfaction and experience survey

Custom reporting

Phone support
Enterprise plan
The enterprise plan is the most elite HubSpot plan, and it costs $1200 per month (discounted price), billed annually. it includes –
Everything in the professional plan

Ten paid users

User roles

Field-level permissions

Hierarchical teams

Single sign-on

Custom objects

Record customization

Calculated properties

Goals

Playbooks

Conversation intelligence 
Calendly Pricing
Calendly comes with a free trial plan that lasts for 14 days. You can also enjoy the basic Calendly version for free, forever. However, if you wish to enjoy the advanced features offered by the platform, it has four paid plans that you can choose from –
Premium plan
The premium plan costs $8 per user per month, billed annually. it includes –
Two calendar connections per user 

Personalized booking link

Unlimited scheduled meetings

iOS, web, and android applications

Unlimited active event types

Unlimited one-off meetings

Meeting notifications

Group, collative, and round-robin events

One-on-one events

Team pages and embed options

Custom email notifications

Hide Calendly branding

Custom branded pages

Several integrations

Webhooks

700 app integrations with Zapier

Self-serve help center

Email support within 3 hours

Live chat support for over ten users
Pro plan
The pro plan costs $12 per user per month, billed annually. It includes –
Everything in the pro plan 

Six calendar connects per user

Workflows

Custom SMS notifications

Expanded color options

Redirected invites

Salesforce connects

HubSpot and MailChimp connect

Payment collection with PayPal and Stripe

Google Analytics and Facebook pixel tracking

Mail support within 3 hours

Live chat support for ten or more users
Enterprise plan
The enterprise plan is quoted as per your personalized requirements. You can connect with the sales team of Calendly to get a quote after telling them what you exactly need. It includes –
Everything in the pro plan

Six calendar connections per user

SAML based single sign-on

User groups with a beta version

SCIM provisioning

Security review and MSA support

Expediated email support

Live chat support supporting over ten people at once

Phone support

Individualized onboarding and training program

Designated customer success
Conclusion 
As for our comparison between HubSpot Meetings and Calendly, both are powerful tools that do their job well enough.
Calendly is only focused on scheduling meetings, and hence, it is more cost-friendly. However, HubSpot has plans that include various other marketing and sales tools that can also help your business, and hence come to the pricier side. 
If you only want a meeting scheduler, Calendly seems like the right option as it specializes in the same and is cost-effective. However, if you also want to enjoy marketing and sales tools, we recommend choosing HubSpot as it provides you with various advanced tools that can help your business flourish.