30 Creative Instagram Post Ideas: Publish Content Every Day
Is your Instagram content updated regularly, or is it collecting dust?
You probably think it's no big deal, but an inactive Instagram profile is a tragic waste of internet space. Instagram has over 1 billion active users, out of which 500 million use the platform every day. It's the second most popular social network next to Facebook.
Posting regular content for Instagram might sound easy — until you have to do it.
You'll soon find out that coming up with different content ideas for Instagram is a challenge.
To help you with that, we've come up with 30 creative Instagram content ideas — one for each day of the month — that you can use to make sure you always have something to post.
1. Contest or Giveaways
Running a contest or giveaway is one of the fastest ways to get more followers and engagement for your Instagram page. Tailwind reports that Instagram contests get 64x more engagement than regular posts.
While big brands give away premium items like an iPhone or an all-expense paid vacation, you don't have to spend thousands to follow the same strategy. Offering inexpensive but useful things can still attract followers as long as it is an item that they would love to have.
When announcing a contest, be extra clear on the rules and list what your followers need to do to qualify. Some examples would be:
Like, comment, share your post
Follow your account
Tag a friend*
Post a photo or video with a hashtag you have assigned for the contest
Ask your followers to do a challenge and share their photos
More importantly, make sure that you state the contest rules, qualifications, restrictions, prizes, and the deadline for joining the contest.
*Instagram has a rule about incorrect tagging, so avoid asking your followers to tag someone if they are not in the photo. Learn more about Instagram's promotion guidelines and ensure you abide by them.
Plan out all the details of your contest from start to finish.
You might need a system to list all the contest participants and a way to pick the winner. Announcing the winner is essential to show the legitimacy of your contest and encourage your followers to join the next one.
This giveaway post from Starbucks is an excellent example of using catchy imagery and complete contest details.
2. Product feature/announcement/demo
The best way to introduce your brand or products to an audience is by showing a demo or tutorial on how it works.
Pick a relevant hashtag that is widely used by your target audience to ensure you get the best chances of getting discovered and gain new followers.
3. User-generated content
Ask your customers to share their photos using your product or service and tag you on them. Seeing these kinds of posts will show that you care about your customers and you want to build a community among them.
Lush Cosmetics is one of the brands that regularly post photos of their customers using their products.
They do a great job of finding authentic user-generated content and giving proper photo credit in the process.
4. Celebrity or influencer endorsements
Influencer marketing attracts the young generation to Instagram.
Micro-influencers, or people who have a modest group of followers compared to regular influencers, drive seven times more ROI and engagement.
In the example below, Bob's Red Mill partners with mom blogger Samantha Scott to promote their products. Scott's Instagram has 82.8k followers which makes her a mid-tier influencer.
You can opt to do influencer outreach on your own or use a service like Upfluence or Tapfluence to connect with the right influencer for your brand or product.
5. Advocacy and charitable causes
If you have a charity or advocacy that you are passionate about and your support through your business, let your audience know.
In addition to spreading awareness about your chosen cause, you might attract followers and fans who decide to join you on it and contribute as well.
NBA star player Lebron James' Instagram feed occasionally features his work at I Promise School, a school he built for providing free education for at-risk children.
Lebron's hashtag #MoreThanAnAthlete is on point, proving that he is working on equally important matters outside of basketball.
6. Weird holidays
There are 365 strange or unusual holidays every year. Some of them include National Pizza Day, Wear Pajamas To Work Day, Napping Day, and National Selfie Day.
You can use these humorous occasions, post content with the holiday as a hashtag, and tie it with your product to attract more followers.
The example below is from food blogger Yumna where she used Grilled Cheese Day to feature her sandwich recipe while promoting a brand of cheese.
7. Quotes
Almost every Instagram account posts "Quotes of the Day" content. The hashtag #qotd is one of the most used hashtags on Instagram, and it's no surprise. People love reading quotes that they can relate to at that exact moment.
You can use simple graphic design tools like Canva to create custom quotes of the day photos with your brand's logo.
Remember to use the hashtags like #quotes #qotd and #quoteoftheday to get your post discovered by potential followers. This one from Jennifer Garrett is designed simply but makes an impact.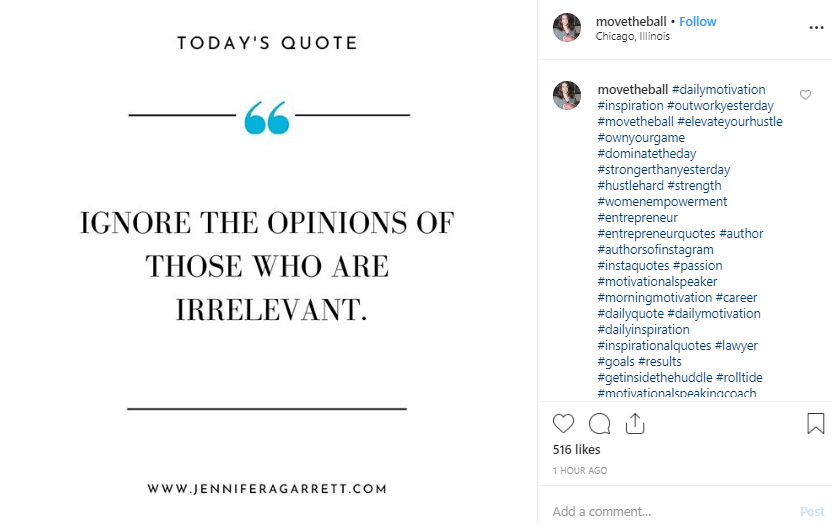 8. Memes
Everyone loves a good laugh. Instagram memes are good sources of temporary comic relief, and people can't resist but share them. Just be sure the memes you share are relevant to your industry.
This one Instagram post from a hair salon used a Drake meme to compare the before-and-after photos of their hair treatment.
9. Hashtag-based content
Find out what hashtags are popular and use it to apply to your niche, product, or brand. If you notice a trending hashtag on your feed, use that for your own posts, making sure it's connected with the content of the post.
Use a free tool like Keywordtool.io to find hashtags related to a keyword or Tailwind to check trending hashtags.
10. Behind the scenes
Do you work in your pajamas? What kind of gadgets do you use? Do you have a team of people helping you at work? Show your audience how you work and get things done for your business. People are natural voyeurs, so this post will surely feed their curiosity.
Here's one from blogger Pat Flynn during a filming collaboration with ConvertKit.
11. Team/employee photos
If you have a team, then sharing a picture of them hard at work (or play) is a great way to show your company's culture and employee happiness.
This one from entrepreneur Melyssa Griffin is a great example of a team photo, with a caption that tells the story of how her business has grown in terms of having a group of people working for her.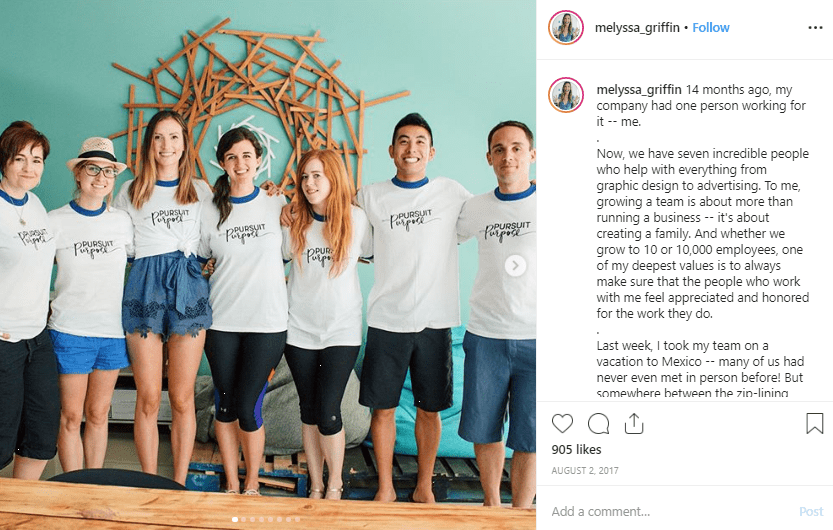 12. Funny videos
Don't think that you can't share comic, silly stuff on your business Instagram page. Even celebrities do it, so why shouldn't you? Just like memes, sharing funny videos is one way to show your sense of humor and get more engagement from your followers.
Actor and comedian Jack Black's Instagram content has dozens of funny videos that keep his followers entertained.
13. Art/design
There is art/design in almost all the places you go to. If you travel, then chances are you've been to museum and art gallery tours. Share beautiful imagery with your audience to keep your Instagram page interesting and visually appealing.
This one from author Simon Sinek features one of Van Gogh's paintings in the Van Gogh museum.
14. Throwback
Take your followers back in time and share a throwback photo of you "in the early days." The cheesier the outfit, the better. Throwback posts are viral and get a lot of engagement.
This one from Hollywood actor Will Smith has 2 million likes.
15. New blog post
Share a summary of your latest blog post and encourage your followers to click the link to your blog (which should be on your Instagram profile). Use a hashtag that describes what your blog is about so non-followers can find it.
If your blog post is on a separate page from your website's homepage, you can change it in your bio or use a free tool like Link Bio to have multiple links in your Instagram profile.
16. Customer testimonials
A positive review from a customer is a valuable thing, especially if people know about it. Skip being modest and share rave reviews on your Instagram page via a screenshot or an actual video testimonial from your customers.
It builds trust and establishes you as an expert in your field.
This one from small business Ruff Stuff Bodycare featured their customer reviews in a single post.
17. Daily routine (workout, meditation, coffee time, etc.)
If you have a consistent daily routine that helps you accomplish most of your tasks, share it with your audience. People want to be more productive, and you might just help them by sharing your own process.
Author Ryan Holiday posted this beautiful photo of his morning routine — a leisurely walk with nature.
18. Limited-time offers
Run promotions like a limited-time sale or discount on special dates. This would include Black Friday, Cyber Monday, your birthday, or any other date that is special to you or your company.
This one from WPX Cloud Hosting uses the hashtag #blackfriday and #blackfridaydeals to promote their limited-time offers on WordPress hosting.
19. Family photos
Once in a while, your followers might enjoy seeing you with your family. Sharing personal photos not only "humanizes" your business, but shows your followers that you value what's important in life.
Dwayne "The Rock" Johnson is a Hollywood actor, fitness buff, and business owner. His Instagram feed is mostly about his many projects, but once in a while, a touching image of his family life appears.
20. Travel
You don't have to be a travel blogger to post picturesque photos of beautiful places around the world. Traveling is a once-in-a-lifetime event so posting it on Instagram is a great way to preserve memories and share it with the world.
Bob and Clint Moffatt are brothers and musicians who shoot their videos in breathtaking views around the globe as they go on tour. The image below is just one of the many photos they've shared on their Instagram feed @musictravellove.
21. Short, inspiring videos
You don't have to be a religious speaker or the Dalai Lama to be able to inspire others. Sharing stories about failure and success in your life can be a big boost to others who need encouragement.
Be that person and your followers will grow over time.
John Lee Dumas, the host of the podcast Entrepreneur on Fire, posts short videos on his Instagram page consistently as he talks about all the aspects of running a successful business.
22. Books or movies recently read/watched
Read a compelling book or watched a movie you enjoyed? Share it on Instagram.
Tell your audience what you liked, what you learned from it, and why they should check it out.
This one from @mybookhermitage is a good example:
23. Poll or survey
Can't decide on something? Ask your Instagram followers. Polls are great for validating your ideas and making your followers feel like they are a part of a community.
Create an Instagram Story and use the Poll sticker to add a customizable button or emoji as a way to answer the poll.
This one from WhoWhatWear is a series of Instagram Stories featuring a new collection of summer wear. Some photos included polls to engage their followers.
24. A nice selfie or portrait photo
A professionally shot portrait photo of you should be the first step to connecting with your Instagram followers. It shows your followers who you are and what you don't hide behind a computer.
If you take a lot of selfies, then you're off to a good start. If for some reason, you don't post photos of your face on Instagram, it's time to reconsider as this kind of content is essential for building trust with future customers.
Below is an example of how to introduce yourself via a selfie or portrait photo, especially if you run an Instagram account for your business.
25. Pets
Most people love looking at pets on Instagram. If you have one, don't hesitate to share a few shots with your furry friend. Some pets even have their own Instagram account that has thousands of followers.
Build-A-Bear, a stuffed toy company, is known to run a pet-friendly office. They also include pets in their Instagram photos to add to the cuteness of it all.
26. Your "why."
Your "why" is your reason for doing what you're doing.
Why did you start a business? What image would best answer that question? Tell your story and pick an image to go along with it.
For wellness coach Samantha Weiss, her children are her driving force — her "why." In this post, she shares how her kids are her inspiration and encourage others to find their "why."
27. Your origin story
Heroes are said to have an origin story: Batman had a tragic childhood; Superman came from another planet, and Spiderman had a life-altering bug bite.
So what is yours? You're not a superhero, but you went through something before becoming what you are today.
Below is a post of Facebook CEO Mark Zuckerberg back in his old dorm room at Harvard. It's just a photo of a guy standing in a room, but there's a long story behind it.
Do you hear the same questions being asked multiple times in a day? Help people solve a common problem by sharing advice or tutorial. It's just one-of-a-kind things you can do in your Instagram feed.
29. Ask people to join your email list
Grow your email list by asking people to join via an Instagram post. Since you can't share a link in the post, just ask them to go to your profile, click the link to your site where they can sign up. Explain the benefits of joining your email lists, such as a free ebook or course.
This one from Atomic Habits author James Clear is a great example.
Letting your Instagram followers know your favorite things can make them feel even more connected to you if they like the same things. There's no harm in sharing stuff you love, even if it's not related to your business.
You can show your personality and gain more loyal followers for it.
This post below is of Tim Ferris, author of The 4-Hour Work Week, in Japanese wear. Tim has spent time in Japan and is fluent in spoken and written Japanese.
More tips for Instagram content ideas that drive traffic
The ultimate goal of having an Instagram account is to drive traffic and sales. Followers' likes and comments won't matter if you're not acquiring leads or customers.
Here are some things you need to remember every time you post Instagram content:
Include a Call-To-Action (CTA) when you can
A Call-To-Action (CTA) is anything you want your audience to do right after consuming your content. CTAs for Instagram can be:
Leave a comment
Visit your site
Like
Tag you in a post
Send you a DM (Direct Message)
Schedule your posts
Your Instagram feed should always look updated, but you don't have to spend hours every day to do so. You can use apps like ViralTag, or Tailwind to schedule your posts in advance.
Doing this saves you time and also helps you plan your Instagram content better.
Have a unified look or theme
Keep your Instagram images consistent when it comes to photo filters and color themes. To help you create this unified look, you can use templates from Canva and use the same one for each type of post.
Connect to Facebook page
If you have a Facebook page or profile, you can connect to Instagram, so all your content is automatically cross-posted to Facebook. To do this, you need to follow these steps:
Go to your profile and tap.
TapSettings.
Tap Account > Linked Accounts, then select Facebook.
If you haven't already, enter your Facebook login information.
By default, your Instagram account will share it on your personal Facebook profile. To share to a Page instead, tap Share to and choose a Page that you manage.
We hope you now have great ideas for your own Instagram feed. Always remember to engage your followers while attracting new ones with the quality of your posts.
Take your time and track your progress (you can use Iconosquare Analytics). Check out these Instagram marketing tools to automate publishing and scheduling posts.
Don't stress too much about your stats in the beginning.
Most of all, enjoy the process — there's no point growing a following if you don't truly enjoy it.