InVideo Review – Create & Edit Professional Videos Easily
InVideo is one of the best software to make professional videos in less than 5 minutes. It is a very simple tool with a friendly interface and has thousands of templates to choose from.
Videos are essential for every business, irrespective of the business niche. It helps connect with the audience in a more solid way, convey messages with better presentation, and make the information enjoyable.
We loved InVideo, and we are sure that you will too!
Today we will be reviewing each and every feature that InVideo has to offer and how it is helpful for agencies, businesses, freelancers, educators, and even individuals.
How does InVideo work
The first step in using InVideo is to select a template. It has over 4,000 templates that you can choose from that fits your project and style altogether. Every template is customizable, and you can add scenes, images, and colors, having complete control over the template.
Customization comes as a second step. You can add text to the video and use their free stock music, photos, and also videos. If you do not want to use their stock resources, you can add your own with quirky fonts, colors, timing, and logos!
You can easily export and upload your videos. You can do this by either downloading the video or directly exporting it to platforms like YouTube, Facebook, and more.
Main features offered by InVideo
There are several features that InVideo offers, and it caters to providing services in many segments. However, there are some critical features of InVideo that make your video experience exceptionally seamless. These features are –
Over 4,000 templates for all industries: InVideo offers stunning videos in no time with the availability of thousands of pre-made templates. These templates cover almost every industry that exists and is suitable for any type of business. You can also make a completely new template with customizations as per your requirements.
Automatic text to video conversion: You can now convert any article into an engaging and suited video for customers with just one click. Their text-to-video tool allows you to convert your text into a video with a natural-sounding voice reading out the words. Images are automatically selected to match the text. Hence, automation in InVideo is at its best!
Complete control and flexibility: The platform is straightforward to use. Their drag-and-drop editor makes it even simpler to create engaging videos. You can also add pictures and videos, music, and text to the videos to make them more presentable. Their platform also works across all the languages, making it region inclusive.
Outro Videos
You can now create Outro Videos in a few minutes with the free YouTube outro templates offered by InVideo. Now end your videos with a bang through InVideo's outro maker and get the flexibility to create the right ending slide, ensuring that the audience is hooked till the very end. These videos will help you drive actions from the viewers with a solid CTA.
Create professional-looking outros that the versatile InVideo outro maker has to offer, which can be customized according to your choice. If you have a compelling tune in mind or just wish to pick exciting music, InVideo's audio library has it all covered for you. These videos have power transitions, multiple lays, automated VOS, innovative frames, and are multilingual to ensure that each segment of your audience is considered.
InVideo helps you create impressive outro videos and stunning intros that captivate your audience. An impactful beginning and an unforgettable end are all that you need to convert your viewers into customers. A powerful tailored video fitting your brand is not away if you have InVideo as your helper!
You can use these outro videos for your social media platforms, sales and advertising business, and vlogs. Revamping the social media account and vlogs or just creating an entirely new one, InVideo ensures that your outros and intros are as solid as they can be.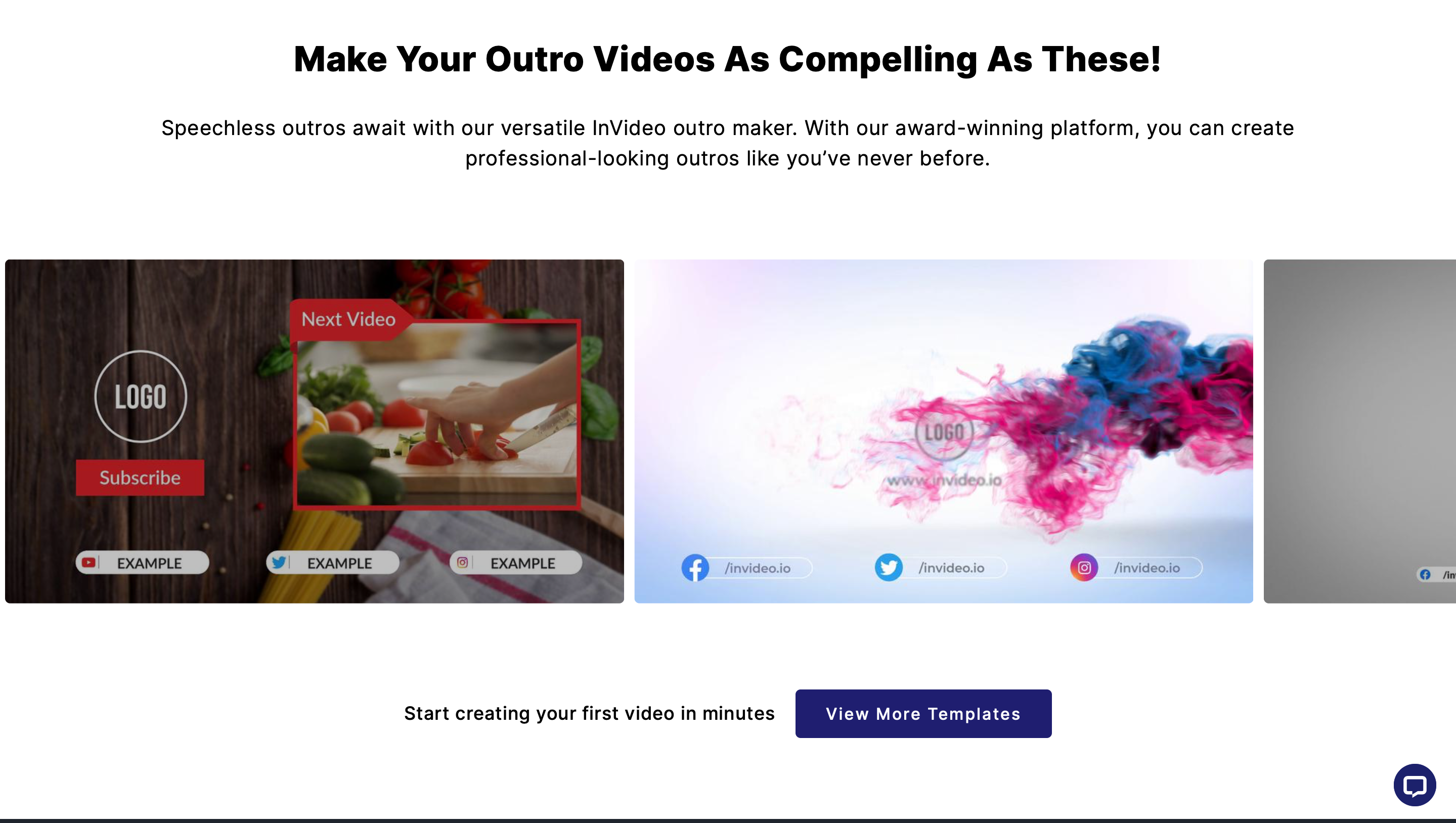 Online Video Editor
If you wish to design professional-looking HD videos with robust editing features and an intuitive online video editor, InVideo is the right place to be in. It comes with many filters, templates, stickers and tools to make your videos stand out.
With InVideo, you can create watermark-free videos and edit videos with your media effortlessly and quickly. You can also choose media from their library of videos, photos, and music. InVideo's editor offers audios and graphics that catch the attention of your audience.
You can also choose different text styles and customize your videos according to your requirements with the right mix of videos and photos. It lets you create incredible videos for free! Yes, absolutely free with no conditions applied.
InVideo is on a single platform packed with all the features that are needed for an excellent video formation, including a video gallery, power transitions, elegant frames, and much more. This also helps people in their social media marketing with a robust system in place churning out quality content.
Facebook Video Ads
InVideo helps you boost your Facebook page's engagement and drive more traffic through fantastic video ads. It creates unique Facebook video ads with its very own Facebook video ad creator. The task becomes very simple, easy, and fast with InVideo's free online Facebook video ads creator and its dynamic tool helps your brand reach new heights.
InVideo optimizes your ads for mobile phones and makes them compatible with all devices. It helps you customize the ads through multiple layers and different languages to reach out to the audience irrespective of their location.
You can choose from their comprehensive and flexible templates for Facebook video ads from their 'Quick Videos' section. It also allows you to replace the existing template with customizations and text of your choice. Add exceptional media, great animation, and a catchy background to ensure that your Facebook ad stands out.
InVideo provides you everything that you need to boost our brand image on the Facebook marketplace and attract customers. It is one of the best video editors online, and it also lets you save quite a few bucks as well. What sets it apart from other video editors is that InVideo assists you in creating your content from scratch that makes people talk about your brand in person and online.
Online Video Intro Maker
To hook the audience, it is important that you create an incredible introductory video. InVideo gives you an intuitive and free intro maker that helps you create awesome intro videos and introduce your brand to the audience in a unique way, leaving a fantastic first impression.
It helps you to create scroll-stopping videos with a flexible and intelligent online intro maker. All you need to do is pick an intro template, drag and drop everything you wish to add and customize it using their overlays, masks, stickers, and so much more.
InVideo covers all the industries with its vast feature options, ensuring that your and your company's personality is truly reflected in the video leading to higher conversions. You can easily add your brand logo, contact details, choose font colors and types, overlays, shapes, and more to create a personalized intro video, and choose from their free library of templates.
It also allows you to edit any images and videos that you put into the intro maker. Add music tracks to the videos to make them even more enjoyable.
InVideo's free video maker enables you to create intro videos without any watermark and gives you an edge over and above your competitors with compelling designs. You can use these intro videos on the social media handles of your brand, on your website, on your YouTube channel, and also as ads.
Invitation Maker
You can now easily create custom invitation videos with InVideo's simplified invitation maker. The tool makes attention-grabbing invited for every type of event and lures your guests to attend the event. The invitation maker also has tools for narrations and voiceovers to give the invite a very personal touch.
Whether a work party, a wedding ceremony, a birthday or the event of a sale, InVideo has all your events covered! They have templates to fit all occasions and make your boring invites truly interesting. Eye-catching fonts make the invitations even more classic.
Invideo's easy export ensures that you download all the invites in one go and are ready to send them to your guests. Digital video invitations are made within minutes with this software's skills. All the text is editable with different colors and font styles giving you a completely personalized experience.
Video Maker
InVideo's most prominent feature is its video maker. It is free to use and is one of the best video makers available online. It lets you create short videos, slideshow format videos, home videos, and so much more in a few minutes.
InVideo has over a thousand stock images that you can choose from and create dynamic videos for any theme and any occasion. It gives your videos a professional finish and is entirely customizable. You can edit images, add video clips, edit texts and captions, add music and create videos like never before.
A to Z personalization for every content is available that serves your business and personal choices right. It is valuable to be used for social media videos, professional home videos, documentaries, and more.
Videos can either be designed from scratch with images, video clips, and soundtracks or can be made via existing templates. The pre-existing templates are available in InVideo's library for every occasion and make the job even simpler and more manageable. It has a wide range of video styles, catering to personal branding and also special events.
These videos can be filled with graphics, transitions, and animations to catch the audience's attention and are easily exported to your computer once completed. With InVideo, you can grow your video-making skills by customizing videos for different planforms choosing from several templates, getting your creativity out and about, and paying attention to detail.
Poster Maker
InVideo enables you to design stunning posters with an easy drag and drop editor and easy to sue poster maker tool. It is fully customizable as per your event and makes your brand stand out.
You can choose from hundreds of poster templates on InVideo or create custom posters from scratch., InVideo's poster maker is packed with features including attractive fonts, bright colors, various styling, and a clutter-free creation.
You can add your own videos or photos or choose from InVideo's library. All their images, videos, and soundtracks are royalty-free.
An impressive poster helps in leveraging creativity and boosting your brand image. It is one of the most powerful marketing tools and creates a long-lasting impression on your customers. It helps in boosting your customer engagement and increases brand recall value as well. Advertising becomes easy through such posters as well, so in our opinion, it is a fully packed model of just putting your brand out there!
Promo Video Maker
Promo videos are the number one way to promote your brand and its products. InVideo's promo video maker endorses your business with incredible promotional videos, engaging graphics, and captivating music. It creates these videos in minutes, giving you fast delivery of the final product.
These stunning promo videos are best suited to be posted on the social media platforms of the brand and brand owners/employees. You can choose from thousands of pre-made templates that align with your brand's vision. All their templates are AI-powered and are present for all categories.
It also enables you to repurpose your videos and convert any video to any of the following: square, vertical or horizontal. InVideo adds blissful music to your promos to make them more appealing. It helps you make your brand get recognized with beautiful logos, colors, taglines, fonts, and music.
Ad Maker
InVideo has an incredible advertisement maker. It boosts your brand through the ads and is versatile since it caters to all the business types and events that need to be catered through these ads.
InVideo gives you complete control over the ad maker and lets you create professional-looking ads that are fully customizable. If you do not wish to create an ad from scratch, it also has some pre-made templates that fit your business's personality.
The ad maker is quick and decisive with robust features. The tool is AI-powered and fully equipped to make stunning ads effortlessly. The entirety of this feature is to promote businesses, increase brand awareness, showcase products and drive traffic.
It gives you a complete guide to create an ad that stands out with a gripping intro and an outro that the audience won't forget; it talks about your brand uniquely and makes things simpler for you with the drag and drop editor. You can use media from InVideo's library or export your own.
All the templates provided by InVideo are fully flexible and filled with images, videos, music, and animations. These videos can be created explicitly for Facebook, Instagram, Twitter, YouTube, and more with specifications that suit these platforms individually. It lets you make ads in less than 15 minutes trying; what else does a marketer even need?
Slideshow Maker
You can also create slideshows with InVideo. Yes, that is another thing it does. Its ready templates make it easy, simple, and quick for you to create fantastic slideshows. The tool offers easy ways to pick a slideshow or presentation template and add your content accordingly. Brand presents, music, fonts, transitions, animations, and much more are the heart of InVideo's Slideshow tool.
It gives you all the creative freedom you need backed by flexibility.
Their premium media library that includes iStock, background image remover, and 24*7 priority support just make InVideo one of the best and simplest online free slideshow makers. They do not put any watermark on the slideshows to give you the best experience ever.
It offers you all the music and effects that are needed to make a slideshow stand out. It has over 4,000 designer templates but also enables the videos to be completely customizable. They have overlays, stickers, transitions, and so much more added every weak as a new addition to their feature's library.
In case of a news release, the editor even informs you and gives you a personalized customer experience that never lets you miss out on anything. It uses a good mix of media, text, and sound to keep your audience hooked to the slideshow/presentation. InVideo also smoothens the flow of the presentation by adding transitions and animations.
It supports all kinds of presentations, including business presentations, family events, sales pitches, birthday videos, and a lot more.
YouTube Intro Maker
InVideo creates YouTube intros that are free from watermarks withinn5 minutes. It ensures that the intro video is compelling enough to hold the audience's attention. They are one of the best YouTube intro makers in the business and make professional intros for you with their ready-made YouTube intro templates.
It allows you to turn your viewers into lifelong subscribers and enables you to make a video with custom templates or draw inspiration from a pre-made template and customize it from scratch. You can add your logo straight to the editor, and set band presets to ensure that the promo video is true to your brand.
They have the best-in-class library, including audio tracks, typography, effects, stickers, and more that help in creating beautiful and catchy YouTube intros. It creates impactful content and makes your brand stand out in the market.
If you wish to add amazing music to hook the audience, you are at the right place because In video has a royalty-free music library as well.
Meme Generator
Last but not least, in InVideo's most remarkable feature! A meme generator. Yes, you heard it right. InVideo has its very own meme generator that makes your memes stand out. In these times when memes are such an essential part of people's social life, often the only mode or keep the conversation going, their epic meme generator creates funny memes that grab user attention in minutes.
You can easily upload your images, add text to the image and export them in whatever format you wish. It also allows you to create memes and share them on various social media platforms, including but not restricted to Twitter, Facebook, Instagram, and more. You can also add these memes to your YouTube videos.
It also gives you tips and tricks to create memes that the audience will love. InVideo also has a meme template that makes your job of making memes even simpler and easier. You can select from tons of them from the InVideo library and customize it however you may want to.
InVideo, in short, helps you create memes that go viral. All of this, within a few minutes and without any hassle. Whatever idea you have got for a funny meme, InVideo's meme generator brings it to life. They also have a video meme maker that enables creators to produce animated memes and gifs. This makes it a tool that one should get their hands on as soon as possible.
With the various dynamic templates, texts, effects, and fonts that are in the tool, you can take your meme game a notch higher. Change the style and color of your fonts however you may like and make incredible attention-grabbing memes. Exporting is super easy too, and you can share the memes via URL or directly upload them to the platform of your choice.
Pricing
Invideo comes in three packages/versions.
Free

The free version, of course, charges no amount per month. It is suitable for anyone validating InVideo as a professional video creation tool. It includes watermark-free videos, 3500+ templates, 3 million+ media libraries, automated text to speech, and 15 minutes video duration per video.

Business

The business pack costs $15 per month when billed annually. It is suitable for small businesses, entrepreneurs, teachers, and social media influencers. The package includes everything in the free plan, 10 iStock media per month, 1 million+ premium media, 60 video exports monthly, and 20 remove background credits.

Unlimited

The unlimited pack is InVideo's most elite pack. It costs $30 per month when billed annually. InVideo is best suited for agencies and large teams with advanced storage and team sharing. It includes everything in the basic plan, 120 iStock media monthly, 1 million+ premium media, unlimited video exports monthly, and 40 remove background credits.
Conclusion
All in all, there is nothing that InVideo cannot do. From making promo videos to generating memes, InVideo has a tool for everything.
It makes your video making and promotion experience for your seamless business one with exceptional feature s and editing tools. InVideo has robust sets of images, videos, and music that you can add to your video and saves you a lot of time and money.
It offers free editing tools for every editor. This has some basic features and does not require you to be a technical professional to create professional-looking videos and posters.