20 Smart Keyword Research Strategies
The journey of a seeker begins with an online search. You, as a creator, provide information that ranks in the search results. One aspect is common between you and the seeker – the keyword.
Now there are millions of users using millions of keywords to search relevant information. At the same time, there are millions of creators competing against each other to rank for these keywords.
How will you differentiate yourself from the rest? How do you plan to secure first-page rankings on search engines?
Keyword research is the answer to these questions. And keyword research is undoubtedly the most significant aspect of SEO and SEM.
The process begins with identifying a set of keywords that users search to quench their thirst for information. Once you know the keywords, you'll create content around them. Then you'll try to rank content on search engines using on-page SEO.
Keyword research is an extensive topic. Here, we'll confine ourselves to the beginner module. In this guide, I'll share with you actionable, super easy keyword research strategies to generate precious keywords that'll drive loads of traffic to your website.
Let's get started right away.
1. Begin with the "Seed Keyword"
The seed keyword is the primary keyword that's the core idea of your website/business. The seed keyword is the topic you want to rank for in search engines. Therefore, identifying the seed keyword should be a priority for you.
For example, if your business is about selling and repairing bicycles, you can use the following keywords as the seed keywords:
Buy bicycles
Buy hybrid bicycles
Buy mountain bicycles
Bicycle repair shop
Kids bicycles
The best strategy to discover a seed keyword is using Google Trends. When you enter a seed term, the tool returns information like – interest over time, interest by subregion, related topics, and related queries. You can sort results based on region, time, categories, and type of search.
A seed keyword generally has high search volume, high competition, and high click-through rate (CTR). Besides using this fundamental strategy, you can also use the following keyword strategies to search seed keywords.
2. Google's Autocomplete & Related Search
Your keyword research process is simply incomplete without these two tools – Google's Autocomplete and Google's Related Search. In fact, you don't need anything else if you are just stepping into the world of keyword research.
Let's begin with Google's Autocomplete. Whenever you search anything on Google (literally anything), it will auto-complete your query. Have a look at the following screenshot. When I type "corona" in Google Search, it autocompletes query and predicts potential search queries.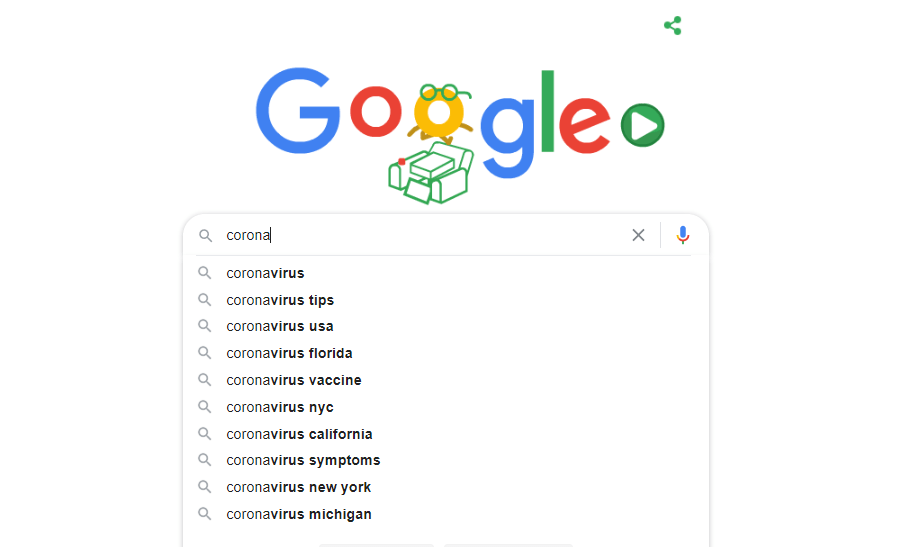 Google's Related Search is another section that you must check out for potential keywords. Have a look at the screenshot. A search for "best pet food" resulted in the following related search queries. So if "best pet food" is your seed keyword, then "best dog food for puppies" and "best dog food with grain" can be related keywords.
3. Search Questions using AnswerThePublic
People's queries are becoming more specific and relevant. Gone are the days when people used to search for short phrases. Nowadays, people ask proper questions. And search engines also favor questions because they can show relevant results to the users, only if these results exist.
If you can identify questions related to the seed keyword, you can create content around them, and attain first page rankings on search engines. You can use an amazing tool called AnswerThePublic to scrap question-related searches. Check out the screenshot.
A simple search for "shoelaces" produced 49 questions that people generally search for in Google. Besides these, the tool shows more results related to "shoelaces." You can target these questions, create content around them, and rank your website on Google for related search queries.
4. Analyze Competitors' Websites
If you want an easy way out, simply target your competitors' websites to mine high potential keywords they are ranking for. The idea is to identify direct competitors who operate in the same niche as yours. Moreover, they should be ranking for the seed keywords you aim to rank for in the search engines.
You can perform a competitor analysis on a keyword-research platform like SEMRush. Let us consider the Keyword Gap tool. You compare your website against your competitors' website to identify keywords they are ranking for, but not you.
Similarly, you can use their Organic Research tool under Domain Analytics to unearth every detail related to your competitors, whether its keyword, search volume, search results pages, cost-per-click (CPC), click-through-rate (CTR), etc.
Note: Scrapping the competitor's website for keywords is just like touching the tip of the iceberg. You have to create spectacular content around those keywords and build links to the web pages if you want to outrank your competitors for the exact keywords.
5. Unearth Local Search Keywords
Do you know 97 percent of search engine users searched online to find a local business? That's the importance of local SEO. So if you are a local business that wants to attain the top slot in Google's Local 3-pack (see the screenshot), you must discover relevant local keywords.
You can search for local keywords for your business by simply using the following queries in Google:
[seed keyword] + [location]
[seed keyword] + [near me]
[best] + [seed keyword] + [nearby]
There can be infinite combinations, but we want to identify those having a decent search volume. For this, you can use a tool like KWFinder by Mangools. You can either search using a keyword or a domain name. The tool will ask you to sort results using filters like "Anywhere" and "Any language."
It's not only about finding local keywords having decent search volume. Keyword difficulty is an equally important factor to consider when you want to rank for a keyword in search engines. This brings us to our next strategy.
6. Analyze Keyword Difficulty
You may ask: Why should I consider keyword difficulty in keyword research? The answer is straightforward. You can easily rank for keywords on search engines that have a low keyword difficulty score and vice-versa.
For example, if you want to rank for "buy a laptop" on Google, it's literally impossible to crack the first page rankings (at least for a year) unless you have thousands of high authority backlinks and the best content on the topic.
But if you want to rank for "best laptop for computer science students," you can easily rank for this keyword, provided you create exhaustive content and follow best SEO practices.
Therefore, you must assess keyword difficulty while doing keyword research. KWFinder by Mangools can help you gauge the keyword difficulty of the keywords. The tool analyzes various factors like competition, search volume, CTR, CPC, location, etc. to calculate the keyword difficulty score.
7. Use Negative Keywords
Negative keywords are the words that you DON'T want to rank for in search engines. Consequently, you don't want to focus on them while performing keyword research for SEO.
In Google Ads, you can easily add negative keywords to block ads to appear in search results for specific search queries. However, for organic results, you cannot eliminate negative keywords. But you can definitely eliminate negative keywords at the time of keyword research so that you focus on the terms you want to rank for.
I'd recommend using SEMRush to filter out negative keywords using the Keyword Magic tool. If you look at the screenshot below, there is an option to "Exclude keywords" under the "Advanced Filters" tab. Here, you can write the words that you want to exclude while searching for keywords.
Further, you can "Exclude keywords" based on parameters like "broad match" and "phrase match." Generally, this feature is beneficial when you want to separate branded keywords (that mention a brand) from non-branded keywords.
8. Use Keyword Filters
Excluding negative keywords is one aspect. SEMRush's Keyword Magic tool allows you to filter keyword searches based on other parameters as well. When you use filters, you can identify keywords that fulfill your requirements.
You can enable the following filters to streamline keyword research:
All/Questions: You can either search for all types of keywords or specifically search for questions.
Match Type: You have got four options here – broad match, phrase match, exact match, and related.
Include Keywords: Like you removed negative keywords using "Exclude Keywords," use this feature to include specific words in keywords.
Word Count: Select the number of words you want to include in the keyword. You can specify the range.
Volume: Number of times a keyword is searched every month. You can specify the range.
Keyword Difficulty: It means how difficult it is to rank for the keyword. The value varies between 0 and 100 percent. Higher the value, the higher is the difficulty.
CPC: How much advertisers pay per click for this keyword. Higher CPC means higher demand.
Competitive Density: This signifies how many competitors compete for this keyword in paid search. The value varies between 0.00 and 1.00. Higher the value, the higher is the competition.
SERP Features: This filter shows the number of SERP features (featured snippet, local pack, reviews, etc.) that appear for a particular keyword.
Results in SERP: This is simple. It shows how many results appear in SERP for a particular keyword.
You can also sort through the keyword list in the keyword groups section. There are two keyword groups, as shown in the screenshot: By number and By volume. Click on the sub-group topic to explore keywords in that particular sub-group.
9. Use an SEO Toolbar & a Browser Extension
For avid searchers who spend most of their time on Google search, I' recommend installing an SEO toolbar such as MozBar and an SEO browser extension like Keyword Surfer.
Use these tools to discover search volume, keyword difficulty, related searches, keyword ideas, and much more. Since all the information is available on the Google search page, it's so convenient to conduct complete keyword research.
To use MozBar, you can install the browser extension. Once enabled, it will perform complete domain analysis, link analysis, and keyword analysis for the keywords you search in Google.
For example, I searched "social media marketing" on Google. The following results appeared in the SERP. By analyzing Page Authority (PA) and Domain Authority (DA), you can conclude that it's difficult to rank for this keyword.
If you want more information related to this keyword, you can use Keyword Surfer. Install the browser extension before using it. Let's take the example of "social media marketing."
In the search bar, you can see metrics like search volume in the US and the CPC value. On the right side of the search bar, you can see keyword ideas and a correlation chart that depicts the relation between search results.
These two tools can help you out with keyword research in the initial stage. You can collect keyword ideas from here and then perform an in-depth analysis to identify keywords that you'll be competing for.
10. Google's People Also Ask
Search queries are undergoing continuous evolution. From short phrases of 2-3 words, it has evolved into proper questions. Google took notice of the changes, and it launched a dedicated section called "People also ask" to display questions related to a keyword.
If we consider the previous example of "social media marketing," the following section appears on Google. As you can see, these are related keywords in the form of questions that people search for.
If you want to discover more question-related keywords, simply click on the dropdown arrow on the right side. Google will list more results in the section. Keep on repeating the procedure to discover potential keywords.
11. Dig into Wikipedia
Wikipedia is not just a goldmine of information but keywords as well. In fact, you'll discover keywords that you didn't even know about. It's an excellent strategy if you have less time, or you don't want to use any keyword research tool.
For example, I searched for "dating" on Wikipedia (and I actually read it because it was about DATING!) Besides the content, there is a table of the content sections. That's our point of focus here.
As you can see, there are so many topics in dating. You can pick anyone, conduct in-depth keyword research, and create a list of potential keywords.
You can dig in further by clicking on any topic in the table of content. I clicked on "Technology" and arrived at the following section.
Again, here you can find various terms that may fit your criteria. Rinse and repeat the process to discover an infinite number of keywords.
12. Mine into Reddit
Reddit is a thriving community of Redditors (its members) who post interactive and informative content in subreddits. There are more than 2 million subreddits. Imagine the amount of information available on Reddit.
When it's about keywords, you'll discover keywords that people are actually searching for. For example, I stumbled upon a post in subreddit called r/CampingGear. Have a look at the screenshot.
As you can see, a user posted a valid question. People have upvoted the post and commented as well. You can pick this topic and create an article around it. It'll definitely receive a lot of traction.
Join a few active subreddits in your niche. Just browse through the posts to identify a list of potential keywords. Only consider posts that receive engagement. If there is no engagement, maybe nobody is interested in it.
13. Browse Niche Forums and Facebook Groups
Just like Reddit, there are niche communities known as forums. The only difference is that Reddit is a general community comprising of subreddits and forums are dedicated communities, mostly focused on one or two niches.
To search for forums in your niche, type the following query in Google:
[niche] + inurl:forum
For example, if I want to discover forums in the "python development" niche, I'll search for:
Python development inurl:forum
Now head over to any of these forums to discover topics people are talking about. The posts with maximum engagement are the potential keywords for your content.
Similarly, you can also try this tactic with Facebook groups. Instead of searching in Google, simply search for niche groups on Facebook. For example, I searched for "Vegan recipes" on Facebook and got the following results.
Now again, head over to any of these groups. Watch out for the posts that are receiving maximum engagement. Also, check out comments on these posts. You'll discover plenty of niche keywords.
What if you can discover content that's most shared by people on social media? If people are sharing a piece of content, it means they find it useful. And if you can create content on a similar topic, your content may also become the most-shared content.
To discover most-shared content, head over to BuzzSumo, and type the seed keyword. For example, I searched for "men's fashion" and got the following results.
Now you can check out the topics of the most-shared content, analyze content format, discover backlinks, modify the search, and much more. BuzzSumo a handy tool for generating different variants of a seed keyword.
15. Use YouTube Search
Do you know YouTube is the second largest search engine? It processes 3 billion searches every month. Since Google owns it, you can expect some similarities between these two. And therefore, you should definitely consider YouTube for keyword research.
Just like Google's autocomplete, YouTube also completes your query, predicting a list of possible searches for you. This is one of the ways to mine keywords on YouTube.
You can also type in a query and search for it. I searched "content marketing" and got the following results.
The advantage of a YouTube search is that it produces so many results that you can actually create a complete list of keywords just by analyzing the video titles. Further, if you scroll down, you'll find "related searches to the keyword" you searched for.
If you don't feel like mining YouTube to find keywords, you can simply use a tool named KeywordTool.io to find YouTube keywords. You can also use it for mining keywords from other sources like Bing, Amazon, Instagram, and so on.
16. Dive into Google Analytics
Have you considered analyzing your website to discover potential keywords? It's possible you are ranking for a bunch of keywords or getting a fair amount of traffic for certain keywords. You can actually use these keywords to find potential keywords.
Simply go the Google Analytics dashboard > Acquisitions > Campaigns > Organic Keywords. Here, you'll find all the keywords driving traffic to your website. Based on user behavior, acquisition, and goal conversions, you can select potential keywords.
Now some keywords may already be driving a good chunk of traffic to your website. Some may have the potential to drive much more traffic (study the metrics to know more). You can use these dormant keywords that have the potential to boost website traffic.
17. Use Google Search Console
Besides Google Analytics, you can also use Google Search Console (GSC) for keyword research. While Google Analytics tells you which keywords bring traffic and what's the user behavior associated with it, GSC lists all the keywords your website ranks for in the search engine.
Go to Google Search Console dashboard > Performance. Now here, you can analyze all the details pertaining to keywords. Whether it's web search, image search, or video search, GSC displays all the keywords your site ranks for.
Based on the number of impressions, clicks, CTR, and position, you can determine the performance of the keywords. Look out for the keywords with higher impressions but lower clicks and lower CTR. These are potential keywords that you can create content upon.
18. Explore Trending Topics
One quick way (tough as well) to increase website traffic is writing about the current trending topics. You may argue why it's tough when it's just about creating content. It's hard because the competition is really high.
But if you can identify trending topics, create mind-blowing content, and promote it intensively, your website traffic will simply explode. And this is precisely what you can do with Exploding Topics, a unique tool to discover current topics that people are searching for.
You just need to select the duration and categories. The tool will list the topics on the screen. For example, in the screenshot above, I chose a 1-month time frame and "health" category to find trending topics.
19. Use Synonyms and LSI Keywords
Gone are the days when you can repeat a keyword numerous times in the article for the sake of optimization. Now Google considers it spam. Besides using the primary keyword in the title, introduction, subheadings, and the body, you must use synonyms and LSI keywords in the content.
A synonym is just another word for a particular word. For example, "advertising" is a synonym for "promoting." Using keyword synonyms in the content strengthens optimization, thereby increasing the probability of higher search engine rankings.
Another aspect is LSI, which stands for Latent Semantic Indexing. LSI keywords are the terms related to the keyword, either directly or indirectly. For example, LSI keywords for "online advertising" will be "social media marketing, PPC promotions, etc." You should use LSI keywords in the content to increase the authority of an article in a particular niche.
You can use a tool like LSIGraph to discover synonyms and related keywords. If you don't want to use it, consider using Google's Autocomplete, Related Search, or SEMRush's Keyword Magic tool.
20. Explore Related Keywords
In the last keyword research strategy, I'd advise you to stop fretting over keywords too much. In 2013, Google released Hummingbird update that simply revolutionized the way it analyzes and ranks web pages on the SERPs.
The update shifted focus to semantic search wherein user intent was more important than the keywords. So, for example, if you searched for "Dalgona coffee" in Google, the search results will comprise recipes, videos, knowledge graphs, related searches, and much more.
Basically, Google understands the user's intent and, therefore, shows information related to "Dalgona coffee." This is precisely what you should aim at.
Adopt a topic cluster approach. So if your pillar (main) topic is "content marketing," you'll create a pillar page about it. At the same time, you will create cluster content based on related keywords like "content marketing strategy, SEO, content writing, influencer outreach, etc."
A topic cluster approach is successful in providing exhaustive information to the user. Therefore, you should focus on the primary keyword as well as related keywords.
Wrapping Up: Become a Keyword Research Pro
Keyword research is the foundation of online marketing. If you do it right, you're halfway through. Practice these strategies to discover keywords for the website content.
These keyword research strategies are actually for beginners, but if you practice them consistently, you'll become a keyword research expert. In the process, you'll develop your ways to discover keywords in a niche.
Do you have any doubts? Or would you like to share your secret keyword research strategy?
In either case, feel free to comment and share.